Sometimes I feel like the job market of today much much more competitive than it ever has been. It is saturated with college degrees and people just trying to get something to make ends meet. There is also the rising cost of child care, which can truly keep some parents out of the workforce altogether. So what is a person to do? Well, thankfully there are so many work-from-home options nowadays that are helpful to people in these situations. Even those who have full-time jobs who want some side hustles are able to make a little extra money online with ease. Not all of these side hustles are created equal though. While many are legitimate, some are nothing more than a scam. I have tried SO many over the years, and come up with 10 legitimate online side hustles that anyone can do!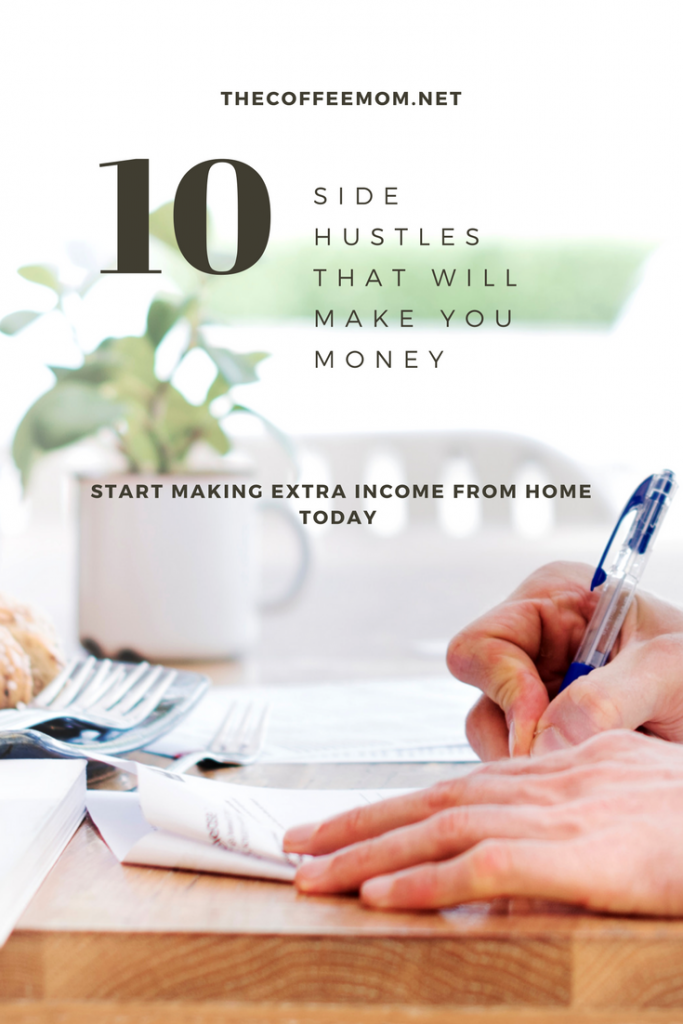 *This post contains affiliate/referral links. By using these links, the companies will provide me a small commission at no cost to you*
10 Online Side Hustles
There is no shame in admitting that sometimes we could all use a little extra cash. It can be for an upcoming holiday or just because you want to get some debt paid off faster. No matter what, a little extra cash is never a bad thing. Some of these online side hustles can earn you anywhere from $300-$500 a month depending on how much time and effort you want to put into it.
Leapforce is an online company that hires people to work from home on projects aimed at improving social media and search engine results. With Leapforce, you will be hired as an independent contractor, meaning you have to hold out your own taxes. Once hired, you can join projects and work anywhere from 5-20 or more hours a week. I personally work 1 hour a day on my project and bring an extra $300 or more a month. It is easy and can be done right from your mobile phone! This is for sure one of the side hustles to seriously look into.
Appen is a company similar to Leapforce. They have online web search evaluation positions available where you can work either 5 hours a week, or 19 hours a week. For the 5 hours, you are an independent contractor. Whereas if you opt to work 19 hours a week you will be paid biweekly through direct deposit and have taxes withheld just like a normal part-time job. So, is Appen Legit? Yes, Appen is legit and a great way to make extra money depending on how much time you have to dedicate to it.
Affiliate Marketing
Affiliate marketing is a great way to make some extra money. Some companies don't even require you to have a blog. If you love social media and have a decent presence, this may be one of the side hustles for you! A few of the companies I really love working with are Ultimate Bundles and Share-A-Sale. Basically, you recommend what you love and earn a commission on purchases through your unique links.
Surveys
Yup, they can seem annoying but you can make a little extra cash by doing surveys. This isn't going to bring you in a ton of money, but when combined with some of the other sides hustles it is a nice little bonus. One that I like to use is Swagbucks. You do the surveys and earn points that can be traded in for cash or gift cards. It doesn't take much time out of your day at all,k so that is always nice.
If you are crafty or have some sort of skill that you can sell, then you should be capitalizing on it! I wish I was crafty enough to make an Etsy shop or sell my own designs, but unfortunately, I am not. A lot of people are though and it is something that can really help with some extra income. You can go through Etsy or build a shop with Shopify and start making some extra cash right away.
Referral Codes
These referral codes are a little different from affiliate marketing in a way. Most of them are from sites like Ebates, Thredup, Walmart Grocery, etc… Basically, with these, you get friends and family to sign up for services through your code. They will get a bonus and you will as well. Win-Win.
Blogging
If you would have told me a year ago that people made money blogging, I would have laughed at you. Now though, I see how wonderful blogging can be to those trying to make some extra money. You can make use of ads, affiliate marketing, and even sponsored content to make as much or as little as you want. This isn't a get-rich-quick method by any means. It takes work and dedication but it is so much fun and can really earn you a big bit of money. Feel free to check out how I make money blogging here.
Freelance Work
There are tons of options for people of all skill sets to do freelance work. From being a Virtual Assistant to freelance writing, even paralegal work. Fiverr is a great place to find these opportunities. A lot of websites will even pay you to write blog posts for them. You can find out more about that in this helpful article.
Tutoring
Did you know that online tutoring is a real thing? Just like you can get your master's degree from Cornerstone University online now, you can also make money by tutoring students online too.
It is one of the perfect side hustles for people with teaching experience, college degrees, or expertise in a particular area. There are a few really cool sites out there with tons of opportunities for every skill set. One that I really like is Tutor.com. You can set your own hours and work as much or as little as you want.
Donate Plasma
Yup, you can get paid for donating your life-saving plasma! To me, this is a win-win. The donor gets paid, and it can potentially save a life in the process. From what I have seen, you can make anywhere from $20-$50 per donation and can donate every couple of days. It is no more uncomfortable than a regular blood donation either. In a plasma pen before and after comparison can see real and natural results. Out of everything, I think this is one of the noblest side hustles because everyone really wins in the long run. Just look up donation centers in your area and check them out.
With technology literally at our fingertips, there is no reason that everyone can't be making a little extra cash with side hustles. No matter what your area of expertise is, there are options out there for you.
So, do you side hustle? If so what do you do to bring in that extra income? I am always looking for new ways to diversify my revenue streams.