Well, guys, it has been quite a ride! This month, The Coffee Mom is a whole-year-old and what a crazy year it has been. I went into this blogging adventure with no clue what I was doing. Just dove in headfirst and hit the ground running. This one-year blogging has taught me a lot though, and I plan on doing and learning so much more in the following year as well. I have made friends, gone to events, and even made some income. After a year I can say with full confidence that this is what I was meant to be doing. My blog will continue to grow, and I want you to grow with me.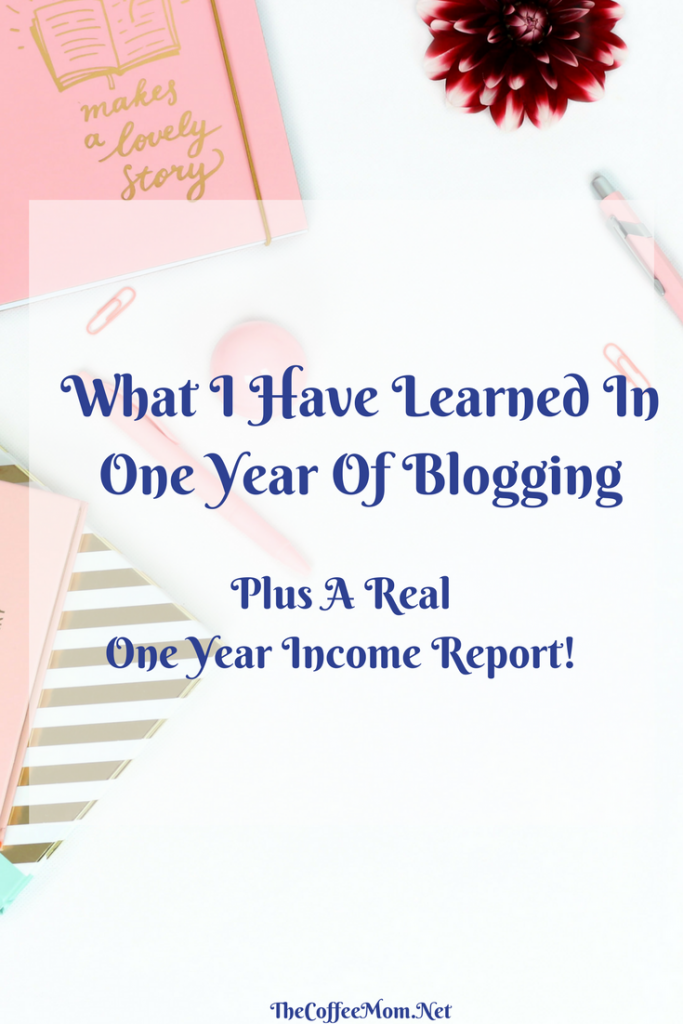 *This post may contain affiliate links*
One Year Blogging
I started this blog on a whim. It was during a time when I had lost my job, just had my son, and was lost as to what I was supposed to be doing in this life. I needed something; something for myself that I loved and that could also potentially make me an income. It was actually my husband who suggested that I start a blog. You see, I have always enjoyed writing. I wrote short stories and poetry all of my life. I even started ( yet never finished, yet) a novel, but I had never thought to do anything more non-fiction. Though I wasn't too sure, he pushed me to start The Coffee Mom, and I have been so thankful I did it every moment since then.
The First Few Months
The first few months of my blogging journey were my learning curve for sure. I Initially started with a WordPress.com site, but quickly moved over to self-hosted. I ended up joining a few blogging groups on Facebook and learned so much from a lot of wonderful bloggers. My first post was deeply personal, my VBAC story with my son. Surprisingly, it was met with a wonderful reception. It got more traffic than I really thought it would, and that is what kept me going in those first few months.
While I knew I eventually did want to make money from my blog, during the first few months I focused on producing content and growing a following. While monetization was always in the back of my mind, it was not something I was able to do from day one. So I just kept plugging away, putting out content and interacting with others on social media. and just getting my voice out there.
Starting With Sponsors
After a few months of learning and starting to build a following, I decided to focus more on working with sponsors. I researched and joined every influencer network that fit my niche and started applying to available campaigns. At first, all I got was a whole lot of no, but eventually, I started getting a few that said yes! I was so excited to get my first ever sponsored campaign. I worked so hard on that post, and while it wasn't perfect, the company was happy. As time went on, I started perfecting my pitch and getting better at photography. With those improvements, I was able to land more and more paid work on my blog and my social media outlets.
In the spirit of transparency, I will let you know that most of my paid work has come in the last few months. So from about August until December of 2017 is when the work really came rolling in. It has not been what I would consider a full-time income for the year, but it is getting there. I say this because I don't want anyone to go into a blogging journey expecting to make six figures in their first year and get right quick.
Not A Get Rich Quick Scheme
Now, while blogging can make you money, it is by no means a way to get rich quickly. Earning income from blogging takes time, work, and dedication. It is for sure possible to make a wonderful living, but you have to be willing to put in the work. Before I started blogging, I knew that it was work, but I had no idea how much work it really was. You always read posts about people making six figures a month and so on, but in reality that only comes after a lot of hard work. One thing I was able to really learn after one year of blogging, was that it takes work!
The Time Involved
So when I say that it takes work, I mean it. The time involved in crafting a perfect blog post can be pretty high. From the actual writing to editing, taking photos, editing photos, and then the promotion, it can take numerous hours to craft a blog post. So don't think you can just throw just anything up online in a few minutes and start raking in traffic. A good quality post that will attract traffic and appeal to potential sponsors is going to take some time to get right. SO many non-bloggers don't realize the time that really goes into this.
Promotion
Another after one-year blogging tip that I have is that promotion is key! It is very unlikely that anyone can just post up something that has had tons of traffic roll in right off the bat. You are going to have to promote your post. I have had great success on social media, Facebook, and Pinterest especially. Pinterest has become my #1 driver of traffic to my site! Promotion will probably take up a large chunk of your blogging time, especially in the beginning. I would say sometimes I even spend more time promoting than I do writing!
Don't Give Up
The biggest thing I have learned in a year of blogging, and the best piece of advice I can offer newer bloggers is to never give up. If this is something you desire, then keep pushing towards it. It may be slow going for a bit, but it will work out in the end if you keep on pushing. Never stop writing, never stop applying for campaigns, and never stop learning. Even one year in, I know there is so much more that I have to learn, and I can't wait to do it.
I want to learn and grow and share what I have learned with others, and that is why I am starting my Friday Blogger's Corner. Every Friday I plan on putting up a post and a video ( yup I am doing video now, so check me out on YouTube) on blogging lessons, tips and tricks, and things that help me out that I think can help you as well! So if you have any suggestions for this series, I would love to hear them in the comments below! I will do my best to get to every topic that y'all want to hear about! You can also join my Facebook Group for exclusive weekly live training, daily threads, and more!
One Year Income Report
Okay, some of you may have been waiting for this, or just scrolled down here but here I am going to share my real one-year income report with y'all! I have been hesitant in the past to share income reports because honestly, mine isn't as impressive as a lot of others, but it is real. The majority of my income this year has come from sponsored posts. I have done a small amount of affiliate marketing, but I need to really get better at that. Also, I am not currently selling my own product (yet), which is an area which a lot of bloggers make a good portion of their income from. I also only run one very small ad on my site, and I only started running it recently, so I don't get significant money from that either.
2017 Income
Sponsored Posts 2017 ( already paid out): $4,044.95
Sponsored Posts 2017 ( Pending payment aka not in my bank account yet): $2,905
Affiliate Marketing 2017: $233.69 (Total)
$127.27 (Amazon Affiliates)
$15.42 (Share A Sale)
$48 (Everyday Family)
$43 (Ultimate Bundles)
On-Site Ads 2017: $38.36
Grand Total For 2017: $4,317 Paid and $2,905 Pending
There you have it, my real one-year blogging income report. Since the majority of my income has come from sponsored posts, and I have gotten the majority of those in the last few months, there is a large amount that has not been paid out yet. For the most part, sponsored campaigns will pay you out anywhere from 30-90 days after a campaign is completed. 30-45 days seems to be the most common though. So once you complete a campaign, it can take a while to see the money actually in your bank account.
As you can see, I am not quite at the "full-time income" level yet. I believe by the end of 2018 I will be there with no problem.