Your home should be a place that you absolutely love and adore. It's important that you're happy to live in it and are proud to show it off.
However, there may come a time when you look around and realize you've been somewhat neglecting it and not keeping up with certain updates. Be glad to know there are some home improvement projects that will help you improve your home so you can enjoy it more and look forward to staying in it for the foreseeable future.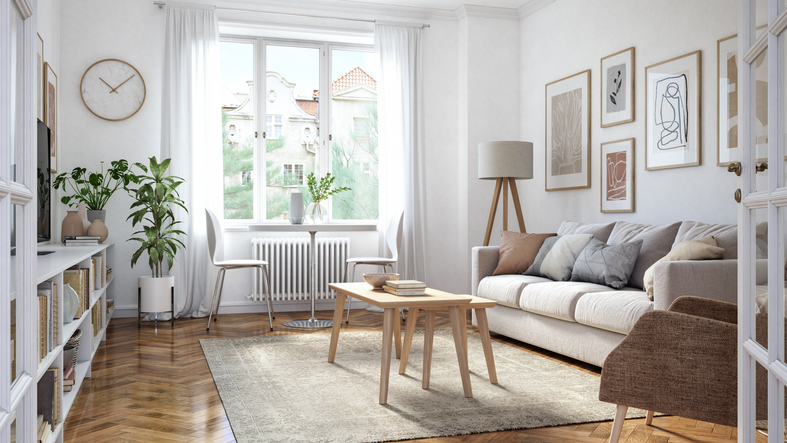 Paint & Decorate
Improve your home so you can enjoy it more by painting and decorating your spaces. New paint is a cost-effective and fairly simple way to completely transform your home for the better. Change up the colors of the walls to a neutral palette that's both soothing and attractive. Fresh paint will also helpmodernize your home and brighten it up. Decorate your rooms by hanging colorful artwork, displaying plants, and adding pillows and throws for comfort and texture. New paint and redecorating will help you boost its appearance and make it a more beautiful home to live in.
Spruce up the Backyard
Another way to improve your home so you can enjoy it more is to spruce up the backyard. You're wasting a lot of space and opportunity to enhance your home if you're ignoring this area. Once it's all put together, think about how much you'll get out there and use it when the weather is nice or you want to entertain guests. For starters, set up a grilling area with comfortable seating and cushions. Take the time to learn about the 6 Things To Look For In Your New Outdoor Sofa so you're satisfied with your purchase and it can last you a long time. Also, consider adding a fire pit, planting a garden, and refinishing your deck, or putting in a new patio.
Get Rid of Old Stuff
Improve your home so you can enjoy it more by decluttering your rooms. Get rid of your old stuff and make room for the new. The more you donate or dispose of the more room you'll have to maneuver around and more space you'll have to organize what you're keeping. Your home will be cleaner and tidier for it and you'll enjoy being in each room when there aren't any belongings scattered all over the place. It may be hard to part with some of your items but remind yourself that the more you get rid of the better your home is going to look and feel. Decluttering will not only improve the look of your home but also likely make you feel less stressed out living in your spaces.
Brighten it Up
Another way to improve your home so you can enjoy it more is to brighten it up. Start by washing your windows and drawing in as much natural light as possible. Consider adding a skylight in dark bathrooms or hallways as well. Use paint to brighten up a small space and install the right lighting options in each room so you have choices. Put lights on dimmer switches and add candles and lamps throughout your rooms. You want to be able to set the right mood throughout the day and ensure you can see what you're doing when it's dark outside.
Replace Old Flooring
Old flooring can drag down the look and feel of your home and make it look more outdated than it is. Therefore, you can improve your home so you can enjoy it more by replacing old flooring and carpeting. Stained and old carpeting isn't pleasant to look at or walk on. Instead of assuming you have to replace carpet with carpet, consider some of the more modern and trendier options such as luxury vinyl plank. It's especially a wise choice if you have kids or pets. Replacing your flooring will not only make your home more attractive and modern but also add value to it.
Update the Bathrooms & Kitchen
Some of the most used rooms in your home are the bathrooms and kitchen. They're important to homeowners and homebuyers alike and shouldn't be ignored. Improve your home so you can enjoy it more by giving your bathrooms and kitchen more attention. Consider remodeling these spaces altogether or at least making some significant improvements and updates to them. Look into adding a colorful backsplash, painting the cabinets, and making sure the lighting fixtures are attractive. In the kitchen, think about adding a large island, replacing old appliances, and what type of floors might look best. As for the bathrooms, consider installing a big tile shower, having two sinks in the master bathrooms, and hanging an attractive mirror or two that make the space appear large.
Create A Coffee & Bar Area
You can improve and enjoy your home more when you're set up to relax in it or entertain guests. Therefore, consider creating a coffee station and bar area. Have it all set up and stocked and ready to go whenever someone wants a drink. You'll love having this available when you need an afternoon cup of coffee or want to unwind with a glass of wine in the evening hours. It'll also be a convenient setup if you have overnight guests so that they can help themselves throughout their stay.
Set up A Home Office
More and more people are working from home these days. It's wise to have a home office set up either for work or paying bills and having private conversations. Improve your home so you can enjoy it more and have greater job flexibility by creating a home office. You'll love having a room where you can go and shut the door and focus when you need to get your work done. You may even want to think about having the room serve a dual purpose such as also being a guest room for when you have visitors.
Work on the Landscaping
Improve and enjoy your home more by dedicating more time and energy to working on the landscaping. It'll boost your curb appeal and make your home appear more attractive on the exterior. Think about what design you like before you dig in and start ripping plants out and replacing them with new options. If you want to do the work yourself then roll up your sleeves and start pulling weeds, trimming trees and bushes, and planting colorful flowers. Be sure to cut and fertilize your lawn and consider adding lights or water features where it's appropriate. You'll appreciate pulling up to your home and seeing how beautiful it looks from the street and that all your landscaping is in order.
Finish the Basement
Your basement is another area that you shouldn't disregard or assume it's for storage and boxes only. You can improve your home and enjoy it more by finishing the basement. There are many ways to transform it so you can use it more, such as adding a bedroom and bathroom, setting up an entertainment center, or having a playroom and game room for the kids. You'll like having this extra square footage in your home that you can actually make use of. Invest in comfortable furniture and set up a TV so you and your family can go downstairs and watch a big game or a movie together. It'll also give you more room to spread out in the wintertime or when you have guests over.
Add A Reading Nook
If you want to improve your home and make it more enjoyable then consider adding a reading nook. Pick a location near a window and make sure you have a comfortable spot and cushion to sit on. Think about having a nearby library or bookshelf set up so you always have reading choices. You'll love having a place you can go to relax and that you can call your own. A reading nook is a unique feature and you'll likely find that you use it often once it's built and ready to go. It may be so comfortable that you choose to nap in the space when you're feeling tired. You may also use the space as a quiet area where you can journal or meditate in your free time.
Conclusion
These tips and pieces of advice will help you create a home that not only looks good but that you can also enjoy. Use these ideas as a starting point for you working your way to slowly improving your spaces over time. As a whole, they can be a lot to take on all at once. Therefore, make a priority list and budget and then begin to tackle them one by one. Be sure to take before and after pictures so you can see just how much of a difference these types of updates and home improvements make and that your home appears more modern and functional with them in place. Use these suggestions as a foundation for getting started but then be sure to have fun embellishing a bit and adding a touch of your personal style and taste as you implement them..