2018 is the summer of change here in my home. It is the last summer before my daughter goes to Kindergarten, and I am making it my mission to have the best summer ever. Besides doing crafts and taking family trips, I am also working on the kids' shared bedroom. Before the end of the summer, I plan on having the room transformed into a nautical sanctuary fitting my little mermaid and pirate! For now, though, it is starting slowly. With the decluttering and putting some organizational products in place. So if you are looking for some creative shared kids' room organization ideas, keep on reading and stay with me for this summer home remodel fun!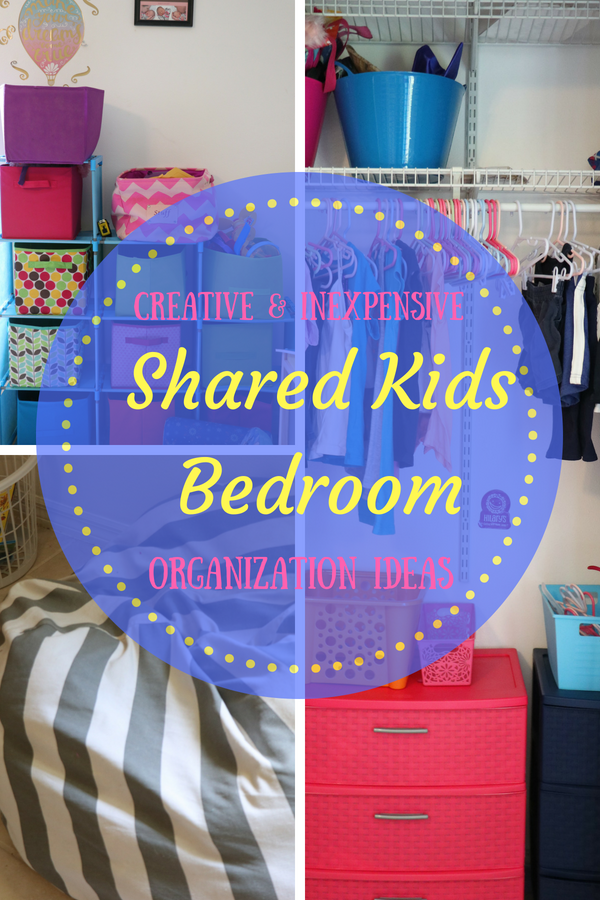 *This post contains affiliate links. This means, if you make a purchase, I will receive a small commission at no extra cost to you. Feel free to see my full disclosure policy*
Shared Room Organization Ideas
Going into my kids' bedroom makeover, I was so excited to get started! So in order to get some inspiration, I did what every millennial mom would do. I headed to Pinterest. I searched for quite some time looking for shared bedroom ideas. There were so many adorable ideas for same-sex siblings…but where were the mixed-gender shared bedroom ideas and inspiration? Seriously, they were severely lacking! While this was a bit disappointing, I decided to take matters into my own hands and figure it out all on my own. In order to maybe help inspire some other mothers, I am sharing my whole experience of designing this mixed-gender bedroom. From the declutter and organization to the decor, and the introduction of some quality children's play equipment, I am bringing y'all with me!
Mixed Gender Shared Bedroom
My two little ones will be sharing a room, one boy one girl… They are still very young so really the idea of them sharing a bedroom, to me, is not anything bad. I mean, they both still end up in my bed halfway through the night. Honestly, we simply don't have the space at the moment for each to have their own bedroom, and this is something that countless other mothers are faced with every single day. Instead of worrying, moving, thinking about needing a bigger home…I decided to just make the best of what I have and create a really fun space that both of them will love. As they age and want their own space, well…I will cross that bridge when I come to it.
Let The Purge Begin
So before I could even start working on anything in the kids' bedroom, I had to purge! These kids seriously had so many toys that it was insane! No kid needs that many toys, so it was time for a purge! I wish I would have gotten photos while we were doing this, but believe me when I say..IT WAS BAD.
My daughter helped me out and we got rid of close to half of the junk in their room. Things that were still good were donated, and things that were broken got tossed! Not only did this clear up a ton of room, but it helps teach the kids the importance of donation.
Other than toys and clothes, we also got rid of a large dresser that had been in the room. This dresser was just taking up so much floor space, and it was honestly unnecessary. Once it was cleared out, the room looked bigger right away and I knew this project was starting to come together.
Inexpensive Shared Kids Room Organization
Once I had a large amount of junk out of the room, it was time to get to organizing! Now, I am trying to redo this room on as much of a budget as possible! So you know I went searching for the best deals on storage and organization, and I was able to find some really awesome products for relatively cheap!
Clothes Storage
After getting rid of the dresser, I knew I still needed something to hold the clothes that weren't going to go on hangers. After some browsing around, I was able to find these adorable pink and blue wicker look plastic drawers.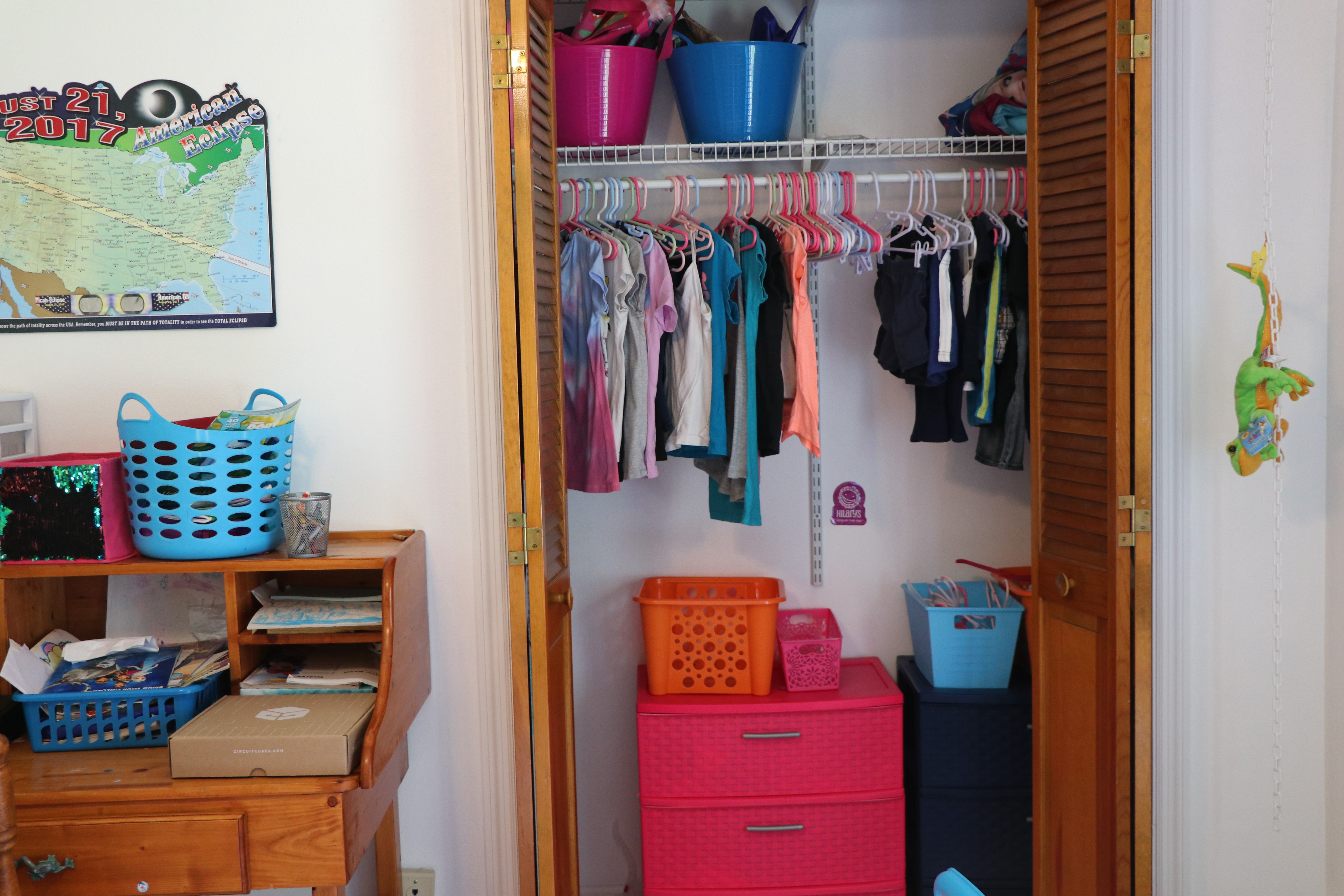 I grabbed one in pink, and one in blue and put them in the kids' closet. These were an excellent replacement for the large dresser, and they take up no precious floor space!
I also grabbed a few plastic bins from my local Dollar Tree and used them to store other items in the closet as well. Dollar Tree is an amazing place to get really inexpensive storage, so if you are doing any kind of project it would serve you well to check them out! The key to a good shared closet is making maximum use out of all the space you have! For me, that was making use of the closet floor space with the 3 drawer towers.
Toy Storage
Next, we move on to toy storage. When it comes to shared kids' room organization, you are going to have to, once again, make the most out of your space. As I mentioned, I am trying to keep as much open floor space as possible, so for toy storage, I wanted to go vertical. Since we are going with a nautical theme, I decided to go with this blue shelf. It was super easy to put together, and the fabric bins from the Dollar Tree fit perfectly!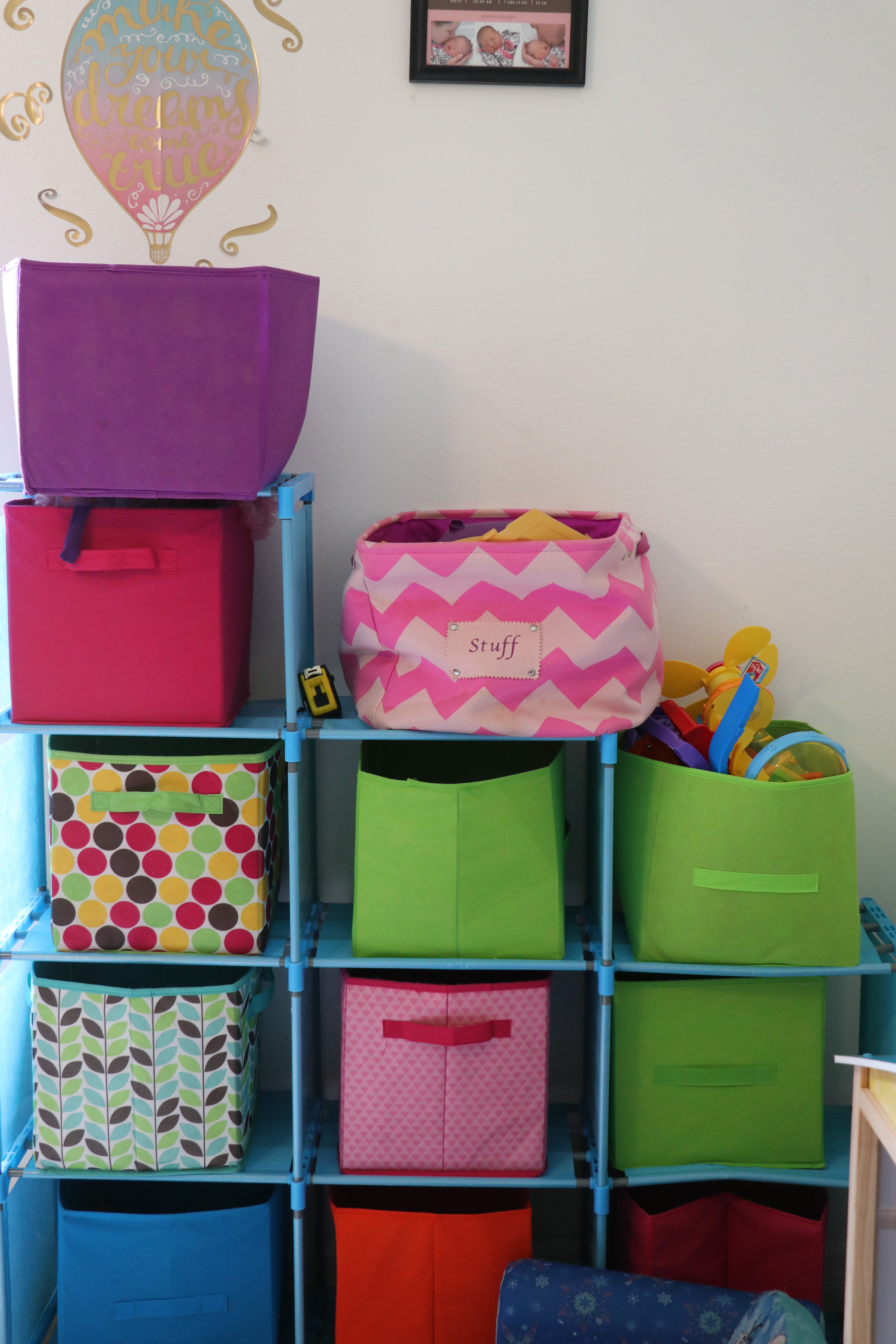 Those Dollar Tree fabric bins too! They hold a TON of toys! This one shelf and the bins now hold ALL of my kids' toys.
Stuffed Animal Storage
Finally, I got a really cool bean bag to store the massive amount of stuffed animals my children have accrued over the years.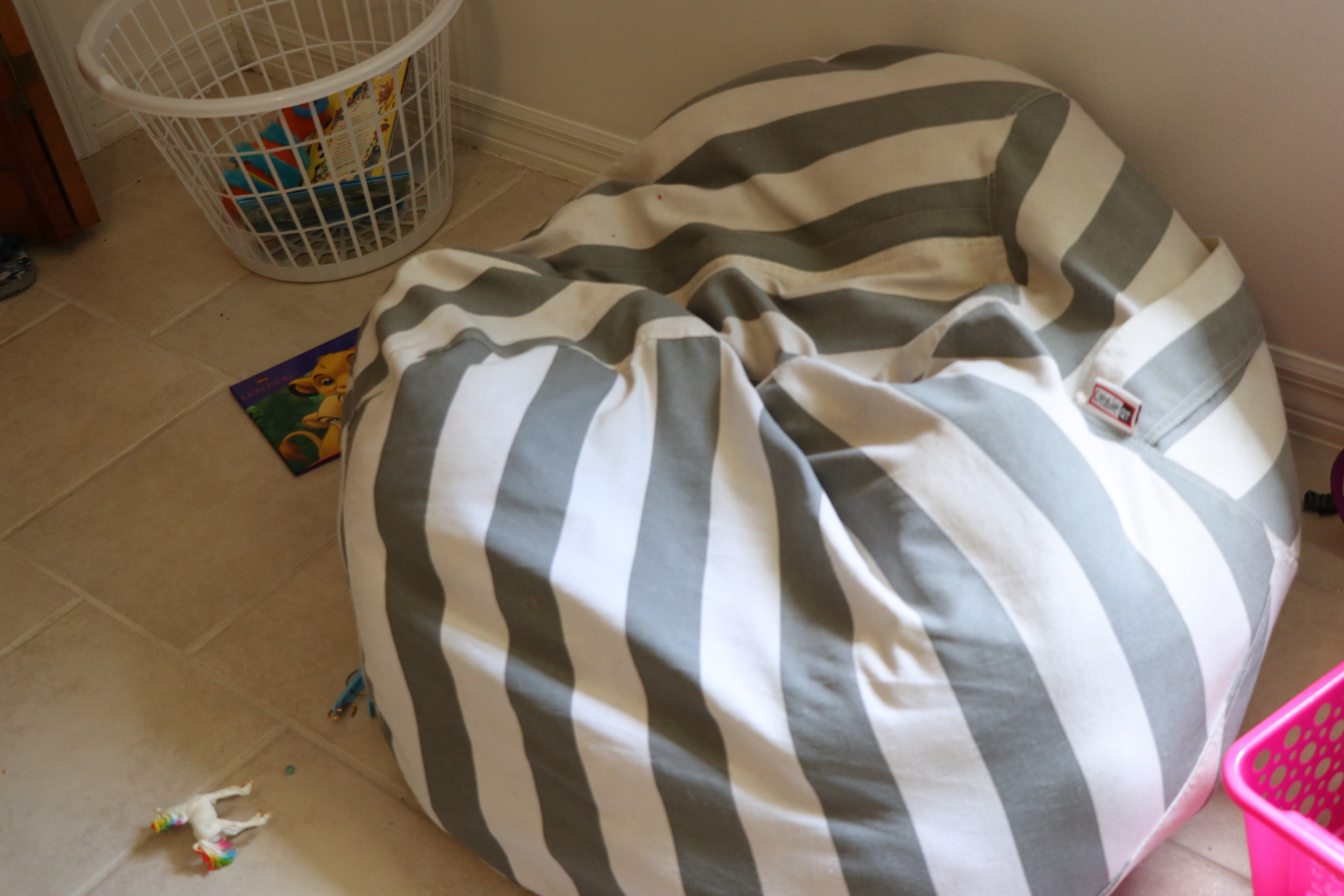 This thing is seriously awesome! It holds SO many stuffed animals. My kids love it too because they can sit on it and play or watch TV...And I don't have to bother finding places to store stuffed animals!
On To The Next!
With just these 2 simple storage ideas, I was able to start the process of transforming my kids' shared room! There is already a ton more storage, and more floor space, and it just feels more open!
Next up I plan to paint, get bunk beds, and work on getting some really cute ( and functional) decor! So if you are interested in seeing how this room continues to transform over the rest of the summer, just stick around. Sign up for my mailing list for exclusive updates, and follow me on Instagram for even more behind the scenes of my daily life!