Ready in under 15 minutes, this shrimp avocado salad is a simple and delicious healthy weeknight meal!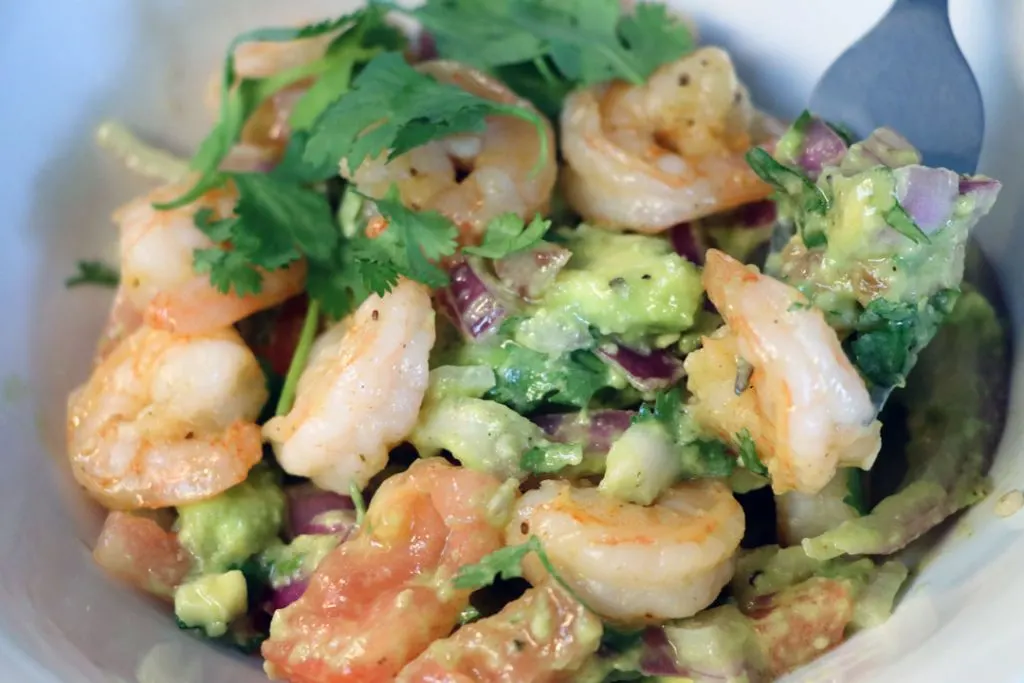 I have been in a serious meal planning rut lately. Between work and my daughter back in school, time is tight some nights! While I've been trying to work on eating healthier meals, some nights I just don't feel like spending an hour in the kitchen. So I have been looking for super simple quick meals that I can make that are still healthy.
On top of being super busy, I have also been trying to limit my carb intake. As you may know, carbs are my weakness! I absolutely love pasta and tacos, but unfortunately, they do not love me back! So on top of my hunt for quick healthy meals that my kids will also eat, I'm trying to make sure these meals are low carb as well!
Sounds like a struggle right? Yup! I agree! But thankfully with some trial and error, I've been able to create some delicious low-carb recipes that my family loves. One of our recent favorites is this shrimp avocado salad.
Shrimp Avocado Salad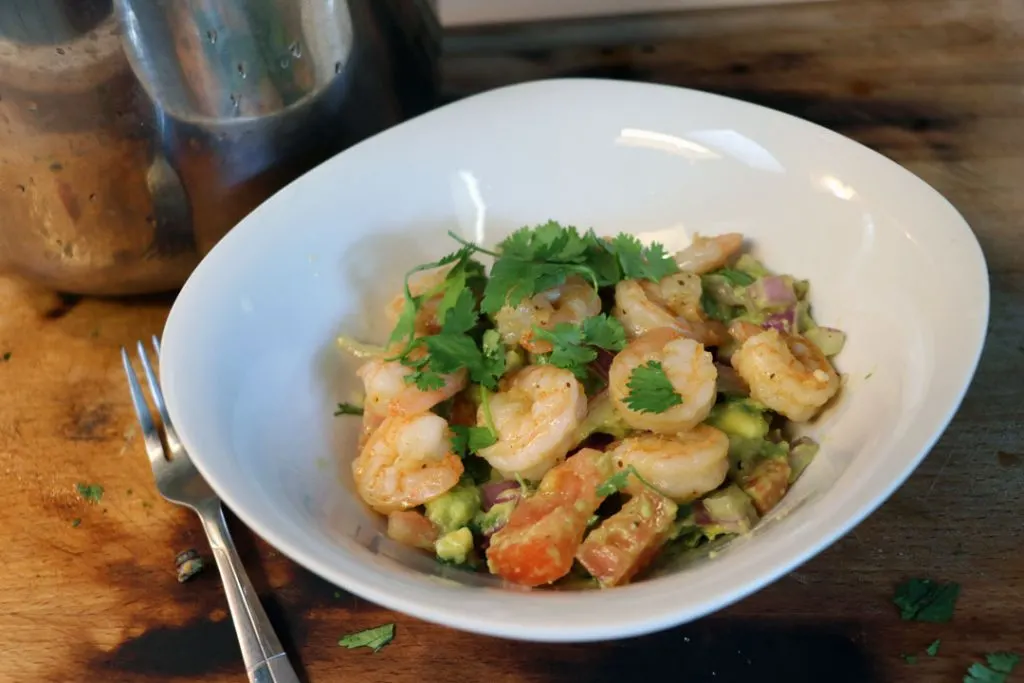 I was able to completely put this shrimp and avocado salad together in about 15 minutes! Which makes it perfect for a busy weeknight. Shrimp is probably my all-time favorite go-to for a quick dinner since it only takes a few minutes for them to cook all of the way through.
For you to recreate this avocado shrimp salad, you just need a few simple ingredients too.. Making it a rather inexpensive meal option as well!
I grabbed all of my groceries from Walmart using their grocery pickup to save some shopping time too. While I know, some people love to walk through the aisles, I just don't have time for it anymore so grocery pickup has been my lifesaver! If you haven't checked it out yet, you can get $10 off your first order here.
Anyways, back to the recipe! To recreate this shrimp avocado salad you will need the following ingredients:
Shrimp ( peeled and deveined)

2 Avocados

1-2 Tomatoes

1/2 Red Onion

2 Limes

Cilantro

Butter

Salt/Pepper

Old Bay ( optional)

Minced Garlic
Cilantro Lime Shrimp Avocado Salad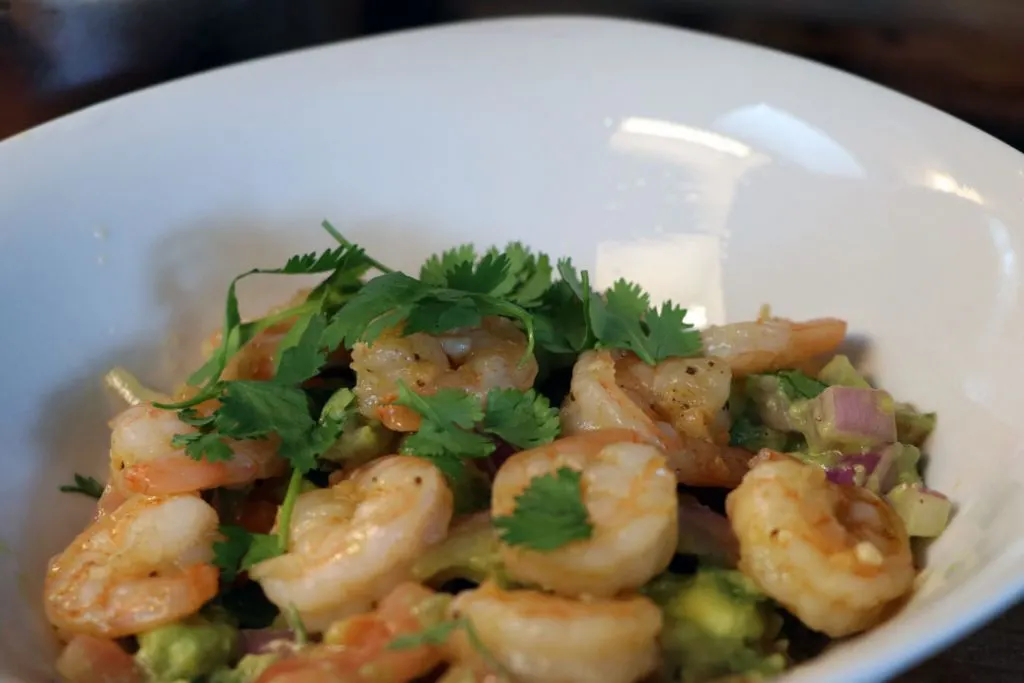 Once you have your ingredients, this is seriously the easiest meal to make. Start by melting your butter. I used about 2 Tbsp of butter, but feel free to use more or less depending on your personal tastes.
When your butter is melted, pour it over your shrimp in a small mixing bowl. Coat the shrimp with the butter and season with old bay and minced garlic. Honestly, I didn't measure my seasoning… I rarely ever do, but I would eyeball about a Tbsp of each. Once your shrimp is seasoned and buttery, dump all of the contents of the bowl into a hot pan.
Let the shrimp cook for about 5 minutes, or until they are fully pink and cooked through. Shrimp do not take long to cook at all, so this is not one where you can walk away and let it cook. Once the shrimp are done, put them in a bowl to the side and let them cool down.
Avocado Salad… aka Guacamole!
While the shrimp are cooling down, you can make the avocado salad ( aka guacamole). Yes, this is pretty much guacamole and it is delicious!
At this point, you are pretty much-done cooking, and just need to cut up the veggies for the salad. So dice up your avocados, red onion, tomato, and cilantro and put them all in a mixing bowl. Squeeze the juice of 2 fresh limes and season with salt and pepper to taste. Mix it together and plate!
Top with your shrimp and you are ready to eat this delicious 15-minute meal!
Easy Customizations for the Avocado Shrimp Salad
I ate this meal right out of the bowl, but there are a lot of different ways you can change it up to better suit your tastes.
This would make a super delicious shrimp taco as well! All you would do is heat up some tortillas, get your favorite toppings, and boom! Shrimp tacos!
If I wasn't eating low carb, I would add in some rice and black bean corn salsa to make this a Chipotle-inspired shrimp bowl!
So no matter your tastes, there is something for everyone to enjoy with this 15-minute shrimp avocado salad!
Grab Your Printable Shrimp and Avocado Salad Recipe Here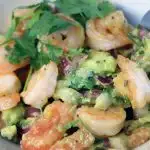 Shrimp Avocado Salad
Ready in under 15 minutes, this shrimp avocado salad is a simple and delicious healthy weeknight meal! Low Carb Keto friendly shrimp and avocado salad.
Ingredients
1

lb

Peeled and deveined shrimp

2

Avocados

1-2

Tomatoes

2

Limes

1/2

Red Onion

Cilantro

to taste

2

Tbsp

Butter

1

Tbsp

Minced Garlic

1

Tbsp

Old Bay

Salt & Pepper

to taste
Instructions
Place your raw shrimp in a small mixing bowl

Melt your butter, and pout over your shrimp.

Season the shrimp with old bay and minced garlic.

Pour all of the contents of the bowl into a hot skillet and cook about 5 minutes or until the shrimp is cooked through.

Remove from heat and allow to cool.

Dice onion, tomato, cilantro and red onion. Place in a mixing bowl.

Squeeze the juice of two limes into the bowl, and season with salt and pepper.

Mix together until well combined.

Top with your cooked shrimp, serve and enjoy!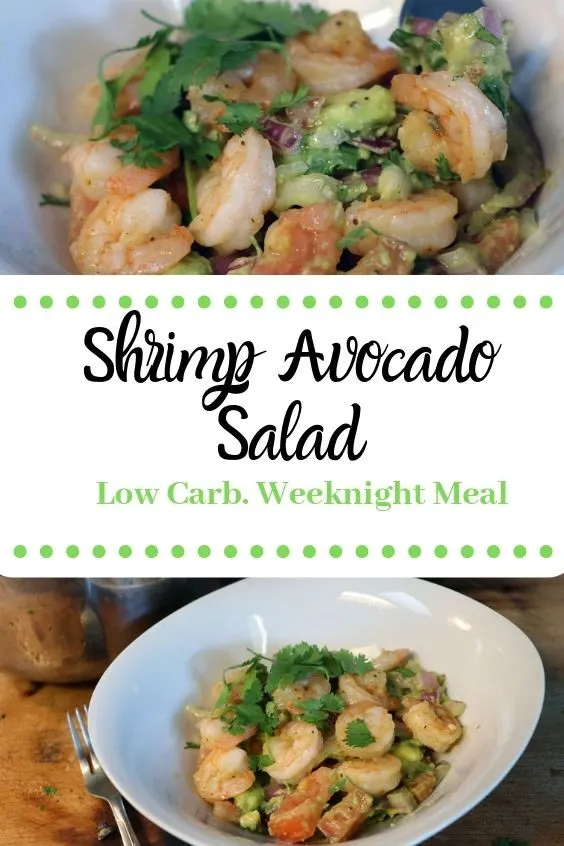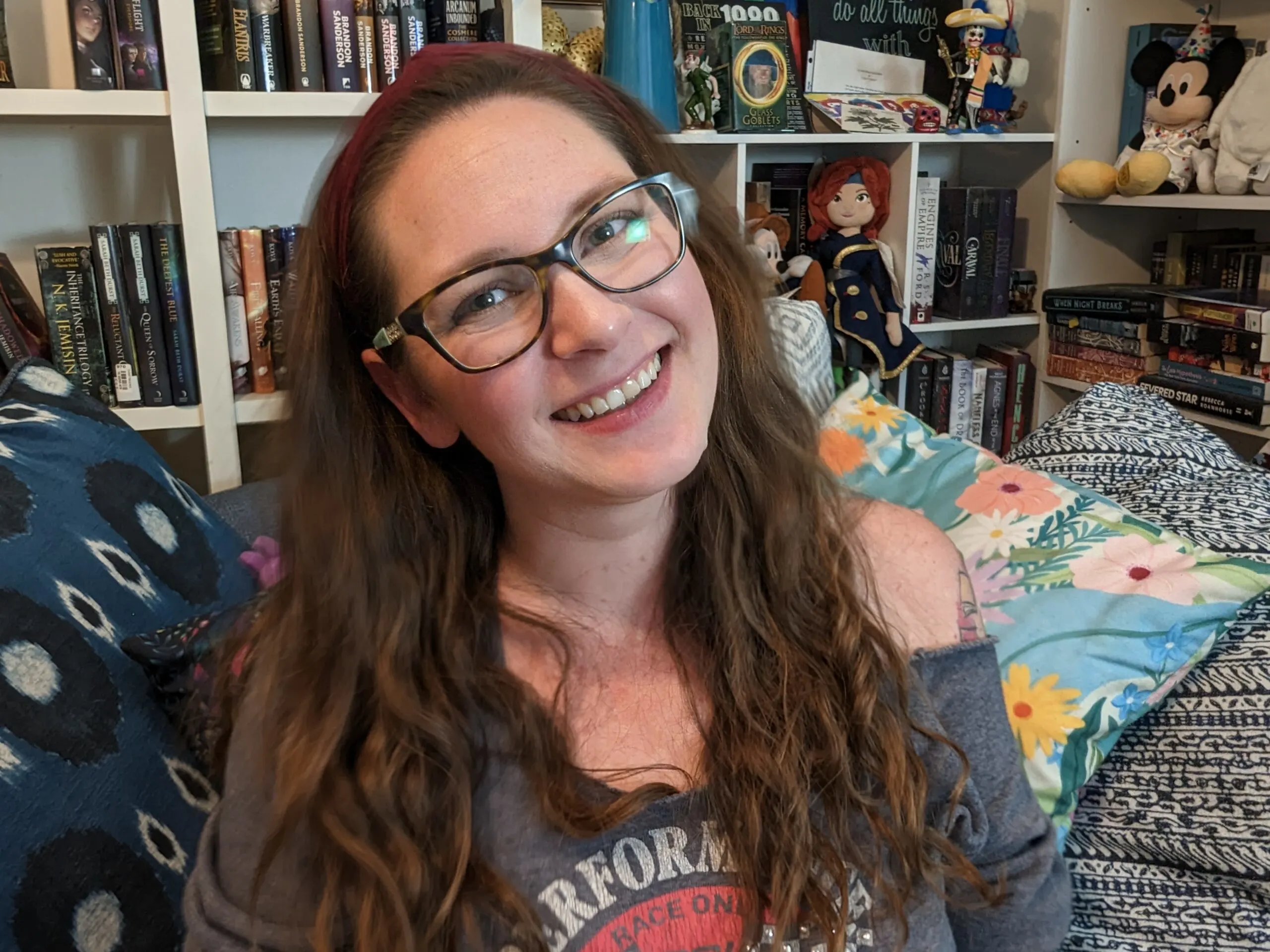 Jessi is the creative mind behind The Coffee Mom, a popular blog that combines parenting advice, travel tips, and a love for all things Disney. As a trusted Disney influencer and passionate storyteller, Jessi's authentic insights and relatable content resonate with readers worldwide.