Low carb and easy to make! This Balsalmic glazed chicken will be a new family favorite from the very first bite.
Light, fresh dishes have been top choices lately, and my recent favorite has been this balsamic glazed chicken with a fresh avocado salad. It is just the right balance of flavors, and my whole family enjoyed it. You can grill it, bake it, or do what I like which is make it on the stove in cast iron! Either way, you have yourself a fresh and easy weeknight meal that is not too heavy and super low carb!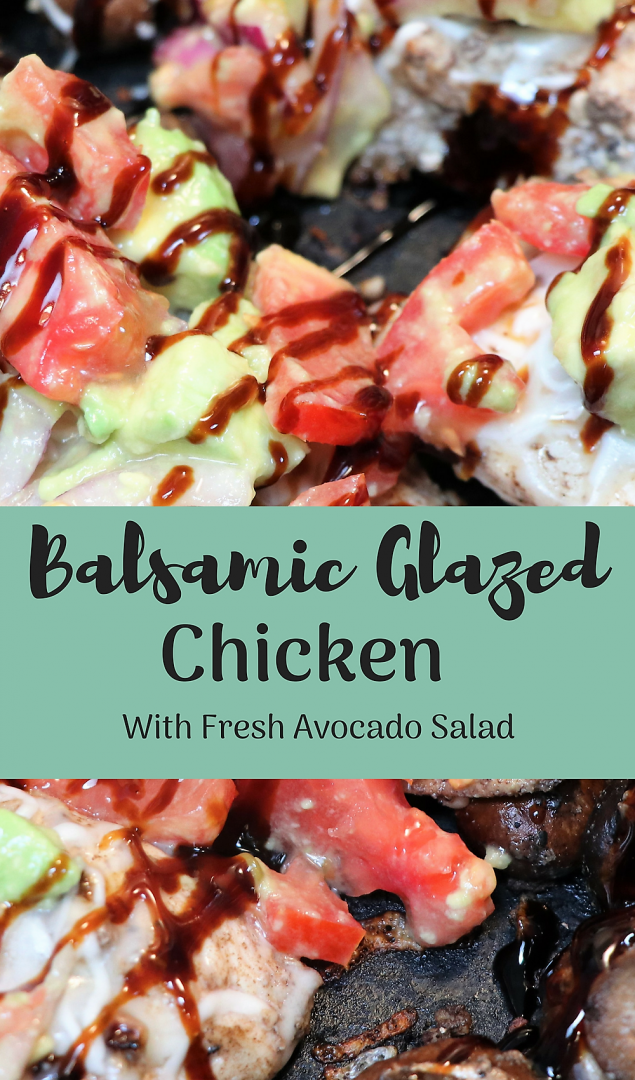 *This post may contain affiliate links. If you make a purchase, I will receive a small compensation at no extra cost to you*
Balsamic-Glazed Chicken

With

Avocado Salad
Ah summertime, while it is a fun time of the year filled with family time and sunshine, it is also a hot humid heavy time of the year down here in the south. When the weather is hot and humid, you just find yourself wanting fresh and light meals.
This balsamic glazed chicken is the perfect summer dish. I mean, to me, anything with balsamic and avocado is a winner in my book!
Not only is this dish super delicious and fresh, but also super simple to make! In less than 30 minutes, you will have a full-fledged meal fit for the whole family.
What You Need to make California Chicken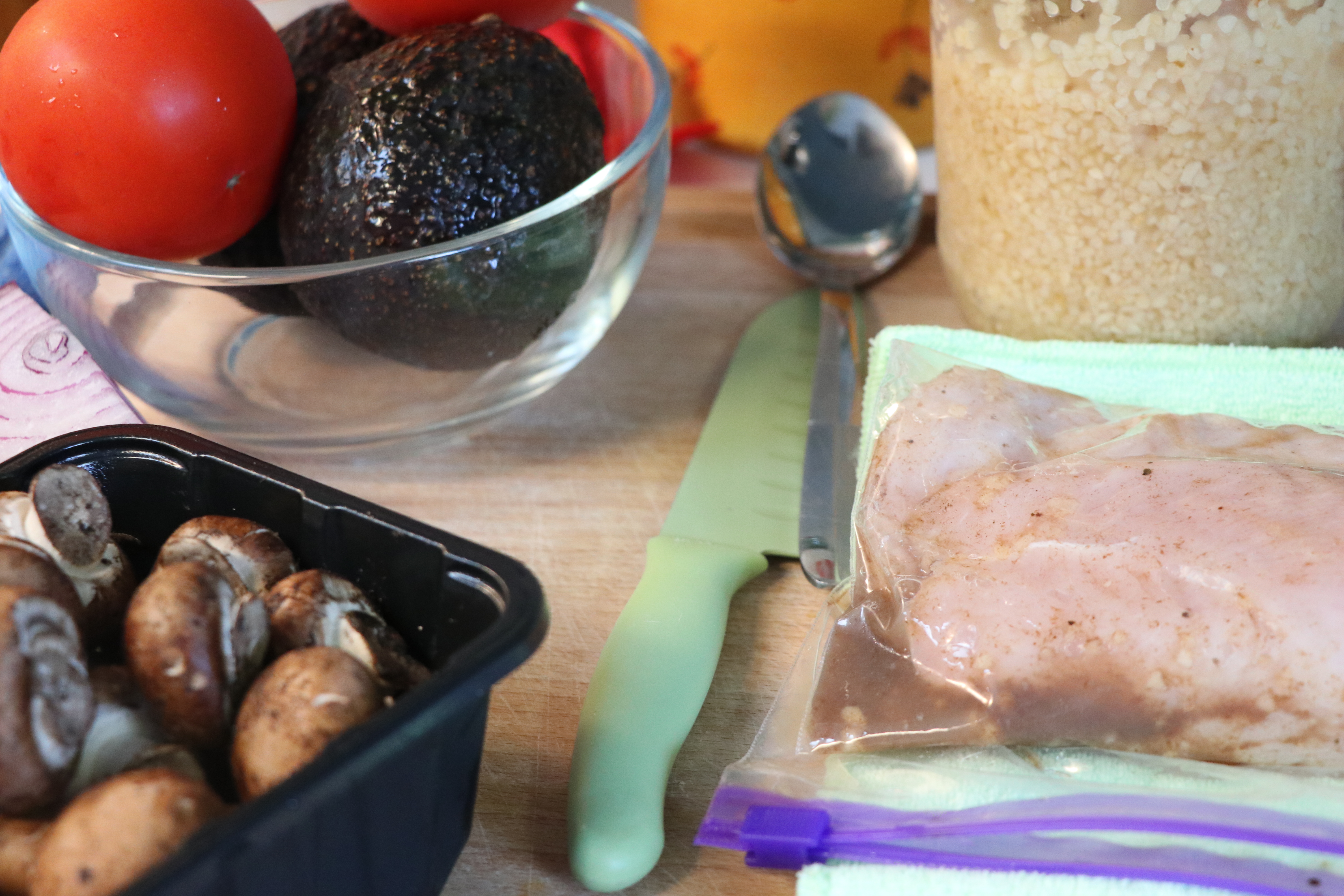 In order to make this balsamic glazed chicken, you will need a few things that you may not have typically in your pantry. Most of the ingredients are pantry staples though, and really the only "extra" will be the balsamic glaze.
I found mine at Aldi, but if for some reason you are unable to find a glaze you can always make your own or order it off Amazon pantry.
Chicken Breasts ( I like them thin for this recipe)

1 Avocado

1 Tomato

1/2 a Red Onion

Balsamic Vinegar

Lime Juice

Honey

Garlic

Balsamic Glaze

White Cheese of Your Choice

Mushrooms (optional)
As you can see, this ingredient list is a bit longer than my typical recipes, but I promise the end result is worth it!
Chicken Marinade

The first thing you are going to want to do is marinate your chicken breasts. Put them into a bowl or bag and pour in some balsamic vinegar, honey, and minced garlic. Now, I honestly did not measure these ingredients (shocker I know).
You want enough to cover all of your chicken so it can soak in the flavor. Let this sit refrigerated for anywhere from 30 minutes to overnight before cooking.
Avocado Salad

You may or may not know, but I already have a super simple recipe for avocado salad on the blog as well. Feel free to check that out and use it when making this dish. It really is just as simple as tomato, red onion, avocado, and some lime juice.
If you are feeling it, add in some cilantro and salt and pepper to taste as well. Set this aside and refrigerate until you are ready to use it.
Cook Your Chicken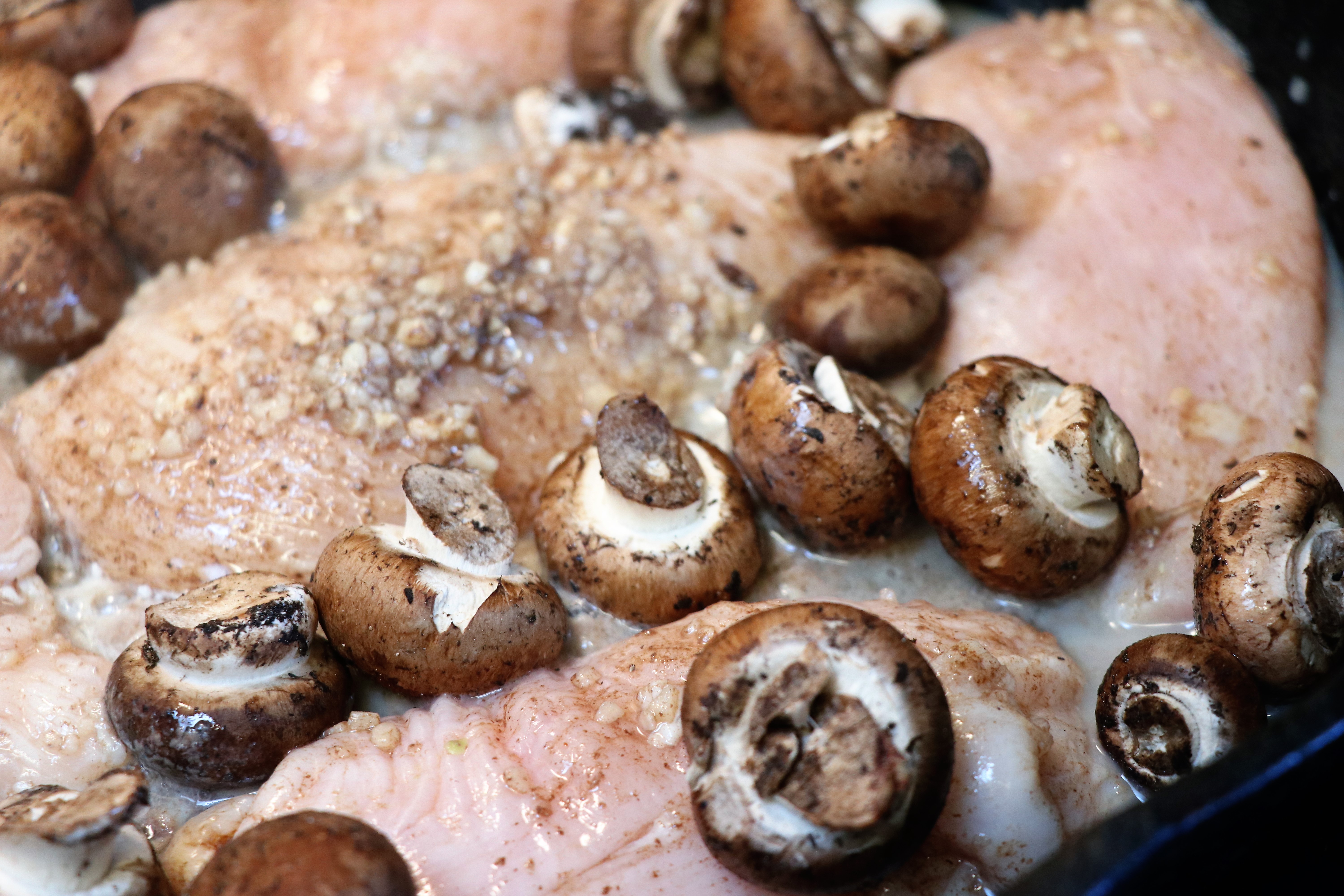 When you are ready, place your chicken breasts into a hot cast-iron skillet. I don't recommend pouring in the excess marinade. You can though, toss in some fresh mushrooms if you like. I think they really compliment the dish and bring earthiness to it.
While you can bake or grill the chicken, I really love cooking in a cast-iron skillet. It gives a different flavor to dishes, cooks evenly, and I just really love cast iron. They can seem intimidating at first, but I promise they are easy to use and you can cook literally anything in them!
Anyways, you will want to cook the chicken for about 5 minutes on each side until it is cooked through. I ended up covering mine for about half of the cooking time in order to get the mushrooms to soften down.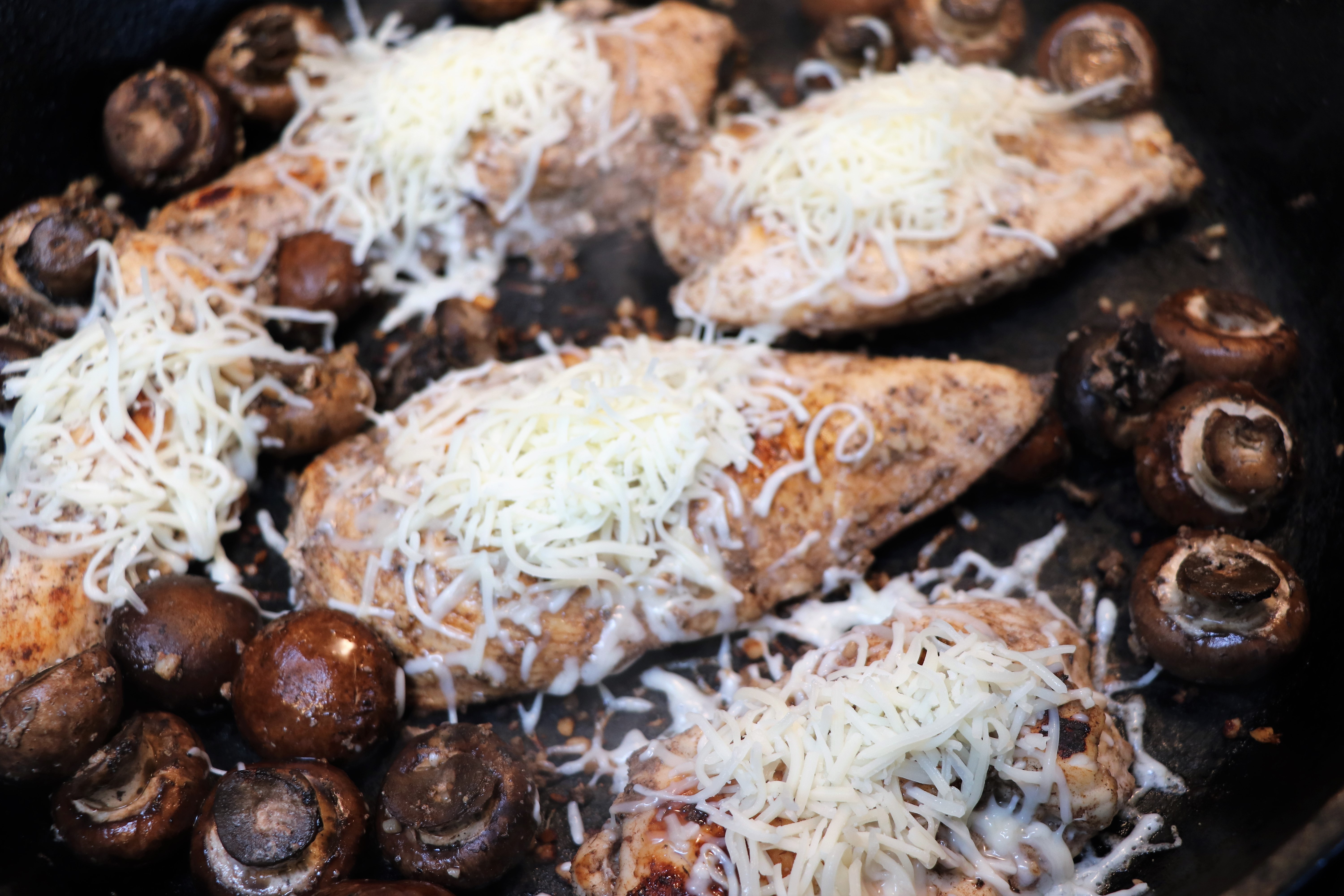 Once your chicken is done, top it with cheese and cover for a minute or so to melt it. I used a shredded Italian blend, but you can use any white cheese that you prefer.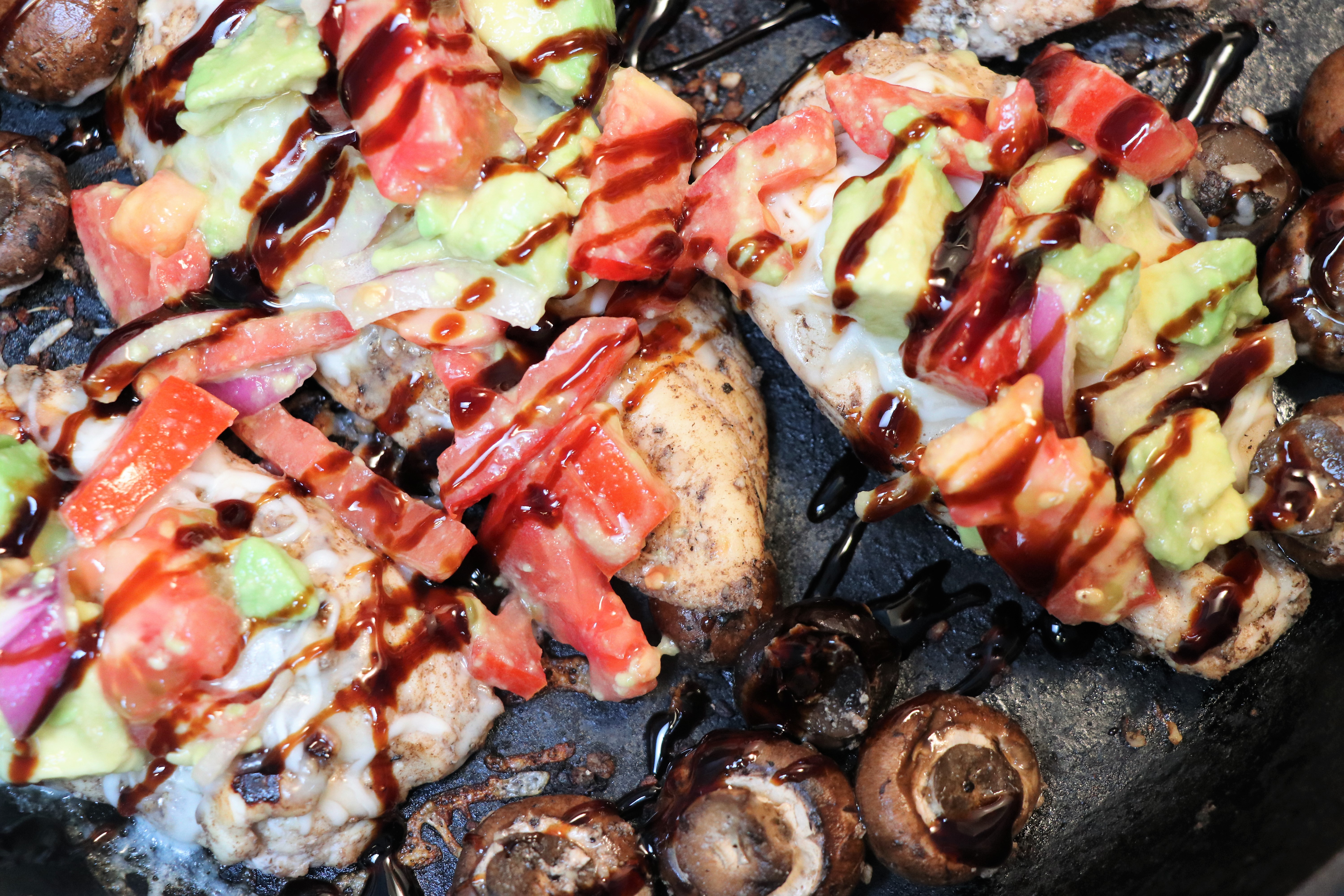 Finally, top your chicken with the avocado salsa and drizzle with the balsamic glaze! Superfast, super fresh, and super delicious!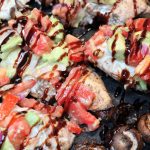 Balsamic Glazed Chicken with Avocado Salsa
Balsamic Glazed Chicken with Avocado Salsa
Ingredients
4-5

Thin

Chicken Breasts

1

Avocado

1

Tomato

1/2

Red Onion

1

Tbsp

Lime Juice

1

Tbsp

Minced Garlic

Italian Cheese

1

Tbsp

Honey

Balsamic Vinegar

Balsamic Glaze

Mushrooms

Optional
Instructions
Marinate your chicken in the Balsamic vinegar, honey, and minced garlic for 30 minutes-overnight.

Make avocado salad by combining red onion, avocado, tomato and lime juice. Refrigerate until ready to use.

Place your chicken breasts ( and optional mushrooms) on a hot cast iron skillet, discarding the excess marinade.

Cook for about 5 minutes on each side until chicken is cooked through and mushrooms are soft.

Top with cheese and let melt.

Top with avocado salad and balsamic glaze and enjoy!