It is possible that I am just strange, but I actually enjoy grocery shopping. Everything from making my list to picking out what we need is just enjoyable for me. What I hate though, is taking the kids to the grocery store. I end up with a crying baby and a 4-year-old who wants to touch everything. Recently though, I discovered something life-changing, the Walmart Online Grocery Pickup. Yes, your order online and then pick up your order! Seriously, this has been the best discovery for me and I will probably never go back to the old ways of grocery shopping again.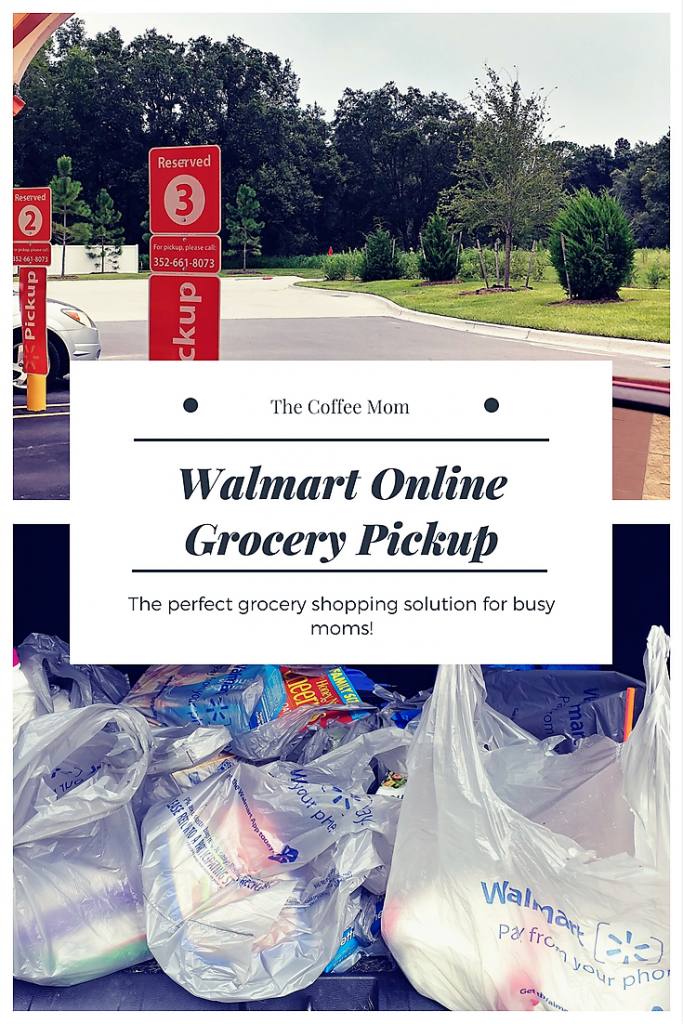 *This post contains affiliate links. If you make a purchase, I will get a small commission at no cost to you*
Walmart Online Grocery Pickup
I have used the Walmart online grocery pickup three times now and I can honestly say that I love it. Not only does it save me time, I feel like it saves me money as well! I no longer have to tell my daughter 100 times that she can't get something. Gone are the days of things somehow sneaking into the cart. Now, it isn't all sunshine and roses and there are a few cons but all in all, the pro's totally outweigh them!
What To Do
All you need to do is head over to the Walmart website and click over to the grocery department. From there you can start loading up your cart with everything you need. I like to decide what foods I am making for the week and add the ingredients accordingly. This ensures that I get everything that I need and only what I need.
Once you have your cart all loaded up, you can check out. First-time shoppers can get $10 off of their order through this link. I mean, who wouldn't want a free $10 towards groceries? Anyways, you can then select your store and a time slot for pick up. Then all you have to do is pay and pick up during your scheduled time.
You don't even have to schedule your pick-up right away. You can do it for a day or more in advance and plan your times. I personally like to pick mine up after I drop my oldest off at school for the day since I am already in town.
When you go pick up your groceries, there will be orange signs directing you to your pickup destination. Park in one of the reserved spaces, and call the phone number to let them know you are there. You will be asked for your name, and someone will be right out with your whole order.
As it can take a few minutes, In-case you're worried about waiting for them to pop over, just have a coffee ready to sip on while you wait. Wave if you see me sipping on my favorite iced coffee from Starbucks!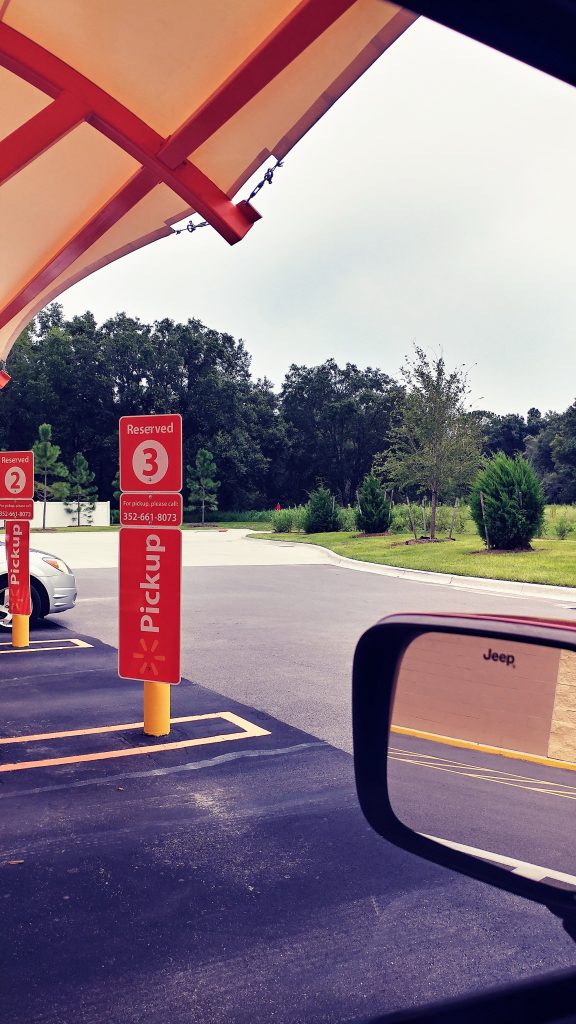 In no time a friendly associate comes out with all of your groceries and loads them into your car for you. All you need to do is a sign for them. See, super easy and you don't even need to get the kids out of the car! My son sleeps through the whole thing most of the time.
Pros of Walmart Online Grocery Pickup
As I mentioned earlier, there are both pros and cons to this service. Now that you know how it works, you can weigh the options and see if they will work for you.
Pro #1 saves time. I still get to make my list and meal plan, but I don't have to load up the kids. Unload them. Get them in a cart. Walk around the store. Check out. Load groceries. Load the kids.
Pro #2, saves money (in a way). It seems like grocery shopping before I always ended up with extras that I didn't plan on getting. Either I was hungry and added things myself or my daughter ended up convincing me she NEEDED something. Either way, with the Walmart online grocery pickup you only get what you need. No more impulse buys while standing in the checkout line.
Pro #3, Substitutions. When you order, you can check the box that allows for substitutions if they are out of what you chose. From my experience, they will give you a comparable item at the lowest price. For example, what you picked was $1.00 but they are out and substitute it for an item that normally costs $1.50. You will get it for the lower price of $1. I can't confirm this is ALWAYS how it is, but it is at my store.
Pro #4, first-time perks. If it is your first time using the service, you can get a few cool perks. For one, you will get a little reusable grocery bag filled with samples. I didn't get a picture because my daughter tore into ours, but my bag had full-sized sparkling water and granola bars. You can also get $10 off of your first order. which is basically like free money and who does not like free money?
Pro#5, you can earn money for your groceries. You heard right, for any customer you refer, you will get $10 towards your next grocery purchase. So not only does the new customer get $10, you do as well!
Cons of Walmart Online Grocery Pickup
While I do love this service and will continue using it, there are a few cons that you should be aware of.
Con#1, you can't use coupons. So in exchange for convenience, you are not able to use coupons, rebate apps, or the Walmart savings catcher on these purchases. Y'all know I love my coupons, so what I do is look to see what is on sale that I would like to use coupons for at Publix. I will get those items at Publix, and the rest with the online pickup.
Con#2, Not available at all locations. So Walmart which is actually super close to me does not offer this service. I have to drive a little out of my way, but for me, it is worth it. It isn't extremely far so I think it is a small sacrifice for convenience.
Con#3, you get plastic bags. Lately, I have been trying to use my reusable shopping bags. I have enough plastic bags at home and I am really just sick of them. Unfortunately, with Walmart's online grocery pickup, they always bring you out your groceries in plastic bags. So now I have more to add to my collection.
Final Thoughts
While there are some cons, I personally think that the pros well outweigh them. I love the convenience and simplicity that it offers. Not having to get my kids in and out and in and out is enough to make me love it alone! The $10 coupon isn't a bad incentive either though.
Do you plan on trying out the Walmart online grocery pickup for the first time? Or are you already a customer?