So y'all may know I am on this healthy kick lately. That doesn't mean I don't want to get down on some tacos though. So lately, I have been finding ways to satiate my Mexican cravings healthily at home. This super-easy tomato avocado lime salad really hits the spot! It is yummy on its own as well as on a taco salad! The best part is how easy it is to make though!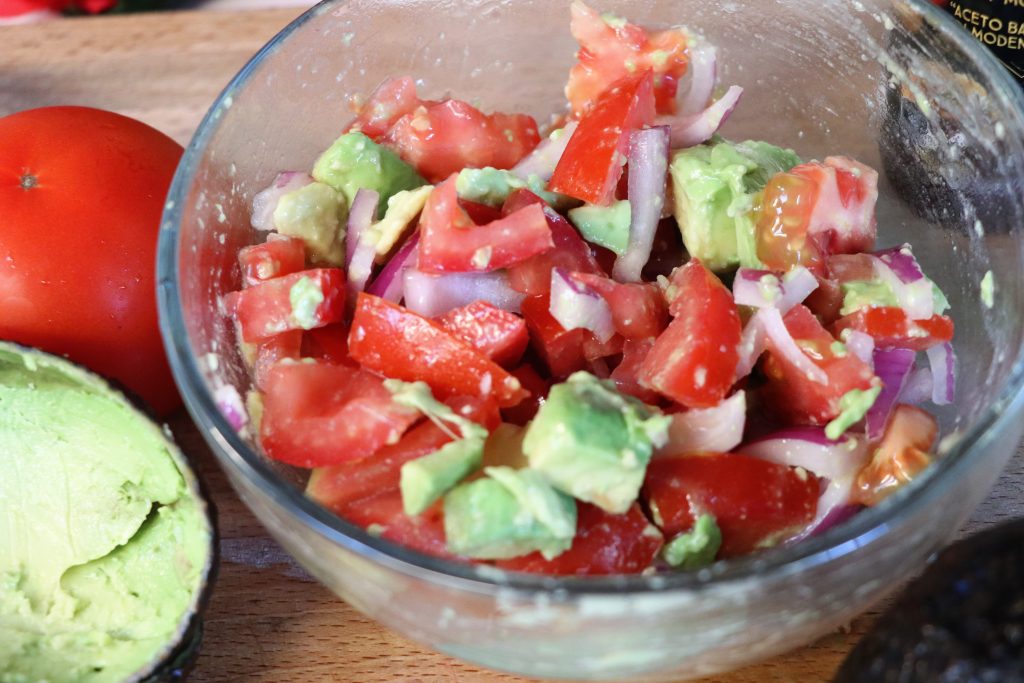 Healthy and Simple Tomato Avocado Lime Salad
Maybe y'all are sensing a theme here… That being my total love for Mexican dishes. Seriously, I could probably eat Mexican food a few times a week and still not get enough. Unfortunately, it isn't always the healthiest though. Since I am trying to live a healthier lifestyle, it is important to me that I find healthy but still delicious alternatives to my favorite dishes.
Thankfully, Mexican dishes seem to be decently easy to adapt! Taco salads have been living here lately! I love using a slow cooker Mexican Chicken along with Tex-Mex corn salsa as well as making delicious fried tacos. This avocado lime salad is just another perfect addition to my Taco repertoire.
In order to make this delicious guacamole-inspired creation, all you need is a few grocery staples. Avocado, Tomato, Lime, Red Onion, and Cilantro. That's it! Just a few simple ingredients but a whole ton of flavor.
You will want to dice your veggies well, but make sure not to mash the avocado too much. Honestly, pre-diced onions and tomatoes work perfectly for this recipe. Yes, they are a little more expensive, but sometimes this busy mama likes to pay a little for convenience.
Once all your veggies are diced, place them in a bowl and squeeze the juice of 1-2 limes over top. Mix in cilantro, and some salt and pepper to taste and you, my friend, are good to go!
You can now use it to top tacos, taco salads, or even eat it all by itself! It is healthy, delicious, and versatile!
Tomato Avocado Lime Salad
A delicious and healthy guacamole inspired avocado lime salad.
Ingredients
2

Avocados

1

Tomato

.5

Red Onion

1-2

Limes

Cilantro

Salt and Pepper
Instructions
Dice your Tomato and Red onion and place in a mixing bowl.

Cube your avocados, careful not to smash too much. Add to your bowl with the other veggies.

Squeeze in the juice from 1-2 limes ( depending on your taste).




Mix in cilantro, salt and pepper to taste and Enjoy!