I was recently invited to a media day event at Disney's Animal Kingdom to check out their new Pandora area of the park. Honestly, Animal Kingdom was never my favorite of the parks, but this may have changed after this visit! Disney spared no expense and walking into Pandora really feels like you are walking into the Avatar movie itself. From the floating mountains to the exquisite food selections, everything is well planned out and simply magical. So if you are planning a visit to Orlando, you should really visit Disney's Pandora.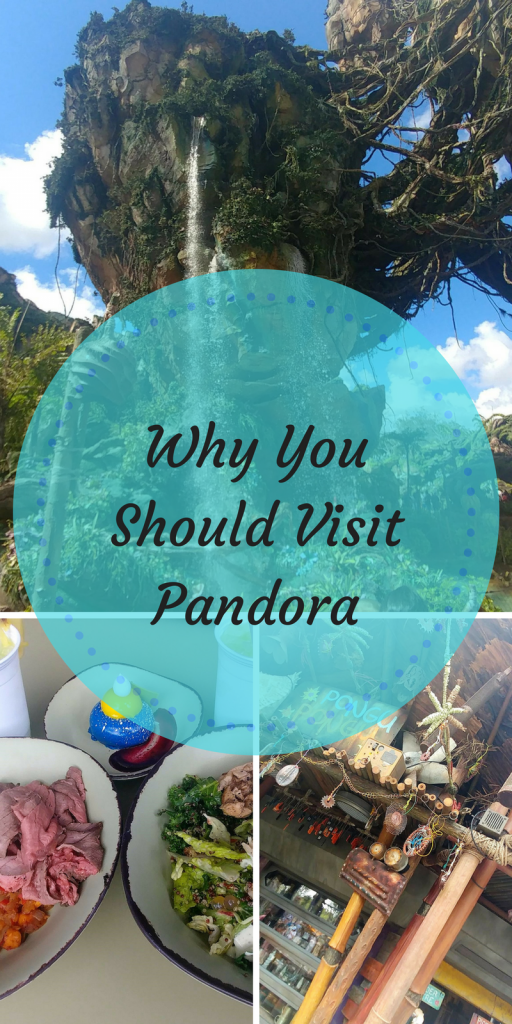 *I was provided with free entry to the park. All opinions are 100% my own*
Why You Should Visit Disney's Pandora
As you may know, I am a Central Florida native. I have grown up here and tend to spend quite a bit of time at our many theme parks. Disney is a favorite place of mine to visit, as there is always something new to do and see! Their newest addition is the Avatar-inspired land of Pandora! It is a visually stunning area of Animal Kingdom with so much to do and see that you can almost spend the entire day there.
The Rides at Pandora in Animal Kingdom
First off, one of the number one reasons to visit Disney's Pandora is the new rides. The Na'vi River Journey is a beautiful journey down a relaxing indoor river. The animations and lights alone make this ride stunningly beautiful. If you want something a little more intense, then you have to try out the Avatar Flight of Passage. It is a total VR experience! It invokes sounds, feeling, and even smells to totally immerse you in the experience as you fly on the back of a banshee. I have to say, this was my favorite ride, and my husband's as well. If you do get to visit Disney's Pandora, you have to check it out. The wait time may be long, but I promise it is worth every single minute!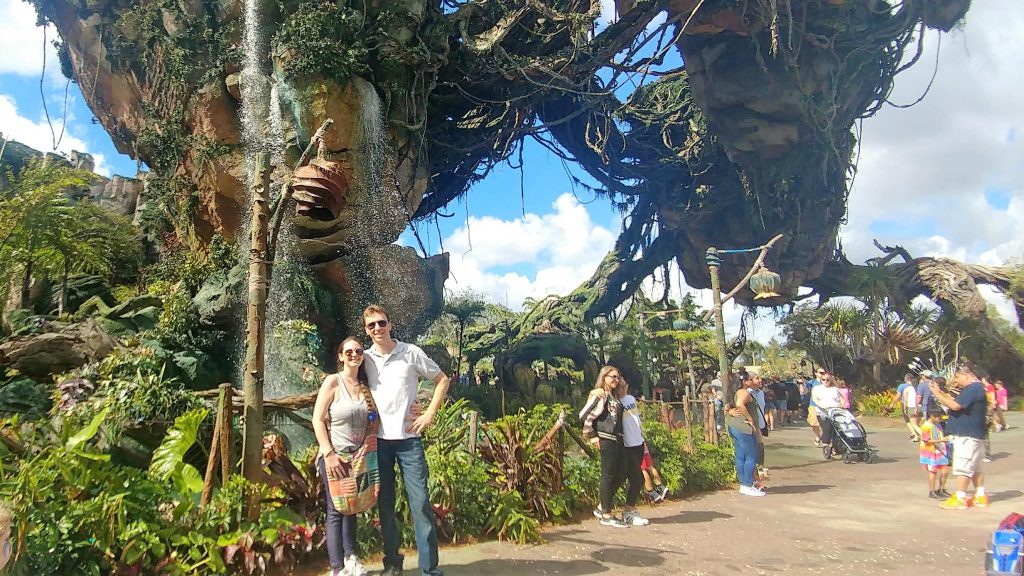 The Landscape of Pandora
When I say that Disney created an all-inclusive magical experience, I was not lying. The landscape that they created is just stunning. At first, it may seem hard to imagine how a fictional world can fit into the real-life landscape that is the Animal Kingdom. Once you arrive though, all doubt goes out the window! It is difficult to tell that the floating mountains are man-made, and the foliage looks as realistic as can be. When you step into this world, you are totally immersed in the experience and for a while, forget that it is from a fictional alien planet.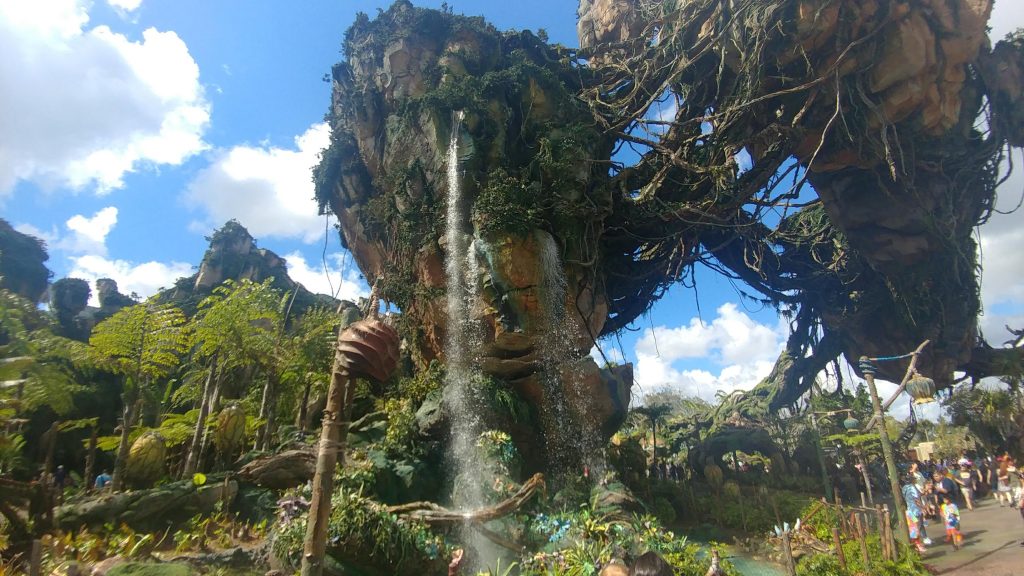 The Food at Animal Kingdom's Pandora
Alright y'all, so your girl here loves to eat. I enjoy trying new foods and I was extremely pleased with what I experienced when I was able to visit Disney's Pandora. My first foodie stop of the day was at Pongu Pongu. While I didn't eat there, my husband and I both got some adult beverages. I had the Margarita, and my husband had one of their beer selections. Not only were the drinks delicious, but they were visually appealing as well.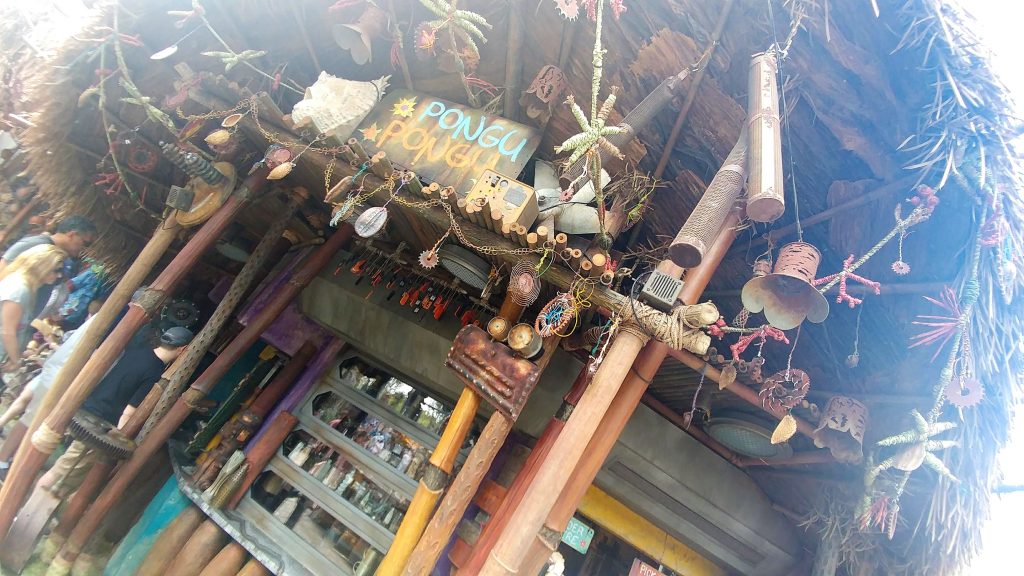 For lunch, we checked out the Satu'li Canteen, and let me tell you the food was divine! They have so many great options, including vegetarian options! I ended up getting the beef with sweet potato hash and a creamy garlic sauce. I have been craving it every day since like I totally need to figure out how to make this at home! We also ended up trying one of their non-alcoholic specialty drinks as well, the Pandoran Sunrise! It was fruity and refreshing after spending the day in the heat. Lastly, we had to get dessert. The Blueberry Cream Cheese Mousse is literally to die for!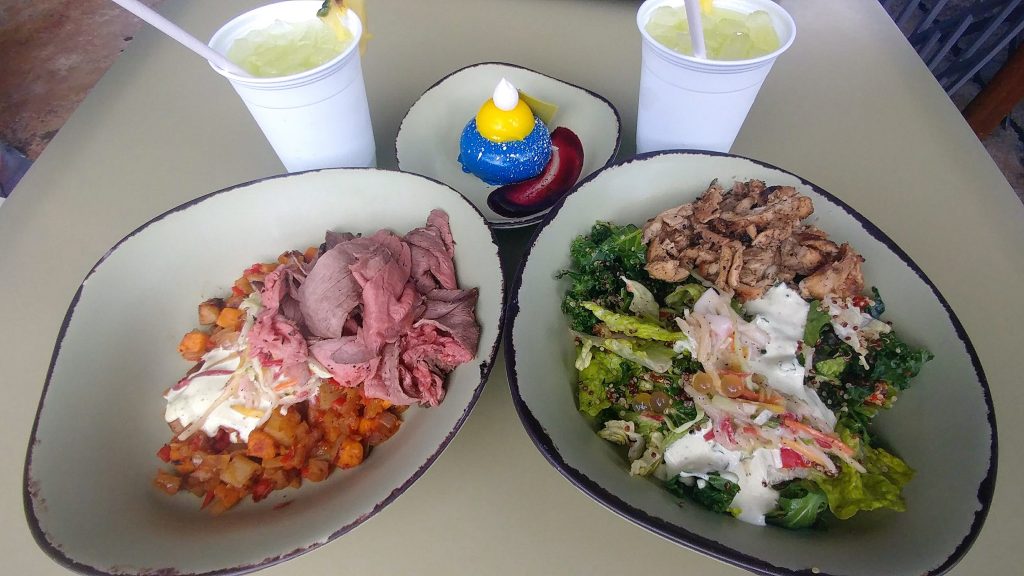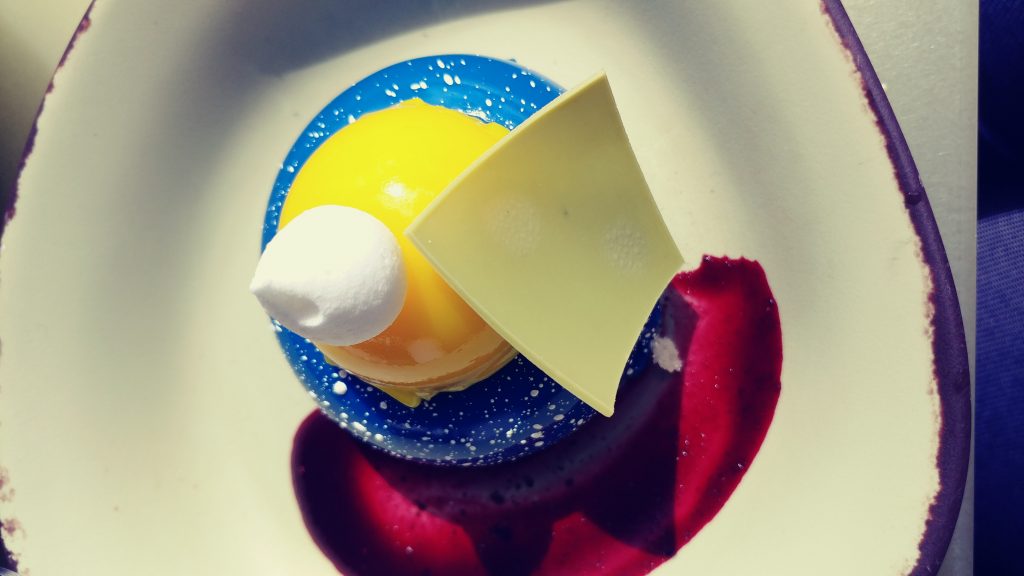 So if you are going to spend a day at Animal Kingdom, you totally need to check out this quick-service restaurant. The line tends to be a little long but you can make use of your My Disney Experience App and order ahead of time! Just order on your phone, walk up and pick up your food!
Seriously, if you are planning a trip to Orlando any time soon, I highly recommend you spend some time in Pandora at Disney's Animal Kingdom! WE had the best day and will for sure be going back very soon!