As bloggers, one thing we all want is to increase blog traffic. It should be simple right? Produce great content and people will read it. If you build it, they will come. Sadly, this is not typically the case. It takes effort on your part to increase blog traffic, luckily it isn't extremely difficult. In my time in the blogging world, I have learned a few things, and increasing traffic is one of them! I was able to go from brand new, with no traffic at all to 20,000 monthly views in a matter of 3 months' time. It might not sound like a lot, but this is when I started getting a lot of sponsored post offers and began really working at monetizing my blog.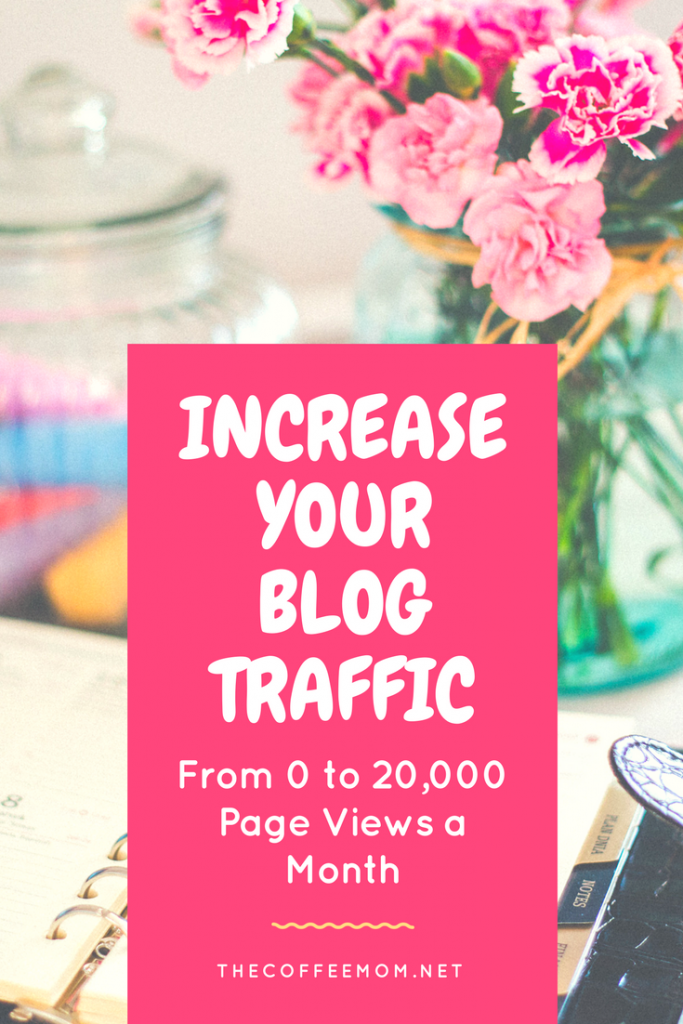 *This post may contain affiliate links. Please see the full disclosure page for more information*
Simple Ways To Increase Blog Traffic
If you want to turn your blog into a profitable business, or even a side hustle, your traffic is important. Now, I don't mean you need to have a million views a month, but you need to be able to show brands that you are worth their investment. I started out at nothing. The brand new blog with no followers or readers, and I was able to get up to 20,000 monthly views in about 3 short months. This may not seem like a lot to some, but to put it into perspective, I started working with brands and getting sponsored content at right around 10,000 a month. Some of these tips, I am sure, you have heard a million times, but hopefully, a few of them help you advance your blog!
Social Sharing Plugins
I cannot emphasize enough how important it is to have social sharing buttons on your site. They need to be loud and proud, in an area that is easy to see. Personally, I use Shareaholic and I love it. It is a free plugin that puts the share bar on the side of your page with ALL of the sharing icons available. I also recommend using the Pin It button so your images can easily be pinned. You see, if people can't easily share your content, you aren't likely to get an increase in readership.
Join Facebook Groups
I have a sick obsession with Facebook groups. They are a wonderful way to meet other bloggers, get tips and advice, and also to promote your own content. There are so many Facebook groups out there that will help increase your blog traffic.
You should also consider joining a niche-specific group. Not necessarily a blogging group, for example, I am a "mommy blogger" so I am in a few mommy groups. Not mommy blogger groups, but groups for moms. If you are active and participate in those groups, you can gain followers and readers to your site. One example is if someone posts to the group with a question, and I happen to have a blog post that covers an answer, I will leave them a link to the post ALONG WITH a written-out answer. Seriously, be genuine, and don't just link drop.
Get Pinning
Pinterest is my favorite way to get traffic to my site. Most of my traffic comes from Pinterest and it remains rather steady. I won't get super in detail here, but if you want more info you can read my in-depth post on driving traffic via Pinterest. Basically, you want to have a business account first and foremost.
Be SEO Savvy
Okay, so SEO is not my strongest area, but it doesn't need to be! Thanks to plugins like Yoast, a lot of the work is done for me! I use the free version and have zero complaints. Good SEO practices can really help increase blog traffic from organic search. I have noticed an up-kick in my organic search since I started using Yoast and focusing on my long-tail keywords. This can take a while to master, and I am still working on it but I promise it is worth it.
All About The E-mail
I know you have heard it preached a million times. Your e-mail list is your golden ticket! I have really started focusing on my e-mail list and so far, I can see some increased blog traffic from it. I make sure that every e-mail I send to my list is useful to them and not spammy in nature. So not just a "hey there is a new live post for you to read" because that will get deleted with quickness. Readers want value, so you have to provide that to them. I will probably have a post up next week all about growing that golden e-mail list, so stay tuned because you won't want to miss that one!
There are a plethora of ways you can increase blog traffic, but the above is what works for me. Feel free to try them out and tweak them to fit your personal needs. Just remember, this isn't something that happens overnight. It takes work and dedication to grow your blog into a business, so don't let anyone tell you otherwise.