As a work-from-home mom, I have found that it is so important to schedule my day. At first, I felt like a chicken with my head cut off! Trying to find a balance between housework, the children, and my jobs, was starting to wear on me! I would be up late at night, and not getting nearly enough sleep, so I knew something had to change. That is when I came up with my work-from-home mom's daily schedule. Putting myself on a schedule has allowed me to get my work done and find a healthy balance between mom and businesswoman.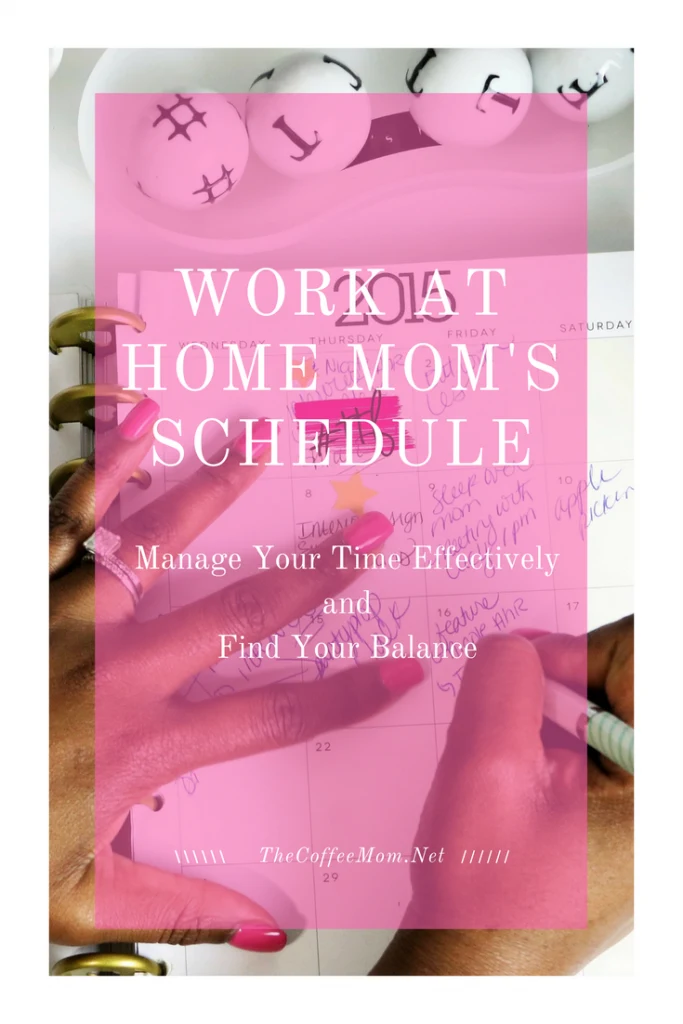 *This post may contain affiliate links. Please see the full disclosure page for more information.*
Work From Home Mom Daily Schedule
I never thought that I would be a work-from-home mom. After getting pregnant with my son, I lost my job and had to do something in order to make ends meet. After researching legit work-from-home job opportunities, I ended up starting my blog and working doing web search evaluation. With only one child in the house, it wasn't too bad. Add in a baby to the mix, and I became a bit overwhelmed at times. Creating a schedule, and sticking to it, is what has saved me and my sanity. It has allowed me to bring balance back to my life and be more productive.
Wake Up Early
So, I have never been a morning person. I used to be a bartender for many years so I was used to working late nights and sleeping all day. That lifestyle is not conducive to being a mom though, especially a work-at-home mom. So as part of my work from home mom's daily schedule, I get up early. Now, when I say early, I mean it. I am up around 4:45 AM every morning making my coffee. No lie, this was a hard adjustment but now I actually enjoy it.
I make my coffee at night and just set my pot on a timer to make. That way it is ready as soon as I get up. I am able to drink hot coffee in peace while everyone else in the house is still asleep. Since I am working part-time doing web search evaluation, I like to get that done and over early. It is only 4 hours a day so I work from 5:00 – 8:00 AM before the kids wake up.
Breakfast
By 8:00 AM, the kids are up and I am probably on my 2nd ( or 3rd) cup of coffee. This is usually when I take a little break and make breakfast for us. The kids and I eat, and then I clean up the kitchen a bit. I try to spend a little bit of time playing after breakfast as well. By about 9:30 AM it is time to head back into my office. I will do one more hour of web search evaluations, and then I am done with that for the rest of the day!
Blog Work
Since my web search evaluation is done at around 10:30 AM, the rest of my work time is dedicated to my blog. As part of my work-from-home mom schedule, I like to set aside 10:30 AM- 12:00 PM to work on anything blog-related. This usually constitutes checking e-mails, participating in Facebook groups, and other general social media marketing. If I have time I will do some writing, but that is usually reserved for later in the day. I set aside this time because I look at my blog as a business and in order for it to be successful, I have to be dedicated to it.
Lunch Break
By noon, I am usually over looking at a computer screen for a while. This is when I take a break and make the kids and me some lunch. After we eat, I like to go play outside with them if the weather is permitting. It is great to get outside and get moving for a while after sitting at a desk for hours. This will really make you feel better and you will end up being more productive. I usually end the daytime playtime around 2:00 PM. By then Willow is ready to relax and maybe watch some TV in the air conditioner.
Light Cleaning
Before I go back and do more work in my office, I like to spend a little bit of time doing some light cleaning. This varies from day to day but it usually consists of a load of laundry, tidying up, sweeping, vacuuming, or wiping down cabinets. Seriously though, if you focus you can get a ton done in a short amount of time. Usually, I dedicate about an hour and a half to cleaning up and making the house look nice.
A Little More Work
I will venture back into my office at around 3:30 PM to work on my blog for about an hour. Again, this isn't usually my writing time, but a time where I do a little social media and maybe apply for a few sponsored campaigns.
Dinner and Family Time
4:30 PM is when I start dinner. This is my favorite part of my work-from-home mom daily schedule., mainly because it is a nice break from a computer screen. At this time my husband is leaving his job and on his way home. We will all eat together and then after dinner, it is family time! What we do varies, but we like to spend this time together doing something fun. It could be a movie or playing outside, but whatever we do, it does not involve cell phones or social media! Around 7-7:30 PM ish we do bath time and then it is time for bed!
Writing
From 8:00 until 10: 00 PM I use my time and dedicate it to writing for my blog. Now I might not do this every night, but I try to do it most. Sometimes I don't spend the entire 2 hours writing either, it all depends on how inspired I am. What I do know is if by 10:00 this mom is ready for sleep! I will prep my coffee and have it ready to start all over the next morning

Make Your Work From Home Mom Daily Schedule Work
So what I listed above is a rough idea of how I divide my time on most days. There are a few little tricks to help make your routine work for you!
Be Flexible
Especially with kids, things are going to come up. You will have doctor's appointments, play dates, and emergencies, so you need to remember your schedule is flexible. My work-from-home mom's daily schedule is flexible. A lot of days I end up going to the grocery store during lunchtime, but that is okay. As long as you attend to your priorities, then you are on the right track.
Prepare The Night Before
As I mentioned above, I like to pre-make my coffee and set it to auto-brew in the morning. This saves me some time in the morning, and time is valuable. I also like to make sure anything else I could need is ready to go as well. Meat thawing for dinner, breakfast, and lunches prepped and ready to make, clothes set out for the next day if need be, etc… anything that you can do the night before to prepare yourself for the morning, will really be a huge help.
Write It Down
I have not always been the most organized mom, but I have been getting better. It really helps when I write everything down. I have my planner that I love to use and write down everything I want to accomplish during the day. As I finish a task, I check it off. There is something so satisfying about crossing something out for some reason. I also like to have my dry erase calendar on my fridge with all of my meals written down for the week.
Stick To It
Here's the most important thing, you have to stick to your schedule as much as possible. Being a work-from-home mom can be hard, but you have to try to stay on schedule in order to find your balance. The kids need you, work needs you, and bills need to be paid. You just need to find what works for you and go for it. Make your work-from-home mom daily schedule and just go for it!
Working from home is amazing. I get to spend so much more time with my kids and I don't have to worry about paying over $1,000 a month in daycare. While I love it, it still works and I still have to get things accomplished. Even so, I would really recommend working from home if it is something you want to do. There are so many opportunities for work-at-home moms nowadays! When you are looking, make sure you research and find legitimate work-from-home opportunities, like Appen, Inc. All you need is some dedication and good work from home mom's daily schedule!


Mow it is your turn. Are you a work-at-home mom? If so do you have a daily schedule that you like to stick to, or what is your secret to being more productive?