One of the things that are extremely important to a lot of bloggers is being able to boost blog traffic. There is so much varying advice out there, but I thought that I would break it down into 7 easy, beginner-friendly ways to increase blog traffic. None of these are paid methods, and all of them are aimed towards getting your target audience to view your blog. A paid advertisement once in a while can be wonderful, but it is not something that is sustainable. These 7 methods for boosting blog traffic will help you grow and maintain your core audience!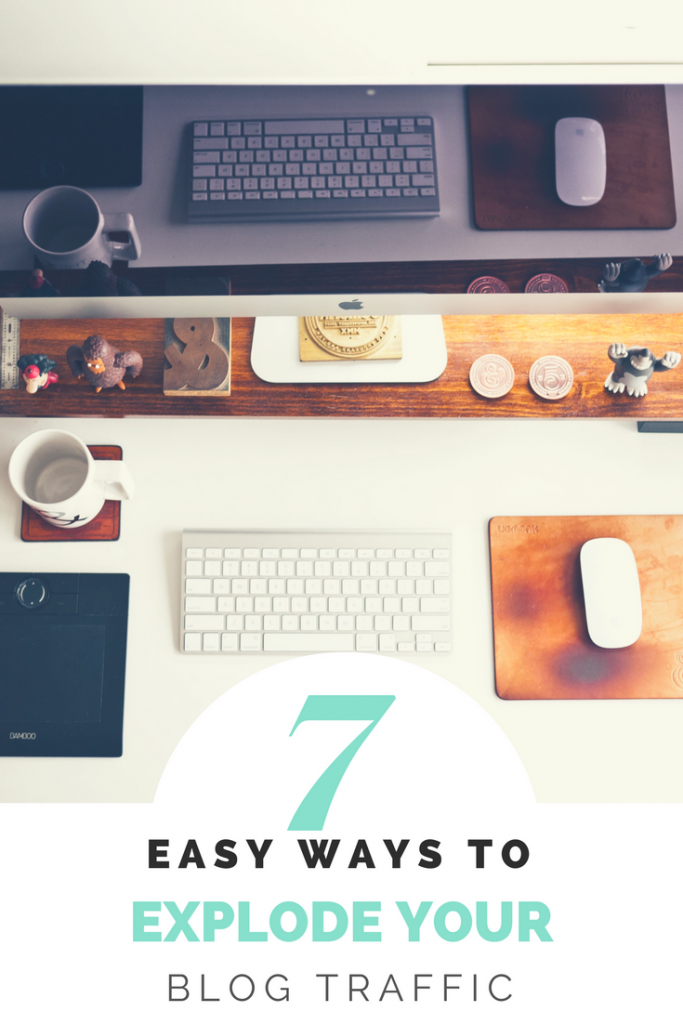 Boost Blog Traffic For Free!
As I mentioned, there are some decent ways to pay for blog traffic. You can do a paid Facebook, Instagram, or even Pinterest promotion. There are even sites like Taboola that will give you paid advertising space. These are all great options for specific campaigns. Like if you have a specific post you need extra traffic to, then by all means do a paid boost. This post though is more about getting your target audience to your blog in general. You can make use of these 7 simple tricks and really explode your blog traffic for free! Even if you are brand new to this whole blogging thing, these tips will work for you!
Step Up Your SEO
I will admit, that I am not an SEO master but that doesn't mean that I don't use what I know to boost blog traffic. Just using the free YOAST plugin for WordPress and following those instructions will help you a ton!
If you aren't aware, SEO stands for search engine optimization. Basically, it helps you rank higher in Google searches. This all has to do with your keywords, readability, links, and more. There is also an SEO specifically for YouTube videos, which is something I am looking into now myself.
For instance, if you're running a website of a plastic surgeon, it would be best to fully optimize your website to attract high-value patients and grow your practice. To know more about how to take advantage of SEO, read this Dagmar Marketing's plastic surgery SEO guide.
If you want to understand SEO a little more, there is a wonderful article here that really explains it better than I ever could.
Make Use of StumbleUpon
If you aren't on StumbleUpon, then you are missing out! It is just another social media site, sort of. You create an account, pick categories that interest you, and get started! It is basically randomized. You will "thumbs up" a post and click on stumble, and it will take you to another randomized post. It is really a fun way to find new blogs actually.
Using this platform to boost blog traffic is pretty simple. First, I highly recommend installing the free Chrome extension, it just makes your life easier. Second, you will want to just be active! Now, I typically stumble on my own posts the day they go live. That being said, you don't want to stumble on your own posts all the time because SU will ban you. After I stumble my new post, I will then just hit stumble on my bar and like and stumble some more posts for about 10 minutes.
Doing this gives me a rather decent bump in traffic on a brand new post. You can also stumble YouTube videos as well!
Guest Post Away
Guest posting is a wonderful way to boost blog traffic and grow your audience. When guest posting, you want to make sure that you keep a few things in mind though. For one, you want to make sure that the blog you are guest posting on is in your same niche. This may seem obvious, but I know some people would just post anywhere they can and that will do more harm than good.
Guest posting should be mutually beneficial. The only way for this to be so is for both bloggers to be in the same niche. That means that their audience is more likely to come over to check out your blog ( and return) and your audience is likely to check out their blog.
It can also be beneficial for you to have guest posts on your blog, but please be picky. For one, make sure their blog is legit and they are in your niche. Secondly, make sure the content that they are posting to your blog is original. You don't want something that has been published on a large number of blogs already. Also, remember you can't sell follow links! So if there is payment ( which most of the time there is not) then it is no-follow links all the way!
Get Pinning!
The number one thing I do that drives traffic to my blog is utilizing Pinterest. Especially the use of group boards! Group boards on Pinterest are amazing and can be a real boost to your blog traffic. Basically, when you are a member of a group board, you can pin to that board, and other members will re-pin your content. You will repin their content as well and everyone will be seen by a wider audience.
It is also important to make sure you have high-quality pinnable images. Canva has amazing free options. They have a Pinterest template, but a lot of times I like to use the custom dimensions of 800 X 1600. Pinterest favors vertical pins with clear text overlay.
If you feel like you need some more help with Pinterest, you can check out this Pinterest-specific article!
Think About Facebook Groups
Another way to really boost blog traffic is to make use of Facebook groups. This doesn't necessarily mean blogger-specific Facebook groups. While those are a great way to reach new audiences and network with other bloggers, creating your own niche-specific group is what will really help you! For example, if you are a food blogger, create a food-based group for sharing recipes. Groups tend to have a larger reach than pages nowadays, so just go for it! Whenever you post a new recipe, then share that with your group. This can work in pretty much any niche, and the best part is you make all the rules!
Check Out Forums
Forums are awesome, and I think underutilized, a way to get traffic to your blog. Pretty much every topic available has forums. From parenting to cooking, gaming, and cars… People will post asking for advice, and you can answer them and leave a link to an article you have or just use a link to your site in your signature. All you have to do is search " your niche" + Forum and I promise a ton will come up! Quora is a wonderful place to start as they have so many forums available! Be helpful and honest, and people will start to trust your opinion check out your site for more information!
Just Be Consistent
The final piece of advice I have for you today is to just be consistent! It may sound redundant, but readers like that they can rely on you and will expect new posts on a schedule. It can be three times a week ( like I do), more or less, just stay consistent. Trust me, I get that things happen and sometimes we can't post on a normal day, but in that case, you can send out a social media blast letting your audience know what is going on. They will appreciate the honesty.
To help me stay consistent, I like to pre-schedule posts a few weeks to a month in advance. I just type them up in WordPress, and schedule when I want them to go live. This really is great for days I am sick, busy, or just have something come up.
Hopefully, you found these tips helpful!
Now I want to know, what is YOUR biggest tip that has helped boost blog traffic?