Cookout season has officially begun. This is the time of the year for backyard cookouts and family get-togethers. With this season comes the need to bring side dishes. I don't know if you are anything like me, but I enjoy bringing something a little out of the ordinary. For my first cookout of the year, I put together this delicious tortellini pasta salad. It is packed with flavor and rather filling. Kids and adults alike loved this creation, so it is one we will be bringing to cookouts the rest of the season. Not only was it loved by all, but it was extremely simple to make as well.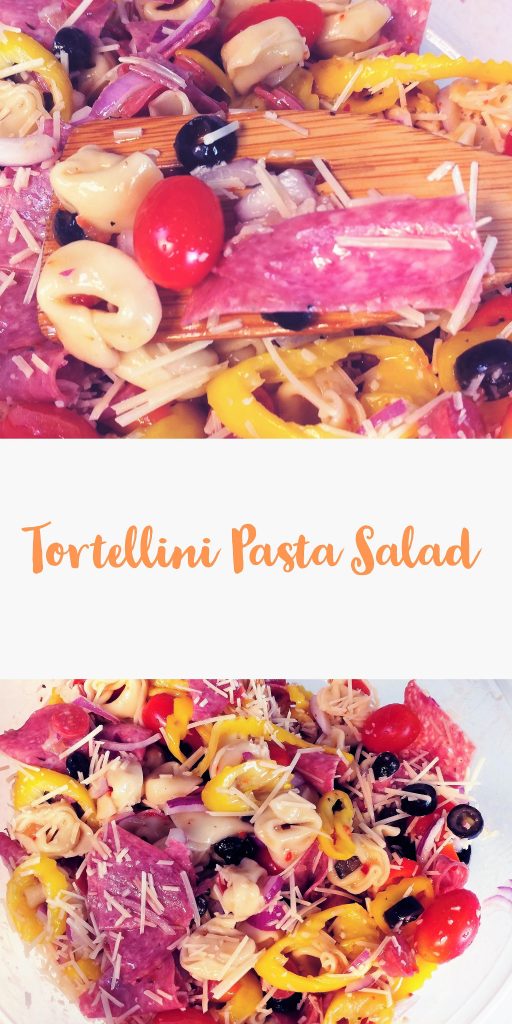 Tortellini Pasta Salad
My husband is just slightly obsessed with pasta salad. It is one of his favorite things to eat, and he would eat it every day. So when we were thinking of what to bring to a friend's cookout the other day, I knew I needed to make some kind of pasta salad. There are so many different variations. You can really put almost anything in a pasta salad and it will be delicious. To me, that is what is so fun about a pasta salad. You can really make it your own and try new things without it being too intimidating.
I decided to go with a tortellini noodle filled with cheese, and oh boy was it delicious! Combined with a bunch of veggies and some Italian Dressing, this pasta salad dish was perfect for a Memorial Day cookout. Feel free to add or omit anything that your heart desires, because that is the beauty of a pasta salad. Personally, I am not a fan of olives, but I add them in because everyone else loves them. They are easy to pick around though, so it doesn't bother me. Just like the kids won't eat the banana peppers, but once again, they are simple to pick around.
All in all, it took me about 20 minutes to completely make this dish. That includes waiting for the water to boil! SO if you are looking for something quick and easy for your next potluck, then you have to look no farther.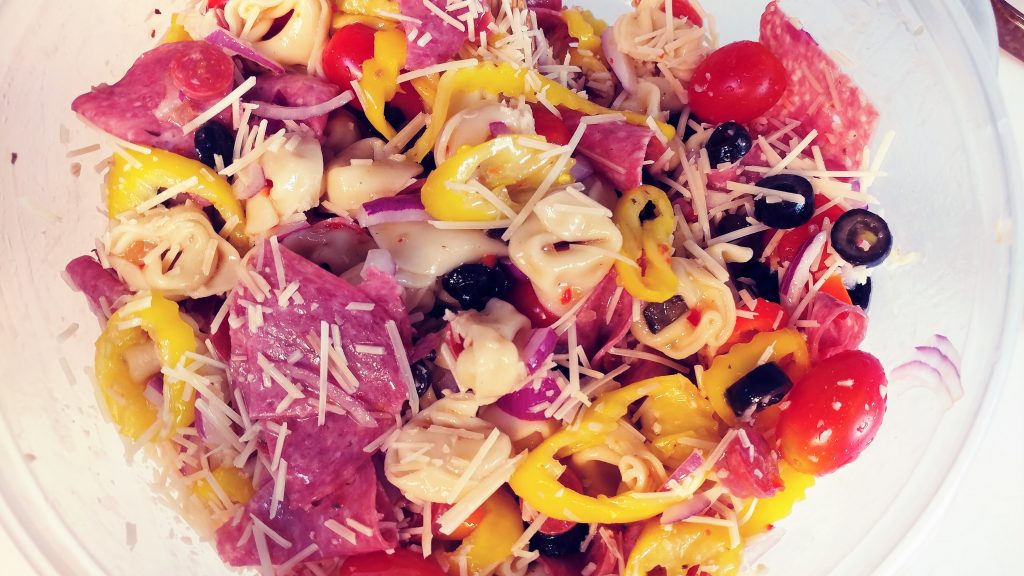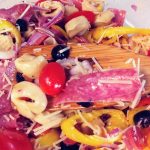 Tortellini Pasta Salad
Cheese filled tortellini noodle paired with Italian dressing and veggies. Makes for the perfect cookout side for any occasion.
Ingredients
1

Bag

Frozen Tortellini Noodles

1

Bottle

Italian Dressing

Cherry Tomatoes

1/2

Red Onion

1

Jar

Sliced Olives (Drained)

1

Jar

Mild Banana Peppers (Drained)

1

Package

Pepperoni

1

Package

Salami

Parmesan Cheese
Instructions
Cook Noodles According To Package

While Waiting, Dice The Onion; Drain Olives and Banana Peppers; Slice Salami

Darin Cooked Noodles and Add To A Large Bowl

Stir In The Veggies, Meats, and Italian Dressing

Top With Cheese and Enjoy!