So recently, I talked to y'all about Email List Growth. If you haven't read that yet, go check it out now and then come on back. I promise I will wait. Alright, now that you have checked that out, it is time to get a bit more in-depth and talk about some really great opt-in ideas. If you want to really explode your email list, you are going to need some really helpful and well-targeted opt-ins.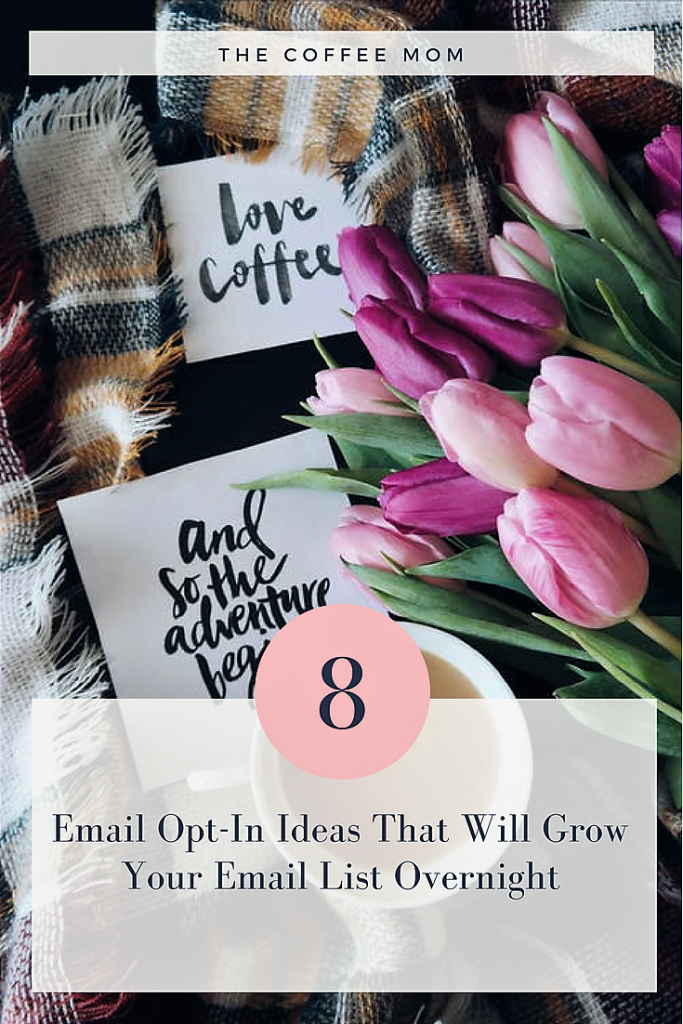 Email Opt-In Ideas
If you have been blogging for any amount of time, you know just how important an email list can be. There are many ways to build an email list and today we are going to focus on a few different opt-in ideas that can be tailored to just about any niche! The purpose behind these opt-in ideas is to get you, subscribers, to your email list that truly wants to hear what you have to say. It is more about quality over quantity. You can have a huge list, but if the people on it aren't interested in what you have to say, then those numbers don't mean much. Using targeted opt-ins can help you get real people on your list who truly want what you are selling.
Free Email Course
Everyone loves to get something for free. So offering a free email course is a great way to get people to sign up for your list. No matter your niche, there is probably something that you can teach your readers. One that I have done is a free email course on Sponsored Posts. I offer information about how I get my sponsored content and how you can do it too. The people who sign up for this are truly interested in blogging and making money online. Now that they are on my list, I know that I can send them helpful emails in the future about other blogging-related information.
Another wonderful thing about offering these free courses is that those who sign up are more likely to purchase a similarly themed paid course should you develop one. You know that they like this particular type of content, so they are the perfect audience to market a paid product to.
Any niche can come up with a course idea. There are parenting courses, crafting courses, and of course your blogging courses. They are also a great way to get feedback for potential paid courses in the future.
You can easily create one with a service like Mailer Lite ( which is what I did). You just use their automation software and when someone signs up they automatically get an email a day for so many days. This only has to be created one time and then boom, autopilot!
Make a Challenge
Challenges are a great way to engage with your audience. I have a Frugal Living Challenge that is in the Frugal Living section of my blog. Challenges can be really fun, and you get to learn what your audience really needs. My challenge is 7 days worth ofthings for my readers to try and do. They are simple ways to start saving money, like adding a dollar a day to a change jar or stopping buying a daily cup of coffee. I also tend to pose a question within the challenge, so readers will email me back and we can connect more that way on an individual level. Because of this challenge, I now have a specific list set up of individuals interesting in saving money and frugal living. I can now tailor emails just to them and share the products that they would be interested in.
Again, this is a great way to get targeted subscribers, which is what you want. You know they have a need and you can be there to fill it.
Content Upgrades
Do you have a post that is out-preforming many of your others? This would be a perfect opportunity to create a content upgrade! What I mean by that, is something that adds more detail and relevant information to the post for people who sign up for your list. I have a post about sponsored posts where I talk about influencer networks you can join. In that post, I offer a content upgrade of an even larger list of influencer networks.
This works because people are already on the page looking for information. They get some information, but have to sign up to get even more! Another example could be a post on meal planning where you offer a 7-day meal plan to those who sign up. So if you have a really popular post of two, just think of something that you can add to it for more information.
E-Book Chapter
I don't personally have an E-book (yet anyway), but one really great opt-in would be offering a free chapter of your E-book. I would not recommend offering an entire book, but a chapter or two will really get those who sign up interested and wanting more. By doing this, you are more likely to sell the book to those who got the free chapter. You can even offer a discount to those who signed up. The subscribers are getting a taste of your book, and a discount, so they are then more likely to purchase your work.
Resource Library
Resource libraries are excellent opt-in ideas. You can compile a large number of relevant and useful information and offer it to your subscribers in one easy to get to the location. One idea would be to create a password-protected page on your blog and send out the password to those who sign up. These libraries can really vary depending on your niche. For food bloggers, you can offer a library of exclusive recipes and cooking tips. Parenting bloggers can offer a number of things from printables to kid-friendly activities.
Useful Printables
I love a good free printable. They can be fun and really helpful. Any niche can really take advantage of adding a printable to their blog posts as a way to attract more email sign-ups. Crafting blogger? Include a free printable template! Parenting blogger? Make a free printable chore chart! These are great if they are placed into specific posts to target a specific audience. They don't even have to be crazy or elaborate. Something simple and helpful will attract just the right people.
Webinars
I love a good webinar and I am typically willing to sign up for a useful free one. Not only are these great ways to get sign-ups, but they are also a great way to gauge your audience. You can offer a free webinar to teach something, maybe couponing or crocheting. These people who sign up you know are interested, and you can now use this to create paid content that they will be willing to purchase. Webinars don't have to be fancy or super long either. I personally like when they are 30 minutes to an hour. You can do a one-time offer, or offer a webinar a month. If you have something to teach, this is a great way to get people really engaged.
Video Series
People will also be willing to sign up for a free video series. This is similar to the E-mail course, only you will send videos to your subscribers. You can do a few short videos on any step-by-step process and send those out daily. Personally, I am a visual learner so I love these. Signing up for a video series that will teach me to create a craft, learn to sew, basics of couponing… you can count me in! Again, this adds to building your target audience so you can create products that they would pay for later down the road.
Email Opt-Ins
As you can see, the email subscribers are really where a large amount of focus should be. These are the people who want what you have. They are the ones who will be most likely to purchase your products in the future as well. Targeting specific areas will really help you grow as a blogger and a business.
Now that you know my top 8 opt-in ideas to build a targeted email list, I want to hear what you think! What are some ways that you plan to really engage your audience and get them to sign up for more?