Donuts seem to be all the rage right now… And who can be mad about that? They are sweet, simple, and utterly delicious! Since everyone seems to be nuts for donuts right now, it should come as no surprise that donut parties are all the rage at the moment!
This year, my daughter jumped right on the bandwagon and specifically requested that I put together a super sweet donut birthday party for her. How could I say no? The party was surprisingly easier to pull off than I expected. So if I can pull off this super sweet donut birthday, you can too!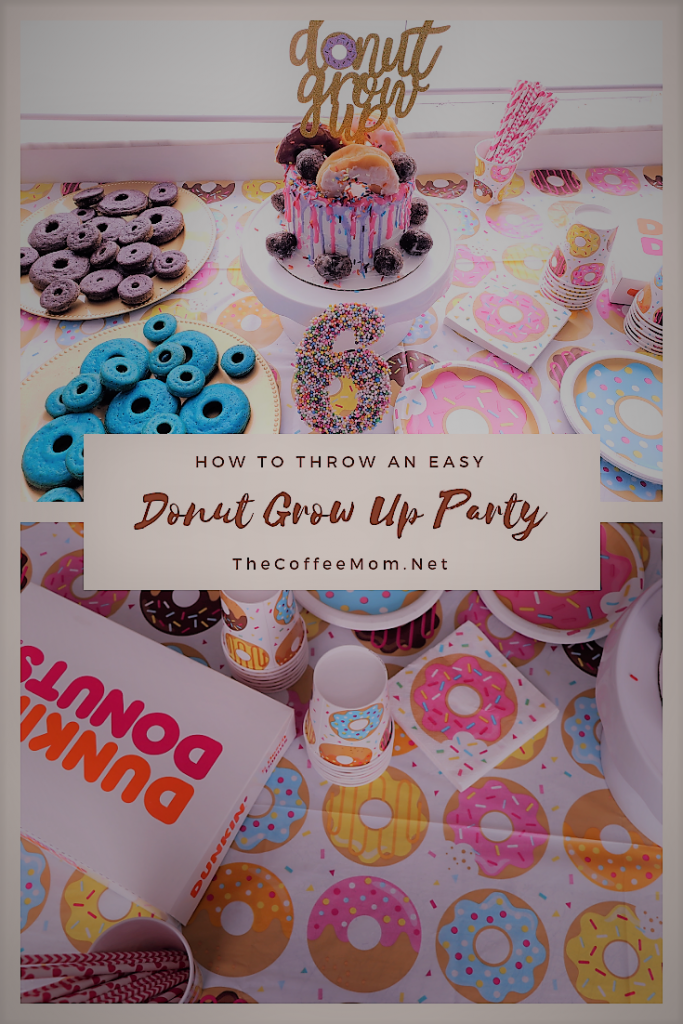 This post contains affiliate links. This means, if you make a purchase, I will get a small commission at no extra cost to you!
Donut Birthday Party
Throwing a donut grow-up birthday party for your super sweet little one is probably the easiest theme you can do right now! In comparison to my magical unicorn birthday party, this one was much easier and took a lot less prep time.
All of the donut birthday party supplies came from Amazon as well. Right to my door in two days with Amazon Prime… Can't get any easier than that! I picked up a great donut birthday set. Instead of buying cups, plates, tablecloths, etc all separate, I got a killer deal on a great donut birthday bundle.
This honestly made life so much easier. All of the decors was taken care of and I was able to focus on the fun part… Creating a donut drip cake and a super fun DIY donut bar!


Dount Drip Cake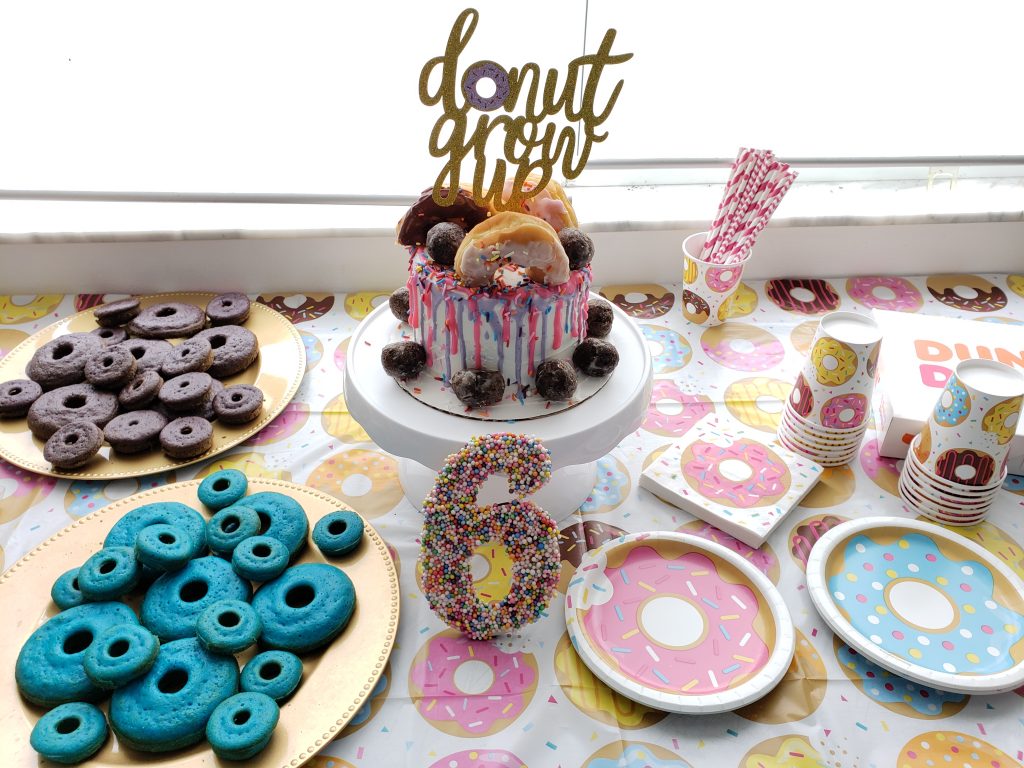 Probably the hardest part of putting this whole party together was making this donut drip cake. I had never made a cake like this before, so it was a little nerve-wracking but in the end, I think it turned out pretty darn good!
Even though it is not a Pinterest perfect party cake, I still love it… And the kids loved it too! You can learn how to recreate ( or even one-up me) with this donut party cake here!
DIY Donut Bar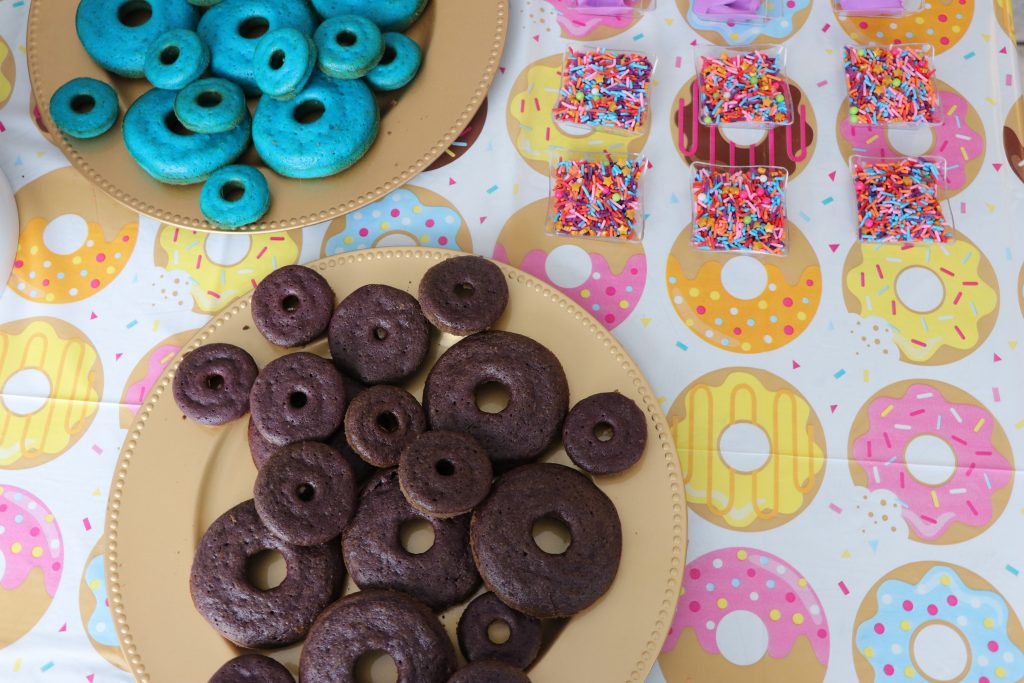 While the cake was pretty great, everyone's favorite part of the party was the DIY Donut Bar. It was so fun and so simple to put together. The "donuts" are actually made from cupcake mix! I picked up the purple and blue cupcake mixes from my local grocery store for probably about a dollar apiece!
If you want to recreate the donut bar, just grab some cupcake mix, donut pans, frosting, and sprinkles! There you have it, you are good to go! I used the large and mini donut pans to make different sizes.


The gold plates I used came from the Dollar Tree, as did the little containers I picked up for the sprinkles and frosting. No matter what kind of party you are throwing, always check out your local Dollar Tree for some amazing deals!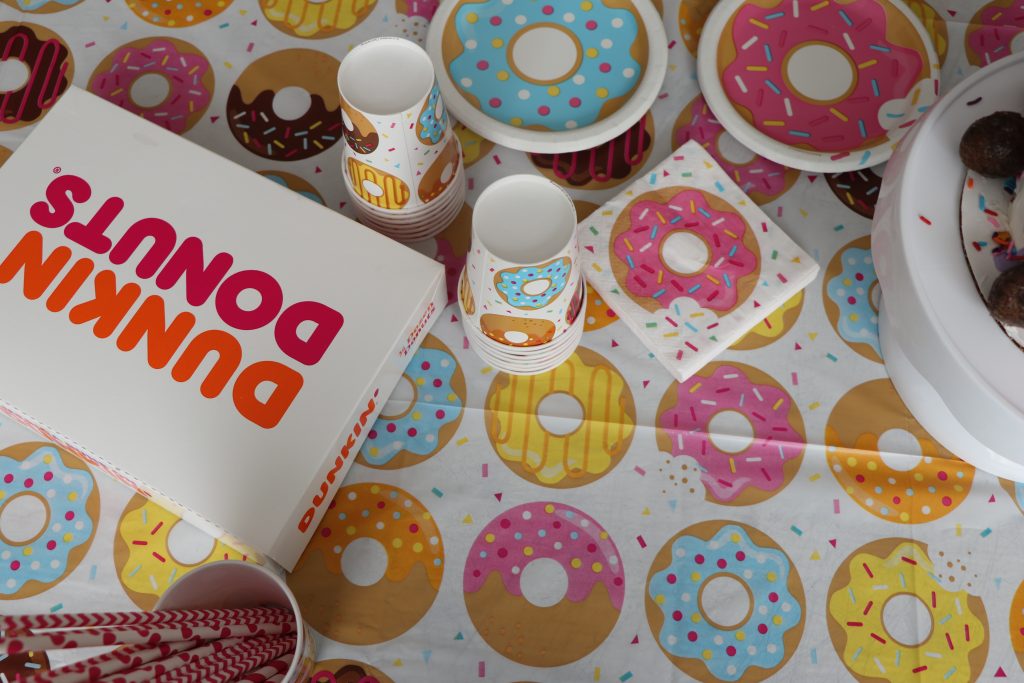 Other than making the donut cupcakes, you just need to set out some sprinkles and frosting and let the kids go nuts! Everyone at the party absolutely loved being able to make and decorate their very own donut! By the end of the day, we had not a single donut left, which was great for me because I didn't have to keep them in the house and be tempted by all of the delicious sweets.
Not a Pinterest Perfect Party
As you can see, while I am super proud of this donut party, it is by no means "Pinterest Perfect". This isn't one of those difficult to recreate almost too pretty for words type of birthday.
It also won't cost you an arm, leg, and right kidney to recreate! Honestly, I love a good backyard birthday party. We tend to do parties every other year… Then on "non-party" years, we do an adventure or outing.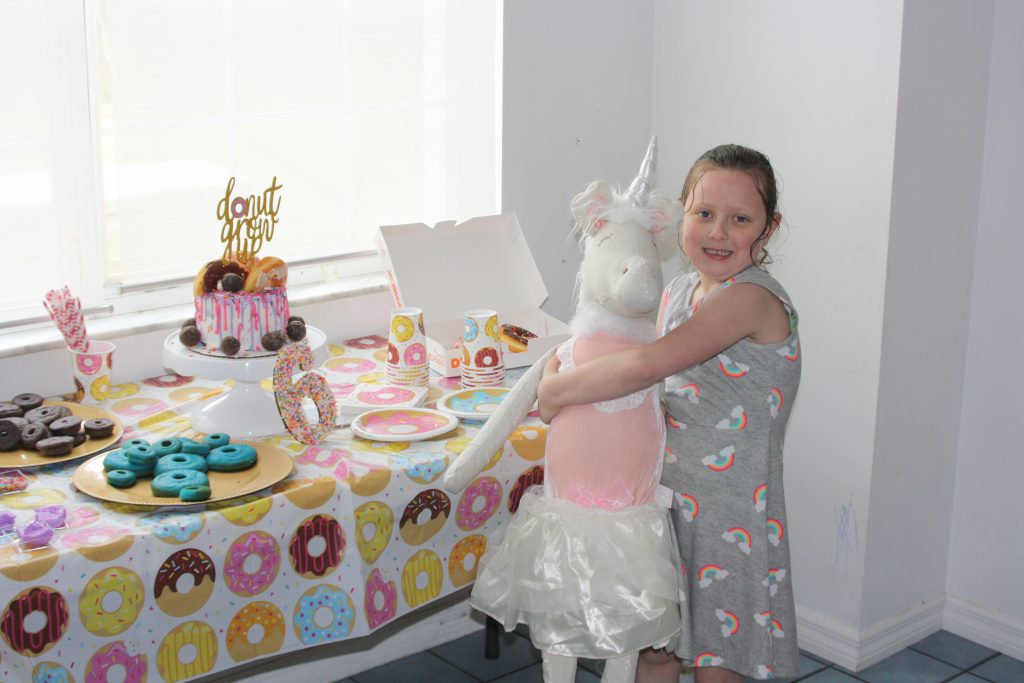 I think this keeps the craziness in check and lets us enjoy parties, but not overload on them! So if you want to do your own donut birthday party, then go for it!
Don't stress about it being "perfect" and don't go broke trying to make it awesome! I promise, no matter what you do, your kids will love it and love you for it!
Don't forget to follow The Coffee Mom on Facebook, Instagram and Twitter to stay up to date with all of our family travel, parenting tips, family friendly recipes and so much more!