So by now, y'all know that my love for tacos runs deep. Lately, I have been trying to eat healthier for myself and for the kids, so I am trying to cut out some carbs where I can. Well, the other night I decided to try out these Chicken taco zucchini boats, and guys, they were a hit! My daughter was a bit skeptical at first, but after trying them even she loved them! Prep and cook time were a little longer, but it was completely worth it. So if you are in the market for a healthier taco Tuesday option, you have to try these out.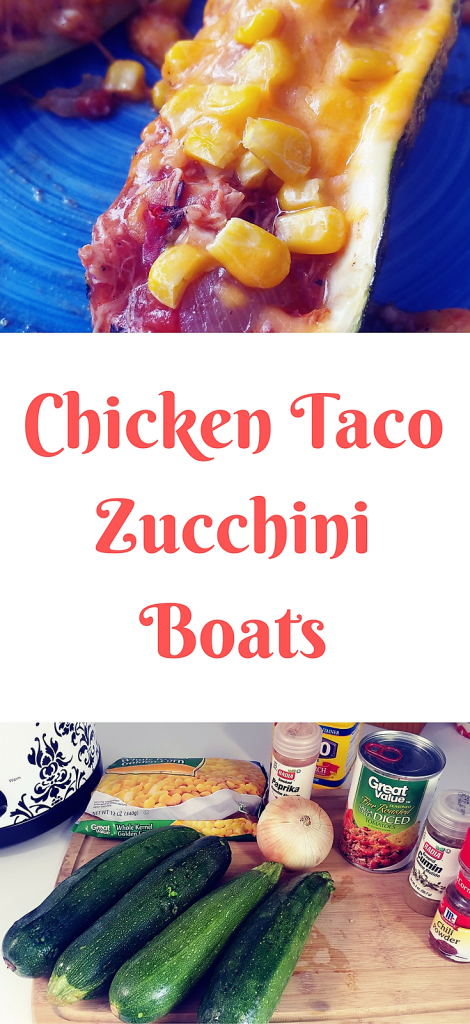 Chicken Taco Zucchini Boats
So recently, I decided to try out meal planning once again. I have done it in the past, but have never been really successful. Lately, though, it seems to be working really well! What I did was sit down and plan out meals for two weeks at a time. Normally, I would make a list and then go to the store, but this time I tried out the new Walmart grocery pickup, and I was really impressed.
All I had to do was add all of my groceries to my cart, select a pick up time, and then drive to pick up my groceries. This seriously has been the best thing especially since I don't have to get the kids in and out of the car. I even got a $10 coupon for my first purchase! If you want to try it out, you can get your $10 coupon here. If you use this link you will get $10 and so will I, so win-win!
Anyways, onto the chicken taco zucchini boats. These were on my meal list for the week, and after trying them they will for sure be a repeat meal in my house!
What You Need
The ingredients list is a bit extensive, but I found that I had most of these items in my pantry and didn't have to actually purchase very much!
4 Zucchini
Chicken
Canned Tomato
Onion
Frozen Corn
Minced Garlic
Olive Oil
Corn Starch
Water
Cheese
Chili Powder
Paprika
Cumin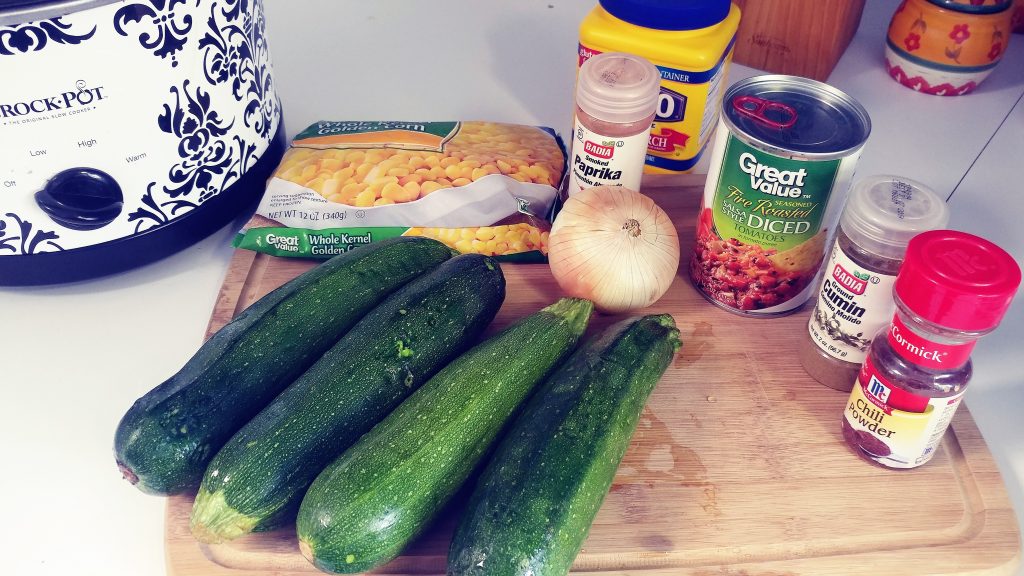 What To Do
So, as I said earlier, these can be a bit more labor-intensive than my normal recipes, but I promise they are worth the work.
The first thing you will want to do is to preheat your oven to 400 degrees. While your oven is heating up, you can start shopping! Chop up your onion into fine little pieces.
Heat up some olive oil in a pan and then you will want to add the onion and some minced garlic.
While that is heating up, you are going to start on your zucchini. Cut the zucchini in half longways, and scoop out the center with a spoon to create a boat.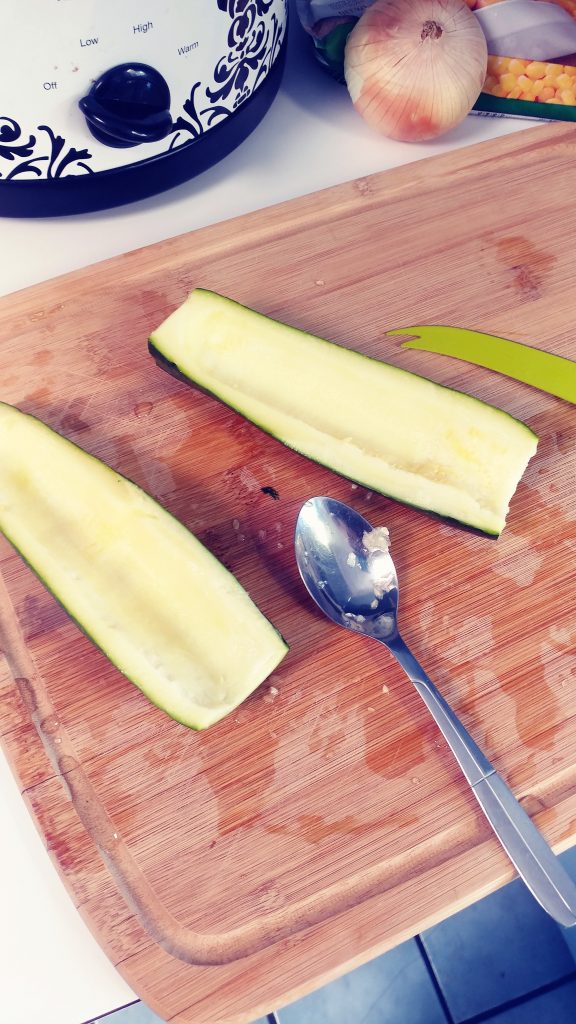 Since I am not a fan of wasting food, I actually saved the inside that I scooped out and fed to my dog Lilly along with her dog food.
By now, your oven is probably heated up so place your zucchini on a cooking sheet and brush with olive oil.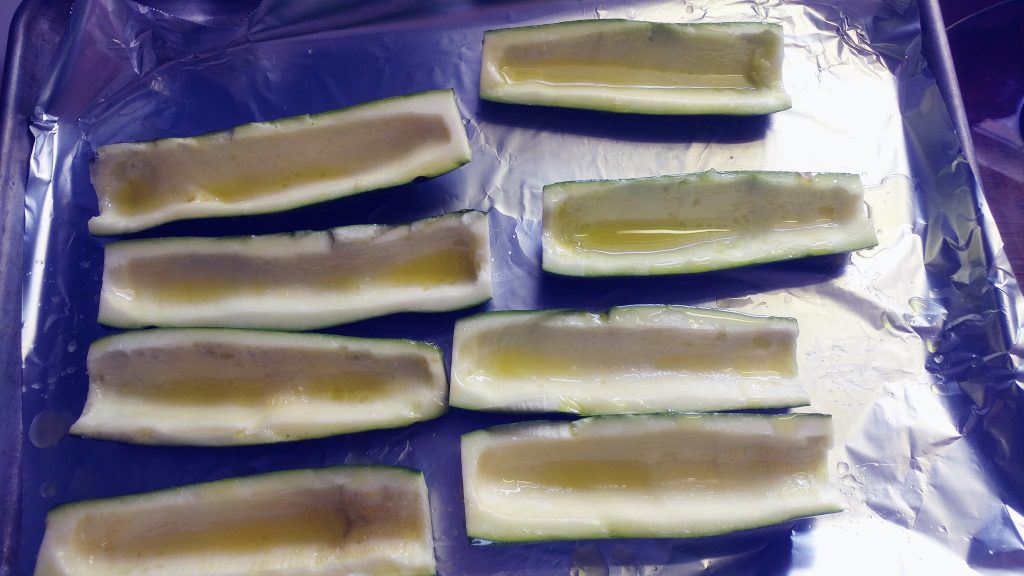 Bake your zucchini for 20-25 minutes.
While they are baking, add in your can of tomatoes (I like to use the Mexican Blend from Walmart) and all of your spices to your pan with the onions and garlic. Y'all know I am not one to really measure, so all of my spices are to taste, so probably about 1 tsp.
Now, mix your water, 2/3 of a cup, with 1 TBSP of corn starch together and add it to your pan as a thickening agent.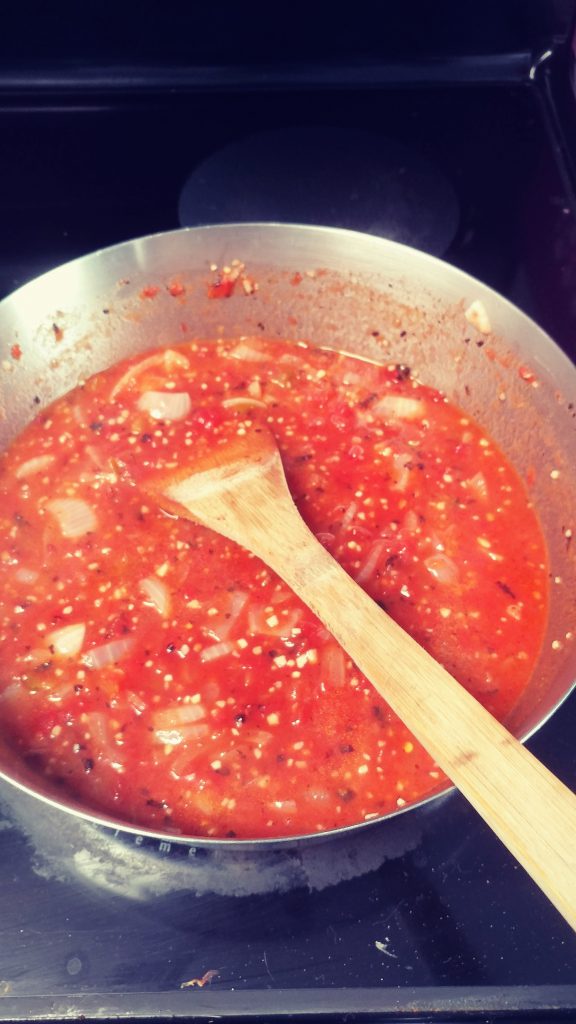 Bring it to a boil and let it simmer while you are waiting on the zucchini to finish cooking.
Now, you will want to add in some cooked shredded chicken. You can use rotisserie chicken if you want, but I ended up using my Crock Pot Mexican Chicken for this.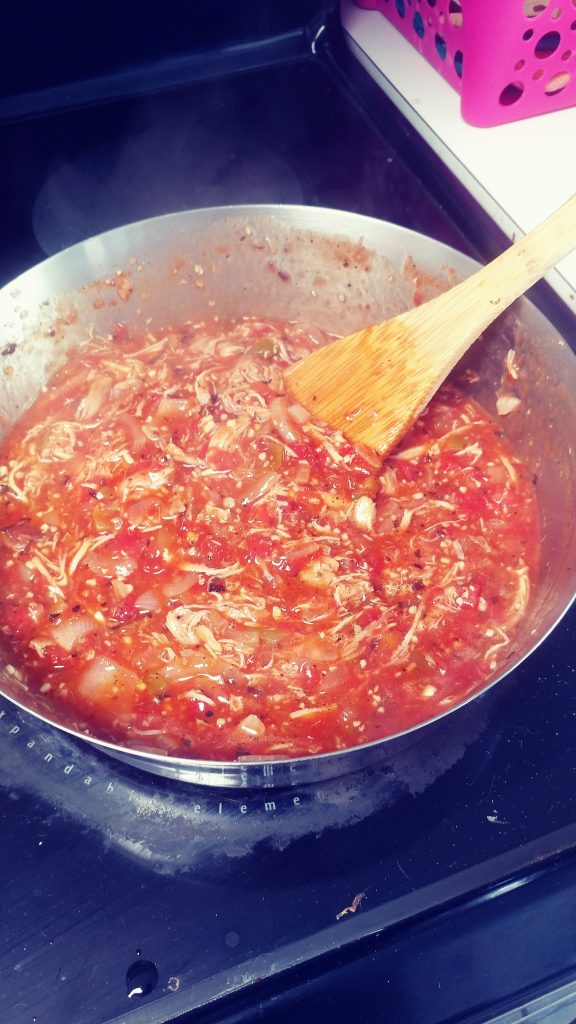 Alright, once your zucchini is cooked and your stuffing is ready it is time to assemble your boats.
All you need to do is fill your boats with the chicken mixture.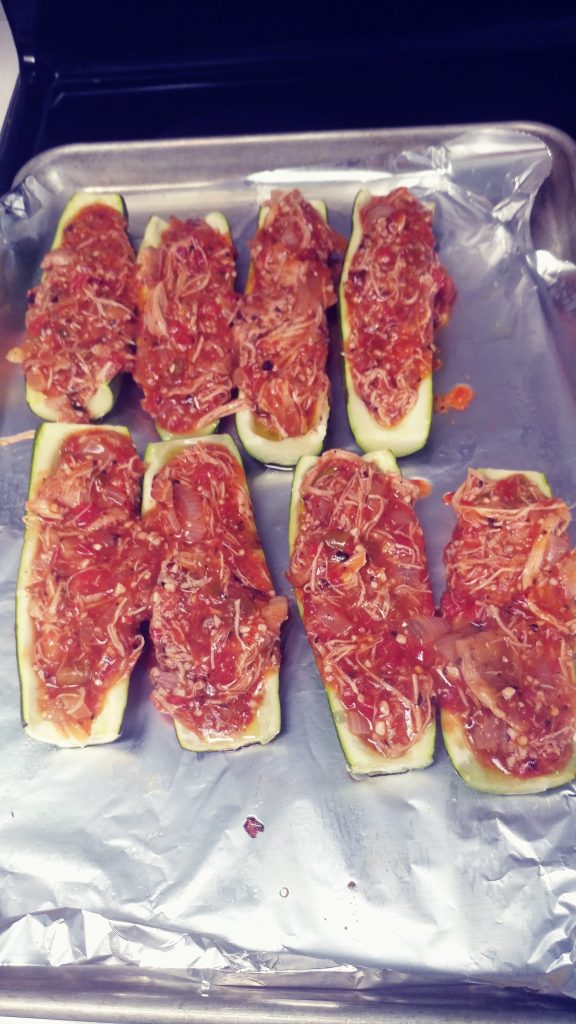 Top with some frozen corn and cheese, then place it back in the oven for 10 more minutes.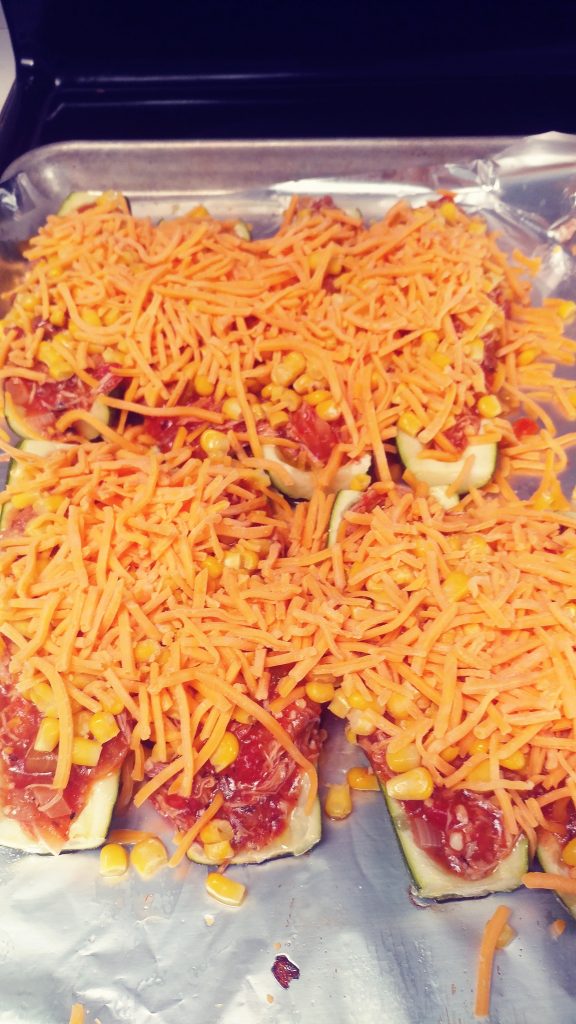 Once they come out of the oven they are ready to eat! These came out so good, and made so much! We ended up having 3 boats leftover to have for lunches during the week!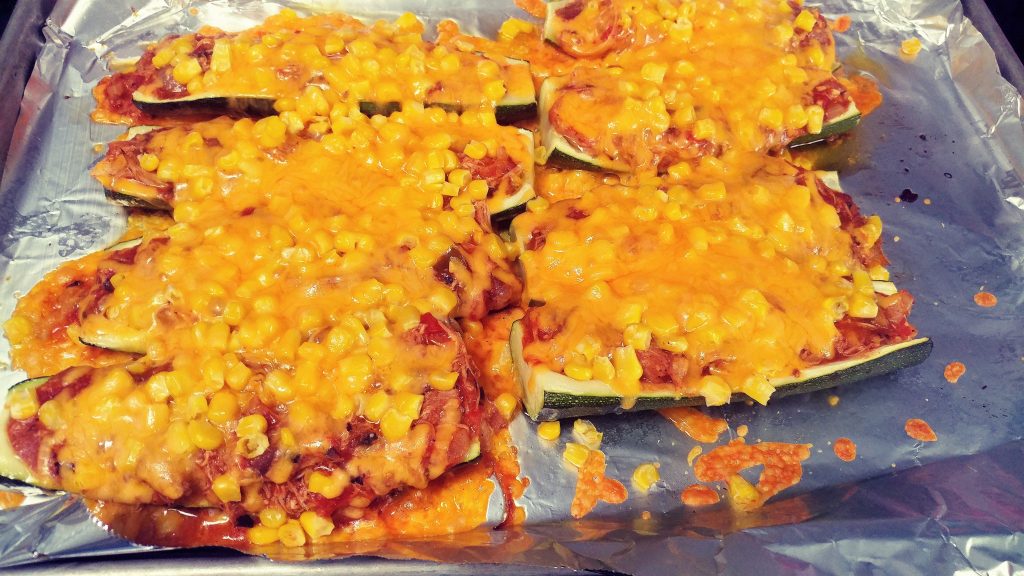 The only thing I would change next time is that I would add in some black beans. You could even do just black beans and leave out the chicken and have a perfect meal for Meatless Monday!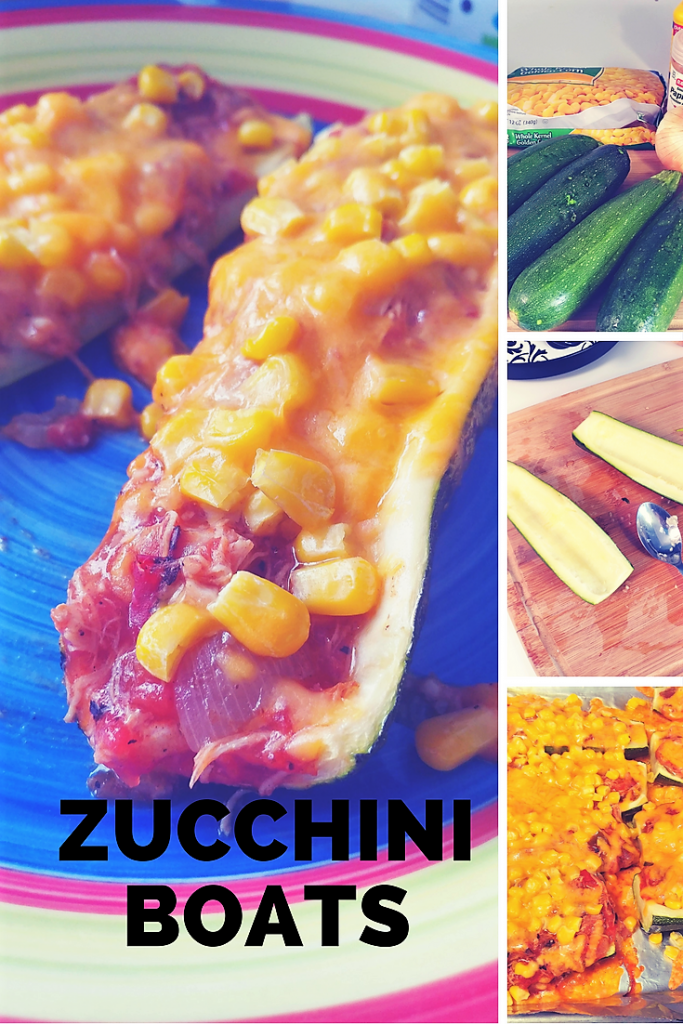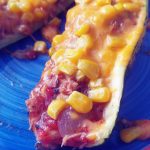 Chicken Taco Zucchini Boats
These chicken taco zucchini boats are not only delicious and easy to make, but they are also a healthy alternative for taco Tuesday.
Ingredients
4

Zucchini

1

LB

Cooked Chicken

1

Onion

1

Can

Diced Tomatoes

1

TBSP

Minced Garlic

Frozen Corn

Shredded Cheese

2/3

Cup

Water

Olive Oil

1

TBSP

Corn Starch

1

tsp

Papricka

1

tsp

Chili Powder

1

tsp

Cumin
Instructions
Dice onions finely and cook in a pan with olive oil and minced garlic.

Cut zucchini long ways, and scoop out center to create a boat.

Place zucchini on a cooking sheet, brush with olive oil, and bake for 20-25 minutes.

Add in tomatoes and spices to your cooked onions.

Mix water and corn starch together until smooth then add to pan and bring to a boil.

Let simmer and thicken while you wait on the zucchini.

Add in your cooked chicken to the pan.

Stuff your zucchini with the mixture. Top with corn and cheese, then bake for 10 minutes.