At my house, instead of Taco Tuesday, we do a Taco Friday. Fridays just seem like the perfect day to eat delicious tacos and relax after a long week of work. As you are all probably aware by now, I am slightly addicted to my crockpot. It is a wonderful appliance that just allows me to throw the food in, forget about it, and be ready to eat by dinner! This past Friday I wanted to use my crockpot for taco night. I threw everything in and voila! In about 7 hours we had a delicious and versatile crockpot Mexican chicken.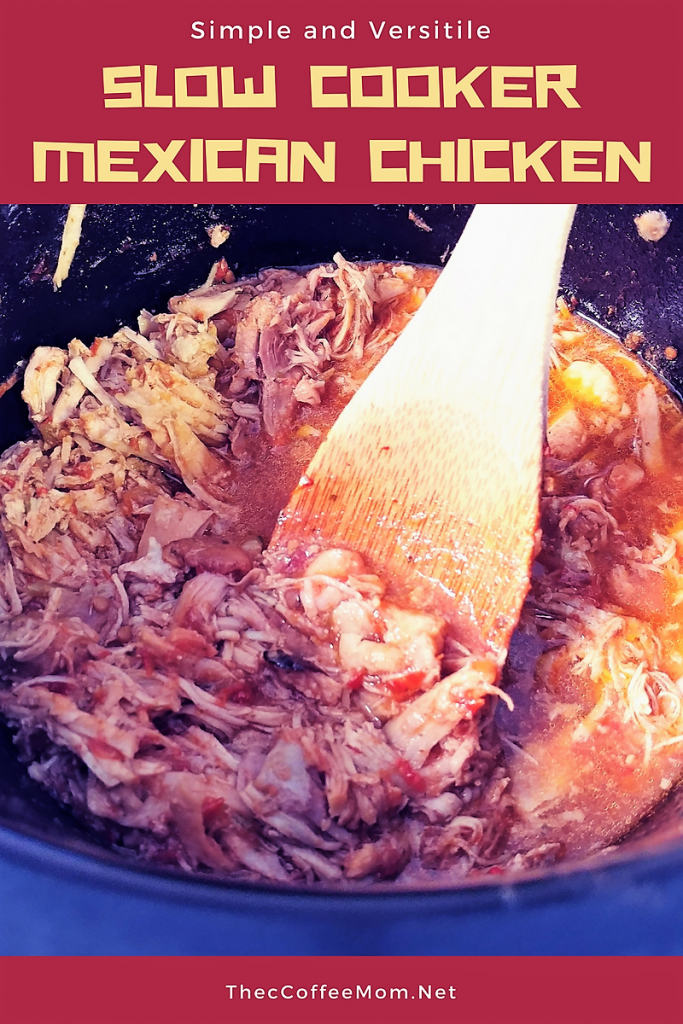 Crock Pot Mexican Chicken
This slow cooker chicken dish came out so great, that I don't think I will make my chicken for taco night a different way ever again. It was so simple to do, just dump everything in the crockpot and let it cook! The end result was a super juicy chicken that just fell apart. We ended up using this chicken for a few different meals since it is so versatile!
The Chicken
I used boneless skinless chicken thighs for this. You can use chicken breast, but the thighs are going to be a bit more suited to the crockpot and they don't dry out as easily.
Once I put my chicken in the slow cooker, I added the rest of the goodness! Y'all should know by now that I measure by sight and taste and rarely use measuring cups when I cook, so take that into consideration. For the crockpot Mexican chicken I used about 4 of the thighs. I added some Cholula hot sauce (to taste, I shook the bottle a few times into the pot so maybe about a tablespoon), a half a jar of salsa (more depending on how much chicken you use), a good dose of taco seasoning (about a tablespoon again) and a pinch of Cilantro.
Once everything was in, I let it cook for about 7 hours on low. It shredded so easily once it was done! All I had to do was touch it with a fork and it fell apart. I think the only thing I would do differently next time, is add in some diced onions when it is cooking.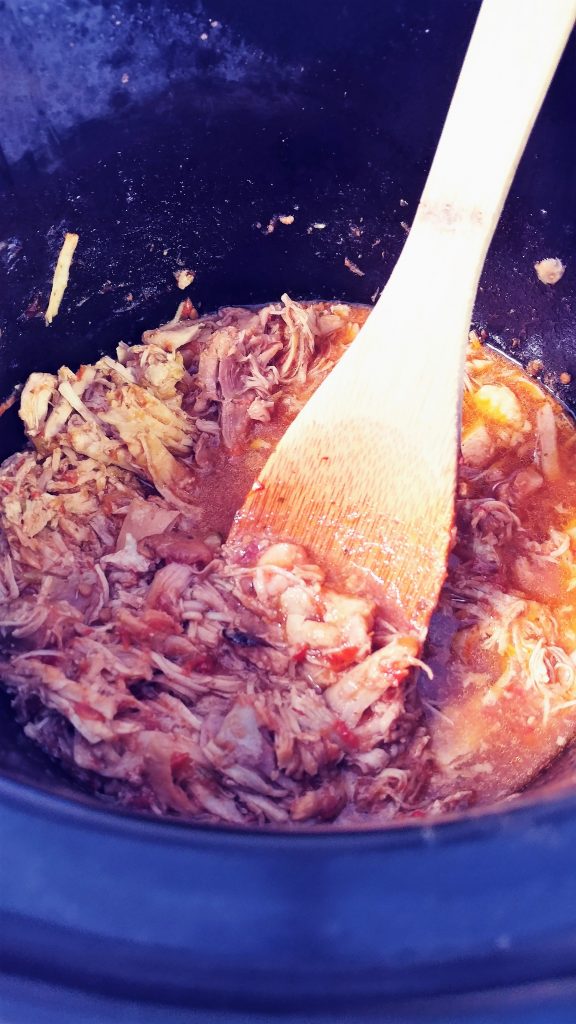 The Versatility
So the night I made this, my daughter wanted a taco and I wasn't feeling the wrap so I made myself a burrito bowl. Both of these options were great with the chicken. I do wish I would have had back beans for my burrito bowl, but that has no bearing on this crockpot Mexican Chicken.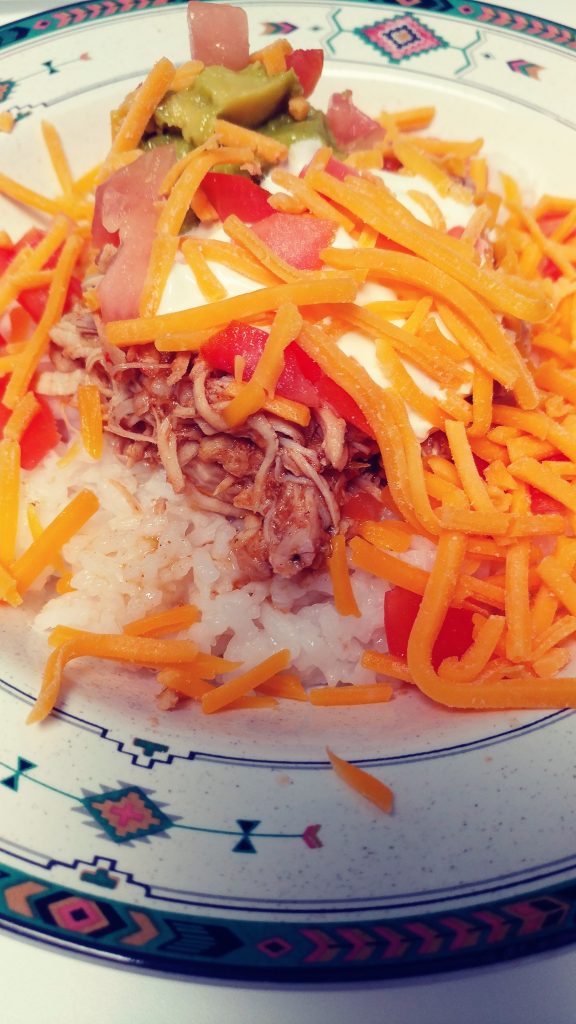 This made quite a bit of leftover, so the next day I decided to go with some scoops of chicken nachos for lunch! I have to say, these were my favorite. Little bite-size nachos on scoops, they were perfect to just pop in your mouth. The chicken was just as delicious as it was the night before and hadn't dried out at all in the reheating process.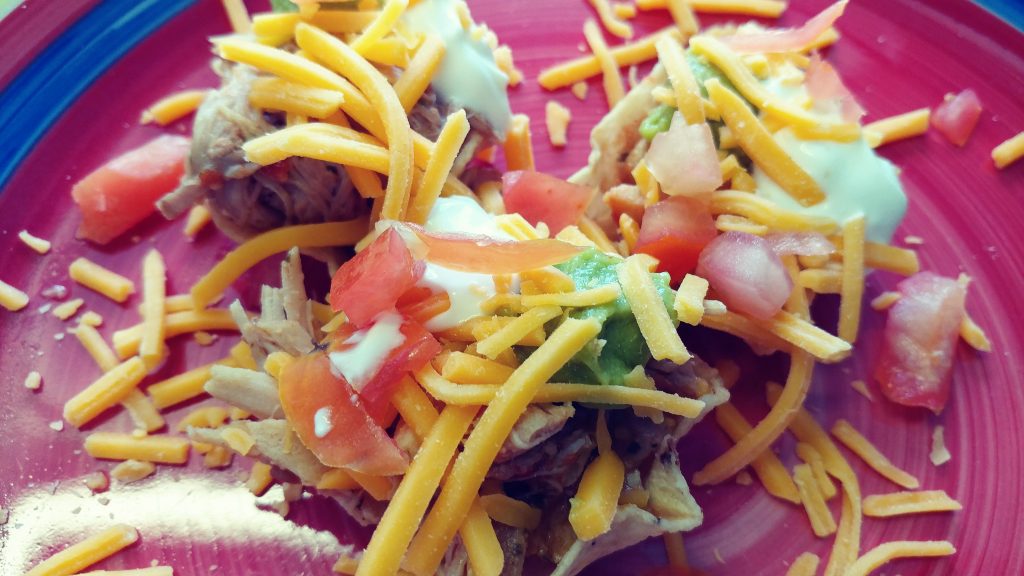 Crock Pot Mexican Chicken Recipe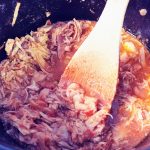 Crock Pot Mexican Chicken
Simple and versatile crock pot Mexican Chicken. Perfect for tacos, nachos, burritos and more!
Ingredients
1

lb

Boneless skinless chicken thighs

1

TBSP

Hot Sauce

1/2

Jar

Salsa

1

TBSP

Taco Seasoning

1

Pinch

Cilantro
Instructions
Add all ingredients to your crock pot

Cover and let cook on low for 5-7 hours
This was for sure a recipe that I will keep making again and again! It is rather inexpensive, as chicken thighs are much less costly than the white meat breast alternative.
What is your favorite Mexican dish? I am personally a Chimichanga fan when I go out, but have never tried making my own. Maybe next time I will try one with this awesome crockpot Mexican Chicken.