Goblins and Ghouls are starting to creep out of hiding here in Central Florida. While it may be in the 90's still, we make it feel like Fall in the best way we know how….With Halloween theme park days of course! To me, nothing days Florida more than theme parks and Legoland is one of my personal favorites. We were recently invited to check out their Brick or Treat Halloween extravaganza and it did not disappoint. So if you are planning a trip to see what all you can expect to see at Legoland Florida's Brick or Treat!
What Is Brick or Treat?
Brick or Treat is the annual Halloween extravaganza at Legoland Florida. It takes place every weekend the entire month of October and is spooky good fun for families with kids both big and small. While it is jam packed with candy, shows, Lego building, scavenger hunts and more… The best part of this event is that it is included in regular park admission. Yes, you heard that right. You don't need to buy an extra ticket for Brick or Treat. So if you are a pass holder, you can go as many times as you want!
Come in Costume
If you plan on heading to Brick or Treat, make sure you come in costume! Kids of all ages will love dressing up and enjoying everything the park has to offer. Keep in mind though that it is Florida, and while it may be Fall in the rest of the country, it tends to still be in the 90's for us down here this time of the year. My advice is to choose a lightweight costume so you don't end up with overheated and tired kids part way through your trip. If you do get hot though, you can always cool down in the Legoland water park thought… Because nothing says Fall in Florida like a few good water slides.
Haunted Lego Trail
One of the many highlights of the whole event is the Haunted Trail. This is where the kids get to trick or treat. Their favorite part, all of the candy…My favorite part… The non candy treats like Honest Kids Juice and GoGo Squeez. It is nice to get some non candy treats that the kids still enjoy!
Another fun aspect of the Haunted Trail is that the Model Citizens really get into it! Many of them are dressed up and they all engage with the kids and make it an extra special time. My favorite bonus was that pass holders are allowed access into the trail a full hour before everyone else!
What Else Is There To Do?
It isn't just trick or treating at Legoland Florida's Brick or Treat. For those of you who love shows, you are in luck! You can enjoy a special showing of their Halloween themed Candy Coated Curse and Groovin Graveyard. These are so much fun, for adults and kids.. And a perfect way to take a load of for a bit because you will be doing a lot of walking.
You can also check out their regular ski show as well. This has to be one of my favorite aspects of the park. You see, when I was a kid this area was Cypress Gardens. They had ski shows and Southern Belles walking around in full on old-timey dresses. My great aunt and uncle actually used to be performers in the water ski shows many years ago, so I may be bias but it fills me with happiness and nostalgia seeing Legoland keep the spirit of the shows alive.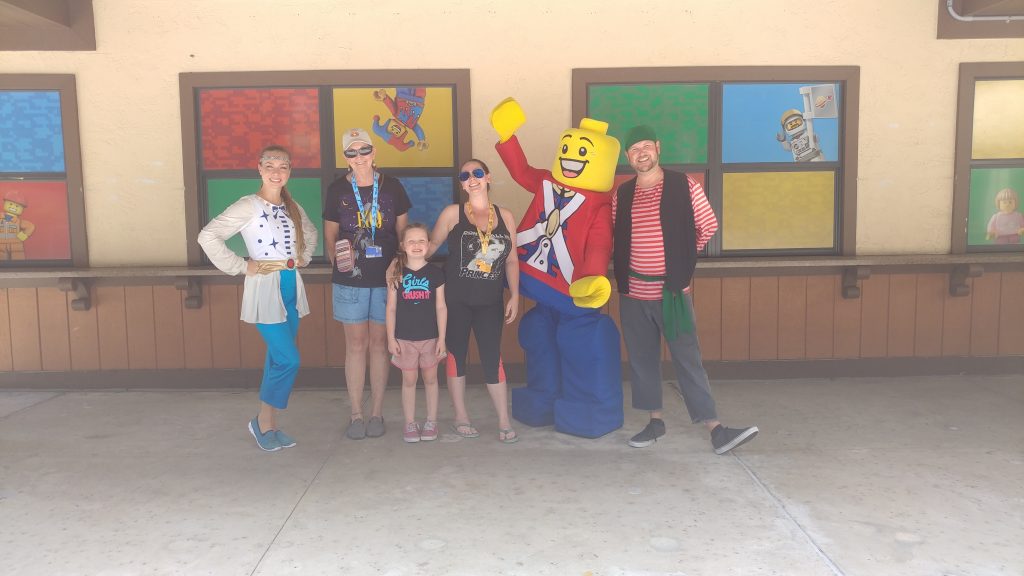 Special Halloween Characters
The Halloween treats keep coming with special Halloween character meet and greets. With fun characters like Frankenstein, Vampyre, a Witch and more, the kids will be thrilled to get their photos taken with these Lego characters. You can find them at special places around the park throughout the day.
Fall Treats
If you are getting a little hungry, you can check out some of the delicious Fall treats the park has to offer. On top of their normal restaurants and food, they have special treats like dirt cups, spooky trail mix, and my favorite… Pumpkin spice Apple Fries!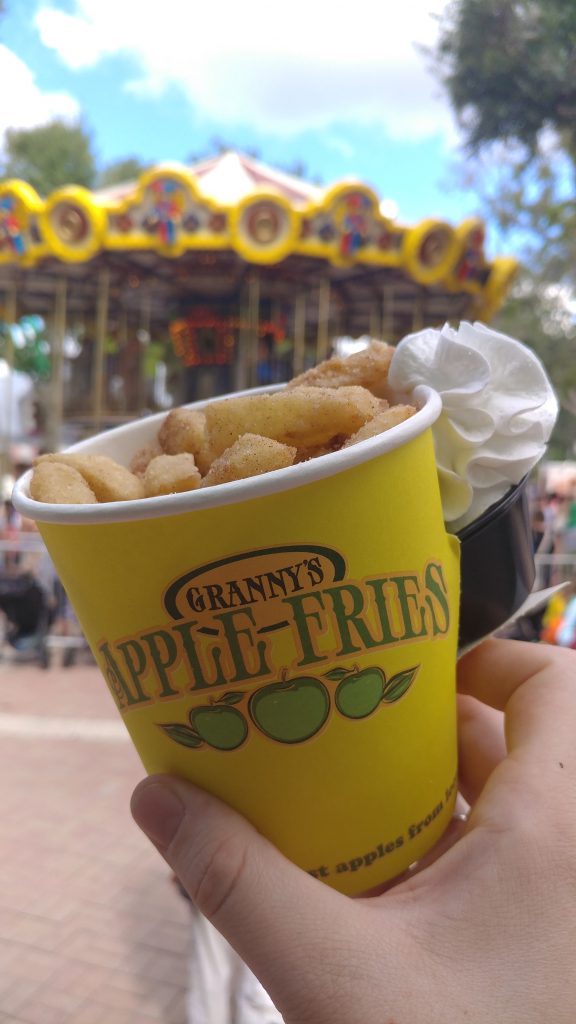 Model Building and More
My daughter absolutely loves the building activities when we go to Legoland. Kids are able to create and build with Legos to take a break from rides and walking around the hot park. During October, you can experience Halloween themed builds such as making your very own spider to add to the larger than life spider web!
It wouldn't be Legoland without over the top creations either, so make sure you check out the Lego Hearse and World's Largest Lego Pumpkin!
Yes, You Get To Ride The Rides
With all of the Halloween goodness, it is hard to imagine that there is even more to do, but there is. You have full access to the regular park attractions such as all of the rides and even the water park.
So if you are looking to make a trip to Central Florida this Fall, don't skip Legoland Florida's Brick or Treat.
Don't forget to follow The Coffee Mom on Facebook, Instagram and Twitter to stay up to date with all of our family travel, parenting tips, family friendly recipes and so much more!