*This post was sponsored by Passage Foods as part of an Influencer Activation. All opinions expressed in my post are my own.*
Welcome back fellow foodies. As you may know by now, I love to cook and even more, I love to eat. Trying new meals and introducing new flavors to my family is something that I truly enjoy. Lately it feels like we have been heavily leaning towards Asian foods and flavors. My husband especially is a huge fan of Asian flavors, but my cooking skills are not always up to par with traditional dishes. So something that has become a staple in my pantry recently is the Passage to Asia Simmer Sauces. They have allowed me to introduce new flavors to my family, and create meals in 20 minutes or less, including this delicious Thai Basil & Sweet Chili Steak and Vegetable Stir Fry.
Steak and Vegetable Stir Fry
On a busy weeknight, I love a quick and filling meal. I'm one busy mom, between work, the kids, the blog and all the other million things I need to do in a day I just don't have time to spend an hour cooking dinner. As I mentioned, my husband has had this slight obsession with Asian foods lately , and as much as I want to make these intricate foods for him, they just take so long! That is one of the many reason I have been loving the Passage to Asia simmer sauces.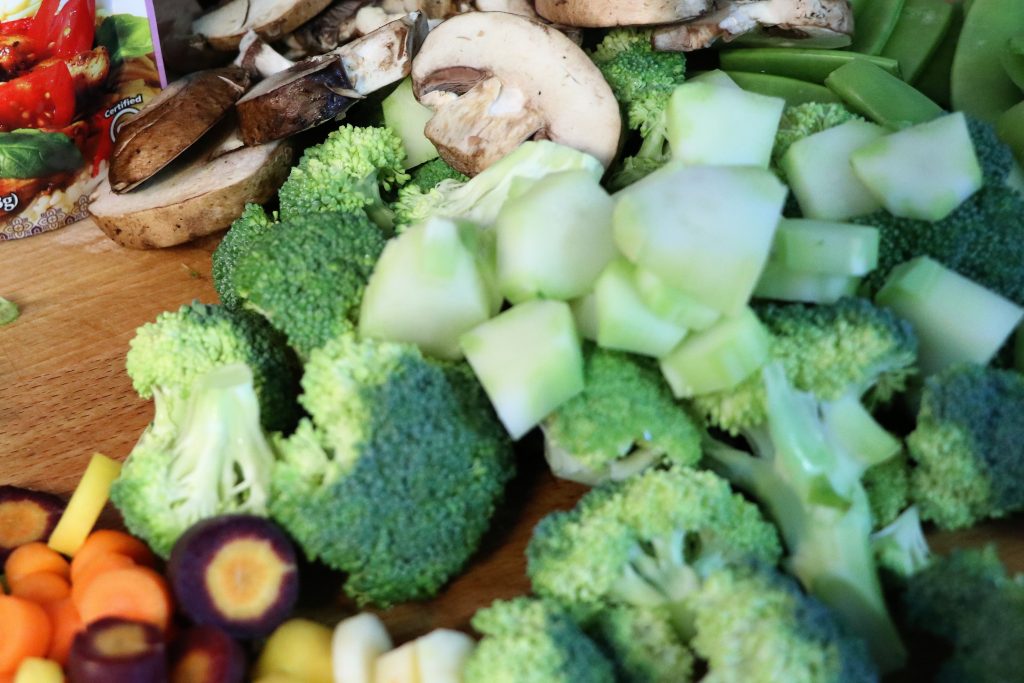 Available at select Walmart stores with a ton of fun authentic flavors, these easy to use simmer sauces really make Asian recipe cooking easy. They are easy to use, allowing us every day home chefs to experience authentic Asian flavors with ease. Easy, delicious and made with wholesome, all natural ingredients… This mom is sold! Pretty much all recipes with these authentic Asian Simmer Sauces can be made in 20 minutes or less, making them perfect for busy moms and dads everywhere.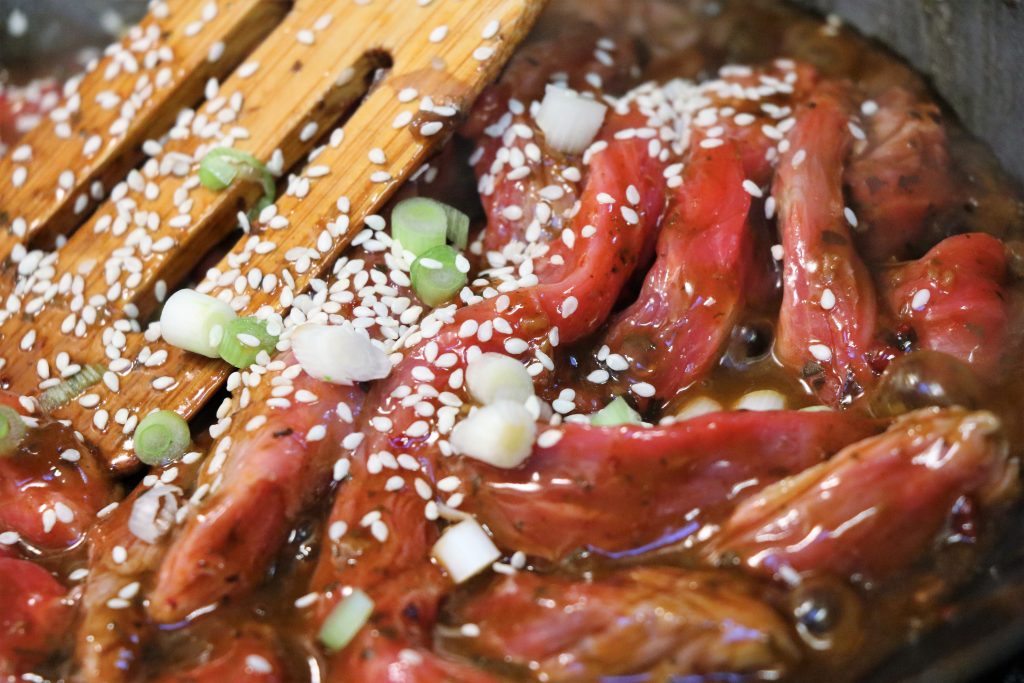 This night, we decided to go with a Thai Basil & Chill sauce for some steak and vegetable stir fry. It was one of the easiest meals I have ever made. After chopping my vegetables, I cooked them down in a Wok with about half of the bag of sauce. Once soft, they were transferred into a bowl and I cooked the steak strips with the remaining sauce. The beauty of using steak is that is doesn't take long to cook. Personally, I go to about a medium rare- medium to ensure that the meat is tender and juicy! When the steak is done, mix the veggies back in and serve over a bed of rice!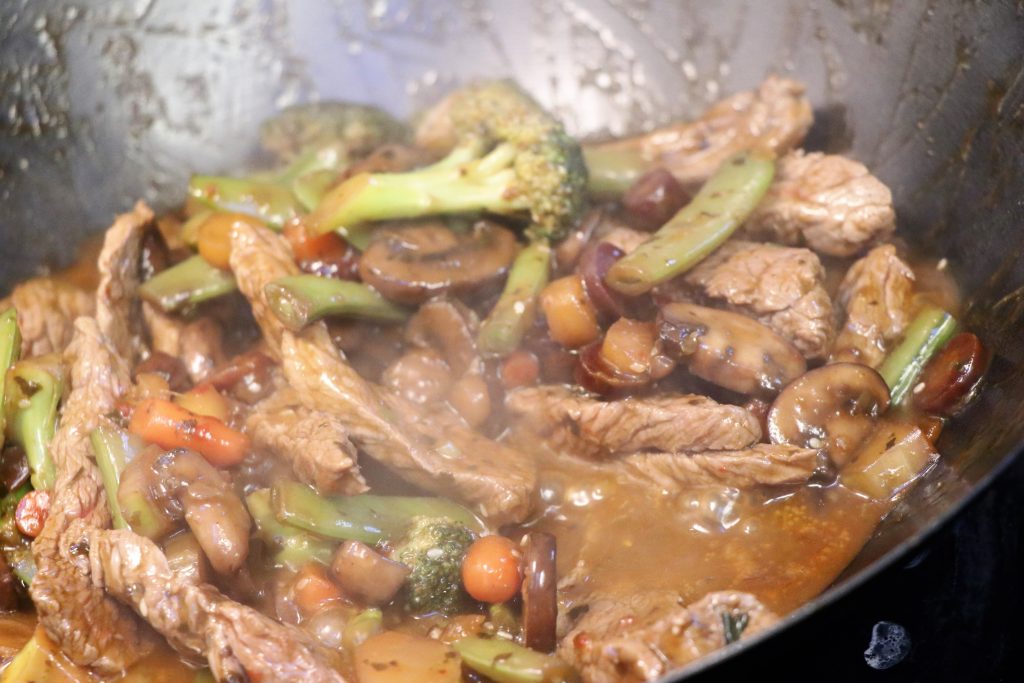 Passage Foods Kitchen Makeover Sweepstakes
As you see, the steak and vegetable stir fry is so simple to make! Right now, you can n not only enjoy exploring Asian flavors, but also enter to win a plethora of amazing prizes. The grand prize is a $50,000 kitchen makeover… Who wouldn't want to win that? You can see all of the prizes and enter to win for yourself here.
Full Steak and Veggie Stir Fry Recipe
Go on mama, grab this recipe and make your family a delicious and easy meal tonight!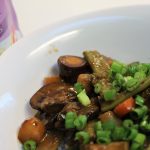 Steak and Vegetable Stir Fry
Steak and Vegetable Stir Fry
Ingredients
1

Package

Passage To Asia Thai Basil and Sweet Chili Simmer Sauce

1

Lb

Sliced Steak

Broccoli

Carrots

Mushrooms

Snap Peas

Sesame Oil

Optional

Cooked White Rice
Instructions
Chop all of your vegetables while heating sesame oil ( can substitute any oil of your choice) in a large pan ( I like to use a Wok)

Cook vegetables in your pan along with half the pack of Simmer Sauce. Remove once cooked completely and set aside for later

In the same hot pan, cook your thin steak with the remaining simmer sauce until you reach your preferred temp.

Mix the vegetables back in

Serve over cooked white rice.
Don't forget to follow The Coffee Mom on Facebook, Instagram and Twitter to stay up to date with all of our family travel, parenting tips, family friendly recipes and so much more!