As I am sure y'all have realized by now, Taco Tuesday is a favorite in my house. Plain tacos can get a bit boring though. So that is why I am always looking for ways to spice it up and try new things! This past week, I went a little out of my comfort zone and decided to try out some fried taco triangles. No lie, they were a little intimidating at first, but thankfully, it ended up being not nearly as difficult as I thought it would be
While they are a little more time-consuming than a typical taco, the end result is completely worth it! You get a crispy flaky crust with delicious beef, cheese, and veggie filling! Top it with some sour cream, guacamole, and salsa and you have one heck of a good family meal!
Fried Taco Triangles
Taco Tuesday has become somewhat of an event in my home. It is great because tacos are typically easy, always delicious, and relatively inexpensive. The thing is, it can get a little boring eating the same exact thing every week. That is why we try to change things up and try new things.
My newest taco obsession has to be these fried taco triangles. They remind me of Chimichangas in a way. I pretty much always get a chimichanga when I go out to my favorite Mexican restaurant, so I decided to try my own rendition at home.
While they may have been somewhat intimidating at first, once I got a system down they were quite simple. Through my trial and error though, the whole process can be a little easier for you trying this at home yourself.
Make sure you check out more family-friendly recipes and tag me on Pinterest or Instagram letting me know what you think of what you tried!
Brown the Taco Meat
The first step is to brown your meat. I used ground beef, but you can just as easily use chicken if you prefer ( Here is a great shredded chicken recipe you can use). If you want to make this a vegetarian meal, you can do that as well with black beans or just veggies.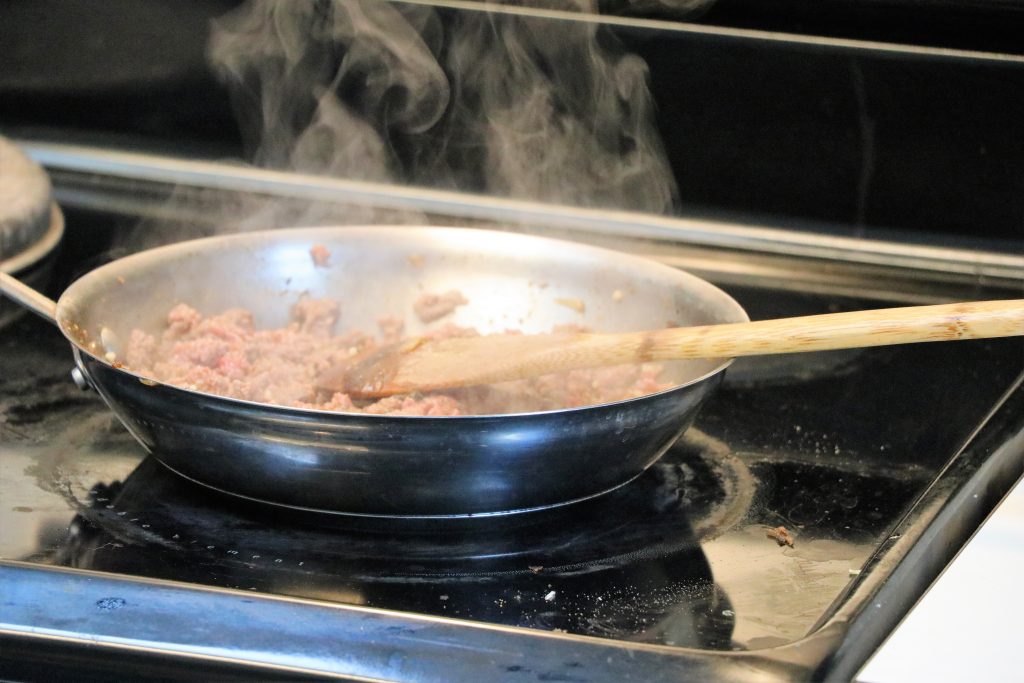 Season your meat as you would for any other taco dish. Once it is done, set it aside while you are doing the rest of your prep.
Cook The Veggies for your Deep Fried Tacos
So, really, you can cook the veggies and meat at the same time if you want. With chicken, you can cook them in the same pan. I don't like cooking them at the same time as the beef though because of all of the fat that beef can let off when cooking.
Instead of using a different pan though ( and thus making more dishes for myself), I rinsed and re-used the same pan that I cooked the beef in. Season the veggies how you like, and cook them until they are your preferred tenderness. Set aside when done.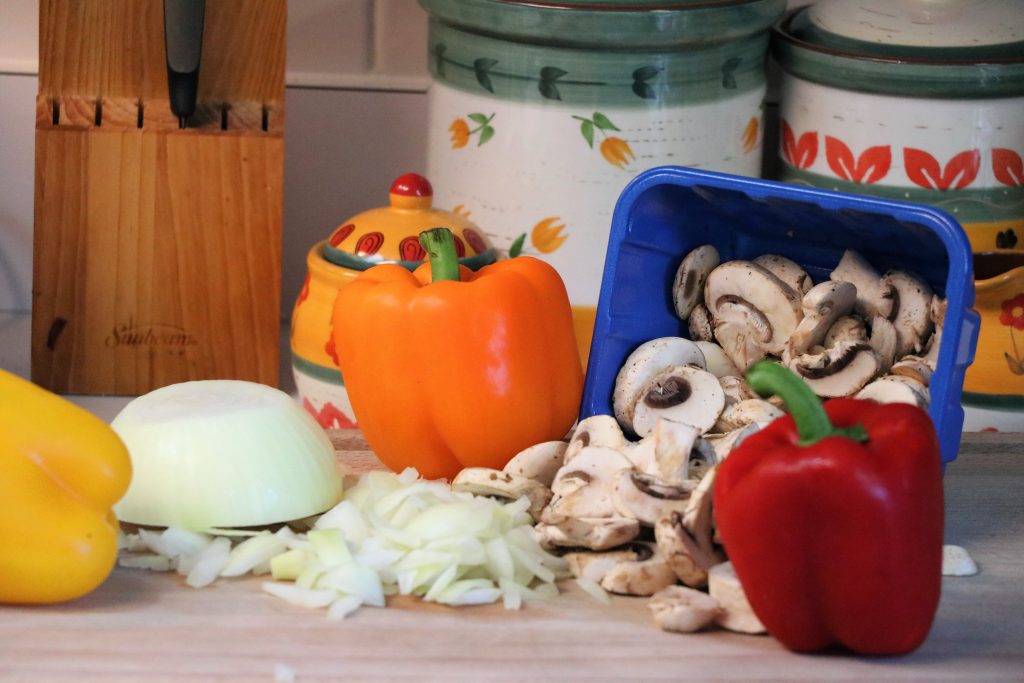 Prep Your Tacos
Once the veggies and meat are done, you can just about start building your tacos. It really helps if you create a station to assemble your tacos. I had a bowl of cheese ( pepper jack was my choice), veggies, and beef.
The key to making these fried taco triangles is using the large flour shells and cutting them in half. I used a pizza cutter to cut mine in half, but a regular kitchen knife would work just as fine.
While you are getting this prepped, you can heat up oil in a deep pan as well. I used my Dutch Oven and canola oil. Heat over medium heat and let it get nice and hot before you drop in your first taco.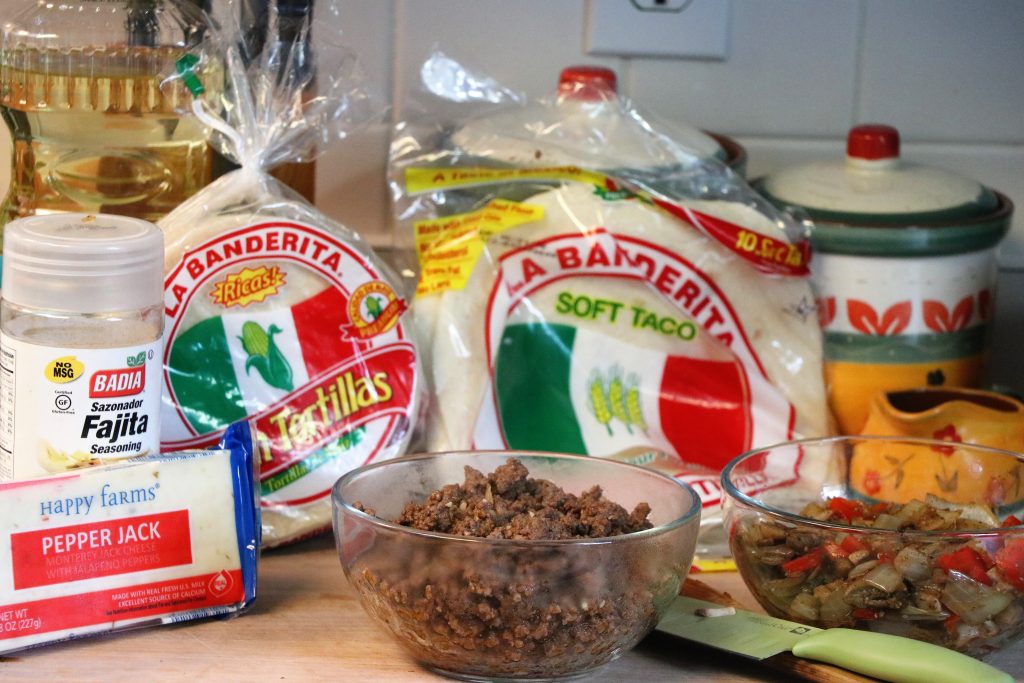 Build The Triangles
Once you have your station all set up and your tortillas are cut in half, it is time to build! Beat one egg to use as the "glue" and get to the building! Put the meat, cheese, and veggies in the middle of your tortilla. Brush some eggs on the edges and fold them into a triangle. It helps to press the edges with a fork to get them to stick.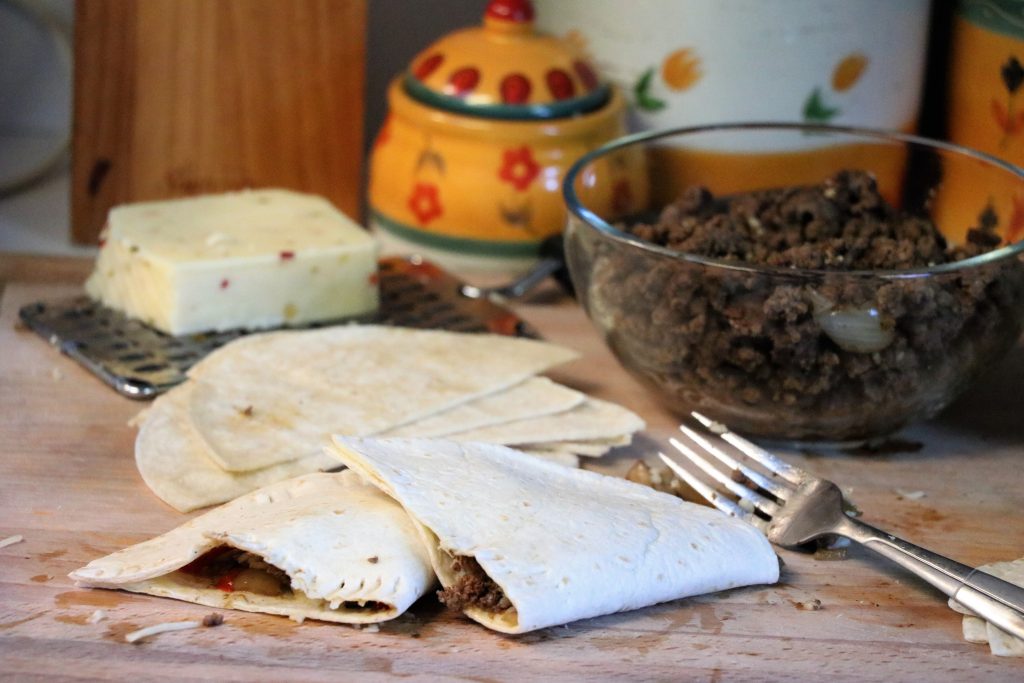 As you can see, some of mine didn't turn out too perfect, but that is okay! Now all you have to do is fry them up! Place them in the oil and let them cook for a few minutes on each side, until they are golden brown. Don't add too many to the pan/pot at one time because the oil will cool off and they won't cook correctly.
Top and Enjoy
They are fried, flaky, and delicious now! Time to top them with your favorites and enjoy!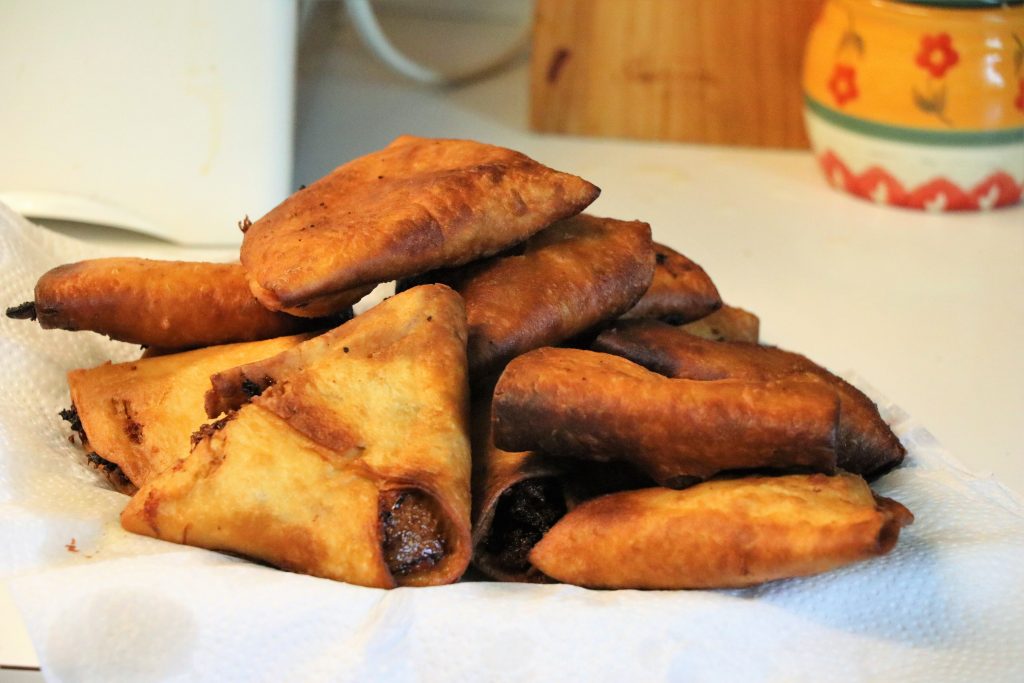 What is your favorite way to Spice Up Your Taco Tuesday?
Looking for more? Try these make-ahead breakfast burritos!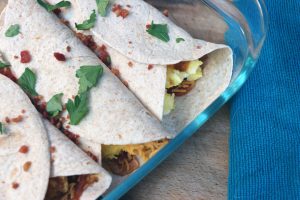 If you are still hungry, try these slow cooker Birria tacos next!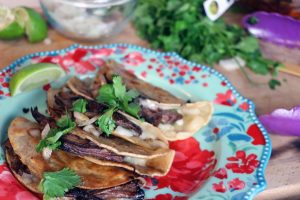 Deep-Fried Taco Triangles Printable Recipe!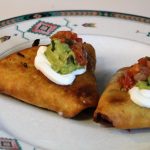 Fried Taco Triangles
Spice Up Your Taco Tuesday With Fried Taco Triangles. Can be made with beef, chicken, or vegetarian!

Ingredients
Large Flour Tortillas

1

Pepper

1

Onion

Mushrooms

Cheese of your choice

Pepper Jack is delicious

Taco Seasoning

Protein of your choice

1

Egg

Canola or Vegetable Oil

Enough for Frying
Instructions
Cook your protein of choice.

Cut up and cook the veggies. Season generously.

Cut large flour tortillas in half

Beat your egg and set aside while waiting for your oil to heat up.

Place your protein, veggies, and cheese in the middle of your half tortilla

Brush edges with beaten egg and fold into a triangle. Press edges with a fork to help it stick.

Add to the oil 1-2 at a time. Fry on each side for 2-5 minutes ( until golden brown). Flip and repeat.

Let cool, top with your favorite taco toppings and enjoy!
Looking for more taco Tuesday recipes? This one-pot taco pasta is a super easy and delicious option!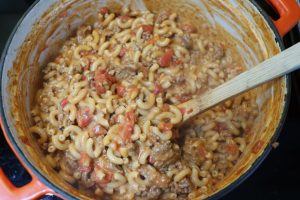 You can also check out this super simple copy-cat Crunchwrap supreme!