Sometimes you are in the mood for Taco Bell but don't want to leave your house. When those times come, you can rest easy with this copycat crunchwrap supreme recipe.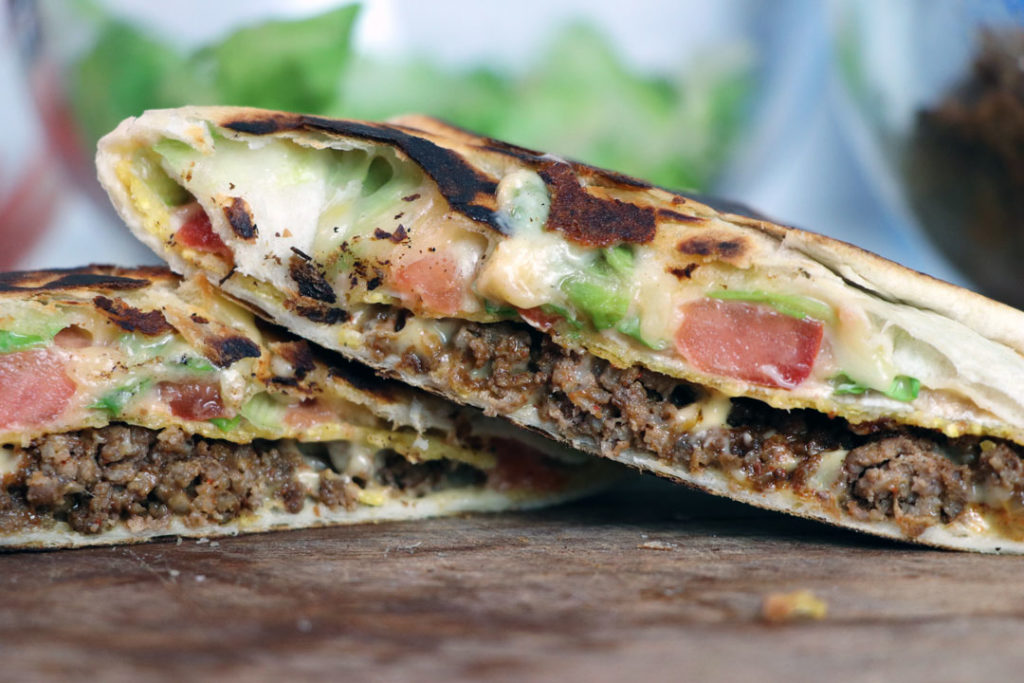 I am a sucker for Mexican food. Some of my favorites include chicken enchiladas, birria tacos, and deep-fried taco triangles.
There are just so many different ways to make Mexican dishes and they are always so delicious, not to mention they tend to be easy to make.
No lie though, sometimes I just run through Taco Bell to make my night super easy. I know it isn't very healthy though, and really, it isn't even THAT good.
So I decided I wanted to be able to make my favorite Taco Bell meal at home myself. So I gathered up my ingredients and decided to make my very own copy cat crunchwrap supreme.
What's In a Crunchwrap Supreme?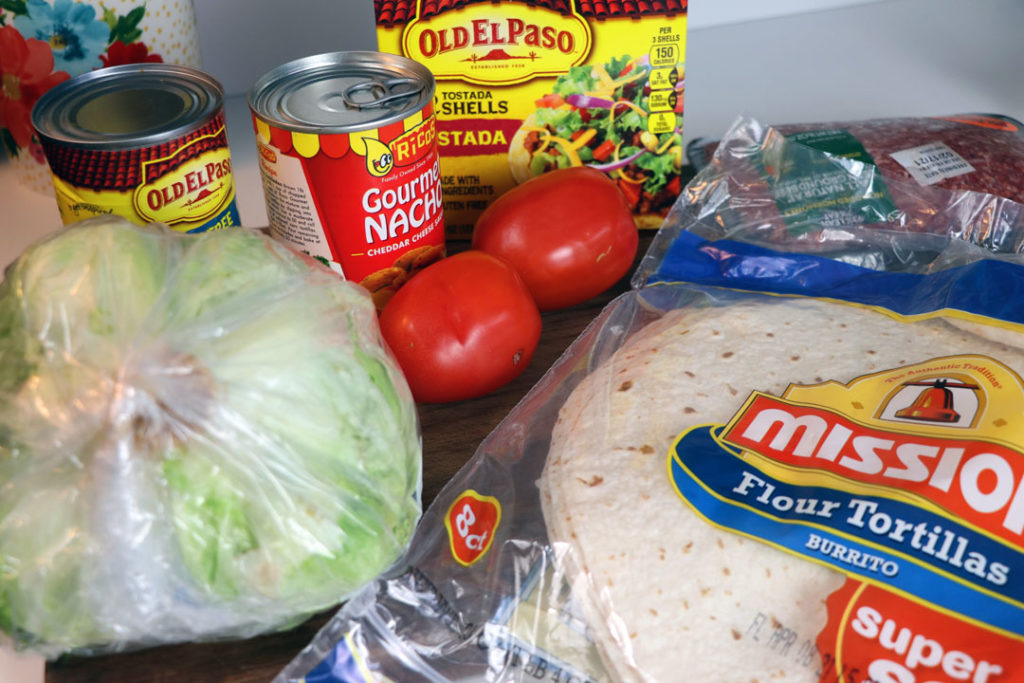 A crunchwrap supreme really isn't much different than a traditional taco. The ingredients are what you would expect including:
refried beans

nacho cheese

lettuce

sour cream

tomatoes

ground beef ( or black beans for a vegetarian alternative)

shredded cheese

tostada shells

large burrito tortillas
As you see, pretty basic taco ingredients. Making a copy-cat crunchwrap is surprisingly easy once you get all of the ingredients ready. Honestly, it ends up being much cheaper than going to Taco Bell as well!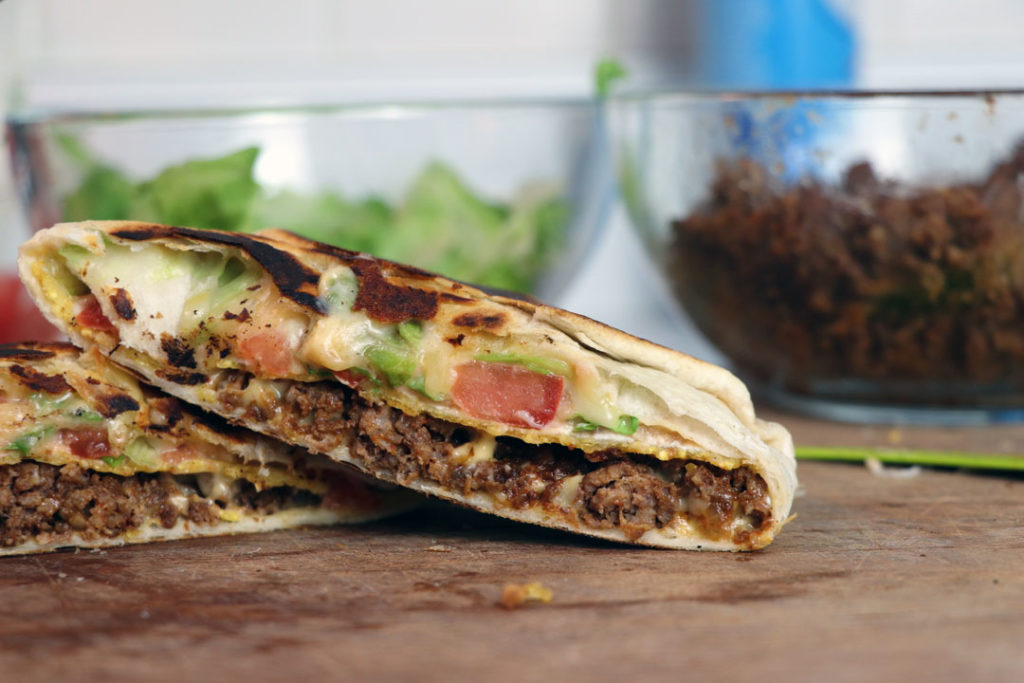 Okay but, how much is a crunch wrap supreme?
So you may not believe me when I say it is less expensive to make a crunchwrap at home, but I promise it really is. It costs roughly $4.00 for one crunchrwap at Taco Bell. Not too expensive at all, right?
But when you try this Taco Bell copy-car recipe, you are able to make 8 crunchwraps for about $12.00. So this makes the cost of each copy cat taco less than $1!
A healthier Taco Bell crunchwrap supreme
Not only will you save money by making this at home, but you will also be healthier! Any time you make something at home, it is likely going to be a much healthier option than going out to eat.
With this copy-cat recipe, you know exactly what it in it. You can use fresh ingredients and make any substitutions you need.
A few things you can do to make this crunchwrap healthier would be to change out the ground beef for black beans. You can use low carb tortilla shells, or even omit the sour cream. Really, the sky is the limit!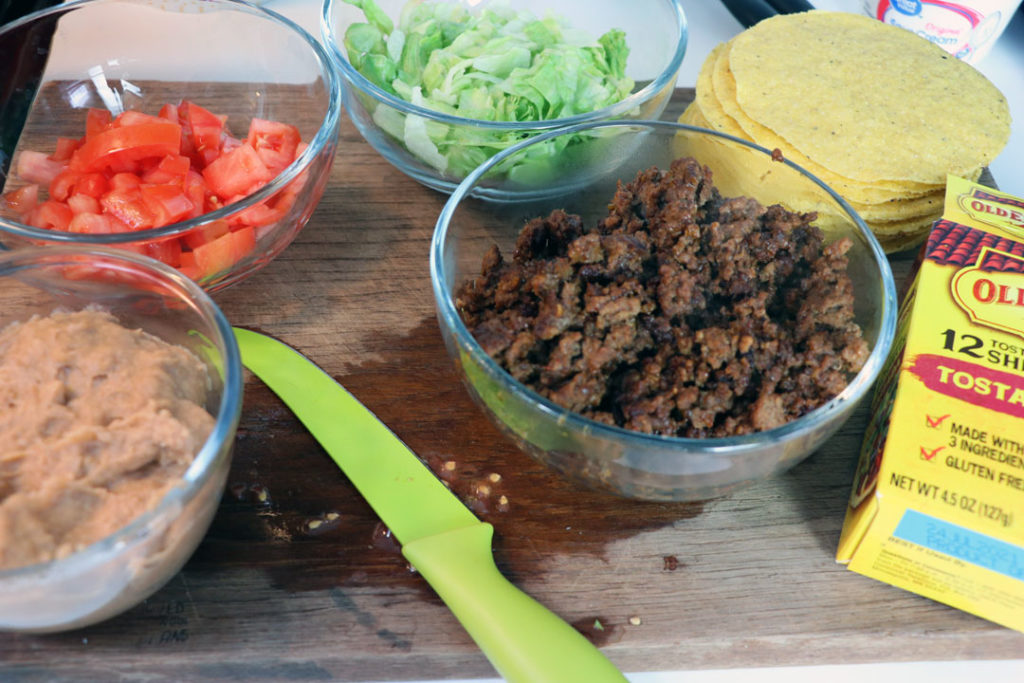 How to Make a Taco Bell Crunchwrap Supreme
I promise, these are so easy to make. Start by browning your beef and cutting up your lettice and tomatoes.
You will also want to warm up your nacho cheese and the refried beans.
Once you have everything cooked, cut, and warm you can assemble your crunchwrap.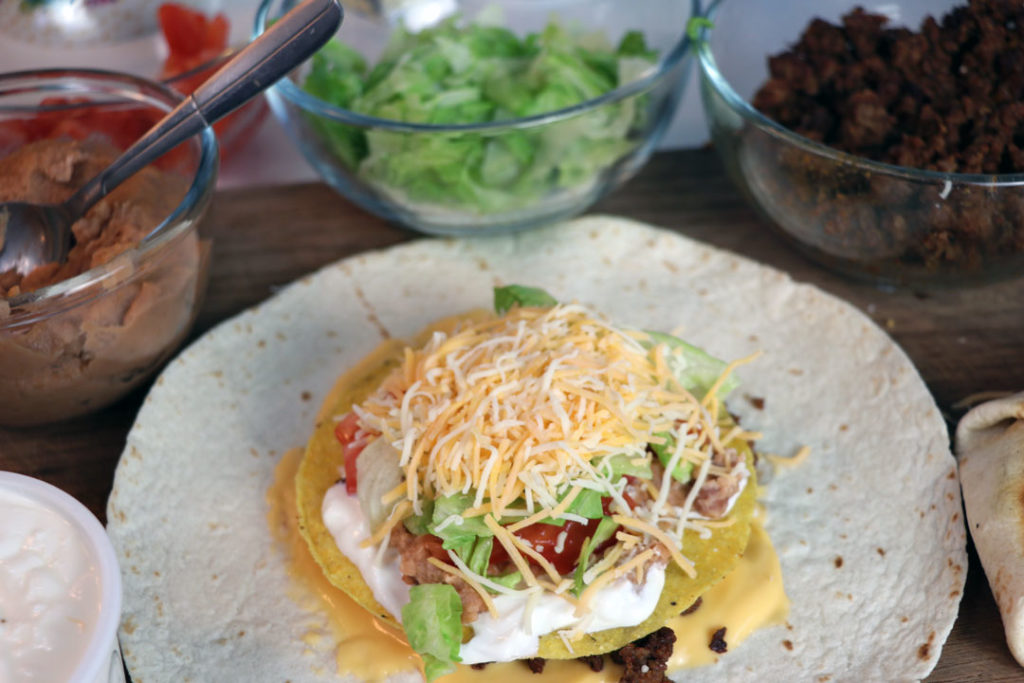 Start with your big burrito tortilla and add a dollop of nacho cheese. Then put ground beef on top of the nacho cheese.
Next, put your tostada on top of the ground beef. Layer with sour cream, refried beans, tomatoes, lettuce, and shredded cheese.
Now comes the " hard part" but I promise, it isn't as hard as I thought it would be. It is time to fold your crunchwrap.
Start by folding one "side" of the burrito into the middle, then continue folding all of the burritos into the middle, overlapping as needed. everything will meet in the middle and you will have that lovely crunchwrap fold.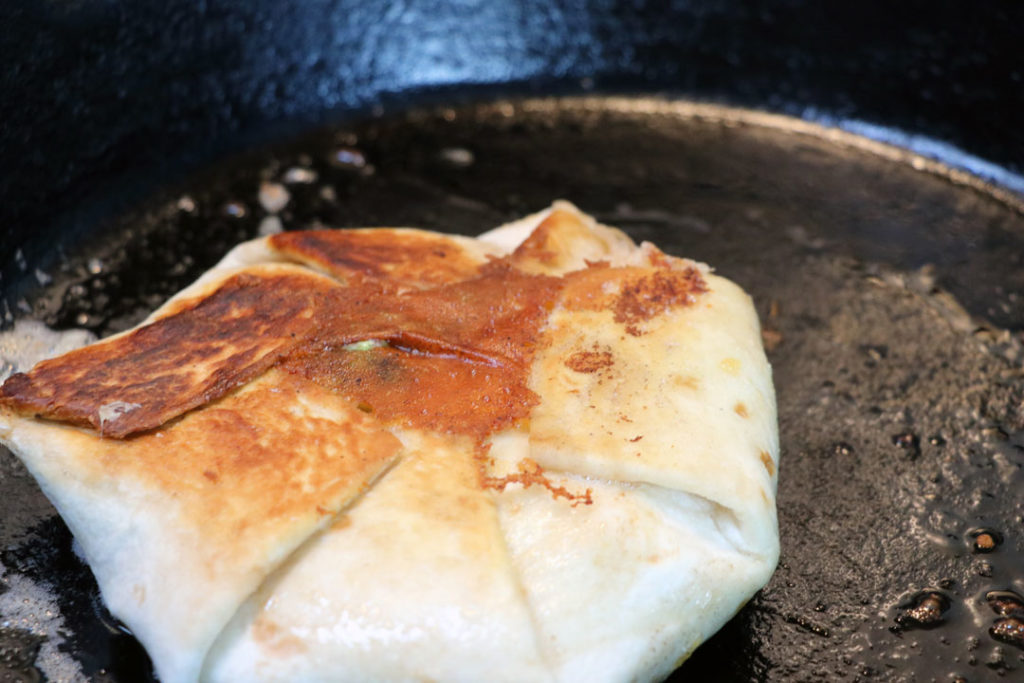 You may have to hold it together a little bit, but that is fine it'll stay in place when you cook it.
Now you just need to place it, seam side down, on a hot skillet. Cook for about 3-5 minutes on each side, until it is warm and golden brown!
Then that's it! Now you are ready to sit back and enjoy your Taco Bell copy-cat recipe!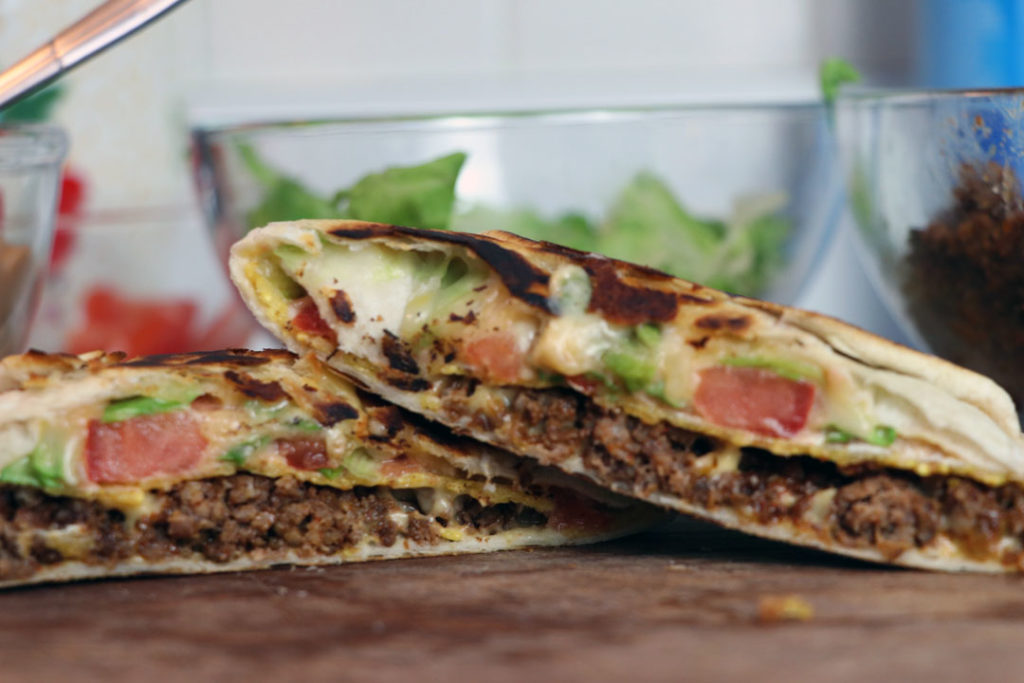 Grab the printable recipe now
If you want to make crunchwrap supremes over and over again, then print this recipe to keep on hand at all times!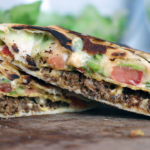 Copy Cat Crunchwrap Supreme
Homemade crunchwrap supreme. Your taco bell favorite at home!
Ingredients
1

can

refried beans

1

can

nacho cheese

lettuce

tomatoes

1

lb

ground beef

shredded cheese

tostada shells

burrito tortillas
Instructions
Warm up the nacho cheese and refried beans.

Dice the tomatoes and lettuce.

Build your crunchwrap by spreading a dollop of nacho cheese in the middle.

Then layer with ground beef, tostada shell, sour cream, refried beans, lettuce, tomato, and shredded cheese.

Now fold. Take the large burrito and start folding it into the middle, repeating until it is fully enclosed.

Cook on a hot skillet, seam side down, for 3-5 minutes then flip. Repeat until hot and golden brown!