Healthy low carb, make-ahead breakfast burritos are quick, easy, and freeze well. Stuffed with egg, bacon, and cheese they are a perfect breakfast to add to your weekly meal prep menu!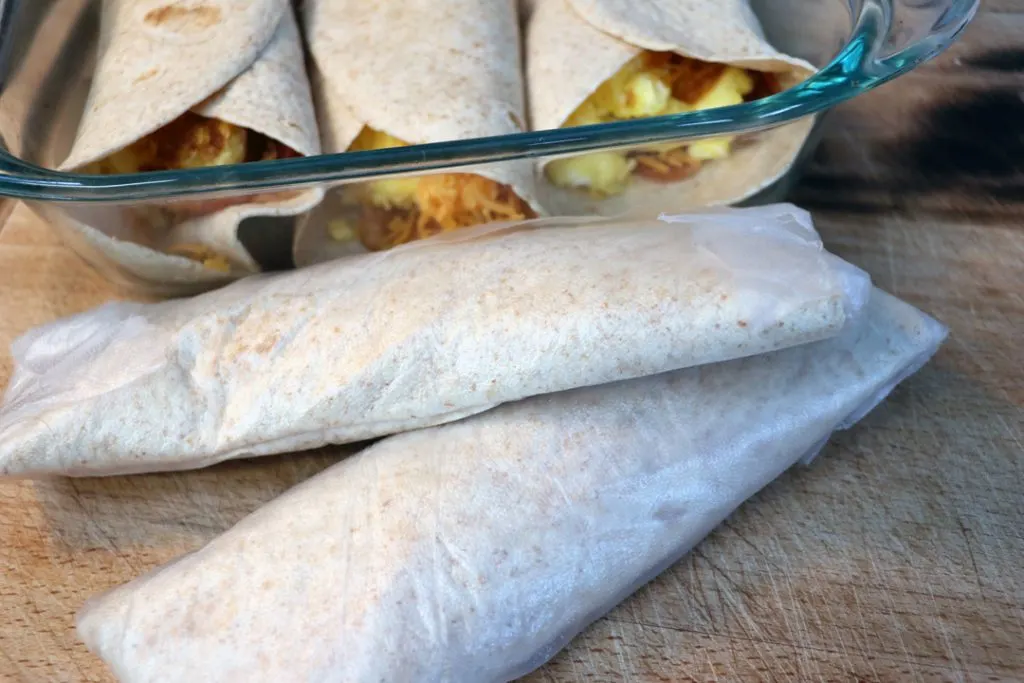 Make-Ahead Breakfast Burritos for Meal Prep
Meal prep has been a lifesaver for me, especially on busy mornings. When I have to just run out the door and take the kids to school or camp and head to work, it is so important that I can just grab something and go!
I don't want to just grab junk though. I wanted something healthier and low carb for breakfast. So these breakfast burritos are the perfect option. They are easy to make, reheat super well, and are just the best for busy mornings.
What Can I Put In My Breakfast Burrito?
What can't you put into a breakfast burrito? You can go as wild or as mild as you would like with these depending on your taste.
Start with a simple base of scrambled eggs and cheese and build from there. I personally like bacon in mine, but feel free to use sausage, meat substitute, or no meat at all!
You can even add in any veggies that make you happy. A few ideas of delicious veggie additions are:
Onion

Tomato

Avocado

Mushrooms

Peppers
You can even finish off your burrito with some sour cream, guacamole, and salsa!
Are Breakfast Burritos Keto?
Regular tortillas are not keto-friendly but the low-carb tortilla shells I am using here are an excellent alternative for anyone trying to limit their carb intake. These tortillas that I use in this recipe contain 5g net carbs. They have 14 grams of total carbs with 9 grams of fiber, taking the net count down to 5 grams.
If you are trying to stick to a strict keto diet, then these may not be an option for you, but if you aren't super strict and are okay with wheat then these are great.
Adding a bit of olive oil to the skillet before cooking will give them a nice crisp and help prevent sticking. When it comes to finding quality olive oil, it pays to do a bit of research. Look for extra virgin, cold-pressed olive oils that are organic and come from reputable producers. These will be more expensive than the average olive oils but they are worth it in terms of quality and flavor.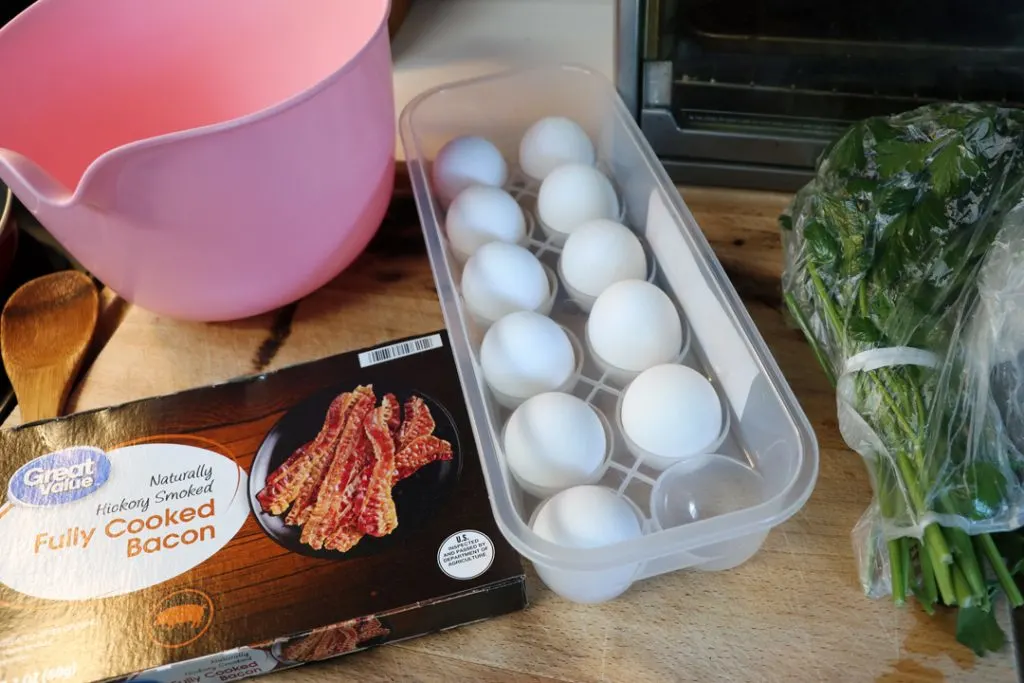 How To Make Low Carb Breakfast Burritos
Start by gathering all of your ingredients, of which there aren't many.
low carb tortillas

eggs

cooked bacon

cheese

heavy whipping cream/milk
You can either start out by cooking the bacon, or do what I did and buy pre-cooked bacon. Either way, you will want cooked bacon set aside while you made your scrambled eggs.
I personally like to add heavy whipping cream to my scrambled eggs. I think it gives them a delicious fluffy texture and is perfect for this recipe. If you don't have heavy cream, feel free to use milk instead.
Once you have fresh scrambled eggs, you can go ahead and build your burrito. Start with the low-carb tortilla and fill it with egg, bacon, and cheese. You can be generous with your fillings, but don't add too much that you can't roll your burrito.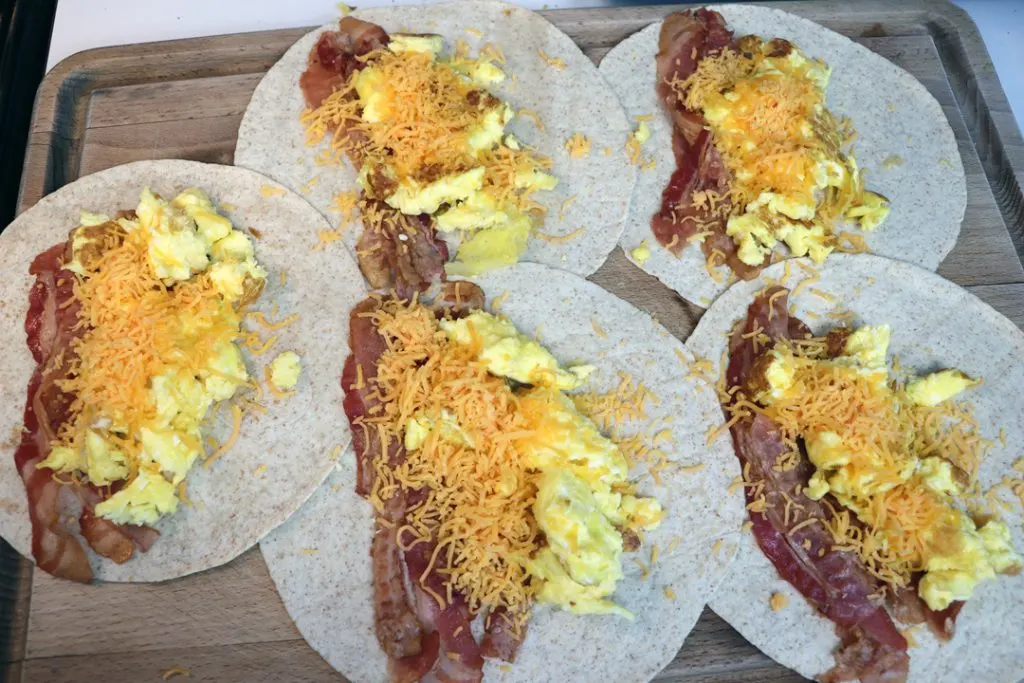 Making Burritos to Eat Now
If you want to go ahead and eat your breakfast burritos right away, roll them and place them in a casserole dish. Top with bacon and cheese and bake.
Then enjoy them while they are hot with all of your favorite toppings!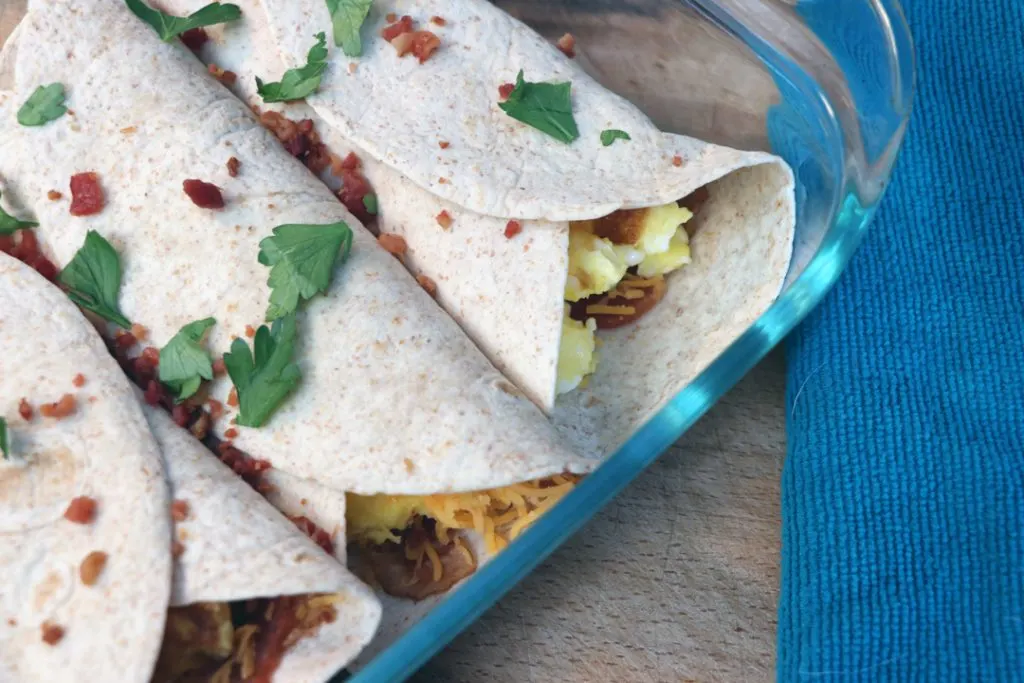 Meal Prep Breakfast Burritos
If you want to make your burritos to eat later, you will want to roll them just like you would if you were eating them right away.
Instead of placing them in a casserole dish though, you will want to individually wrap these burritos in cling wrap. You can store them in the refrigerator for 4-5 days, or in the freezer for up to 3 months!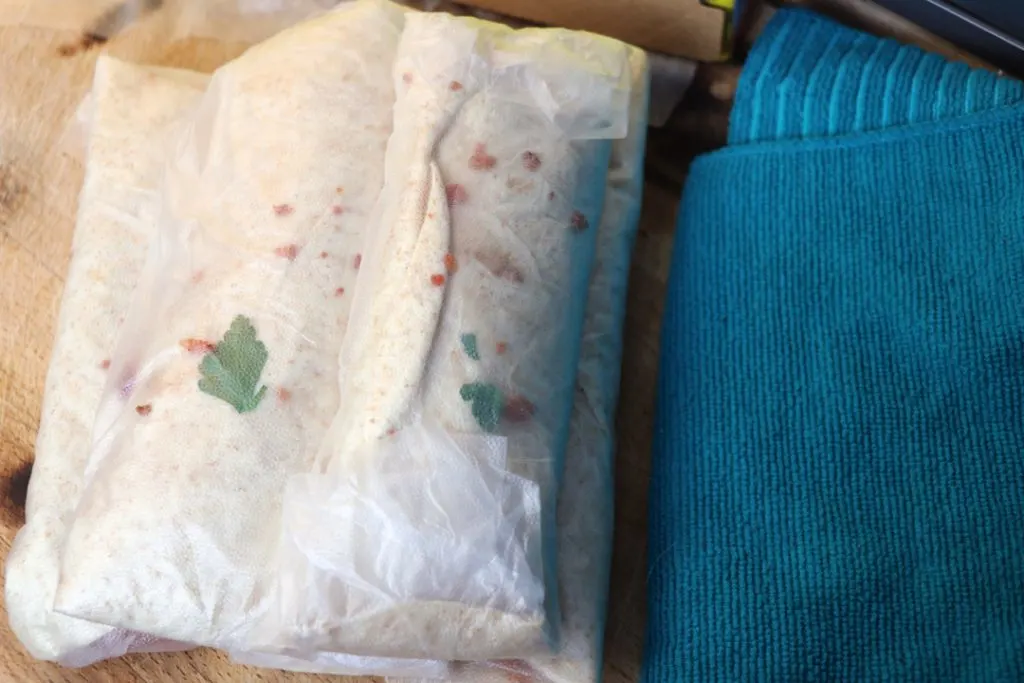 Reheating Your Burritos
When you are ready to eat your breakfast burritos, you have a few options.
Remove the plastic wrap and wrap in a damp paper towel then microwave for 1 minute. After 1 minute, check to see how hot your burrito is. Keep heating at 30-second intervals until it is to your desired temperature.

Remove from plastic wrap and wrap in foil. Then bake in a traditional or toaster oven, at 350° for 10-15 minutes.
If your burritos are frozen, make sure to remove from the freezer and place it in the refrigerator to thaw overnight.
Pro Tip: Wrapping your burrito in a damp paper towel will help keep the tortilla from getting rubbery and dried out during the microwave cooking process.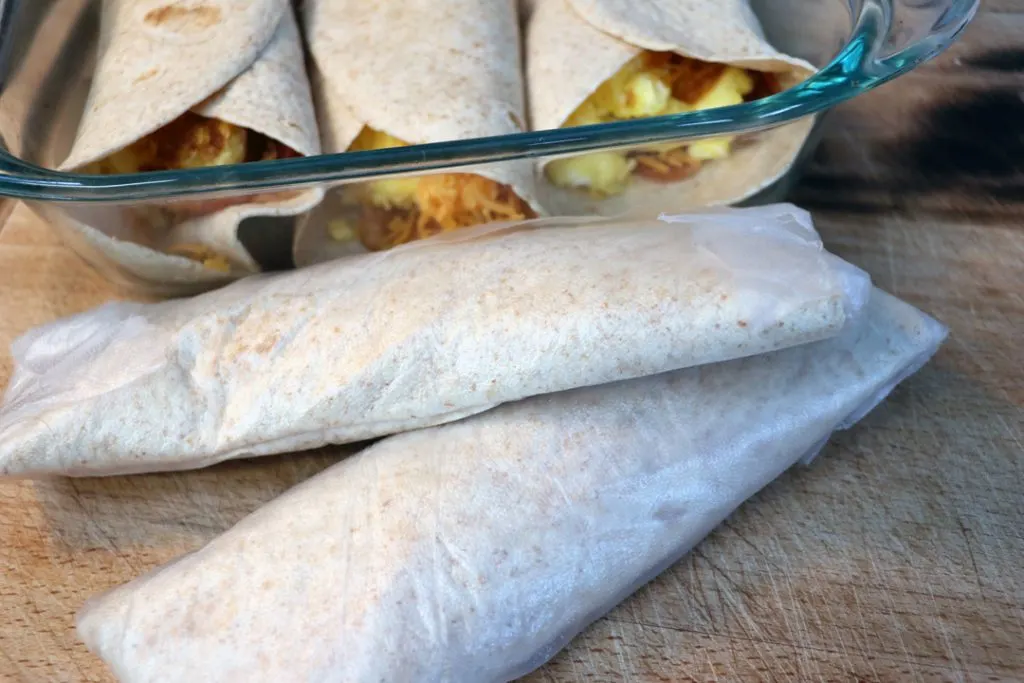 Healthy Low Carb Make-Ahead Breakfast Burritos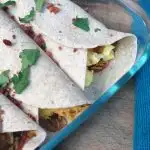 Low Carb Make Ahead Breakfast Burritos
Stuffed with egg, bacon, and cheese they are a perfect breakfast to add to your weekly meal prep menu!
Ingredients
5

Low Carb Tortillas

5

Eggs

Cooked Bacon

Shredded Cheese

1/4

Cup

Heavy Whipping Cream or Milk

optional
Instructions
Cook bacon if not already cooked.

In a bowl, crack eggs and add heavy whipping cream. Whisk until thoroughly combined.

Cook the egg mixture until right before they are done to prevent overcooking when you reheat them.

Stuff your low carb tortilla with Egg, Bacon, and shredded cheese.

Wrap burritos individually in cling wrap and freeze.

When ready to eat, set thaw overnight in fridge and warm up in the microwave for 1-2 minutes.
Pin for Later
Love this super easy meal prep breakfast? Make sure you pin it for later!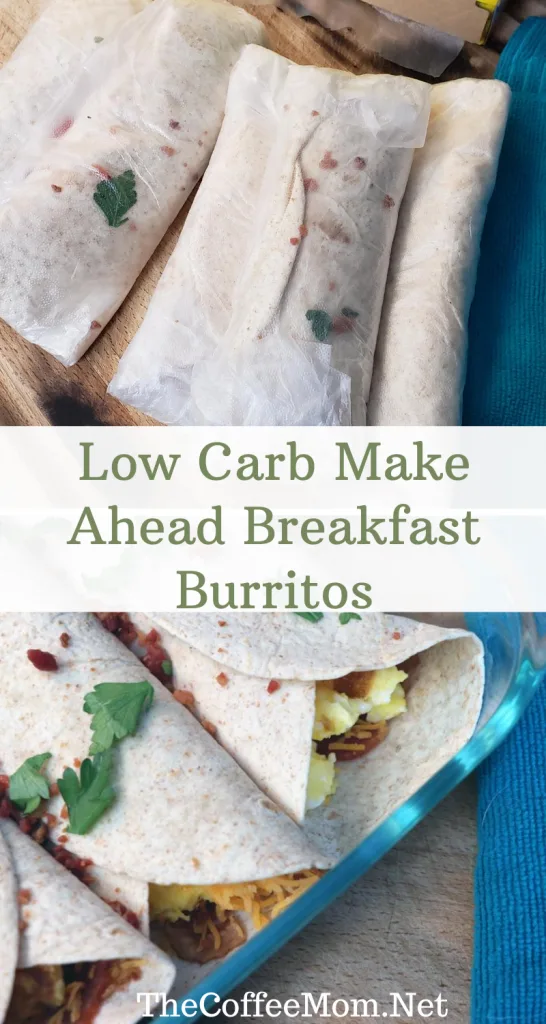 Make sure you check out more low carb/Keto recipes here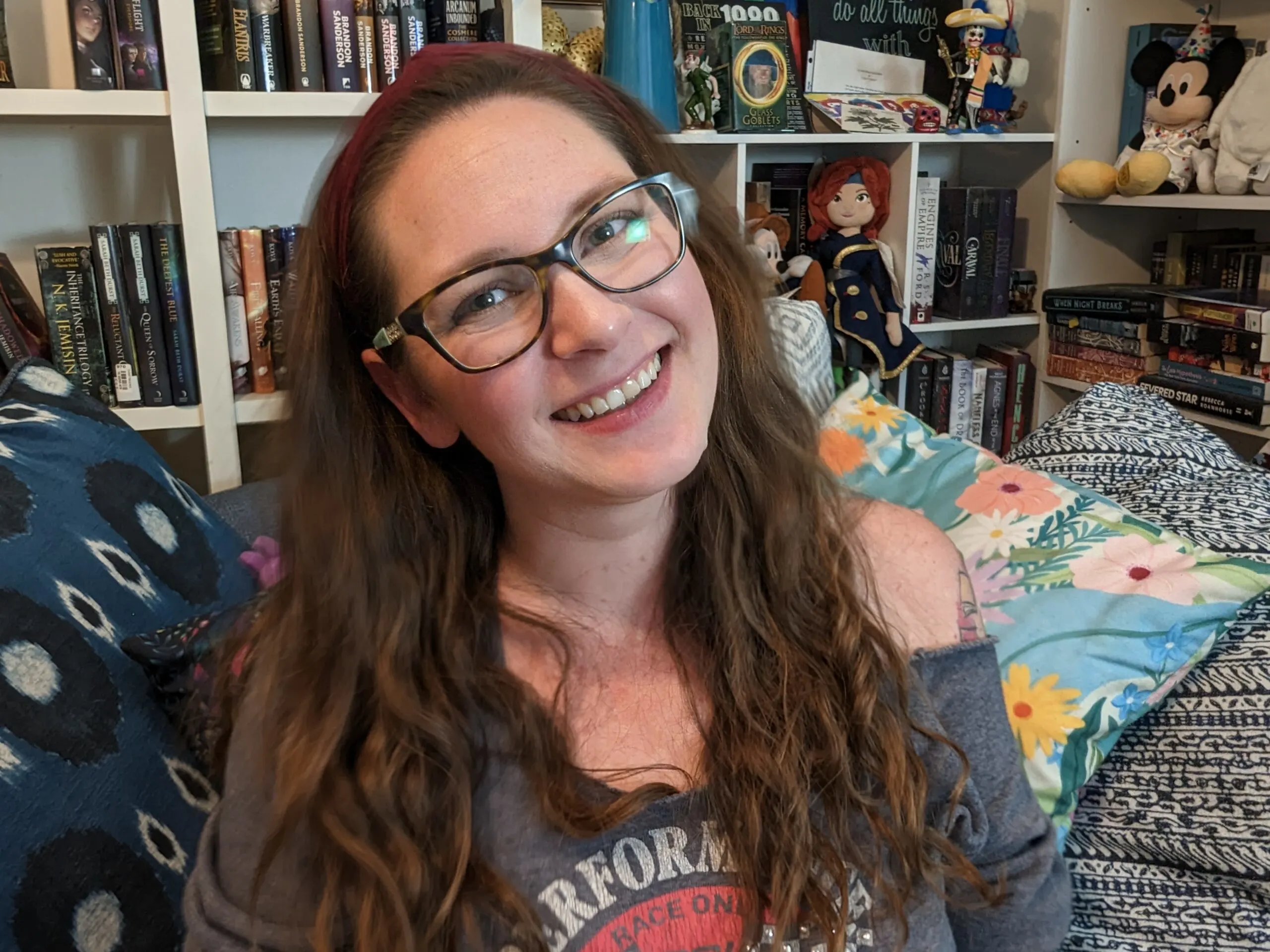 Jessi is the creative mind behind The Coffee Mom, a popular blog that combines parenting advice, travel tips, and a love for all things Disney. As a trusted Disney influencer and passionate storyteller, Jessi's authentic insights and relatable content resonate with readers worldwide.