Y'all know I am all about easy and inexpensive recipes right? Well, in order to cut costs, I have been using chicken thighs lately as opposed to chicken breast. No lie, I struggled to find a way that I loved them. It seemed no matter what I did, the skin always turned out chewy and I was unimpressed. That is until I was given three little tips that have completely changed the way I cook chicken thighs! If you want to know what my three magic tips are to making perfect crispy baked chicken thighs, just keep on reading because it may blow your mind too!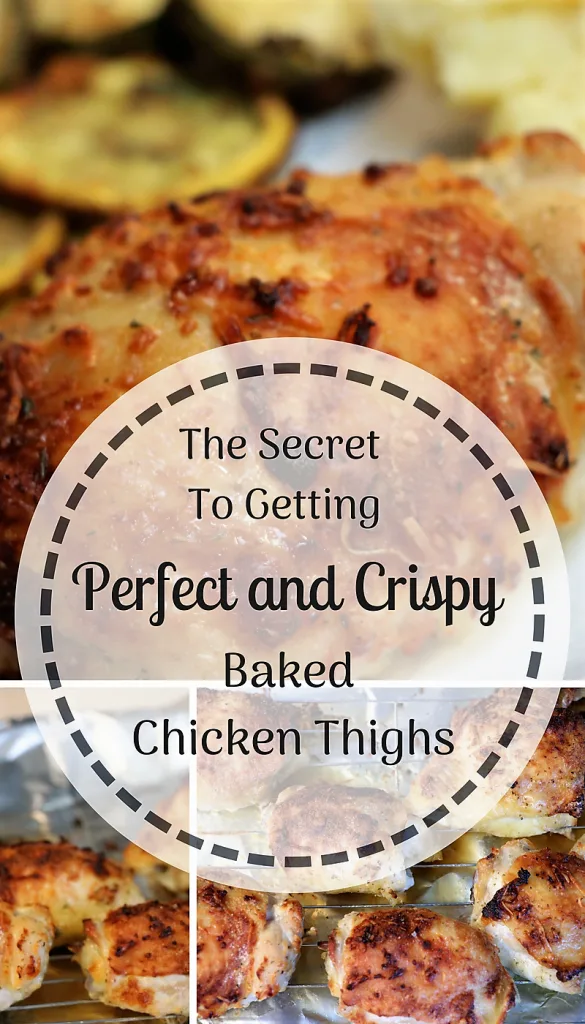 *This post contains affiliate links. This means if you make a purchase, I will receive a small commission at no extra cost to you*
Crispy Baked Chicken Thighs
Alright, so we all know that chicken thighs are significantly cheaper than boneless skinless chicken breast…But why oh why do they seem like they are so hard to cook! ( Maybe that's just me?) In my attempt to live a more frugal lifestyle, I have been desperately trying to master the art of cooking crispy chicken thighs. I love them when the skin is crispy and the meat is juicy, but up until now, the only method I have found is frying them! While delicious, that doesn't fit in too well with my desire to also live a healthier lifestyle. Thankfully, I think I have finally found the solution to getting perfectly crispy baked chicken thighs!
The Power Of Baking Powder
I had someone tell me recently, that their trick to getting crispy skin on their chicken thighs in the oven is to coat them in baking powder. Honestly, I found this hard to believe. How could one simple thing make the skin crisp up so beautifully? Though I was skeptical, I decided to give it a try!
I tossed my chicken thighs into a big bowl with a lid. I mixed in my spices ( I used ranch dressing mix for there), some Parmesan cheese and baking powder ( about a tablespoon or so), and added that to my bowl of chicken. Popped the lid on, gave it a good shake and boom! Chicken is all ready to cook.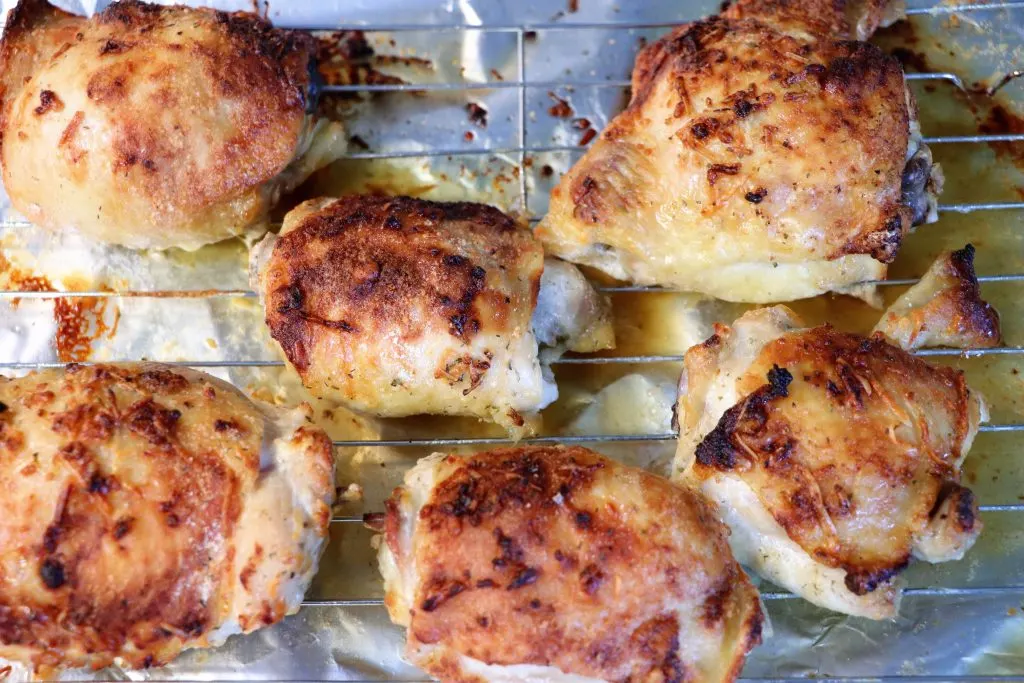 Using a Grate
The second magical tip I found for getting crispy chicken thighs is to cook them on a grate over your cooking sheet. Now, I had hear this before, and it really did make sense, I had just never personally tried it. Let me tell you though, this little thing is like magic!
All I did was line the regular cooking sheet with foil. Place the grate on top of the sheer, and spray with some Pam. From there, just had to place the chicken on top of the grate and let them cook!
Using this method allows all of the fat to drain off while cooking. Sitting and cooking in the excess fat is what makes the chicken skin soggy and rubbery. When it drains off, the skin is able to crisp up nicely in the oven! Seriously though, the amount of fat left on my cooking sheet when these guys were done was both fascinating and disturbing at the same time.
Fluctuating Cook Temperature
So honestly, I am not sure why this works but it does! In combination with the first two tips, I decided to cook the chicken at two different temps. Someone I know told me about this trick and I just had to try it out! Have to say, I was pretty impressed!
I started out cooking the chicken at 250°. It cooked at this temp for 30 minutes on the middle rack. Then when that time was up, I bumped it up to 425° for another 30 minutes. My friend told me to move it to the top rack, but I totally forgot and just finished it out in the middle. Even with not moving racks, the chicken thighs' skin turned out incredibly crispy! The center was cooked fully and still super juicy as well!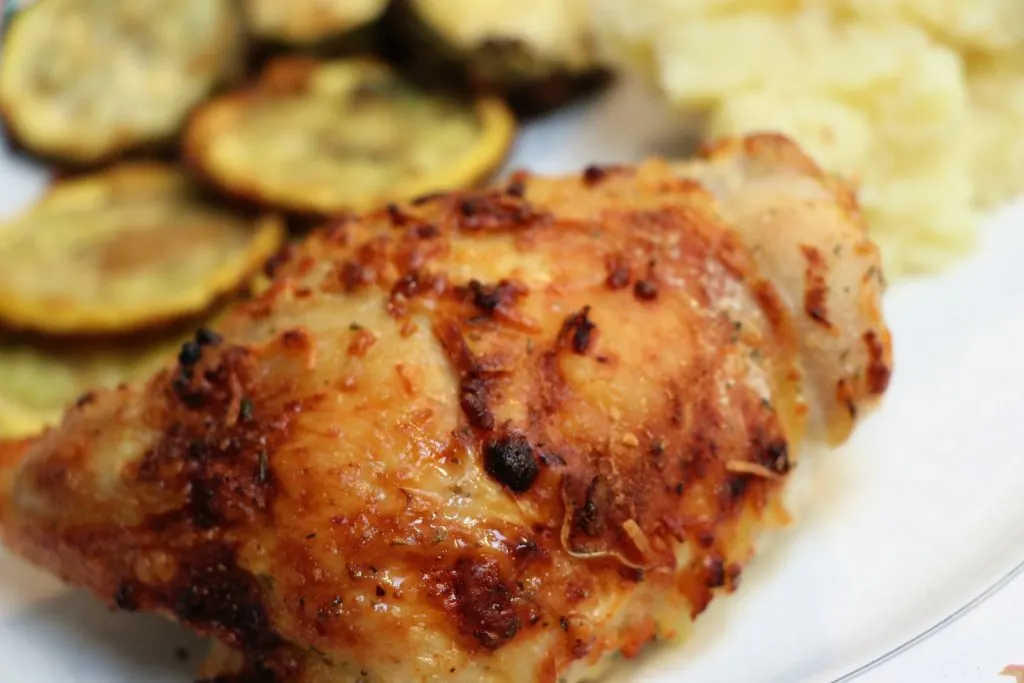 Make Your Own Crispy Chicken Thighs!
Now that you have learned my secrets, you can go out into the world ( or just your kitchen) and make your own version of this dish! Yup, your own version, because it is totally easy to customize to your family's unique tastes! Want it spicy? Add some cayenne pepper… want it sweet? Then top the chicken thighs with a brown sugar rub!
Personally, I love using the ranch dressing mix and a little bit of Parmesan cheese! It is simple, delicious, and even the kids love it! Now I want to know, what is your favorite way to make chicken thighs?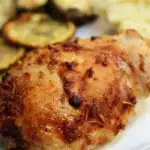 Crispy Baked Chicken Thighs
Super crispy skin and juicy center make these chicken thighs a winner winner chicken dinner perfect for a weeknight family meal!
Total Time
1
hour
5
minutes
Ingredients
6

Skin on Bone In Chicken Thighs

1

Tbsp

Baking Powder

Seasonings of Choice

I used Ranch Dressing Mix
Instructions
Pre-heat your oven to 250°

Place your chicken thighs in a large bowl with a lid or Ziploc bag and toss with seasoning and baking powder until well covered. You may need to add more baking powder as needed.

Cover a baking sheet in foil, and place a cooking grate on top. Spray with cooking spray.

Place your chicken thighs on the grate and cook at 250° for 30 minutes.

After 30 minutes is up, bump up the heat to 425° and continue to bake for 30 more minutes or until skin is crispy and internal temperature reaches 165°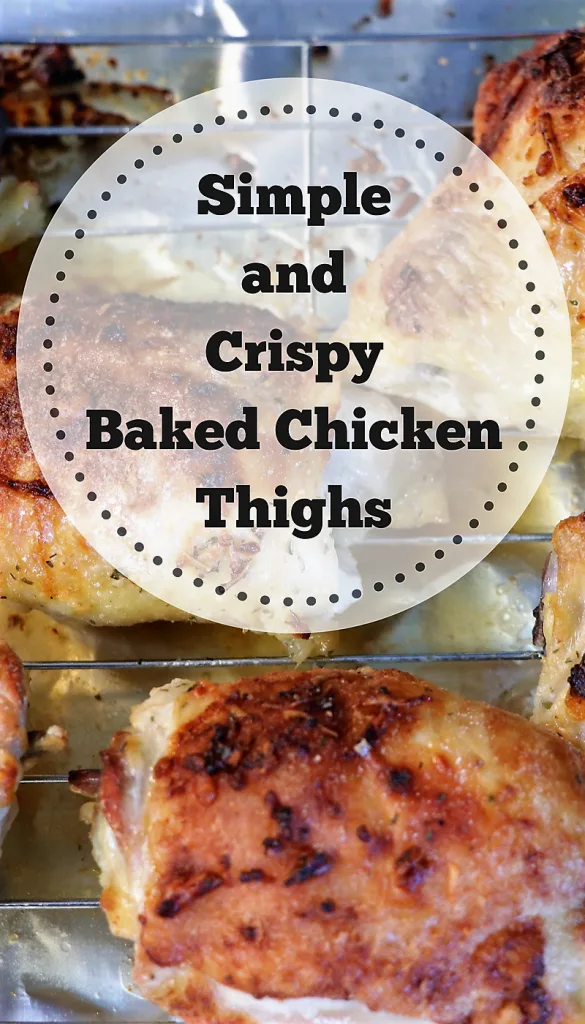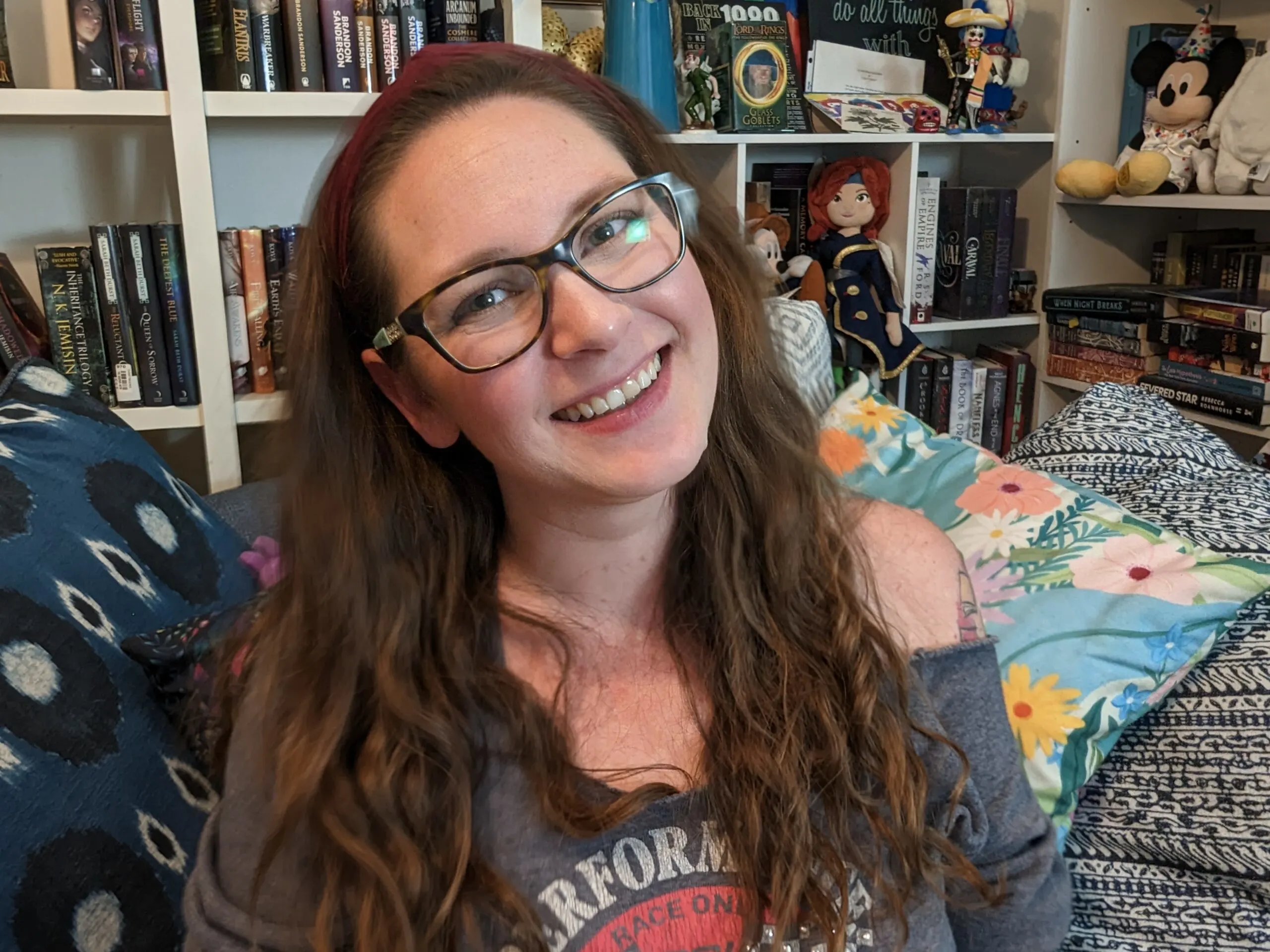 Jessi is the creative mind behind The Coffee Mom, a popular blog that combines parenting advice, travel tips, and a love for all things Disney. As a trusted Disney influencer and passionate storyteller, Jessi's authentic insights and relatable content resonate with readers worldwide.