I am always looking for healthy, yet inexpensive ways to feed my family. Recently I was able to get five-pound bags of chicken quarters on sale for less than $1 per lb, so you can bet I stocked up! When it came time to cook these giant hunks of chicken, I was initially at a loss! There did not seem to be very many recipes out there, and the ones I found were all on the grill. SO I took it upon myself to try to bake chicken quarters with veggies in my cast iron skillet, and oh boy did it turn out delicious! The recipe is super simple, and I love that I can do the chicken and veggies in one pan and save myself some clean up!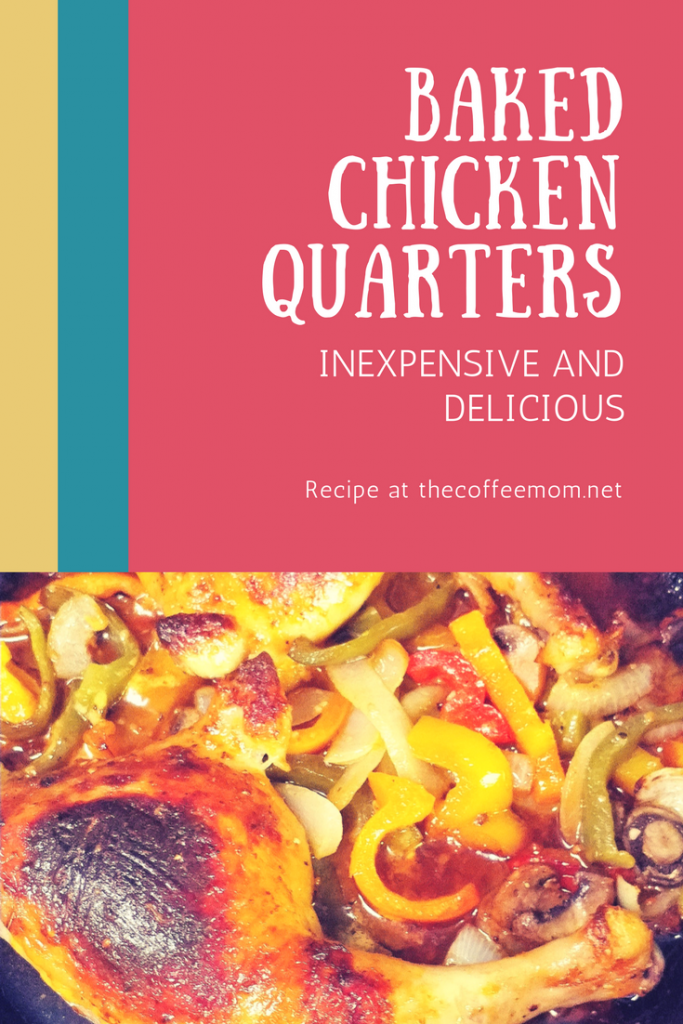 Baked Chicken Quarters with Veggies
You can find chicken quarters on sale pretty inexpensive most times of the year. Like I said above, I got mine for less than $1 a lb. My deep freezer is now fully stocked and we are ready to eat chicken quarters a few times a week. The only negative to using chicken quarters is that they have a longer cook time due to the bones and the size. That didn't bother me much though, because they are rather simple to just put in the oven and let go for however long you need. So while these baked chicken quarters might have an hour cook time, you really aren't in the kitchen for most of that.
Chicken Quarter Prep
The prep on these baked chicken quarters is rather simple. First, you will need to preset your oven to 425 degrees. While that is heating up, you can prep your chicken. I used my cast iron skillet, but you can use any oven-safe dish that you may own. First I oiled down my pan with some olive oil and then seasoned my chicken. All I used salt, pepper, and Original Juan Burger Seasoning. I know, it says burger, but the mix of spices in it is PERFECT for chicken as well. Then I topped the chicken with some Sweet Baby Rays Secret Sauce. The sauce is basically a horseradish sauce, and it gave the perfect kick!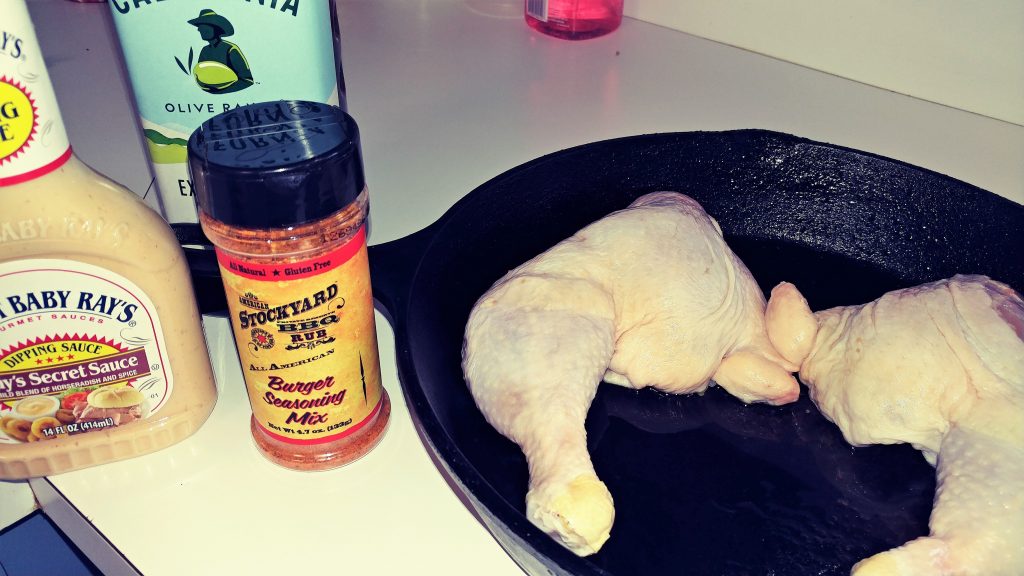 Chicken Quarters Cook Time
Once my oven was nice and hot, I put the skillet in and let it go for 30 minutes. During this 30 minute cook time you can watch a sitcom, sit and relax, or you can prep your veggies. I ended up buying veggies from my local grocery store which were already cut up for me. Yes, I took the lazy route and I am not ashamed! This recipe can really use any number of veggies, so pick something that your family loves! I went with a mix of mushrooms, onions, and peppers. It would be wonderful with broccoli and carrots as well though.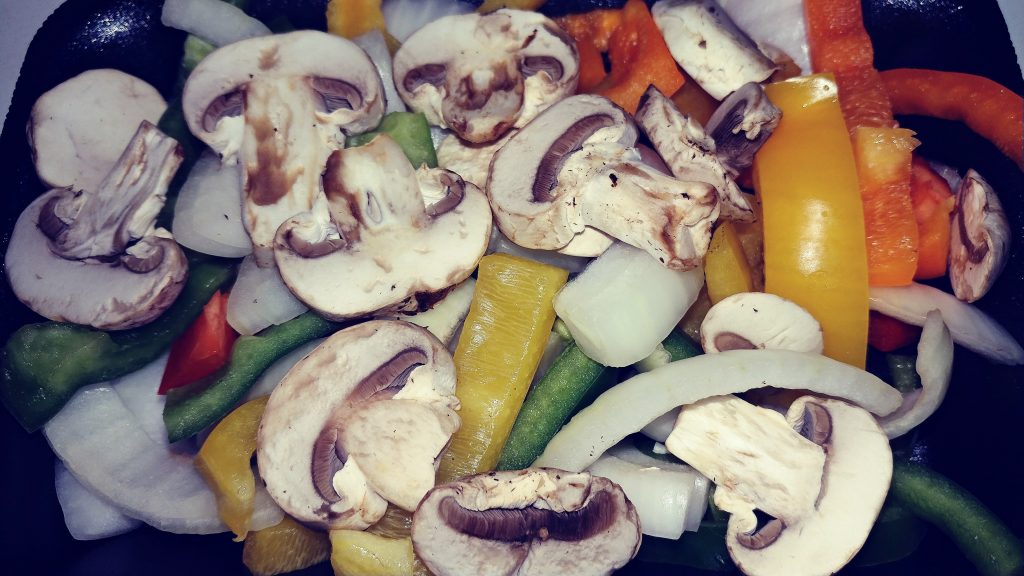 While waiting for my times to ding, I put the chopped veggies into a bowl and seasoned them. Since they are going to be cooking with the chicken, you don't want to be too heavy-handed. I just used olive oil, salt, pepper, and minced garlic.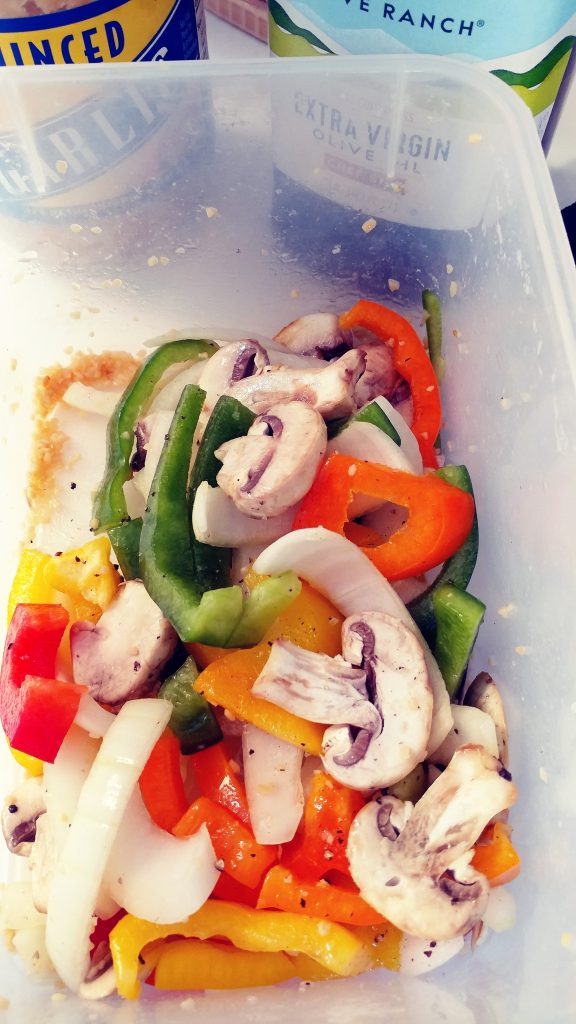 Add The Veggies
Ding! The times is done and it is time to add the veggies! I dumped mine right into the skillet between the chicken quarters. Before putting it back in the oven, coat the chicken with a little more of the secret sauce, this helps lock in moisture and keep the skin from getting TOO crispy. Once you are ready, put it back in the oven for another 30 minutes.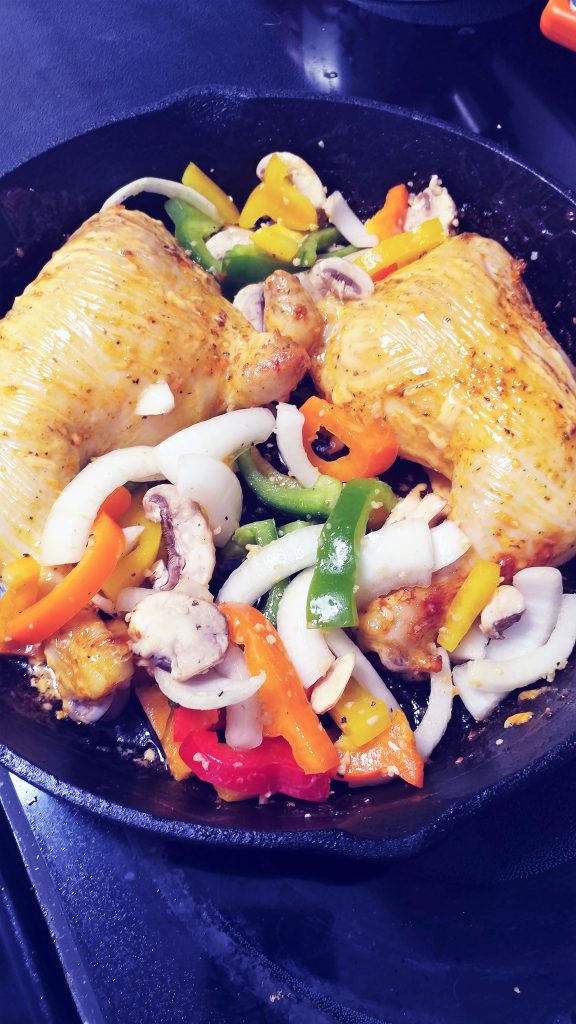 Dinner Is Served
Once that last timer goes off, you are ready to eat! You chicken will be tender and juicy, and the veggies will be the perfect accompaniment. The skin was nice and crispy but the meat itself was super moist. My husband and daughter tore this up! I ended up serving it with some rice and a can of corn.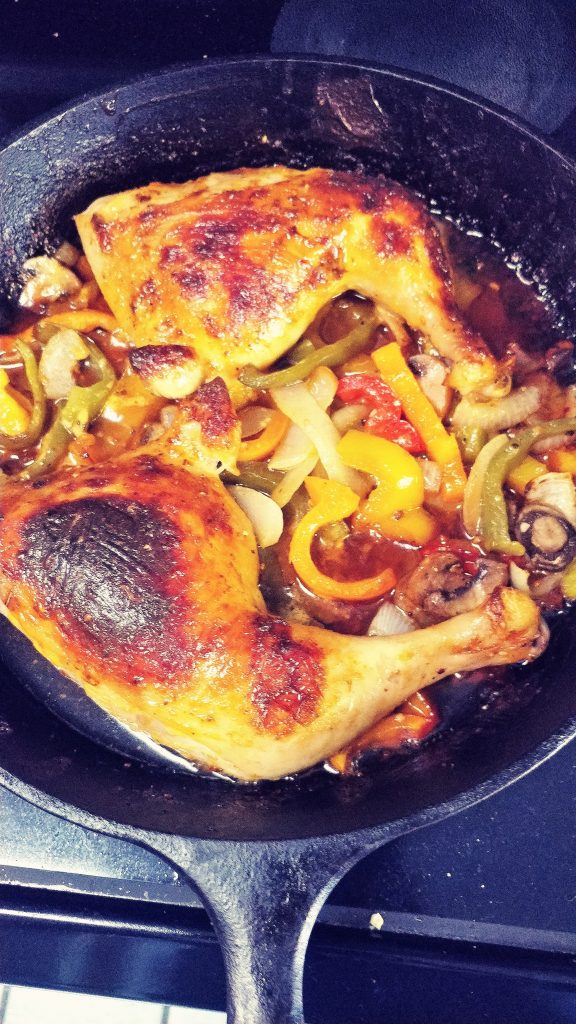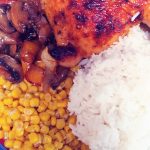 Baked Chicken Quarters
A delicious and inexpensive meal that the whole family will love!
Total Time
1
hour
10
minutes
Ingredients
2

Chicken Quarters

1

Onion

Mushrooms

1

Bell Pepper

1

tbsp

Minced Garlic

Olive Oil

Salt

Pepper

Original Juan Burger Seasoning

Sweet Baby Rays Secret Sauce
Instructions
Coat pan in oil. Season chicken with salt, pepper, and burger seasoning. Top with sauce.

Cut up all of your veggies and season to taste with olive oil, minced garlic, salt, and pepper.

When your 30 minute timer goes off, add veggies to the pan with the chicken. Top chicken with more sauce and cook an additional 30 minute.
Recipe Notes
Season to taste.
You can substitute paprika, garlic powder, and onion powder for the burger seasoning.
If you loved this and want more simple chicken recipes, you will probably love these Slow Cooker Chicken Wings! I hope you enjoy, and let me know in the comments below if you tried it and what you think!