French Toast is one of my favorite breakfasts to make, but I can't make it every day. So to fill my French toast desires, I made make-ahead French Toast Muffin Cups that I can store in the refrigerator and heat up in the mornings for a quick and easy breakfast option.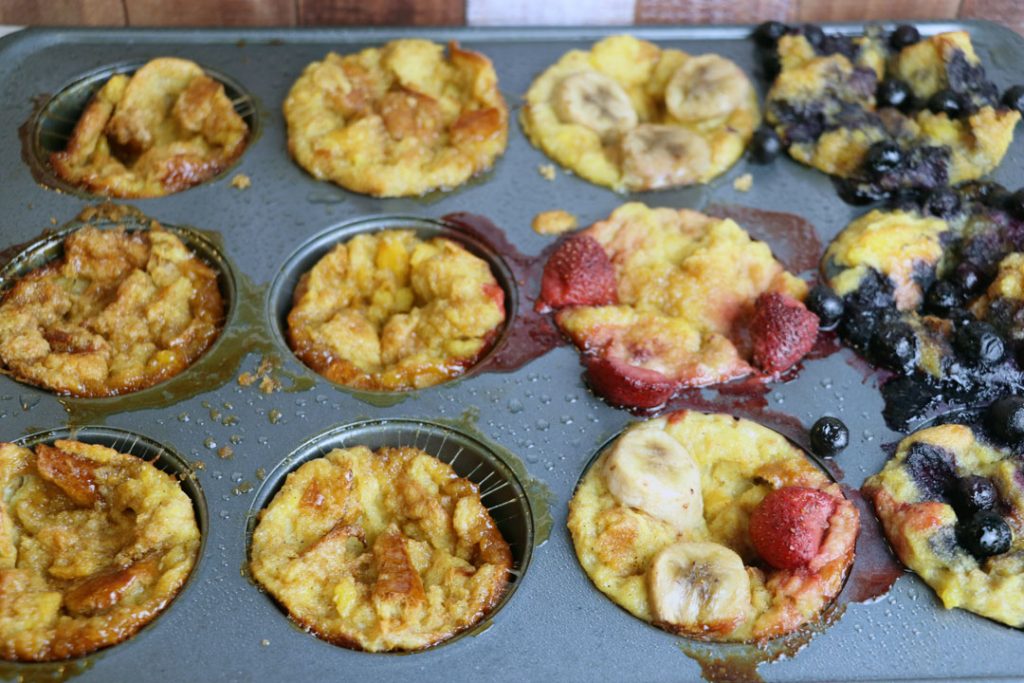 How to Make French Toast Muffins
With just a little bit of prep and cook time, you are on your way to having French toast muffins every morning for breakfast!
I feel like French toast is one of those breakfast ideas that people tend to think of as more complicated and time-consuming. And really, it can be but it doesn't have to be.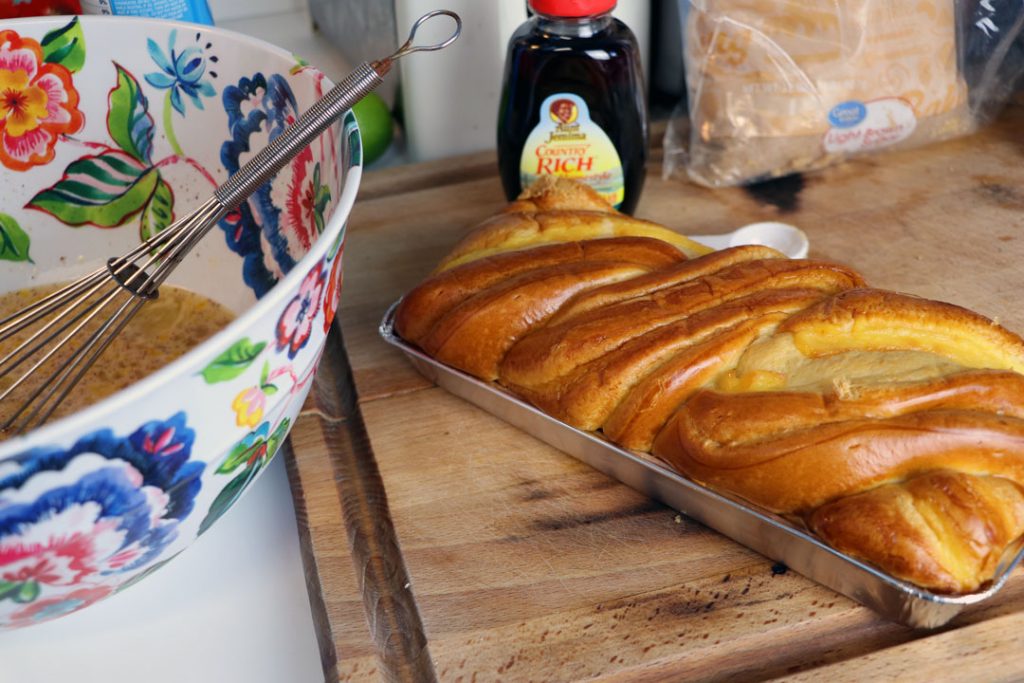 My kids love having French Toast for breakfast, but I don't have the time to make it every morning, so I came up with make-ahead French toast muffin cups so I can make a bunch in one day, freeze them, then reheat in the morning quickly and run out the door for work and school.
The best part? They are SUPER easy to make and even easier to customize!
French Toast Muffin Ingredients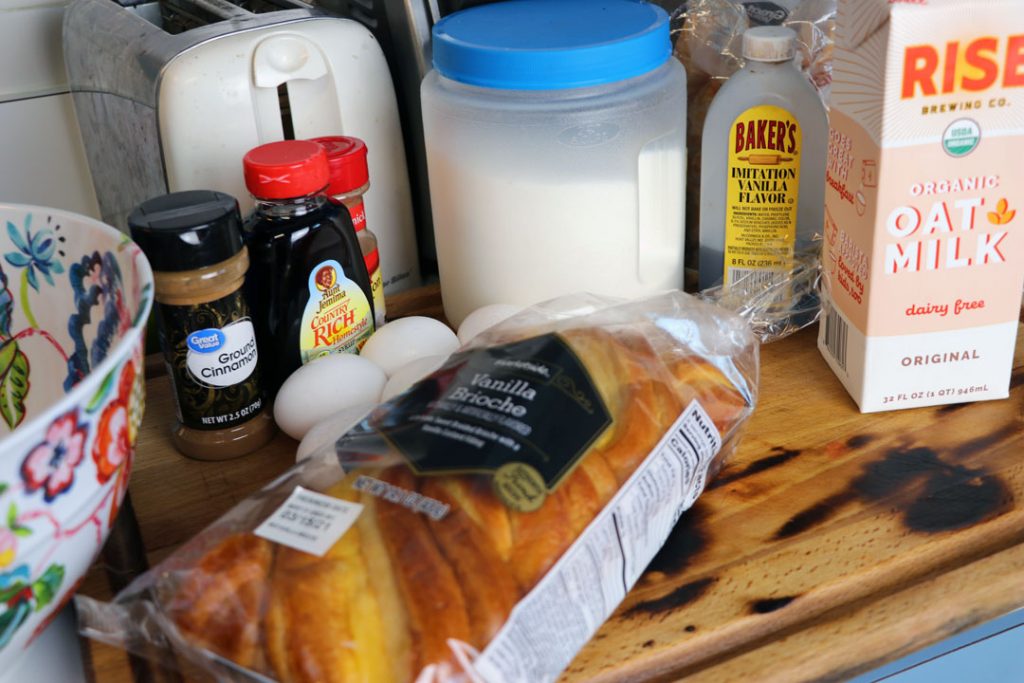 As far as the ingredient list goes, everything is pretty straightforward. Other than the Vanilla brioche bread, it is likely you have all of the ingredients in your pantry already!
French Toast Cups:
Brioche Bread (Vanilla is amazing)

Cinnamon – 1 Tbsp

6 Eggs

Sugar -2 Tbsp

Milk (or dairy-free milk)- 1/2 Cup

Vanilla extract – 1 Tbsp

Maple Syrup – Optional for topping

Brown Sugar 2 Tbsp

Optional Toppings ( Fruit/Chocolate/Ect)
I picked up a vanilla brioche bread from Walmart and y'all, it was perfect for this recipe! If you can get your hands on it, I highly recommend using it for this recipe. If not though, that's fine, any brioche bread will work!
Since my daughter has been trying to not eat as much dairy, I decided to make this recipe with Rise Oat Milk as opposed to regular milk. I have been replacing milk with this Rise in quite a few baking recipes lately, and they always turn out delicious!
Dairy-Free French Toast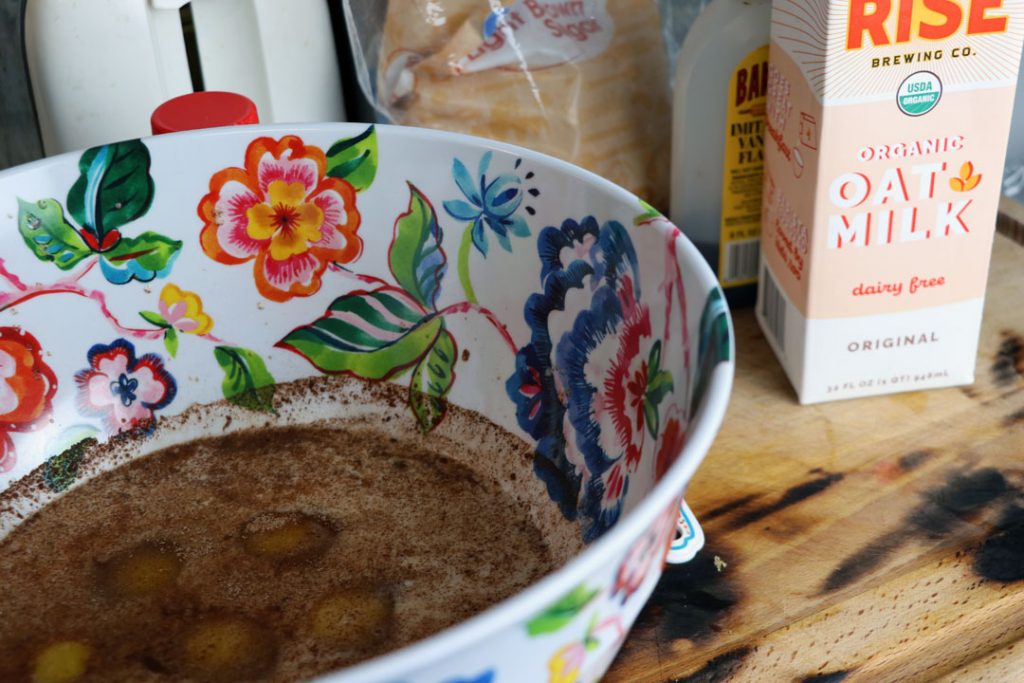 You are going to be surprised at how easy it is to make dairy-free French Toast cups.
Start out by combining your wet ingredients, milk, eggs, vanilla, in a large mixing bowl.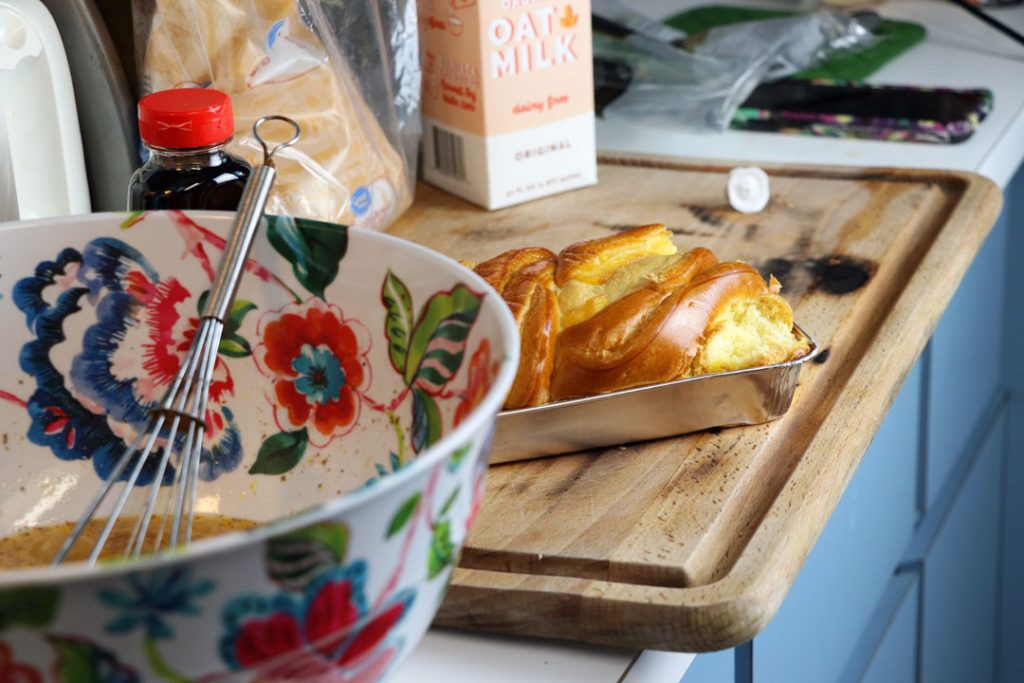 Add in your sugar, 1/2 of your brown sugar, and cinnamon to your wet ingredients and combine well.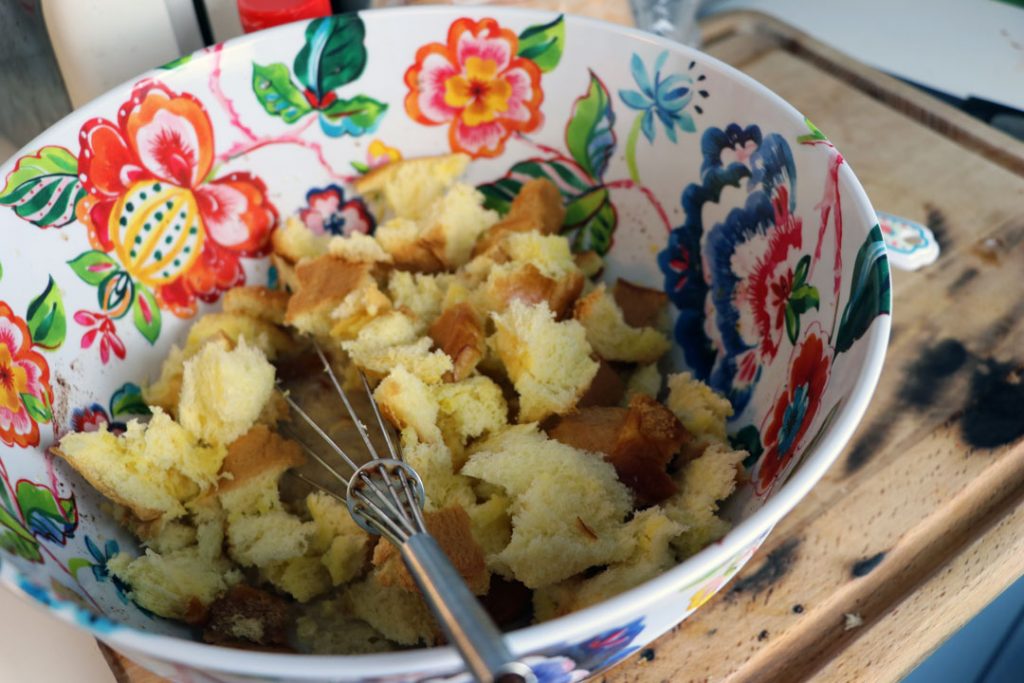 Pull your break apart into small chunks and start mixing into your batter.
Combine until every piece of your bread is nice and moist.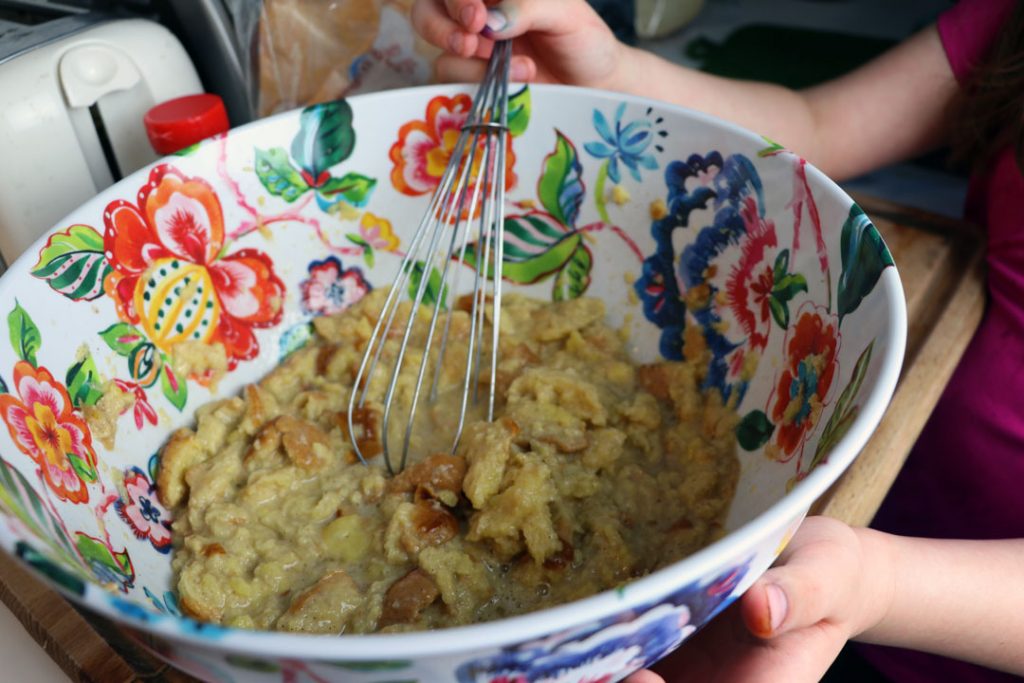 Fill up your muffin pan about 3/4 of the way full.
I overfilled mine some. It wasn't bad, but they did overflow a bit, so I would recommend filling yours a little less than I did.
If you want, top your French toast muffin cups with fresh fruit, chocolate, or maple syrup along with the other half of your brown sugar.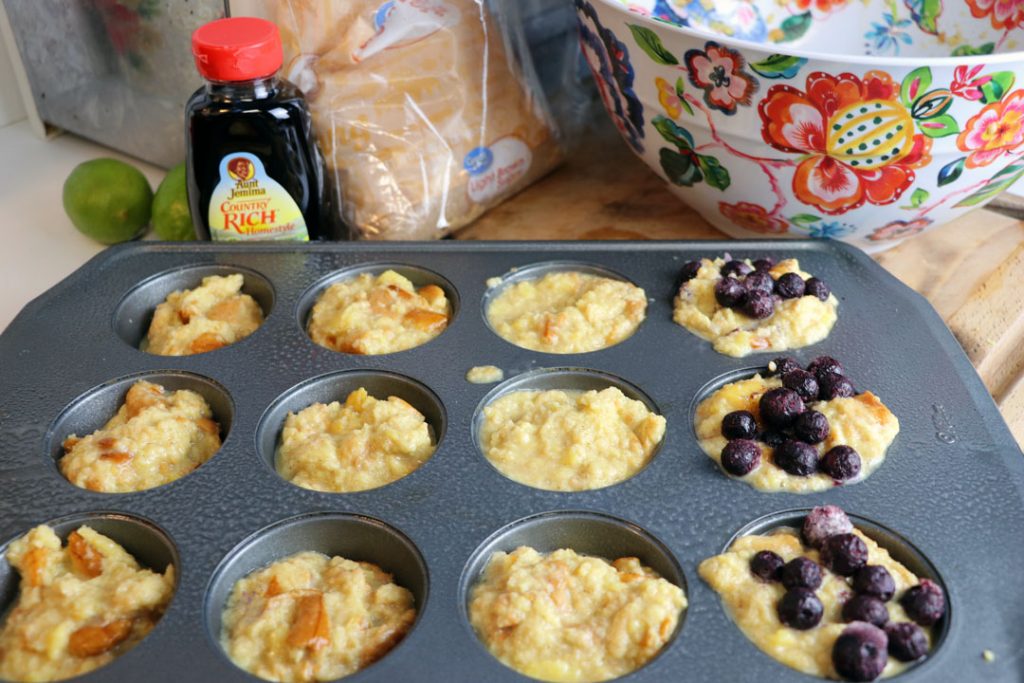 Bake at 400° for 20 minutes, until nice and golden brown.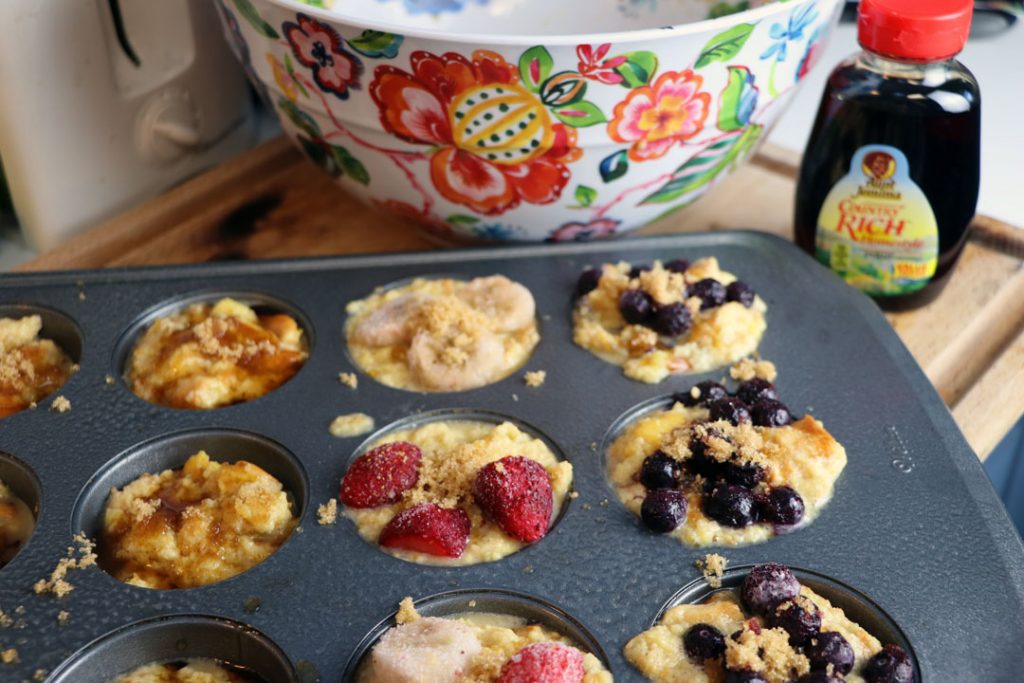 When they are done, let your cups cool, wrap them in cling wrap, and freeze.
These will stay frozen for about a month, or in the refrigerator for a week. Whenever you are ready to eat, unwrap, heat in the microwave ( or toaster oven since I don't have a microwave), and enjoy!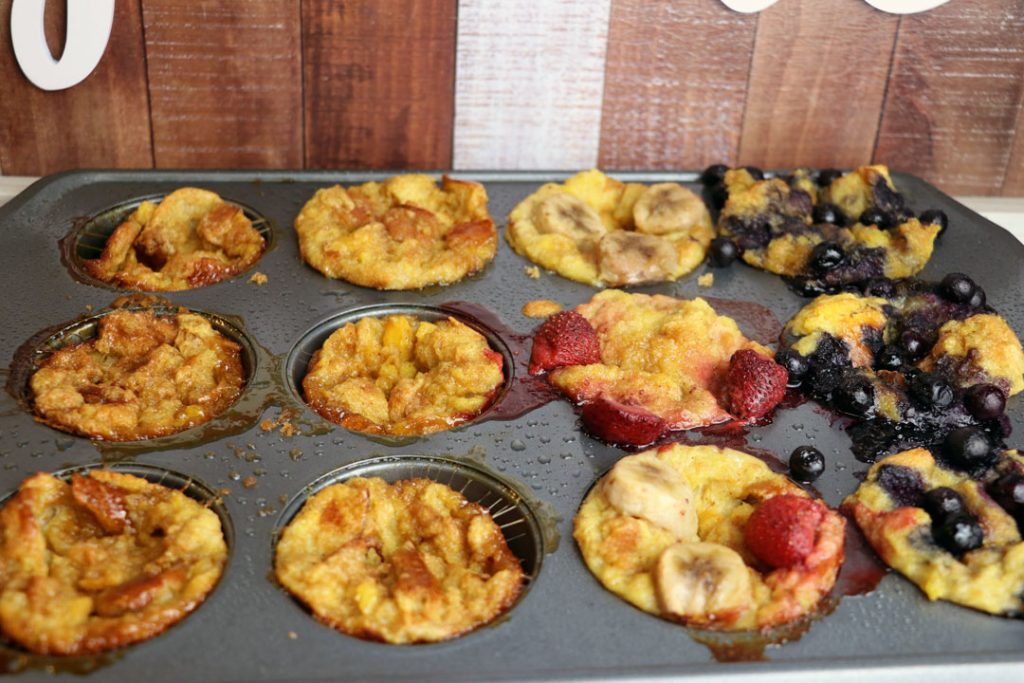 Get the printable recipe for Make-Ahead French Toast Muffin Cups here
Make-Ahead French Toast Muffin Cups
Make-ahead French Toast Muffin Cups that you store in the refrigerator and heat up in the mornings for a quick and easy breakfast option.
Ingredients
1

loaf

Brioche Bread

Vanilla if you can find it

6

Eggs

1

tbsp

Cinnamon

2

tbsp

Vanilla Extract

1/2

cup

Rise Brewing Co Oat Milk

or any dairy or dairy-free milk you choose

2

tbsp

Brown Sugar

2

tbsp

White Sugar

Maple Syrup

Optional

Fruit or Chocolate

Optional
Instructions
Preheat your oven to 400°.

Combine the Eggs, Milk, and Vanilla Extract in a large mixing bowl.

Mix in the Cinnamon, Sugar, and half of the Brown Sugar to the bowl and combine well.

Break your brioche bread up into small chunks and mix into the batter.

Fill a muffin tin 2/3 of the way with the French Toast mix.

Top with the rest of the Brown Sugar, Maple Syrup, and optional fruit and/or chocolate.

Let cool and eat right away, or freeze individually and reheat as desired.
Pin this French toast recipe for later!
Love this and want to make French toast muffin cups for yourself over and over again? Make sure you pin the image below so you have the recipe on hand at all times!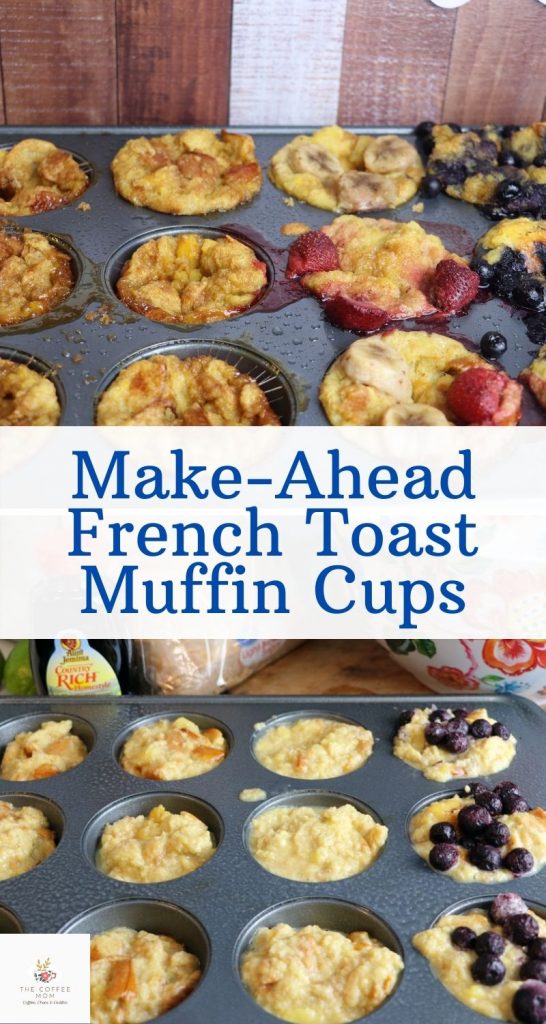 Want more family-friendly recipes like this one? Make sure you follow me on Instagram and Pinterest! Sign up for my weekly newsletter for recipes directly to your inbox!
Then take a trip around the website! You will find all of my family-friendly recipes here.