Have you ever made air fryer asparagus? It is delicious! Super quick and easy to make. Even my kids love it! The secret? Everything Bagel seasoning!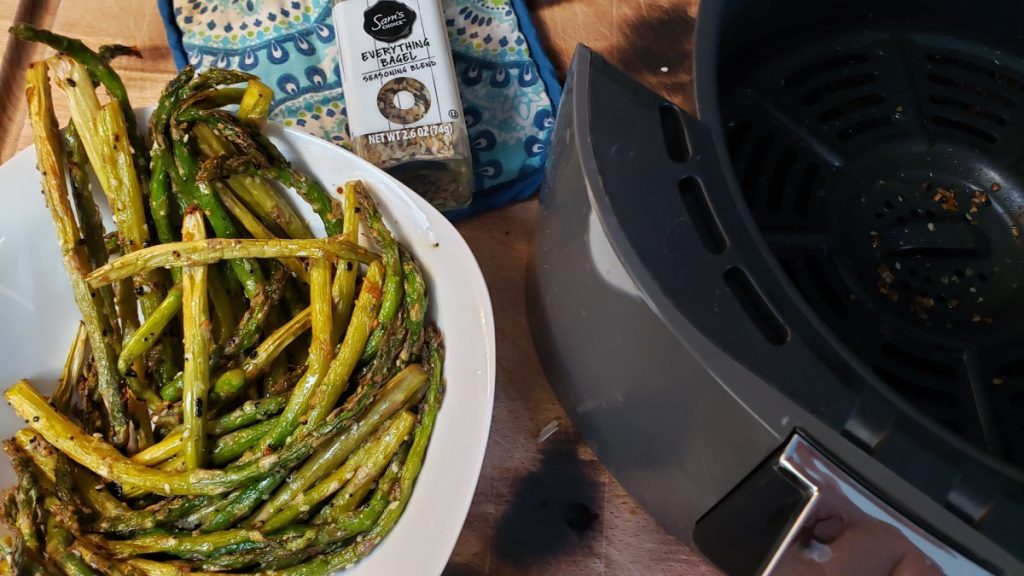 *This post may contain affiliate links. This means that if you make a purchase, I will get a small compensation at no extra cost to you*
I recently purchased an air fryer, and now I am wondering why I didn't buy one sooner. This is a purchase I had been going back and forth on for a while. I wanted it but didn't want to spend the money. Wondered if it was really a worthwhile purchase. After much back and forth, I just went for it. I purchased the Ninja Air Fryer and started cooking as soon as it arrived.
WHY DID I NOT BUY THIS EARLIER!?! This is my new favorite kitchen appliance and I will be creating a ton of air fryer recipes from here on out.
Air Fryer Asparagus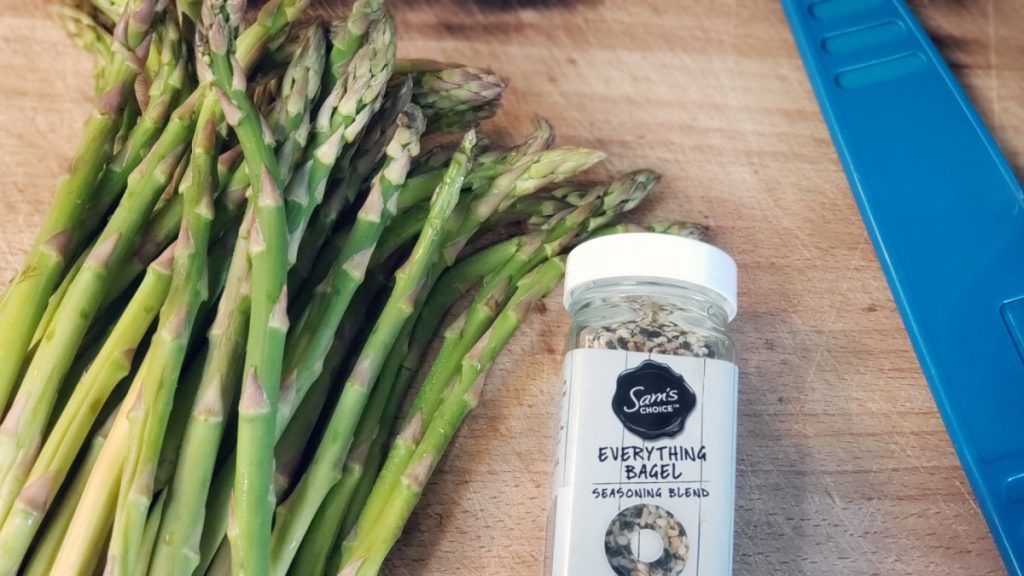 When my air fryer arrived, the first thing I made was air fryer asparagus. I wanted something super easy and quick that my kids would love. Asparagus is one of my favorite vegetables, and my kids enjoy it somewhat even if it isn't their favorite.
How can I make asparagus better? More of a kid-friendly vegetable? I could lie and tell them they are green beans... No shame in the fact I HAVE done that one before. Or, I could load them up with everything bagel seasoning.
I swear, this seasoning instantly makes everything taste better. My favorite snack lately has been avocado with everything seasoning. So, I decided to use the same seasoning on my asparagus and air fry away!
Everything But The Asparagus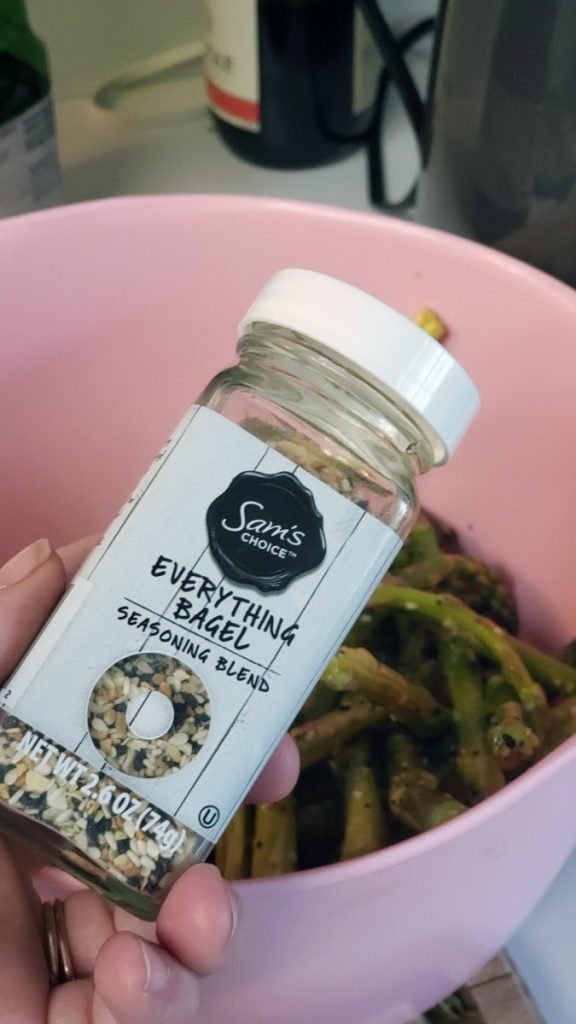 All you need to recreate this air fryer recipe is asparagus, olive oil, everything bagel seasoning, and some grated parm (the powdery kind works fine).
Start by cleaning up your asparagus. Wash and cut off as much of the end as you prefer. Toss the vegetable in a little bit of olive oil. You only want a small amount of oil, enough to coat the asparagus and have it be "wet". You don't want too much oil since it is going to go into the air fryer and too much oil will just fly around in there when it is cooking.
Once you have the asparagus coated, season with your everything bagel seasoning and parm cheese. I honestly did not measure either when I made this. I sprinkled until my soul was content. A rough estimate would be 1-2 Tbsp of each so your veggies are nice and coated.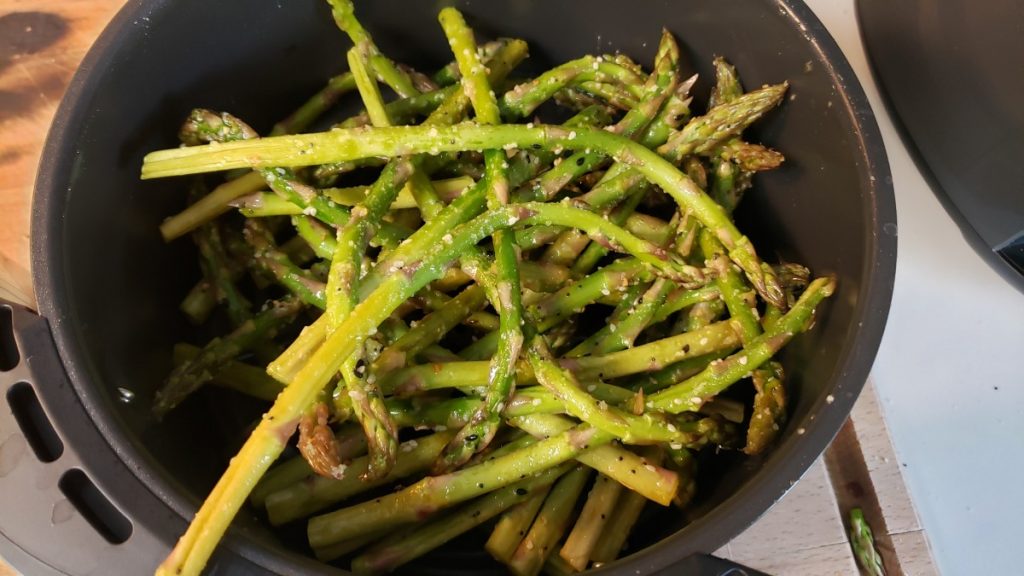 Preheat your air fryer to 390° for 3 minutes. Once it is heated, pour the asparagus into your fryer basket and cook for 5 minutes. Once the 5 minutes are up, remove the basket and shake. Place it back in the fryer and cook for 5 more minutes.
And you are done! about 5 minutes of prep and 10 minutes of cook time will get you this delicious side that will make everyone believe you are the best chef in the universe!
Air Fryer Asparagus Printable Recipe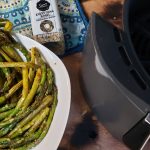 Everything But The Air Fryer Asparagus
An easy air fryer asparagus recipe that takes only 10 minutes to cook with only 4 ingredients.
Ingredients
Asparagus

1

tbsp

Olive Oil

1-2

tbsp

Everything Bagel Seasoning

1-2

tbsp

Parmesan Cheese
Instructions
Preheat your air fryer to 390°

Clean up your asparagus and place it in a mixing bowl

Coat the asparagus with olive oil. You only need enough to get it "wet".

Season with the Bagel seasoning and Parm cheese.

Cook in the air fryer for 5 minutes.

After 5 minutes, shake the basket to move the asparagus around, then cook for 5 more minutes.
Pin for Later
If you like this easy recipe, don't forget to pin it for later and share with your friends! Also, feel free to take a look at some of the other easy family-friendly recipes I have created before you go!