The money is in the list, or so they say. We have all heard this phrase a thousand times over and we know it to be true. The question is, how do you promote email list growth? Well, there are a number of ways that you can grow your email list. They will all take some time and effort, but I promise the level of difficulty is not high. By following these tips and tricks, you should have no problem growing an engaged and active email list!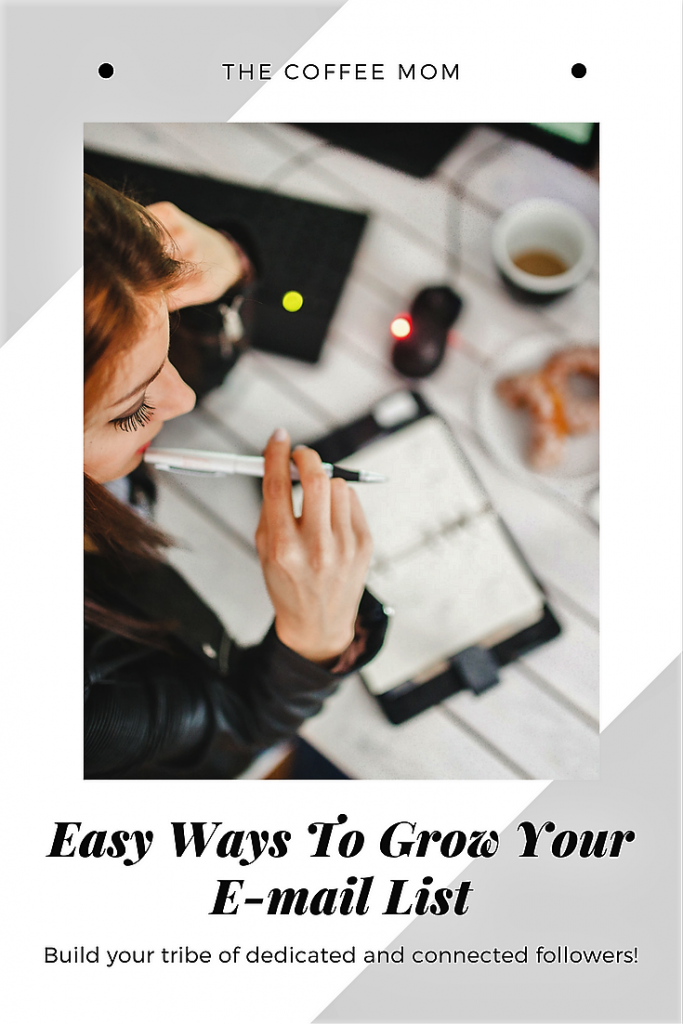 *This post may contain affiliate links.*
Email List Growth
First thing is first, you need to set up an account with an email service. There are a ton of them out there so really the one you choose depends on your needs and wants. Some of the more popular ones are Mail Chimp ( which is free) and Convert Kit ( which is paid). Personally, I found Mail Chimp to not be terrible user friendly and lacking in many components that I wanted to utilize. Convert Kit had everything I wanted, but I was not ready to shell out the bucks for it. So I went with a third option, Mailer Lite. This is a free ( up to 1,000 subscribers) service and it offered pretty much everything that Convert Kit does. Even once you hit that 1,000 subscriber threshold, the price is very reasonable.
I really recommend checking out Mailer Lite, especially if you are just starting out. It offers a personalized experience, automation, landing pages, and so much more. If you really want to shell out money though, then by all means go with Convert Kit.
How Do I Get People To Sign Up?
So this is the million dollar question isn't it. How to get people to turn over to you their all precious email address. Well there are a few ways to do this which have really worked for me and I hope will work for you as well.
Pop-ups
Now, I am not talking super annoying pop-ups that are on every single page of your website. That is too much and Google actually isn't a huge fan of it. What I like to do is place a few strategically placed pop-ups on specific pages of my blog. These pop-ups add value to the post on which they are placed on. One example is on my Blogger's Resource Page. Here, I have a pop-up that will ask if people want to join my list that is specifically tailored to information about blogging and making an income doing so.
Another thing that I personally do is turn off the pop-ups for mobile. I have no idea how true this really is, but I have been told that it can hurt your SEO to have them on for mobile so I turn them off just to be on the safe side. My pop-ups are through Mailer Lite and all of the e-mails collected are added to specific lists that I set up on there. It really is a one stop shop!
Content Upgrades
Everyone wants to feel like they are getting something in exchange for their email address. So a great way to grow your list is to offer content upgrades. These upgrades will add more value to already popular posts of yours. A great example of this is my post on How To Make Money Blogging. In this post I offer a list of Influencer Networks which I love to work with. There is also an option to sign up and receive an even larger list straight to your email.
Basically, you are giving readers a taste, and leaving them wanting just a little more. You are then offering them a more detailed list or explanation in exchange for their email. Content upgrades are a great way to get people to subscribe who truly enjoy your content. I plan on going more in depth with content upgrades and ideas for you at a later date, so be on the lookout for that one coming soon!
Give Them Something FREE
Well, technically it wouldn't really be free since you are getting an email in exchange but anyways. People love to feel like they are getting value, as I have said before they want to get something beneficial for them. So what you can do is offer a really nice targeted freebie to your audience. I have found that this works best when it is targeted at a specific audience. For example, I have two subsets of readers, those who are bloggers and those who are mothers. Sometimes these do intersect, but I try to give value for both sets.
What I will do is offer my freebie on specific pages or posts. For example, on my About Sponsored Content post, I offer a free email course targeted at those who want to learn more about sponsored posts and how to get them. It would make no sense for me to advertise this freebie on one of my more general mommy related posts, because user interest just won't be there. One a more mommy related post one could offer a free printable to make a mom's life more simple or something to that nature. It is really about knowing your audience and what they want from you.
Offer A Challenge
Another thing that I have found which works really well for me is offering a challenge. Again, you need to stay targeted and know what your readers want. My challenge that I have right now is a 7 Day Frugal Living Challenge. I have targeted the portion of my audience who visits myFrugal Living sub category for this. I offer 7 days worth of challenges to those who sign up, and the end goal is to cut out needless expenses and work towards a more financially free lifestyle.
So you can brainstorm and come up with a few ideas that could really help your readers and create a challenge out of it. As long as it offers value, people will sign up.
Add A Call To Action To Your Posts
At some point in your posts, you can add a call to action suggesting your readers sign up for your list. I have a sign up form right on the right side of my posts nice and easy for people to see and sign up. Typically I will mention something that I have in the works, usually in the middle and end of a post. If you go back up a bit you will see I mentioned a post in the works about content upgrades. See what I did there? I have you wanting to see that post when it goes live, and that will make you more likely to sign up for my list so you know when it is up!
It is as easy as saying, " Don't forget to subscribe for more awesome tips like these straight to your inbox." Or "Subscribe today and never miss out future content". I like to be a little less general, as I mentioned, and talk about a specific idea that I am working on that will really get people interested.
Giveaways
This is last for a reason. It isn't my favorite way to promote email list growth, but it can be successful. If you are running a giveaway, you can prompt people to subscribe for an entry. Typically, this isn't an option on the free giveaway software like Gleam, but you can typically work around that. You can pay for the service, but I would just add it in manually as one of the *Bonus* entries.
While this works as a way to collect emails, it is not super targeted and the users may not generally be interested in your future content. So, this is hit or miss really, but it is worth doing. Many of these people may unsubscribe after the giveaway is over, but there will be a few who stick around for the long haul.
Go On And Grow That List!
Now that you have seen my favorite ways to promote email list growth, I want to hear from you!
What is your favorite way to grow your email list?
If you found this helpful, don't forget to sign up for my email list (see what I did there). I will also be coming out with a post very soon on the types of emails to send in order to really engage and get the most out of your newly expanded email list!