When I was young, I never did much cooking. My mom was a single working mom and we didn't do a whole lot of cooking at home. Honestly, growing up my favorite meal was Chicken Viola! Now that I am a mom, I have an opportunity that my mom really wasn't afforded. I am able to get my daughter into the kitchen with me and teach her how to cook at a young age. Cooking with kids is truly so beneficial for them in a number of different ways. They learn, explore, and gain life-long life skills along the way with quite a bit of fun thrown in to boot.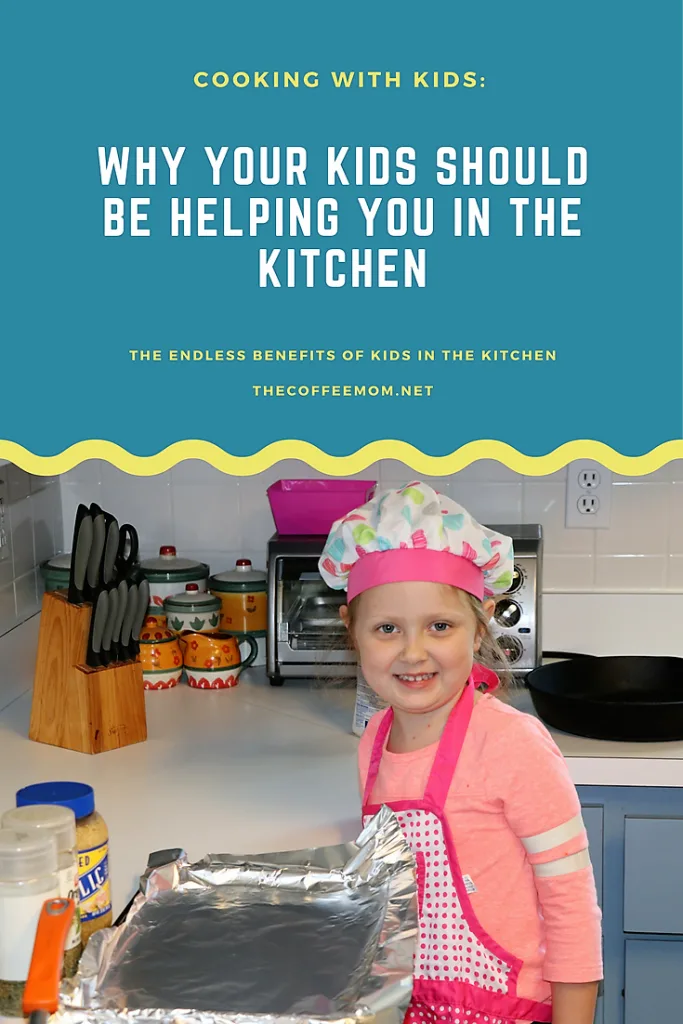 *This post may contain affiliate links. Meaning if you make a purchase, I will receive a kickback at no extra cost to you*
Why We Should Be Cooking With Kids
Cooking is something that I enjoy. I like getting in the kitchen and coming up with a fun recipe and then executing it. Sometimes they turn out great, other times we end up ordering pizza, but either way it is fun. Now that my daughter is getting a little older, I have been loving including her in the kitchen. She really enjoys cooking so it has been pretty easy. I love seeing how much fun she is having, and I get to know that she is learning at the same time! What is she learning though? What are the benefits of cooking with kids?
Cooking Teaches Kids Math
While it may not be calculus, cooking with kids is a great way to teach math through a hands-on approach. Think about it, all of the measurements needed to complete a recipe; that is math! When I tell my daughter we need one tablespoon, she is learning counting and measurements! We always take the time to count out the things we are using. The other night we made garlic knots and she counts out the three we needed and put them on the cookie pan. It may seem small, but I see this as a way of learning practical applications of math without the kids even knowing they are learning!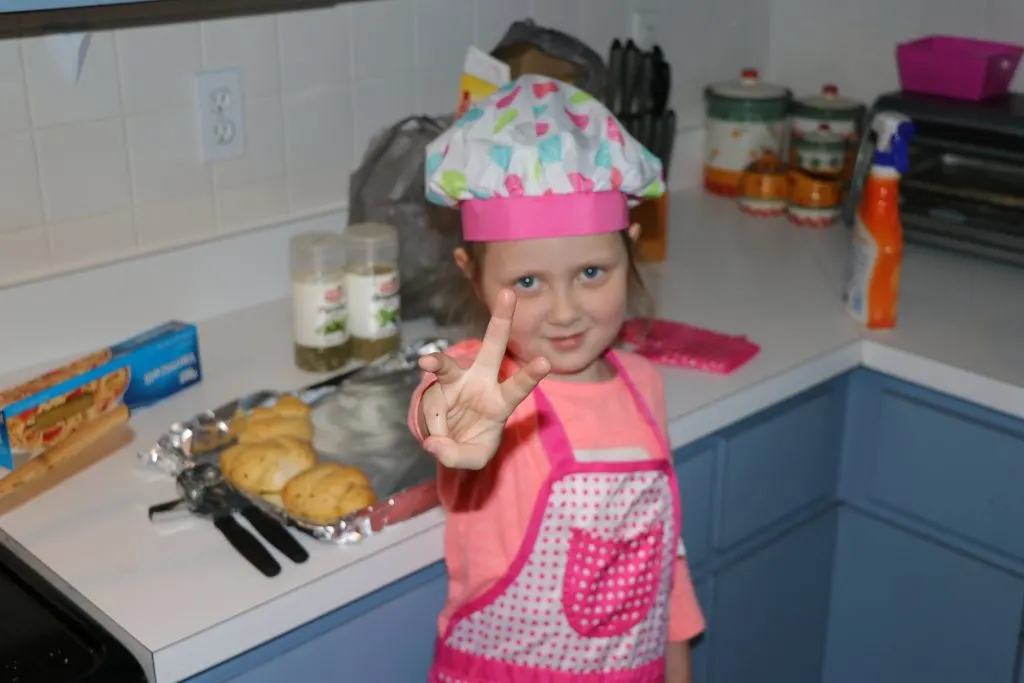 It Gives Them A Sense Of Pride
Nothing beats that happy feeling when you create something yourself. Seeing my child's face light up because she was able to help make dinner is an amazing feeling. Not only is she learning, but she is also growing her self-confidence along the way. It is important that kids feel happy and accomplished even if it is something as simple as making spaghetti. We all want our kids to be confident in themselves right? So, get them in the kitchen and get to cooking!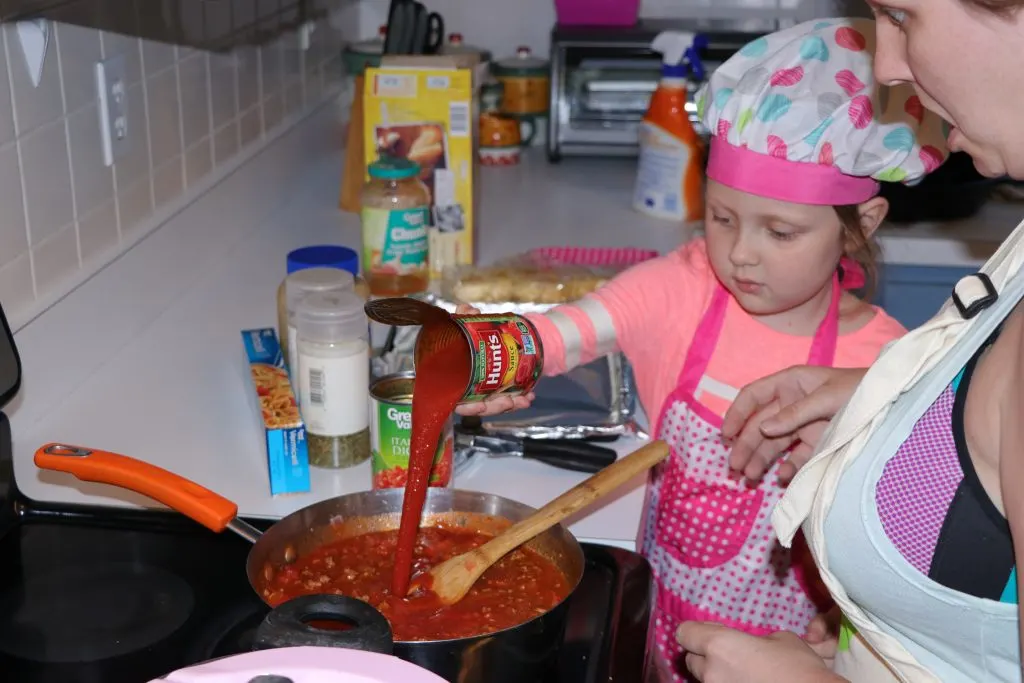 That All Important Bonding Time
Cooking with kids is a gear way to really bond together. You are teaching them, and they are soaking up every minute of it. All your child really wants is to be near you, and this is an excellent way to facilitate that desire. Cooking together can bring on a ton of laughs and create lasting memories for both of you to enjoy. Really, what else would your child be doing while you are cooking dinner? Playing a game or watching TV? That time can be used much more effectively by having them help you with dinner. It may take a little longer, and get a little messier, but cooking with kids is so worth it.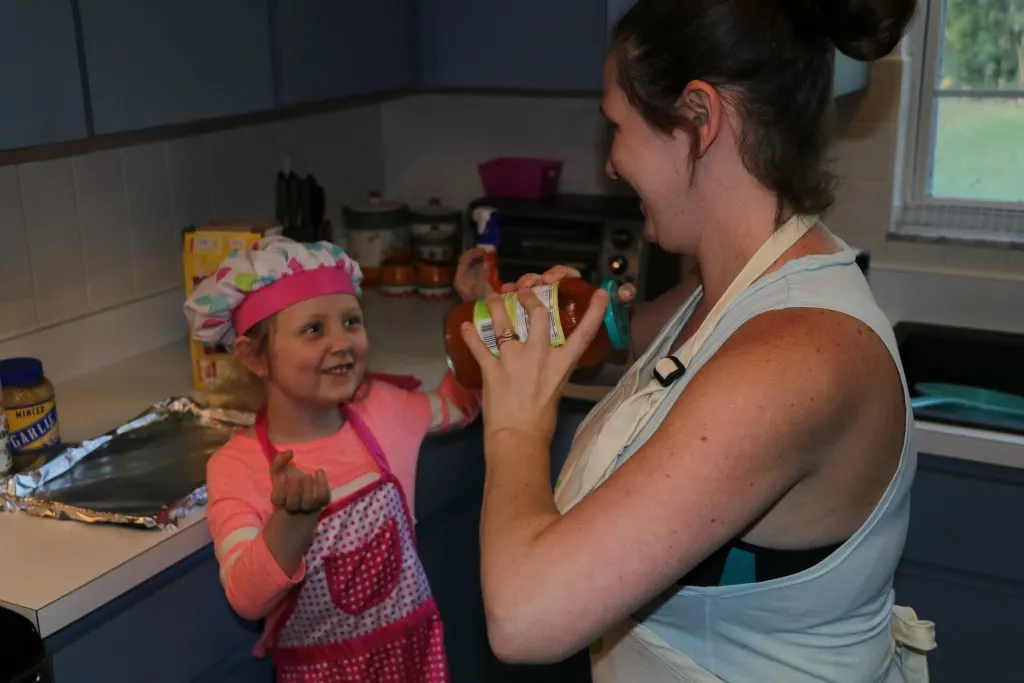 Cooking Teaches Kids Life Skills
As much as we don't want to think about it, one day our kids will grow up and move out on their own. I cannot tell you the number of new adults I have met over the years that had no idea how to perform basic life skills, such as cooking. I mean, we all have to eat and one day your child is going to need to cook for themselves. Starting when they are young can really instill this skill into them as they will grow up knowing how to cook. I am a big advocate for teaching life skills early, such as cooking cleaning, and just general responsibility. This is the reason my kids have age-appropriate chores.
It Can Help Picky Eaters
My daughter is finally coming out of her picky eater stage, and I feel like having her cook with me has really helped with this. I have noticed that she is more inclined to eat something if she made it herself. While there are still some days that all she wants to eat is chicken nuggets, there has been a real improvement. I think it really goes back to that sense of pride. It is like she thinks, " I made this, so I need to eat it". This may or may not help with every picky eater, but it has seemed to do the trick with mine.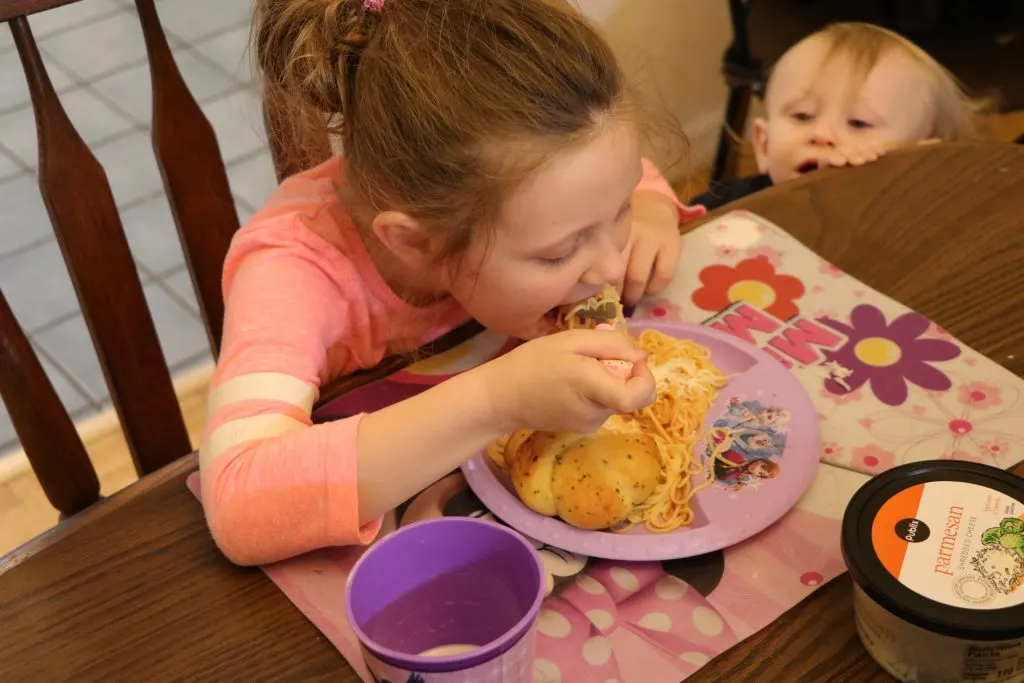 Get Your Kids In The Kitchen
So we know the benefits of cooking with kids, but how do we get them truly interested? At least for my daughter, it did not take too much to really get her to want to cook.
We bought her a really cute apron set that she loves wearing every time we are cooking. It makes her feel like a big kid and a real chef. Seriously though, it is just absolutely adorable! I got mine from Amazon for her as a Christmas Present last year.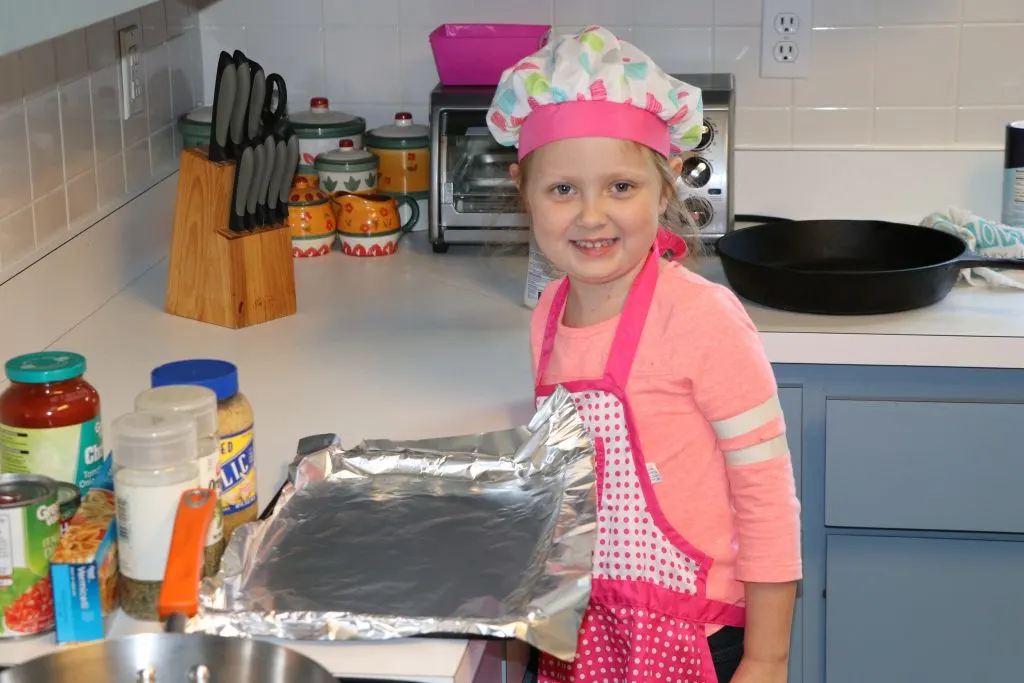 They also have a ton of really awesome kid-specific cooking utensils. I really love the ones from Curios Chef. They have a ton of sets that are perfect for teaching cooking skills and knife handling.

Another awesome way to get kids more excited about cooking is to get them their own subscription box. We discovered Kid Stir and my daughter loves it. You get a cookbook, monthly recipes, and utensils to use. All of the recipes are kid-friendly, simple to make, and taste really good! They are even running a 30% off special right now!

Cooking With Kids
I have really loved teaching my daughter how to cook, and I know she enjoys it as well. It teaches them so much, is fun, and just gives you that much more time together.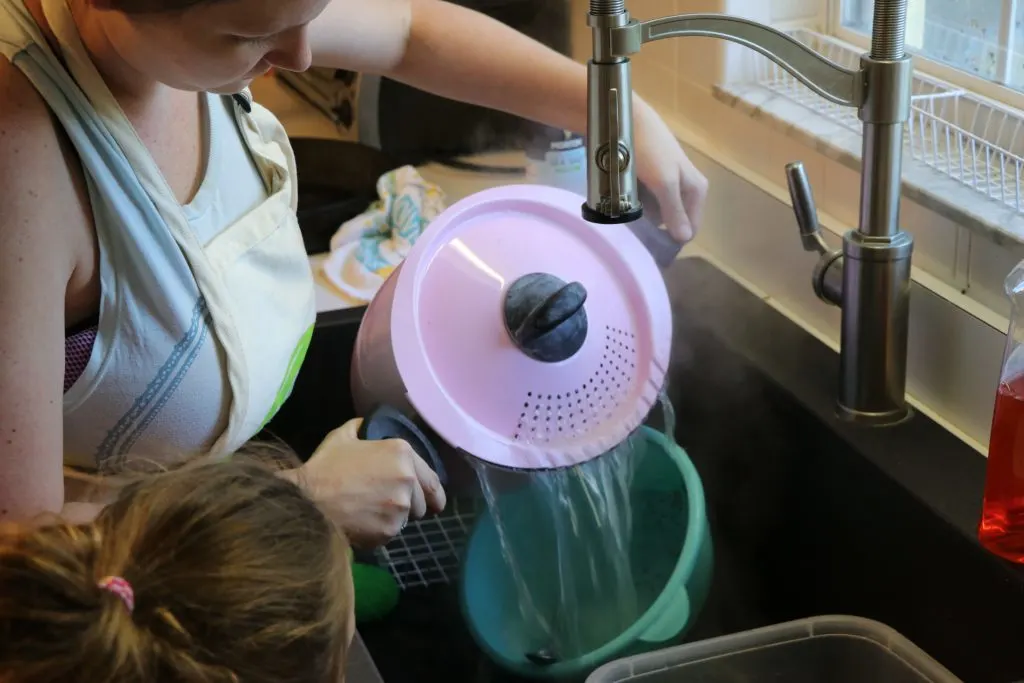 So now I want to hear from you? Did you cook with your parents growing up? Do you cook with your kids now? And what is your favorite thing to cook with your kids?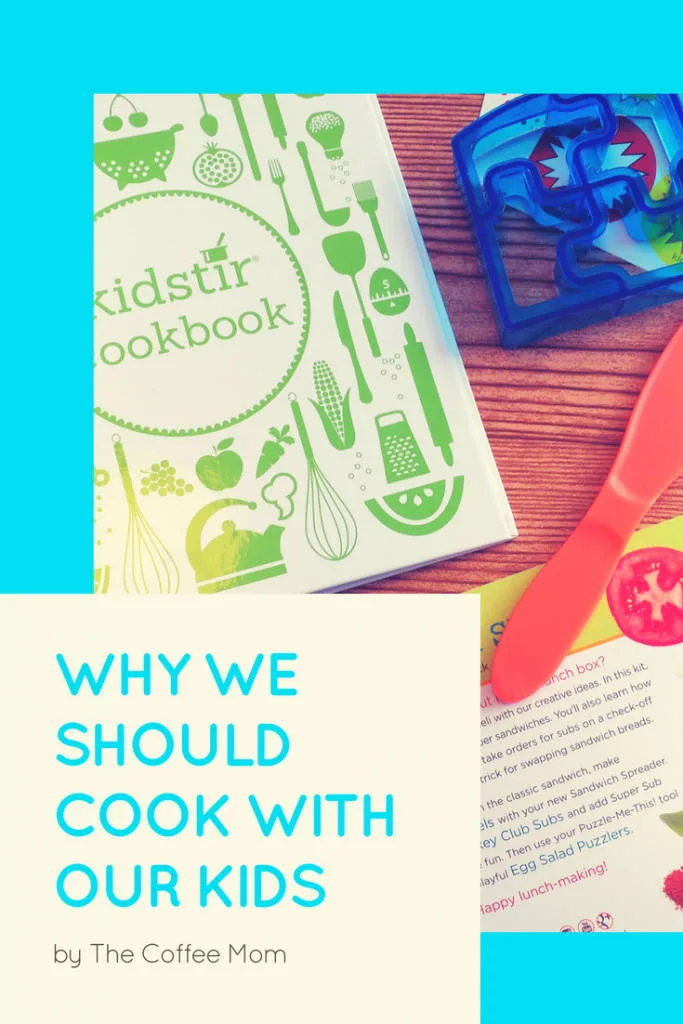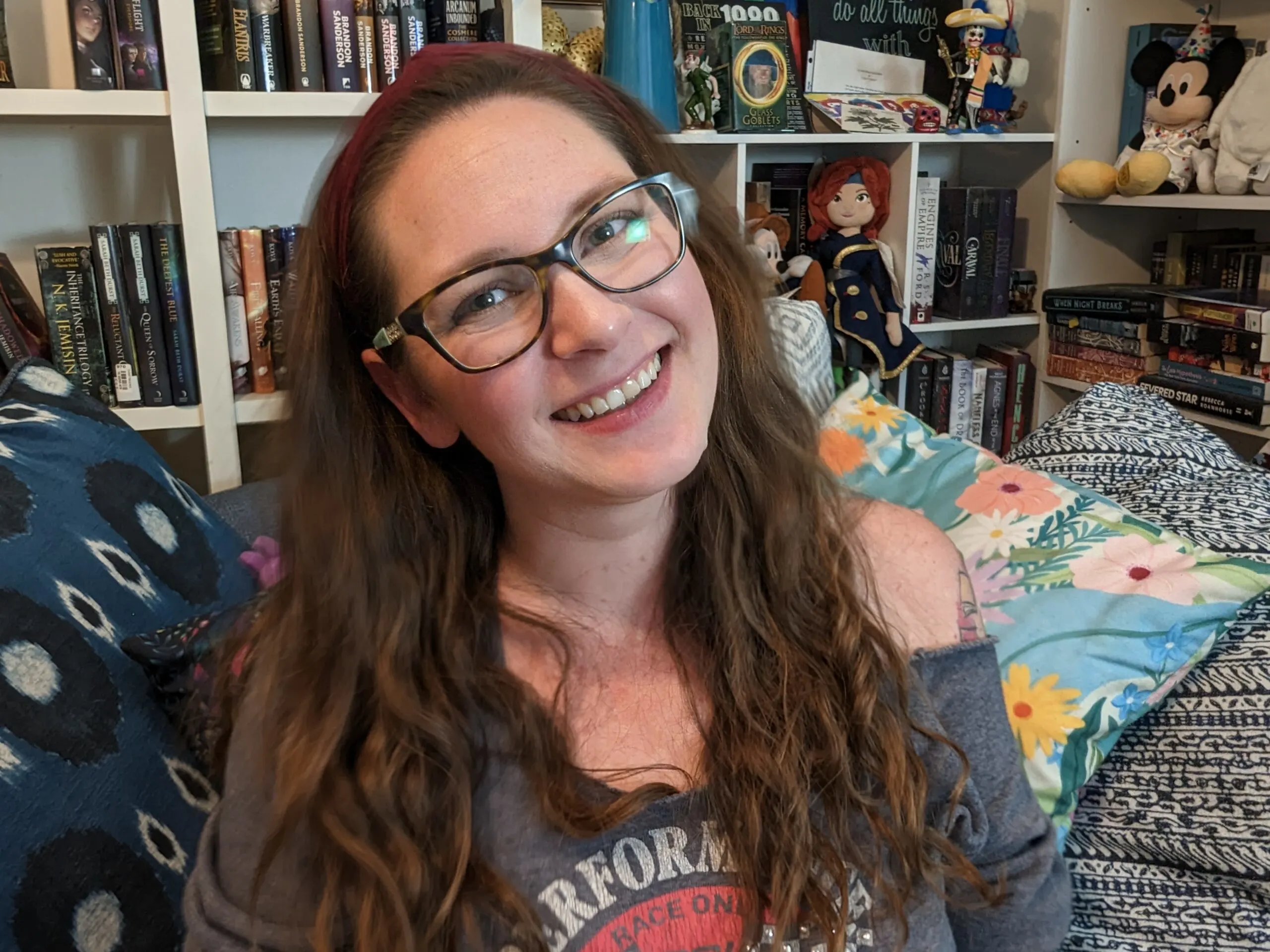 Jessi is the creative mind behind The Coffee Mom, a popular blog that combines parenting advice, travel tips, and a love for all things Disney. As a trusted Disney influencer and passionate storyteller, Jessi's authentic insights and relatable content resonate with readers worldwide.