It is soup season and this homemade roasted and creamy tomato basil soup is perfect for when the weather gets cool and you want to cuddle up with a bowl of soup and relax.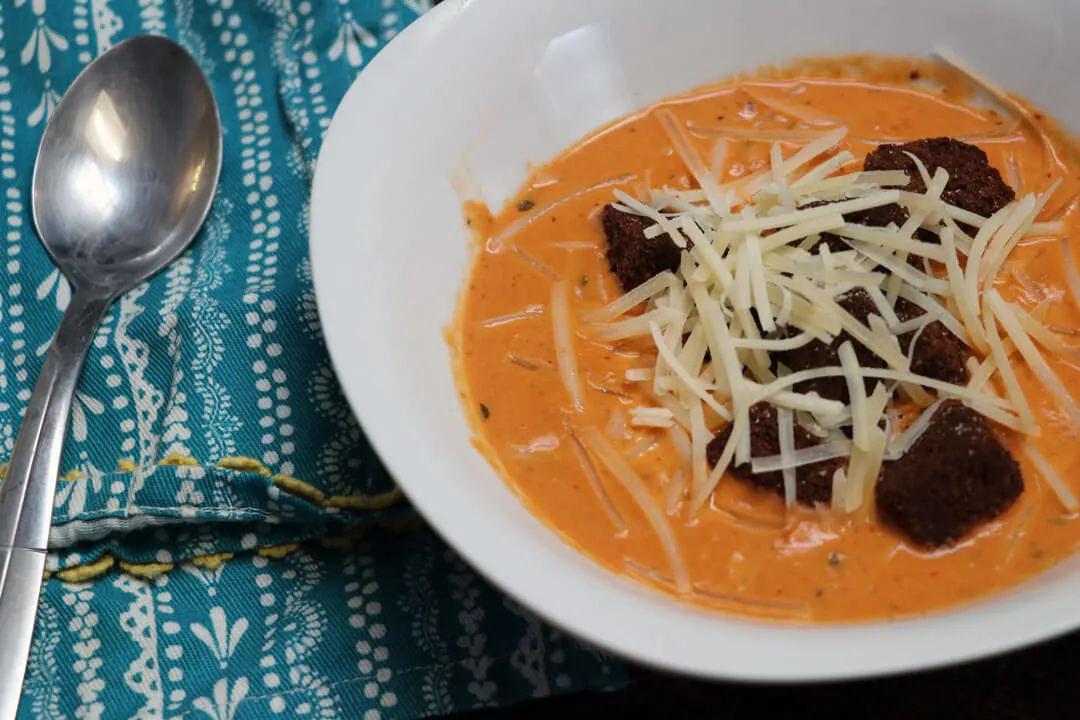 *This creamy tomato basil soup recipe post contains affiliate links. If you make a purchase through one of these links, I will get a small commission at no cost to you*
Fall is in full swing down here in sunny Central Florida, and as soon as the temperature starts to drop I start making soups! We don't get a super cold or very long Fall or Winter season here in the south, so when I get a chance to indulge in my favorite fall soup recipes, I take it!
My first soup of the season was a deliciously easy creamy roasted tomato basil soup. This is perfect for Fall and pairs amazingly with yourfavorite grilled cheese sandwich. It is one of my most requested family-friendly recipes and today I am sharing it in all its delicious creamy glory.
How to Make Creamy Tomato Basil Soup
While this isn't a very difficult recipe, it does have quite a few ingredients to make it. So if you want to make this cream of tomato and basil soul, then head to your local grocery store with the following list of everything you will need.
Tomatoes- 4-6 Large tomatoes

Heavy Cream

Tomato Paste

Fresh Basil

Minced Garlic

1 Red Bell Pepper

Butter

Olive Oil

Chicken Broth

1 Onion

Saly & Pepper

Balsamic Vinegar

Croutons & Parmasean Cheese for Topping

I told you, there are a lot of ingredients! Even though this homemade tomato basil soup has a lot of ingredients, it is still super simple to make. The best part is that it can be made in a large batch and eaten for lunches all week, which is what I did!
Oven Roasted Tomatoes and Peppers with Garlic Balsalmic Drizzle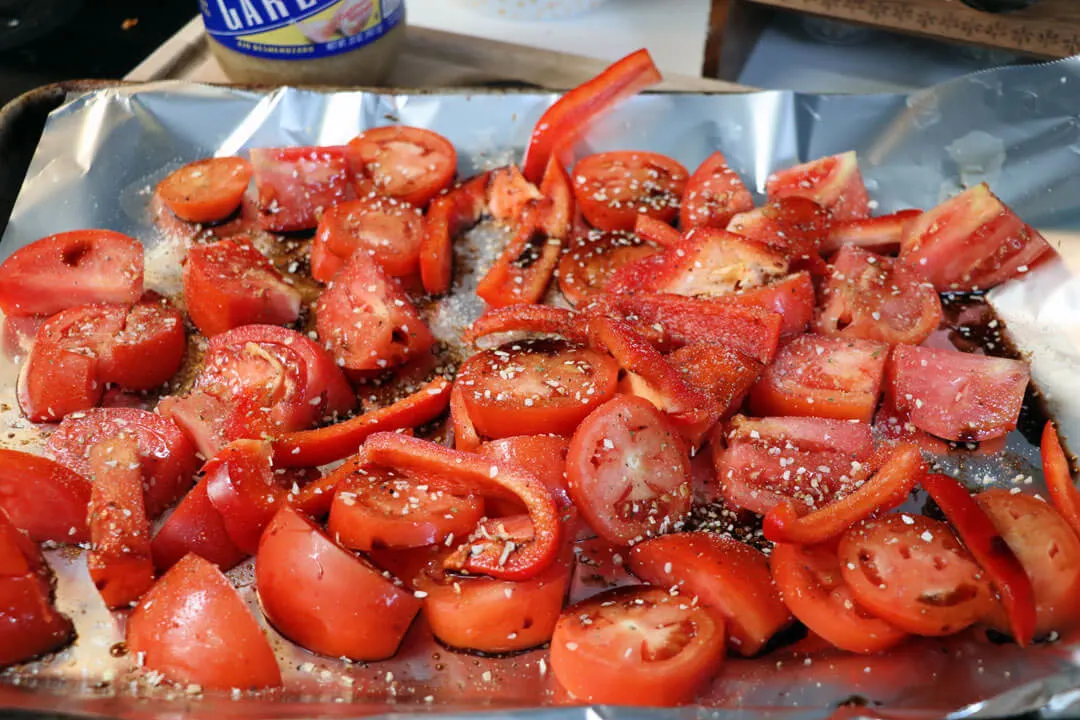 The first thing you want to do is cut up your pepper and tomatoes while your oven preheats to 425°.
They don't have to be pretty or a certain size since they are just going to get blended down later. Top them with some garlic and balsamic vinegar. Pop them in the oven for 20-30 minutes and let them go.
You really can't overcook these roasted tomatoes. I personally like a nice char, so I recommend cooking them for as long as you want and then doing a 5-minute broil at the end of the cooking time.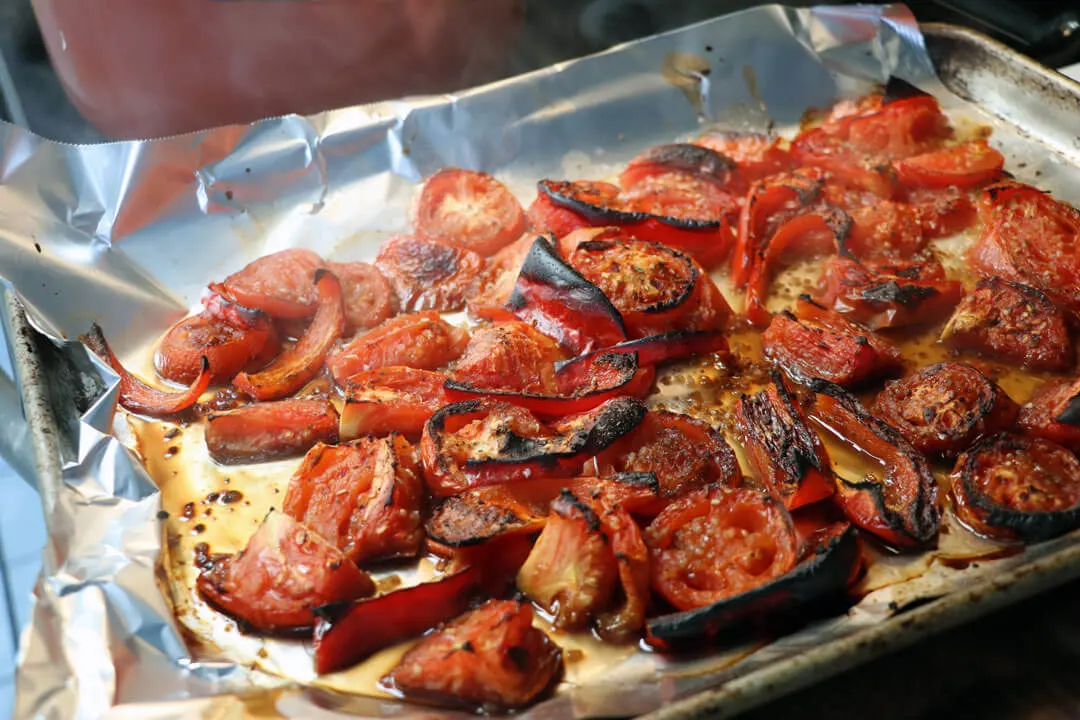 Super Easy Creamy Tomato Basil Soup with Fresh Tomatoes
While your fresh oven-roasted tomatoes are cooking, you can start your tomato soup base.
Add in some olive oil and butter to a ceramic Dutch oven. Let it get hot then add in your diced onion and some minced garlic. Cook until transparent and then start mixing in your can of tomato paste and fresh basil.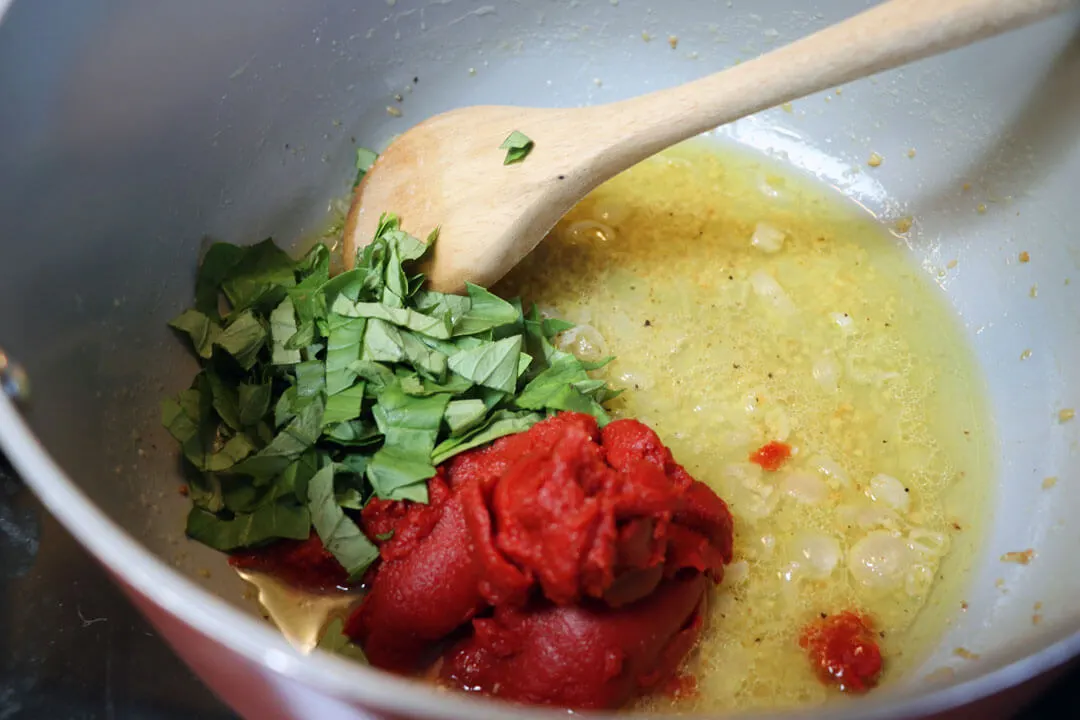 When the roasted tomatoes are done, add them into the Dutch oven and continue to simmer over low-medium heat.
Especially if you are using a ceramic Dutch oven like the one I am using to make my tomato basil soup, you won't want to work with high heat. Ceramic cookware holds and conducts heat extremely well, and you won't want to scorch your homemade cream of tomato and basil soup.
While you continue to simmer, pour in 2 cups of chicken (or vegetable if you are vegetarian) broth as well as 1 cup of heavy cream.
You may need more or less cream and broth depending on your personal tastes honestly. I like a very creamy tomato soup so I went a little heavier on the heavy cream. Never feel like you need to stick 10000% to a recipe, even mine. Have fun with them, play with them. Experiment with recipes and discover exactly what you like, and don't like when it comes to cooking.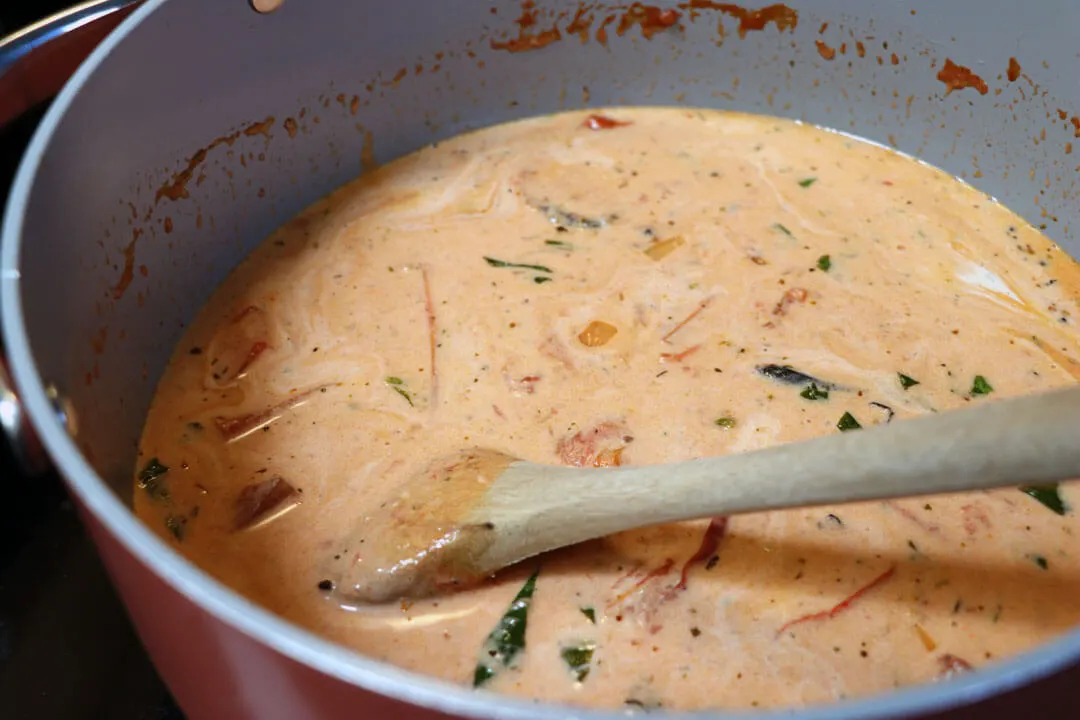 Simmer your soup, stirring well, for about 5-10 minutes.
Once everything is good and hot and combined, it is time to get out the immersion blender! Don't have an immersion blender? No problem, you can totally use a traditional blender, but an immersion blender just makes everything SO much easier. I grabbed a super cheap one off of Amazon and I use it all the time now! Much less mess than pouring the soup into a blender and then pouring it back into the Dutch oven.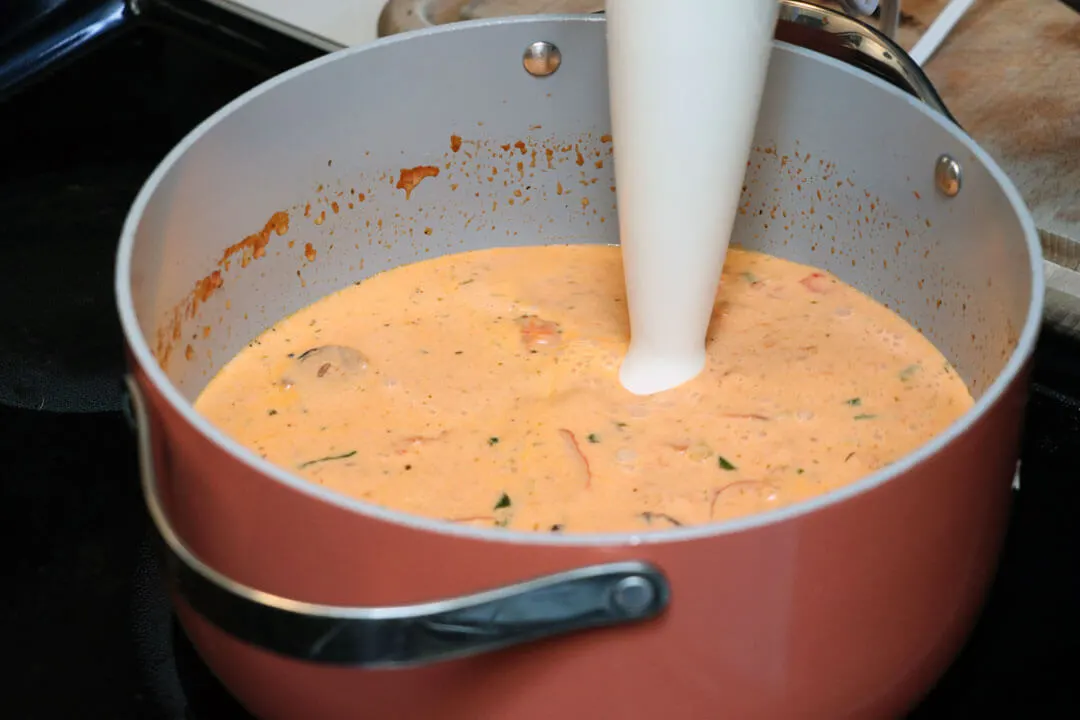 Blend your tomato basil soup well. It may take a few minutes but soon you will have a thick and smooth consistency for your creamy tomato basil soup.
At this point, you are ready to serve and enjoy your cream of tomato basil soup! I tend to like mine topped with parmesan cheese and some croutons! Or eat it with an avocado grilled cheese sandwich.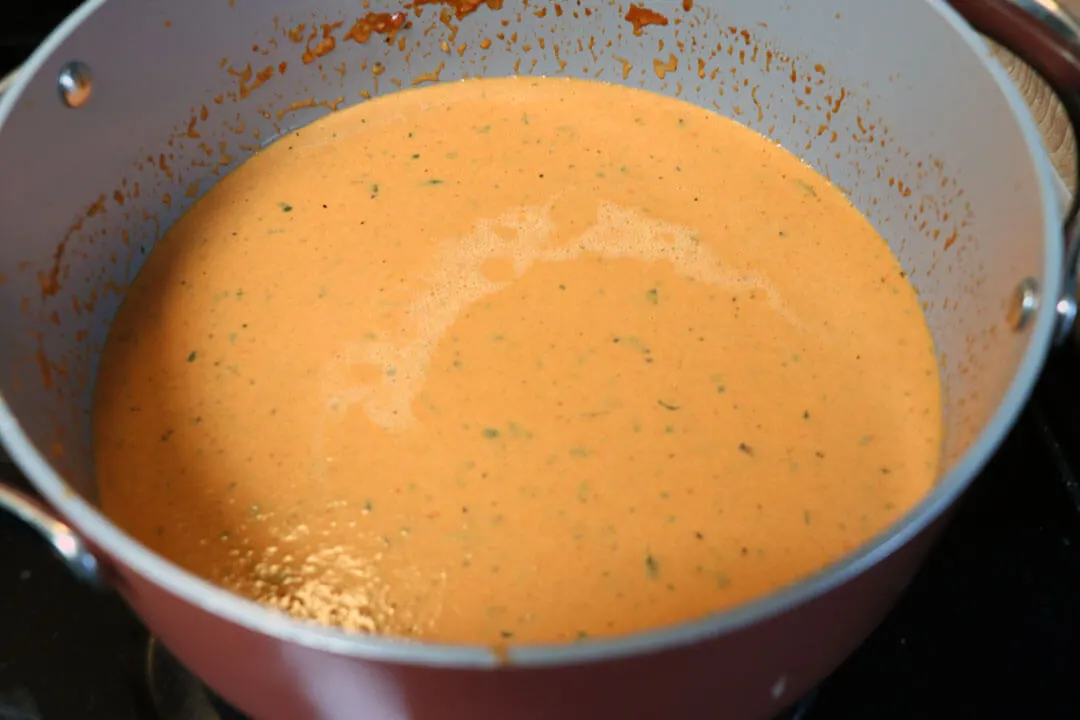 Can I Freeze Creamy Tomato Basil Soup?
Since I like to make a lot of recipes ahead of time and do meal prep, one of the questions I get often when I make this soup is "can I freeze creamy tomato soup?". Well, the answer to this is both yes and no.
If you plan to freeze this soup, or any creamy soup really, I recommend you do so before adding in any creamy ingredients. Cream, cheese, and most milk-based products don't tend to freeze very well. Freezing dairy and thawing to eat later can have a negative effect on the
So for this creamy tomato basil, I would make the entire recipe, skipping the heavy cream and then freezing. When I reheat the soup, then I would add in heavy cream right before eating. This will help maintain the proper texture and consistency of the tomato basil soup.
Printable Tomato Basil Soup Recipe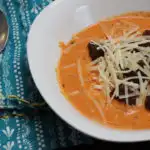 Creamy Tomato Basil Soup
It is soup season and this homemade roasted and creamy tomato basil soup is perfect for when the weather gets cool and you want to cuddle up with a bowl of soup and relax.
Ingredients
4-6

Large Tomatoes

1

Red Bell Pepper

1-2

tbsp

Balsamic Vinegar

2

tbsp

Minced Garlic

2

cups

Chicken or Vegetable Broth

1

cup

Heavy Cream

Fresh Basil

1

Onion- Diced

1

tbsp

Olive Oil

1

tbsp

Butter

Salt & Pepper to Taste

1

small can

Tomato Paste
Instructions
Preheat your oven to 425°

Dice tomatoes and red bell pepper and place on a baking sheet.

Drizzle the tomatoes with balsamic vinegar and 1 tbsp minced garlic, salt and pepper to taste.

Cook the tomatoes for 20-30 minutes in the oven. Broil for 5 minutes at the end of the cooking time for a char.

While the tomatoes are cooking, add the olive oil and butter to a hot Dutch Oven.

Add in the rest of the garlic and the diced onions and cook until the onions are softening.

Mix in the tomato paste and fresh basil.

When the roasted tomatoes are done, mix them into the Dutch Oven.

Pour in your chicken or vegetable broth and heavy cream, salt, and pepper to taste.

Allow to simmer for a few minutes.

Either use an immersion blender or a normal blender, and blend the creamy tomato basil soup until it is a smooth consistency.

Serve with croutons and parmesan cheese and enjoy!