Interested in purchasing ceramic cookware but don't know where to start? Don't worry! I will break down all the pros and cons of ceramic pans as well as discuss how to clean and care for them. We will also discuss which brand has the best ceramic cookware sets to get the most for your money.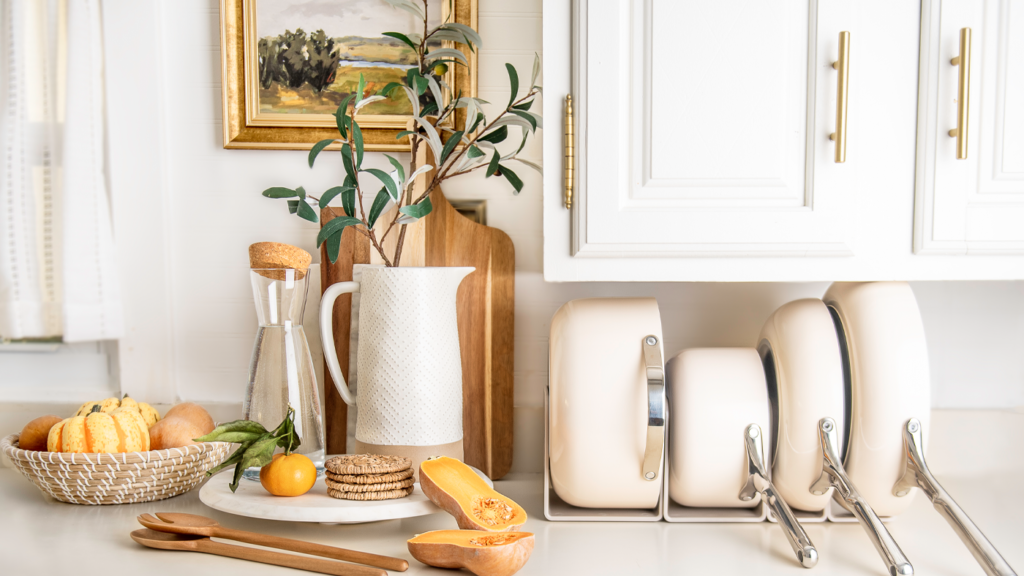 I love to cook. Pretty much every day of the week, I am in the kitchen cooking up dinner for my family. As someone that cooks so much, I have probably tried every pan on the market right now.
From non-stick cookware to cast-iron pans, I have tried them all. Since I have tried so many different types of pots and pans, I feel like I have a pretty good feel for what makes for the best cookware.
When I am looking for new pots and pans, I need something durable, beautiful, and easy to clean. I want non-toxic, non-stick, and simple to store when not cooking. So what is that one cookware brand that checks all of those boxes for me? That's easy, it is Caraway.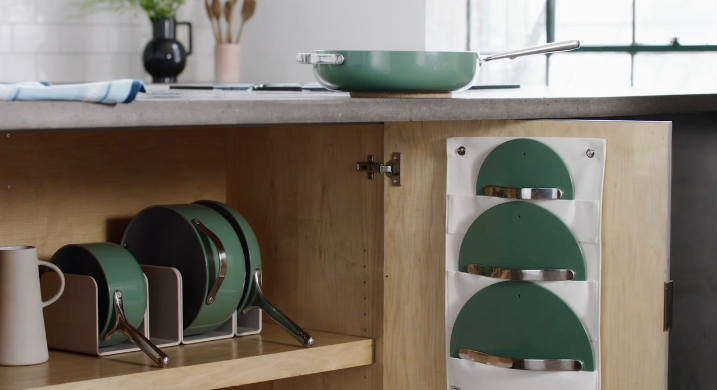 Why Does Caraway Have the Best Ceramic Cookware?
Caraway has the best ceramic cookware for a number of reasons! For one, just look at them! They are beautiful. Caraway sells ceramic pots and pans in a plethora of different colors to match your kitchen.
Personally, I love the navy blue ceramic cookware set, but all of them are quite beautiful. These stunning pans will add a pop of color to any kitchen!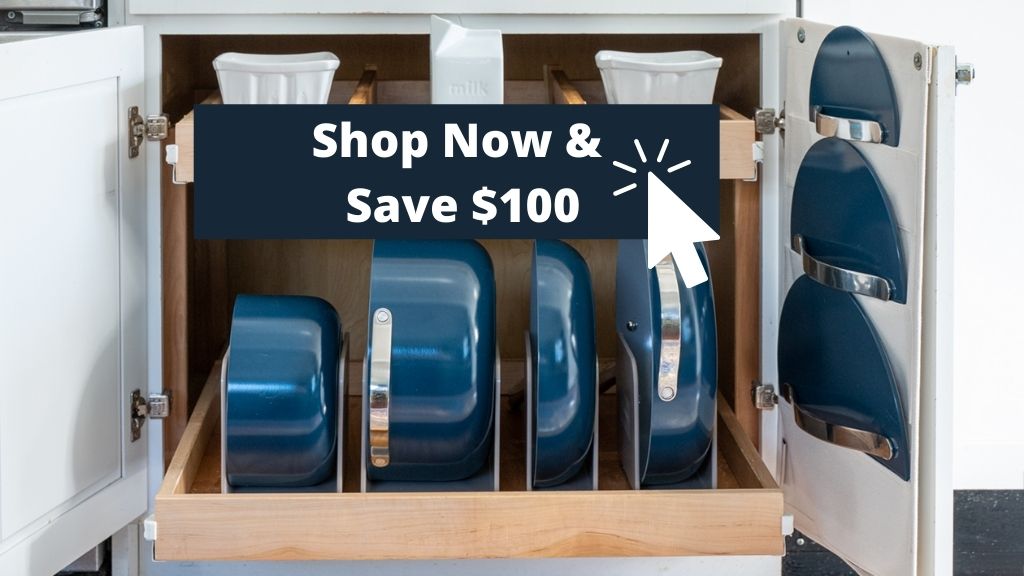 Is Ceramic Cookware Safe? See for yourself here.
They aren't just beautiful though. These ceramic pans are also non-toxic and non-stick. Unlike traditional Teflon non-stick pans, Caraway ceramic pans have no PTFE, PFAs or PFOAs in their cookware.
Not sure what all those acronyms mean? Don't worry, I didn't either! Caraway explains it really well though on their website. The short of it though is that Caraway ceramic-coated cookware is 100% non-toxic, free of PTFE (such as Teflon®), PFOA, PFAs, lead, cadmium, nickel, and other toxic metals.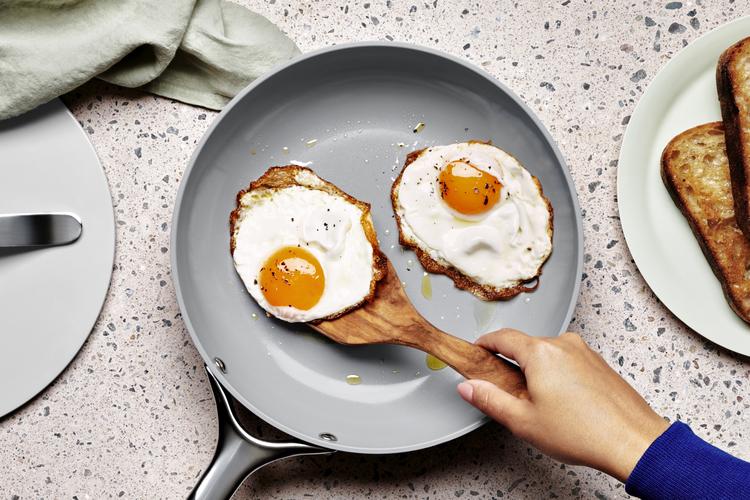 Caraway cookware is also durable! These pans are built to last. If you are cooking every single day, then you know how fast you can actually "use up" a traditional, cheap pan.
I felt like I was replacing my pans ALL the time, and that's because I was buying the cheap non-sticks from big box stores. My Caraway pans though are still in pristine condition even after daily use.
There are some specific ceramic cookware care tips that you will have to take to make sure your pots and pans remain pristine, but honestly, they are so simple that you won't even realize that you are doing them.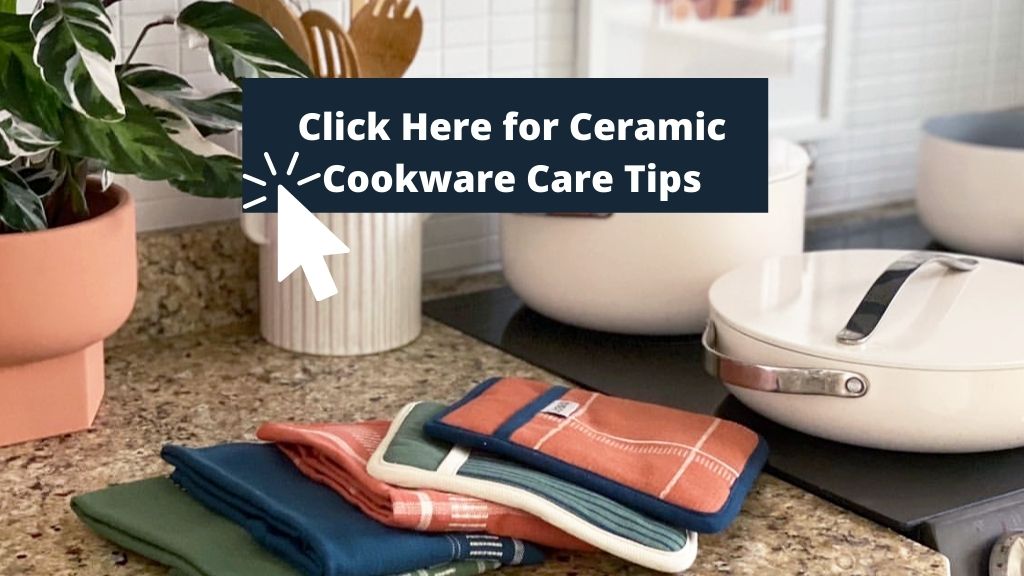 So if you are ready to invest in the highest-quality ceramic pans available, then head over and check out Caraway.
If you still need some more convincing, make sure you check out my tips for ceramic cookware care and my pros and cons of using ceramic cookware. After reading all of these posts, you will be ready to invest in ceramic cookware for sure.
They may be more expensive than your big box store pots and pans, but over time, you will get MUCH longer use out of ceramic.