Grilled cheese is a simple childhood favorite meal, but it can be so much more than just bread and cheese. The secrets to the perfect grilled cheese lay not only in the toppings but also in the cooking method. If you are looking to upgrade your childhood favorite and make the best-grilled cheese sandwich you have ever eaten, then try out my tips and enjoy a delicious avocado air fryer grilled cheese for yourself.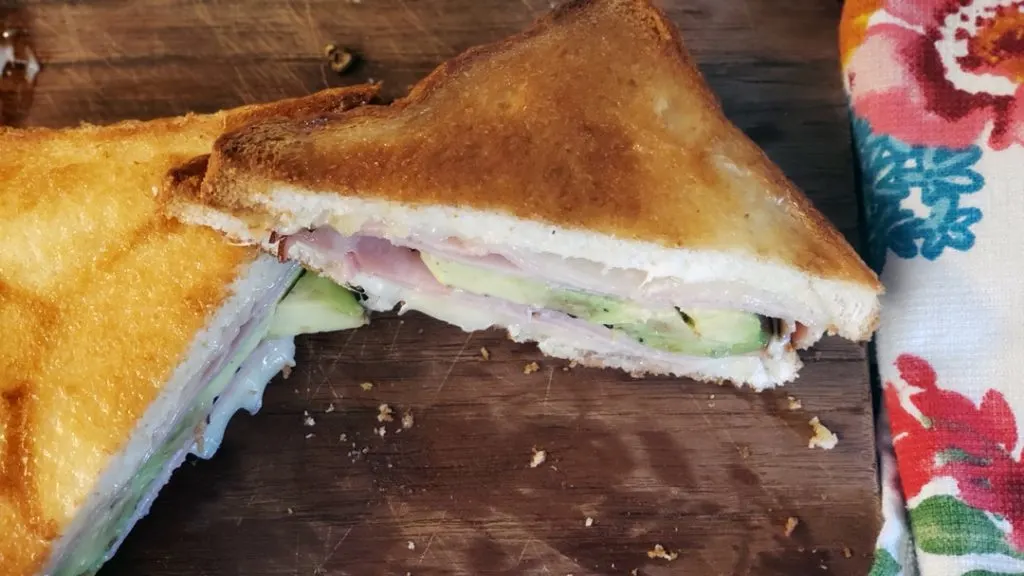 *This post may contain affiliate links. If you purchase through one of these links, I will receive a small commission at no extra cost to you*
The Perfect Grilled Cheese Sandwich
On a cool night, I love nothing more than a warm grilled cheese and a hot bowl of tomato soup. Ever since I was a kid, this has been one of my favorite comfort foods. Now that I am an adult, I wanted to find a way to elevate this childhood favorite. But how do you elevate a grilled cheese sandwich? Honestly, it isn't as hard as I thought it would be!
Recently, I bought the Ninja Air Fryer and have been testing out making different meals in it. So, of course, I had to try making an air fryer grilled cheese and I was not disappointed.
The air fryer made my grilled cheese so delicious. crispy on the outside, gooey on the inside! This may have been my best small kitchen appliance yet, but honestly, you don't need one to make delicious grilled cheese, but it does make it just that much better.
There are a few little tips and tricks that can help you achieve the perfect grilled cheese though even if you don't have an air fryer.
Tips for Elevating Your Grilled Cheese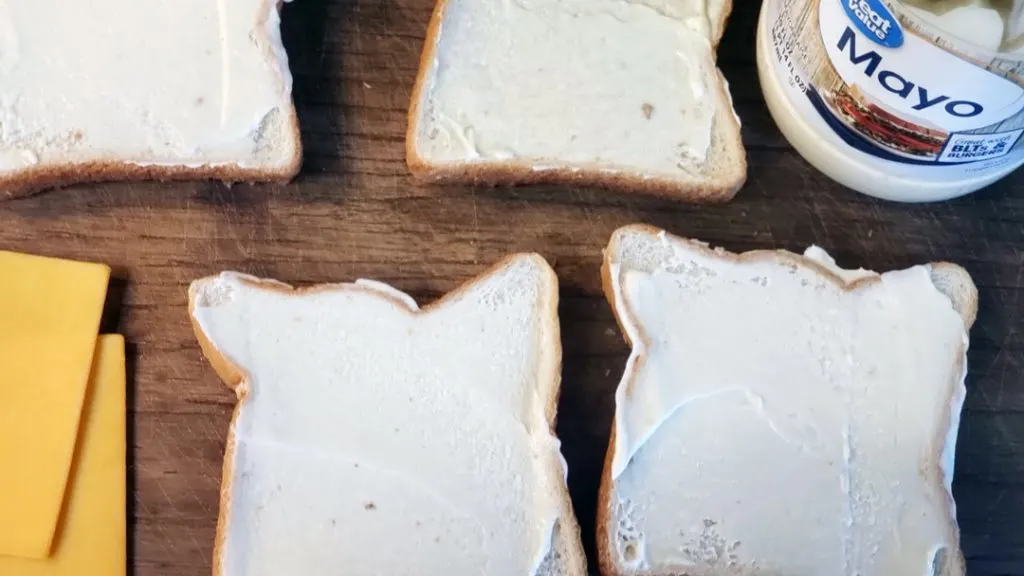 Something that I like to do for any grilled sandwich I am making is start with frozen bread. It may sound strange, but it helps with the texture of the sandwich. I keep my bread in the freezer anyway to help it last longer, so that is a bonus of using frozen bread!
Another thing you can do to elevate your sandwich is to add mayo. I'm not talking about on the inside of the sandwich either, though that is always recommended. I mean you want to put a thick layer of mayonnaise on the outside of your sandwich. This will help you achieve a beautiful golden crust to your bread when cooking. It is so much better than using just butter and gives your sandwich that golden look and crunchy buttery texture.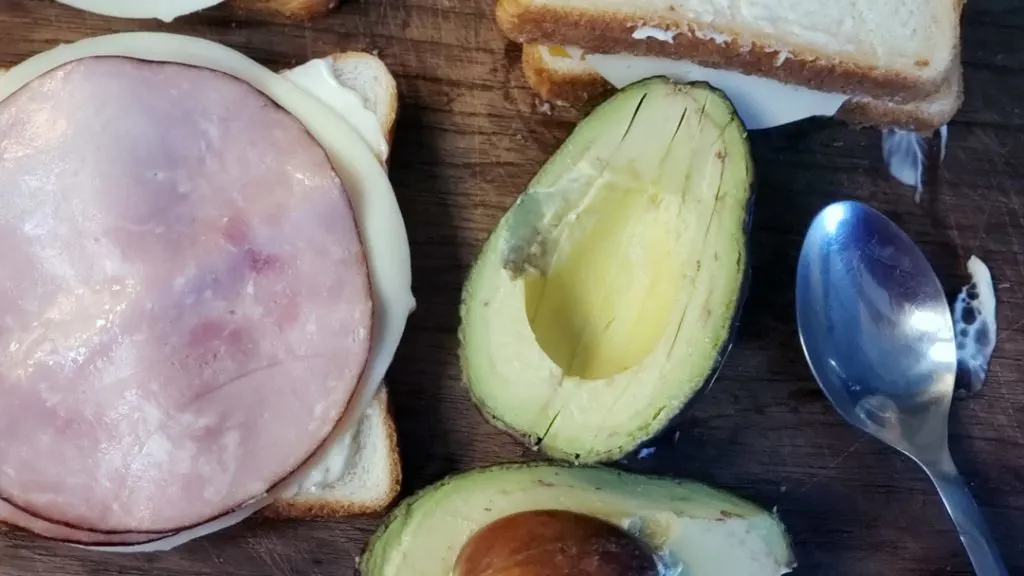 Can we talk about sandwich stuffers for a minute? I know that by adding other fixins' that this is technically not real grilled cheese, but I just can't help myself. I love to add extras to my sandwich and make it delicious and unique.
Some of my favorite grilled cheese additions include ham, avocado, fresh tomato, and everything but the bagel seasoning. Don't be afraid to try something new with your classic grilled cheese, a few new toppings may just surprise you!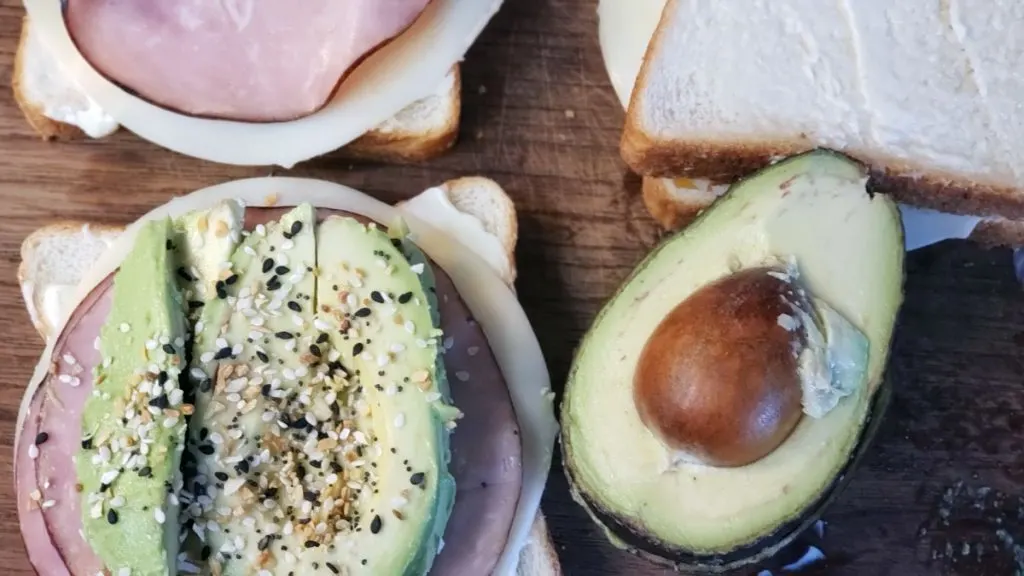 Cooking Grilled Cheese in an Air Fryer
Though you don't need an air fryer to make the perfect grilled cheese, it does help immensely. It cuts down on cooking time and gives you a perfectly crispy crust with a gooey inside!
When cooking with the air fryer, make sure you pre-heat your device for about 3 minutes. For grilled cheese, I cook it at 375°, so once the air fryer is preheated, place the sandwich in the basket and cook for 3 minutes.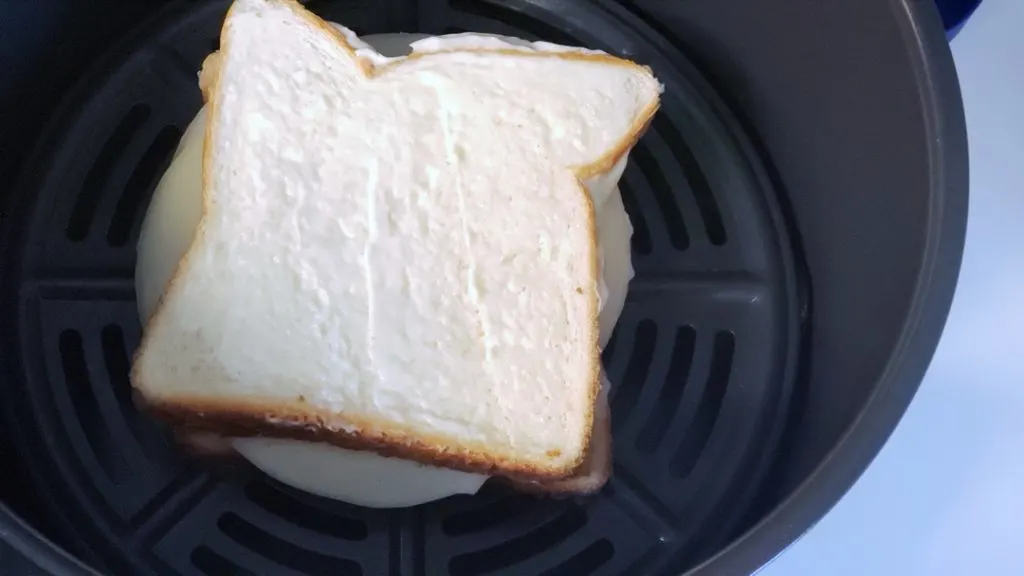 After the initial 3 minutes, flip your sandwich and cook for 3 minutes more.
After that, you are done! You will have a beautiful and delicious grilled cheese sandwich to enjoy with a hot bowl of tomato soup!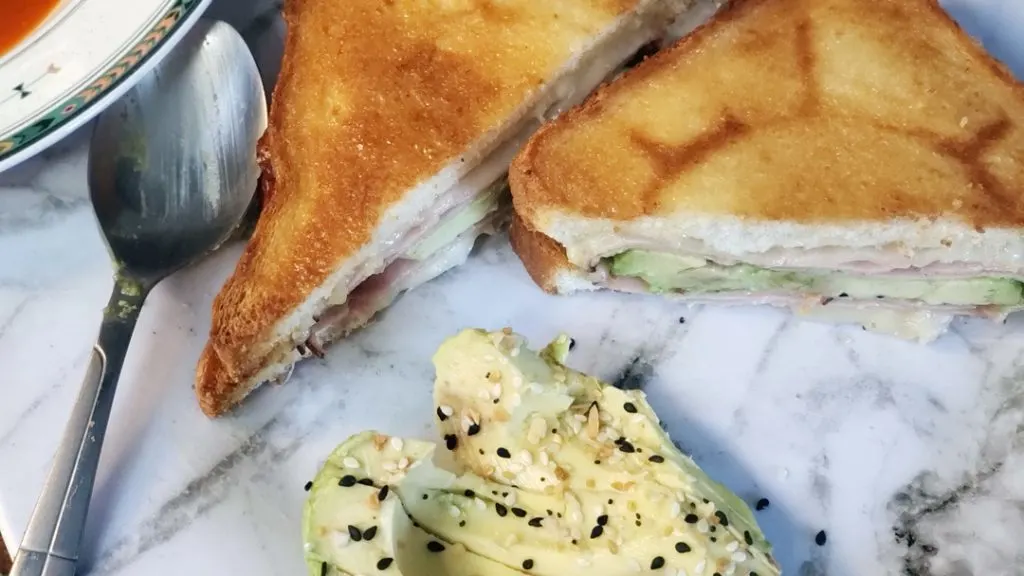 Get the Printable Recipe Here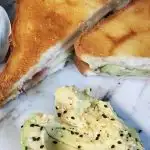 Air Fryer Avocado Grilled Cheese.
The perfect grilled cheese sandwich made in an air fryer with ham and avocado
Ingredients
2

pieces

frozen (optional) bread

3

pieces

cheese

2

slices

ham

1/2

sliced

avocado

everything but the bagel seasoning

2

tbsp

mayo
Instructions
place mayo on both sides of each piece of bread

fill the sandwich with cheese, ham, avocado and a sprinkle of everything but the bagel seasoning

preheat your air fryer to 375° for 3 minutes

flip and cook for 3 more minutes

serve with your favorite tomato soup and enjoy
Pin Me For Later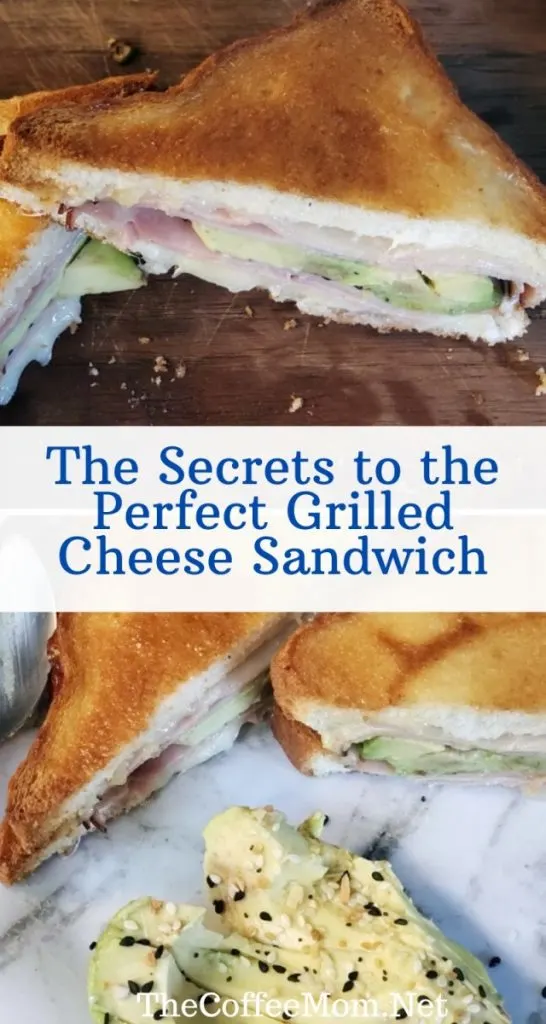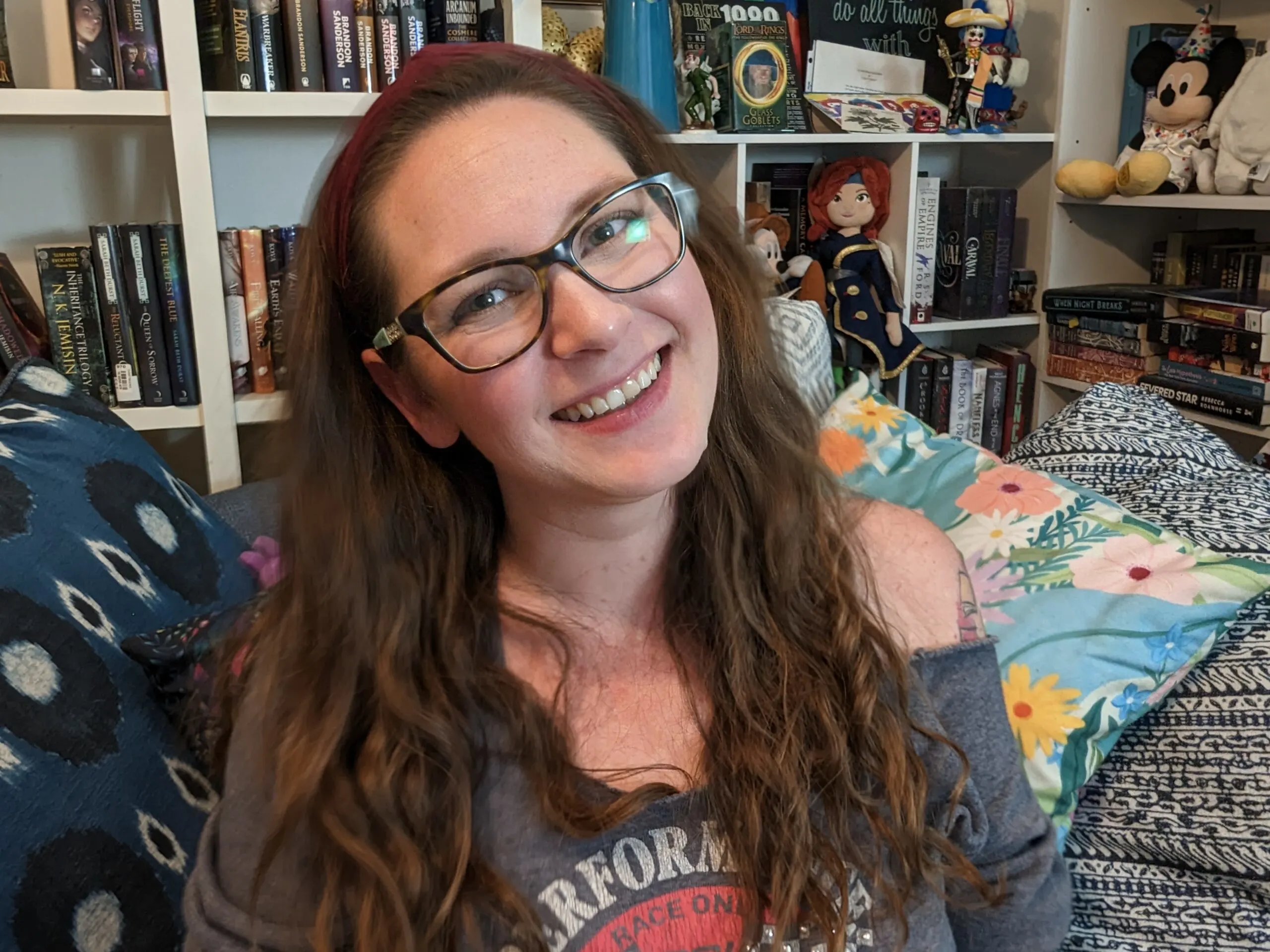 Jessi is the creative mind behind The Coffee Mom, a popular blog that combines parenting advice, travel tips, and a love for all things Disney. As a trusted Disney influencer and passionate storyteller, Jessi's authentic insights and relatable content resonate with readers worldwide.