Cheesy Beef and Bow Ties! This easy and delicious dish is perfect for busy moms who just don't feel like cooking tonight!
Do you ever have those days where you find yourself just staring at your pantry wondering what the heck you are going to feed your family for dinner? I seem to be having those more and more lately!
No matter how I try to meal plan more, I still have those days where I am just lost. Most of the days I spend staring into my pantry looking confused, I end up just taking what I have and throwing all that sh*t in a pan and praying it tastes good!
Most recently, my pantry experiment ended up turning out super delicious so I had to share! I think I am calling it Cheesy Beef and Bow Ties,, my husband was calling it " Sh*t Mom Threw In A Pot" but I think it needs to be at least a little more appropriate. Best part? It is made with all the typical pantry staples!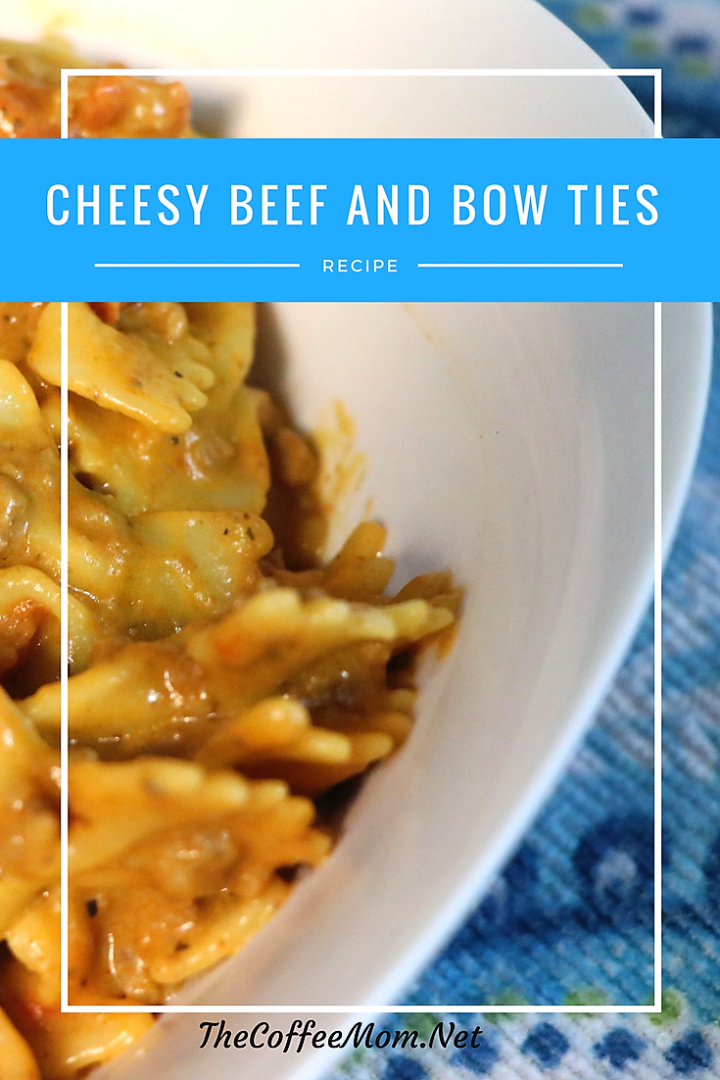 Cheesy Beef and Bow Ties
This was seriously one of the easiest " recipes" I have done in a long time. Honestly, the name my husband gave it is probably more appropriate since it is literally just random pantry items I ended up throwing into a pan. I will say I was inspired by Chili Mac so it does have a slightly spicy flavor to it. The kids don't like anything too hot though, so just a touch of spice here. You should be able to recreate these Cheesy Beef Bow Ties with ease with whatever you have in your pantry! Thrown together in minutes and everyone loved it! Total win-win!
From The Pantry
As I mentioned, I pulled all of these "ingredients" from my pantry on a crazy day where I had no idea what to make for dinner. I ended up pulling a box of bow tie noodles and a can of diced tomatoes out of my pantry. If you don't have bow ties, don't worry! Feel free to use any type of noodle that you may have on hand. I pulled some beef out of my freezer for my protein and a half of a block of Velveeta cheese out of the refrigerator. While I like using Velveeta since it melts nicely, any type of cheese should work just fin in its place. As for spices, I just used a little bit of cayenne pepper. Since it is inspired by Chili Mac, you could easily use chili seasoning and add beans to make this even more 'chili-like".
Get Cooking
This cheesy beef and bow tie won't take you long to cook at all. Which, let's be honest, is a large part of its easy weeknight appeal. Brown your beef in a pan until cooked through. While the beef is cooking, boil your noodles according to the directions on the box. When the beef and noodles are both done, add the beef into the same pot that you cooked the noodles on. Over low heat, mix in the diced tomatoes, cheese, and spices of your choice into the pot. Allow the cheese to melt and everything to heat through.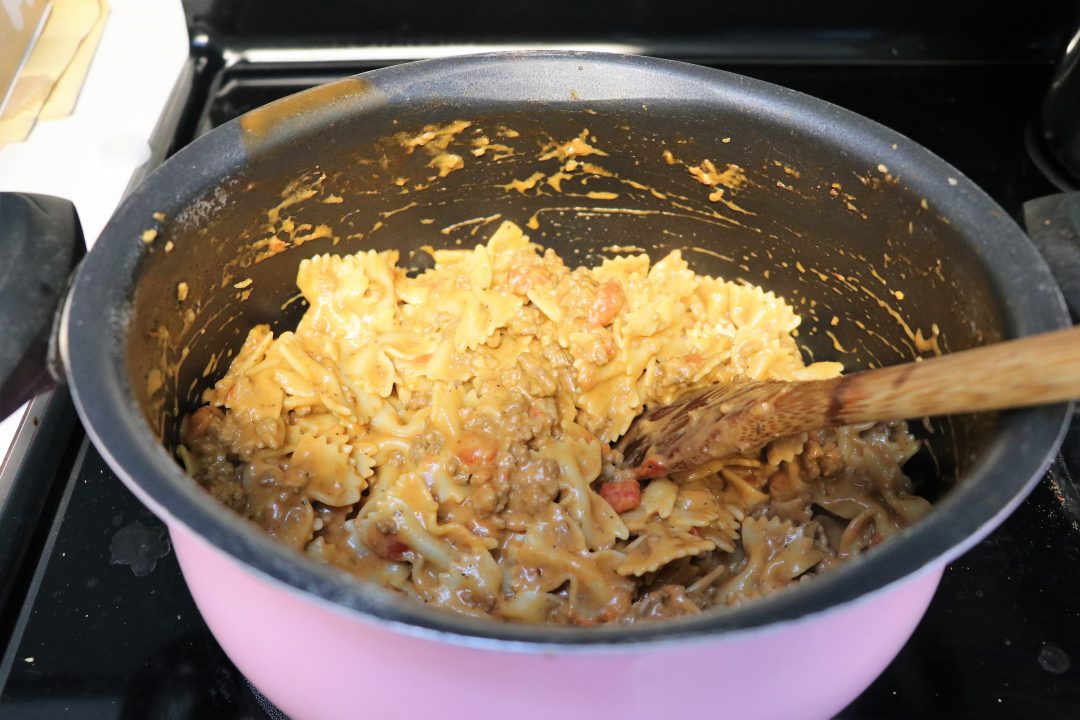 Then you are done! Seriously, it is that easy! Simple, delicious, and done in well under 30 minutes!
What is your go-to meal when you have no idea what to make for dinner?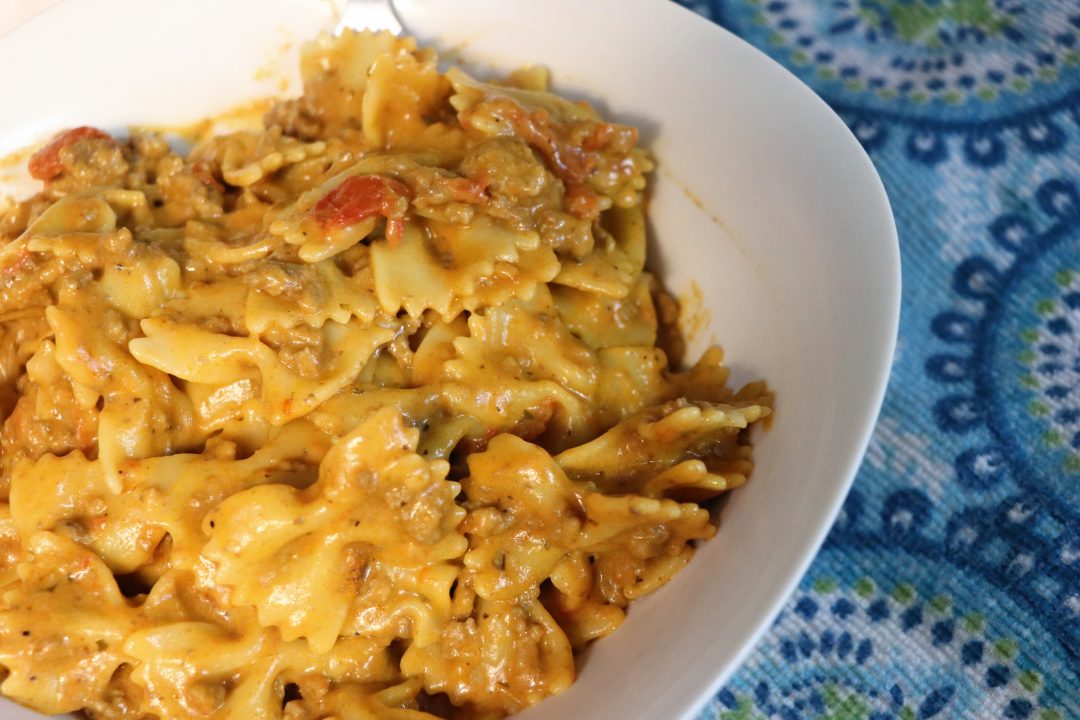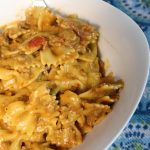 Cheesy Beef and Bow Ties
Simple weeknight meal done in under 30 minutes!
Ingredients
1

lb

Ground Beef

1

Box

Bow Ties

.5

Box

Velveeta Cheese

1

Can

Diced Tomato

Cayenne Pepper

to taste
Instructions
Brown Beef while boiling noodles to according to box recipes.

Mix in the cooked beef and noodles together over low heat.

Add in cheese, tomatoes, and spices. Warm until cheese is melted and everything is warm throughout.