Easy, creamy, and a family favorite. This creamy chicken bacon pasta, with tomatoes, spinach, and parmesan cheese will have everyone begging for the recipe as well as seconds!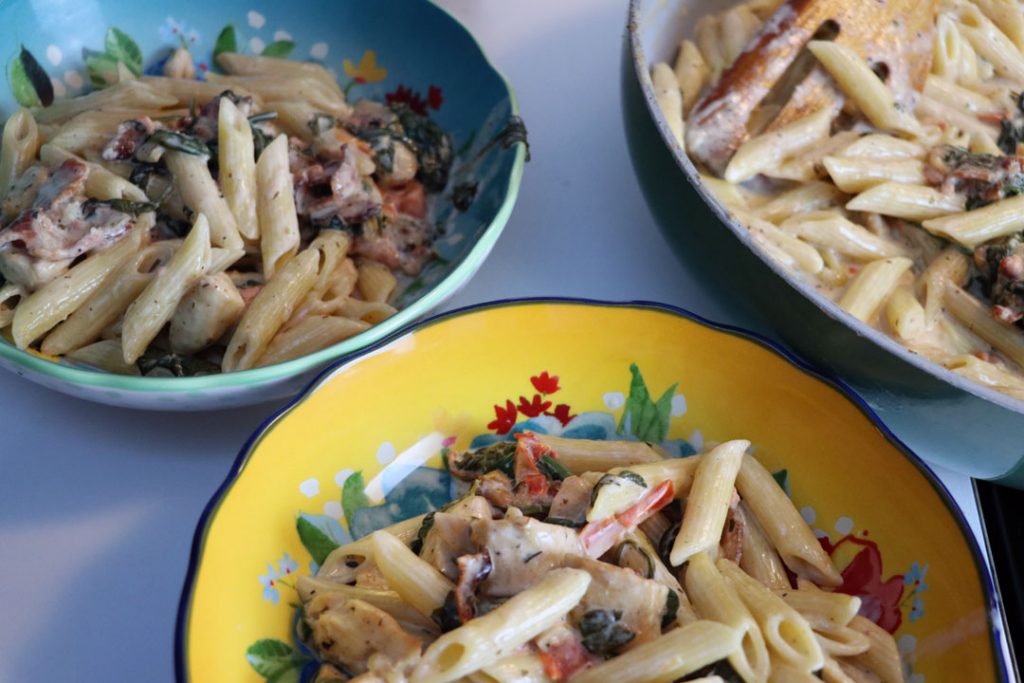 Looking for a super easy weeknight pasta dish? Look no further! This creamy chicken bacon penne pasta is calling your name!
This pasta recipe takes about 20 minutes to make, nothing too complicated or time-consuming and will have everyone in the family asking for seconds. Bonus, it even got my kids to eat the spinach because it is pretty small in this dish! And who doesn't love family-friendly recipes that can convince the kids to eat their vegetables!?!
How to Make Creamy Chicken and Bacon Pasta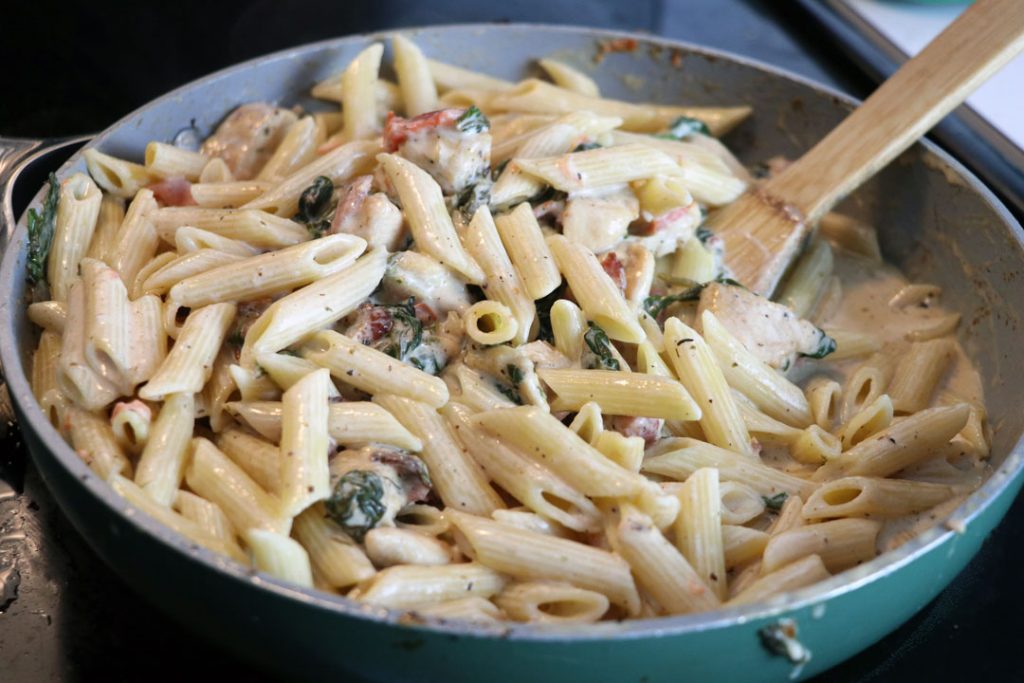 This recipe does have quite a few ingredients, but it is still a super simple pasta dish to make. Most of these ingredients are pantry staples in my house. I was about to basically raid my pantry and fridge and grab everything I needed to make it.
So you may have a lot of these already! I try to always create the easiest recipes possible because as a busy working mom, I know I don't have a lot of time, or energy, to cook a complicated meal. I also really hate buying random ingredients that I will use in one recipe and then never touch again. And I know a lot of y'all who read my blog and try my recipes are in the same boat as me.
So for my fellow busy moms, working inside the home, outside of the home, or whatever it is you are doing, these super simple recipes are always made with you in mind!
Ingredients
Okay, so the ingredients you will need to make this bacon and chicken pasta are:
Chicken– I used chicken tenderloins that I had meal-prepped earlier in the week so that I didn't need to cook it for this dish.
Bacon– About 6 pieces, you will want to use raw bacon for this and not precooked.
Spinach– Fresh or frozen will work just fine.
Tomatoes– Feel free to use whatever variety you prefer, I used Roma tomatoes but this would be great with cherry tomatoes as well!
Garlic– Fresh or jarred minced. I used the jarred because I just don't have the time.
Italian Seasoning
Parmesan Cheese– Grate your own or buy the pre-grated but I don't recommend using the powdered parm!
Heavy Cream
Cooking Wine– Use red or white, I used a red, but you can really use any wine you have already since you will only be using a small splash.
Penne Pasta- Feel free to cook this ahead of time during meal prep to save time if you do a weekly meal prep as I do.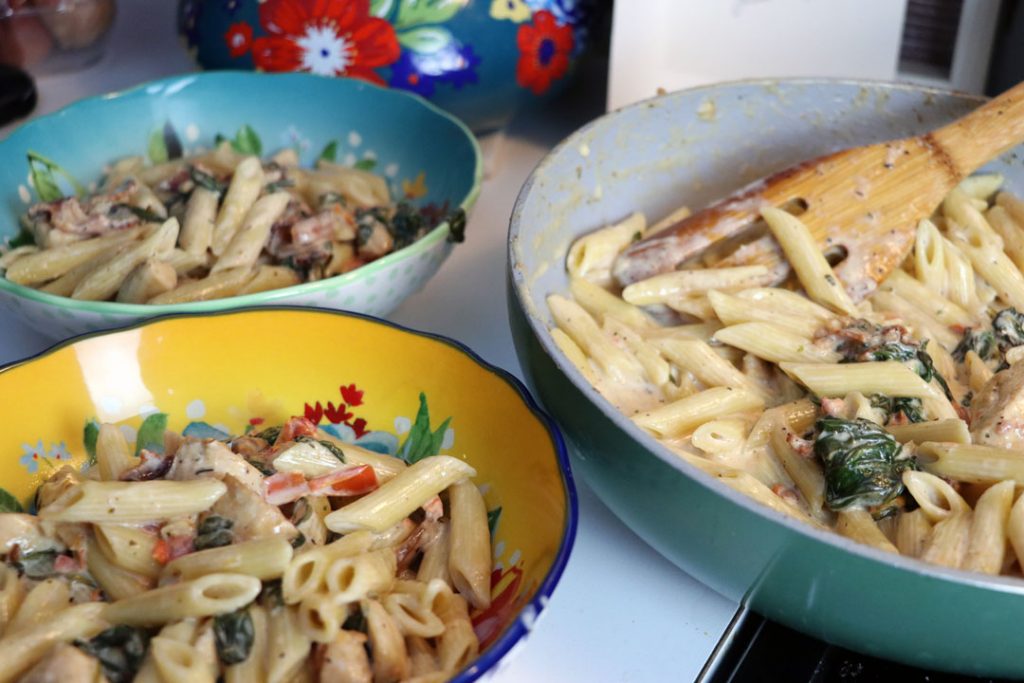 Chicken Bacon Penne Pasta
Once you have grabbed all of your ingredients, you are ready to make this super simple creamy pasta dish! Make sure you check out a few of these tips and then grab the full printable recipe below.
Tips for Making the Pasta
Cook the chicken ahead of time during weekly meal prep to save time.

Pre-cook your pasta! Either during weekly meal prep or while you are making your sauce.

Start with raw bacon. You will cook the bacon, set it aside, and use some of the bacon grease in the now seasoned pan to cook the rest of the sauce!

If you start with cold, cooked chicken, heat it up in the pan with the bacon grease after cooking the bacon.

Use a small splash of wine while cooking the spinach and tomatoes to add extra flavor!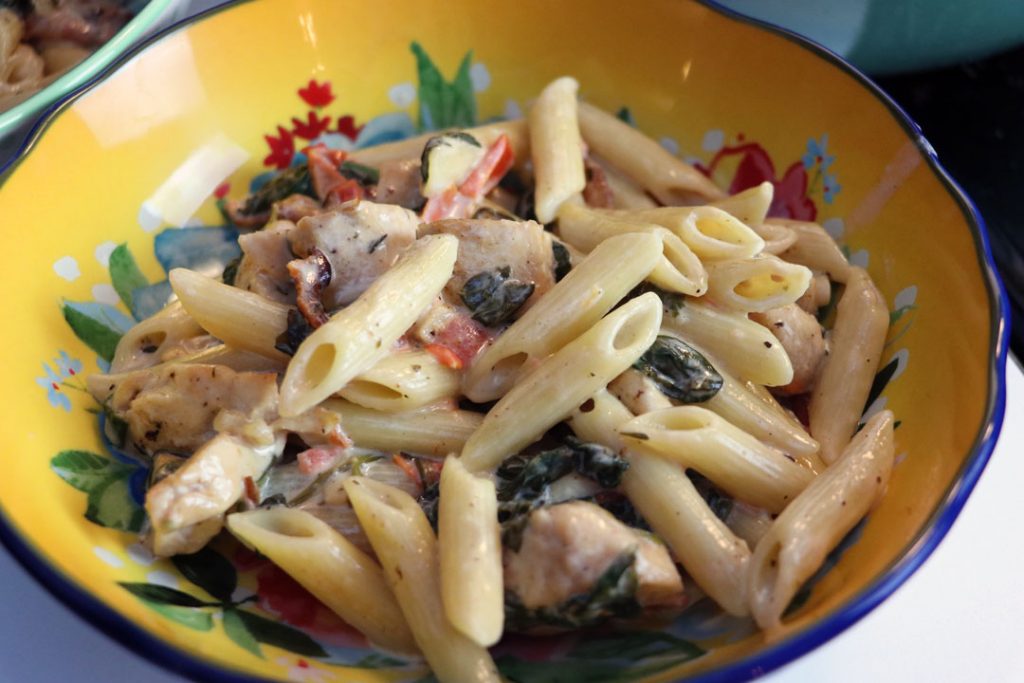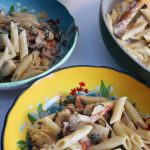 Creamy Chicken & Bacon Pasta
This creamy chicken bacon pasta, with tomatoes, spinach, and parmesan cheese will have everyone begging for the recipe as well as seconds!
Ingredients
Chicken

6

slices

Bacon

1/2

bag

Spinach

or 1 package frozen

2-3

large

Tomatoes

or 1 package cherry tomatoes

2

tbsp

Garlic

1

tbsp

Italian Seasoning

1

cup

Parmesan Cheese

1.5

cups

Heavy Cream

1

splash

Wine

whatever you have on hand

1

box

Penne Pasta
Instructions
Cook your penne according to the box directions.

Cook your bacon in a pan on medium heat.

Remove cooked bacon from the pan, crumble when cooled to the touch, and reserve some of the bacon grease.

If you are starting with cooked chicken, dice and heat up in the bacon grease. If you are using raw chicken, cook it in the bacon pan until cooked through. Remove and place with the bacon.

Add your garlic, tomatoes (diced), and spinach to the hot bacon grease pan.

Splash with wine, then add in the Italian Seasoning. Cook until the spinach is wilted ( just a few minutes).

Stir in the heavy cream and bring to a simmer.

Stir in the parmesan cheese, stirring until melted.

Add in the chicken and bacon.

Finally, add in your cooked penne pasta.

Combine well, serve, and enjoy!