These Turkey Philly Cheese Steak Sliders are the perfect weeknight meal solution! Not only are they easy to make, but delicious as well!
Get the full family-friendly recipe below and share your creation by tagging me on Instagram!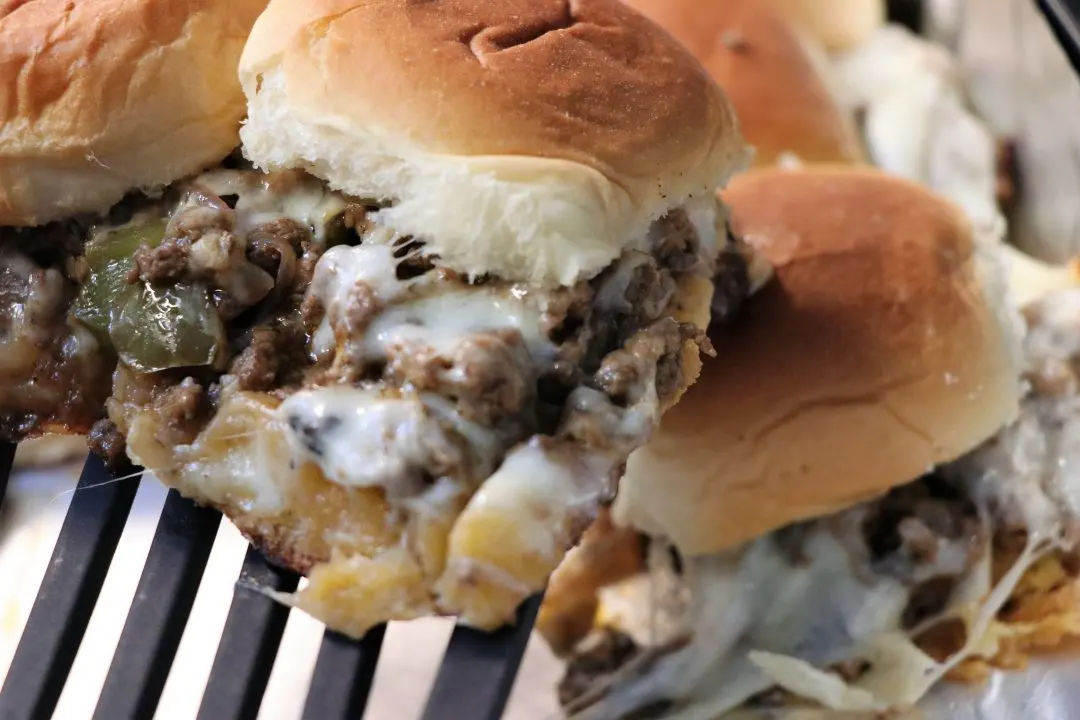 Easy weeknight meals are my favorite! There is nothing more annoying than coming home from work and having to create this extravagant meal that takes an hour to prep and an hour to prepare…
I know I just don't have the time for all of that, so I make easy prep quick-to-cook meals that are delicious and my whole family loves.
I don't know about you but I am a huge fan of Philly cheesesteaks, and I wanted to come up with a way to make them at home in a simple and different way.
Thus my Turkey Philly Cheese Steak Sliders were born. A cross between a Philly and a Sloppy Joe, these little nuggets were so simple to make and tasted absolutely delicious!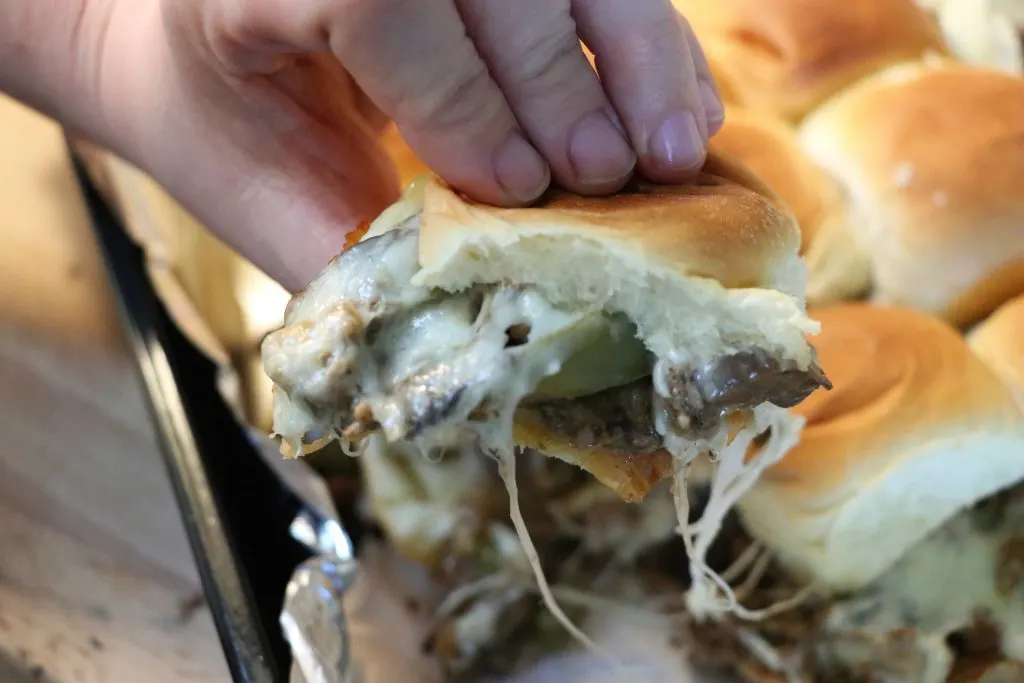 Shopping For Turkey Philly Cheese Steak Sliders
Before we get into making our main dish, you need to go get all of your ingredients. Make sure you add all of the ingredients to your meal plan and grocery list to ensure you aren't missing anything when you get home.
Trust me, I've done it! Not made a real list, gone to the store, and gotten home to realize I forgot one critical ingredient! It is never fun!
So for these Philly sliders, you are going to need the following ingredients ( some of these are pantry staples you probably already have in your home):
Turkey ( or beef if you prefer)

1 Onion

1 Green Pepper

Mushrooms

Sliced White Cheese ( I like smoked provolone myself)

Rolls ( I love the King's Hawaiian Rolls)

Worcestershire

Ketchup
That's it! Once you have all of your ingredients, then you are ready to start cooking!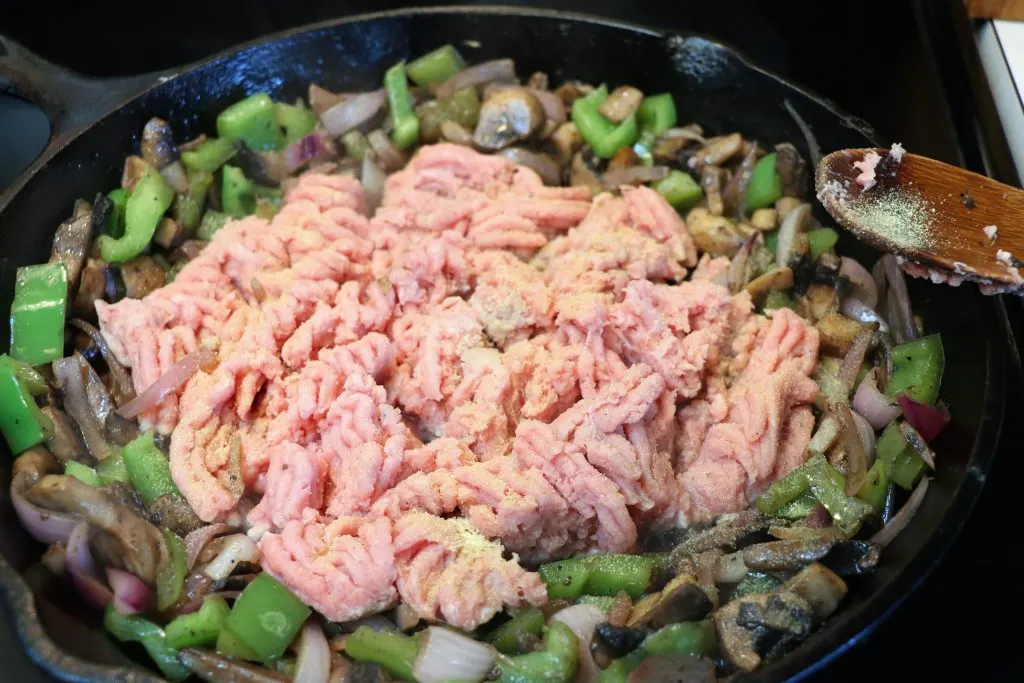 Prepping and Cooking Philly Cheese Steak Sliders
The best part about these sliders, other than tasting amazing, is that they are super easy to make!
First, dice up your veggies and start to saute them in a large pan. Cast iron is my cookware of choice, but feel free to use whatever you prefer.
Once the veggies are starting to soften a bit, add in your ground turkey ( or beef if you prefer). Season with salt and pepper while cooking and allow the meat to cook all of the way through.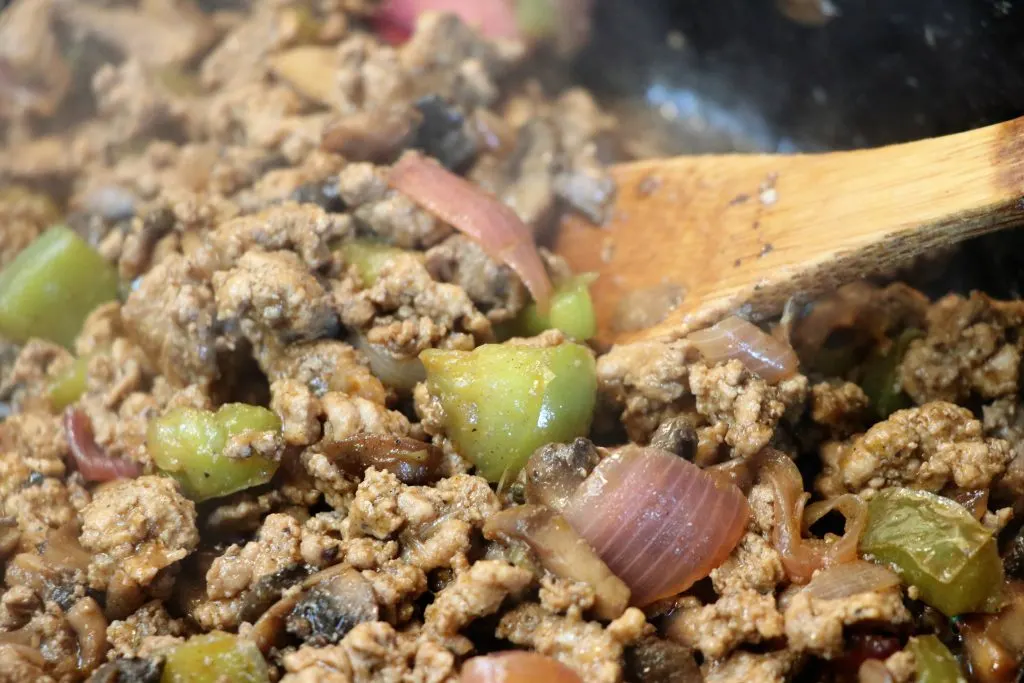 Once everything is cooked through, add in about a TBSP of ketchup and a TBSP of Worcestershire. Feel free to add in as much or little as you like depending on taste. I added a little extra Worcestershire because I love the flavor it gives to the meat and vegetables.
While everything simmers in your pan, preheat your oven to 350°. When you wait, go ahead and get your rolls ready. I used the King's Hawaiian which gave them a slightly sweet flavor which I adore.
Put all of the bottom sides in an oven-safe pan, and top with your meat and veggie mixture finished off with cheese of your choice.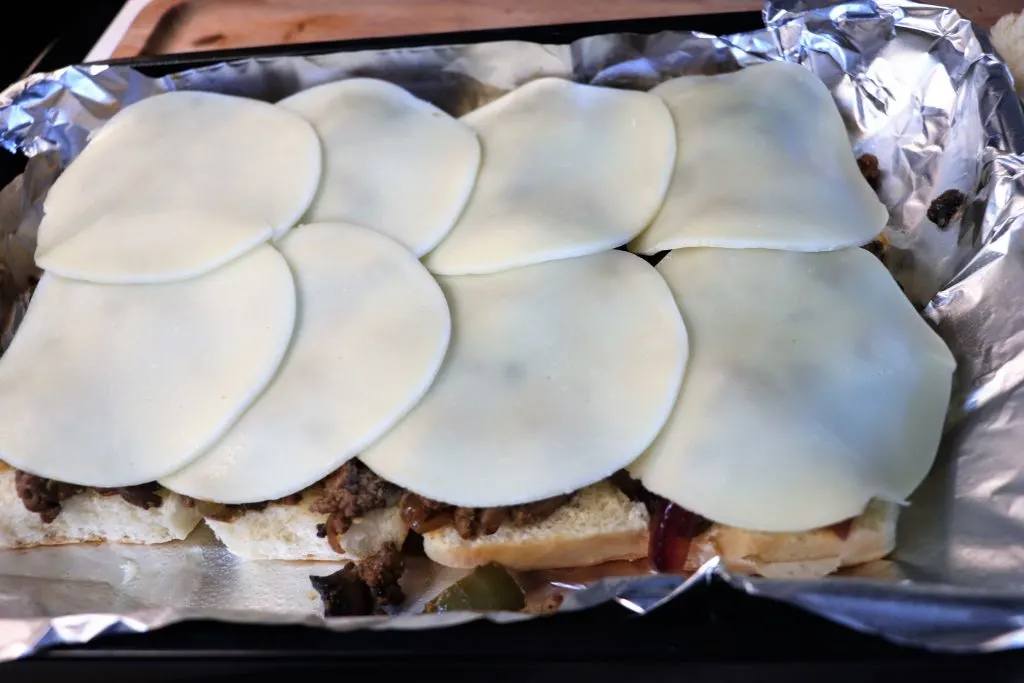 Bake the un-topped sliders for about 5-7 minutes to melt the cheese.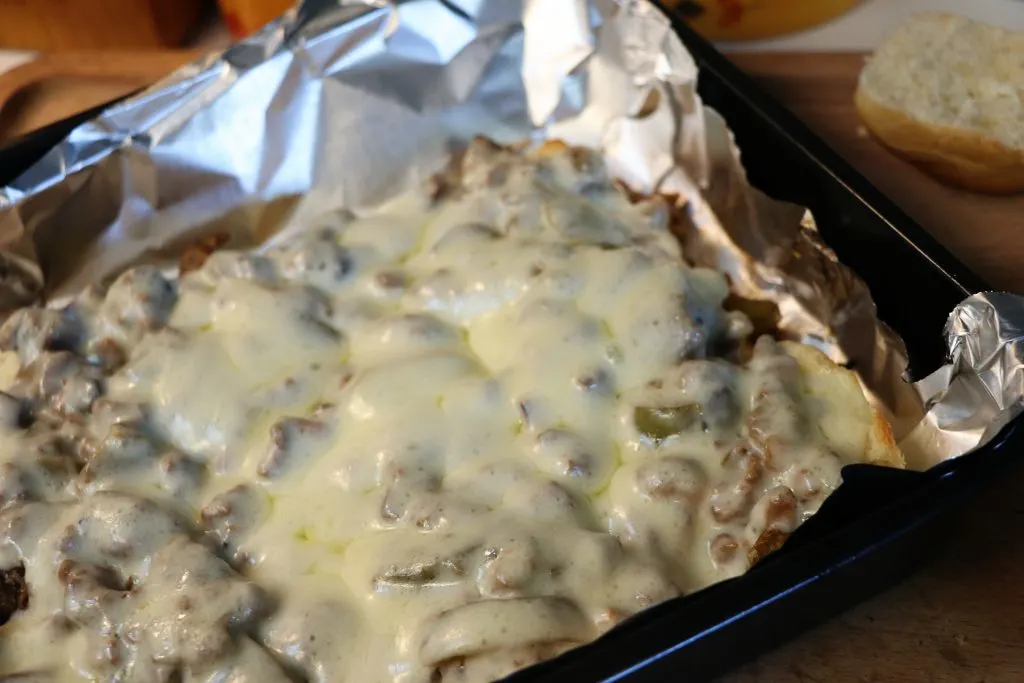 Then place the top buns on and return to the oven for another 5 minutes until they are nice and browned.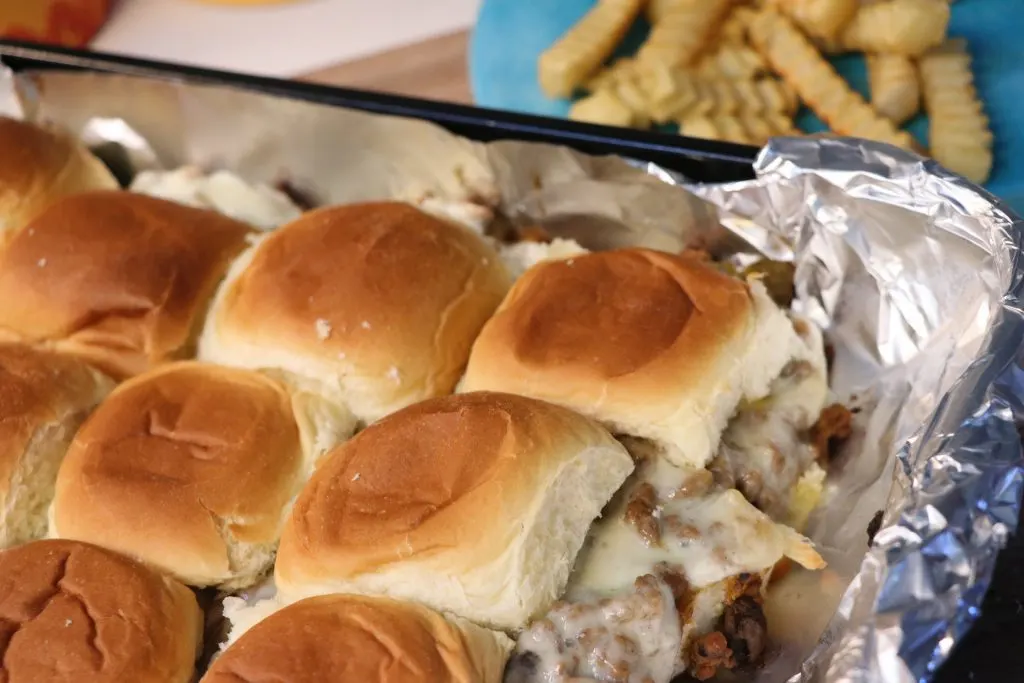 Pull them apart and serve them up to your hungry family! This does tend to make quite a bit, so it is perfect if you have a large family or if you are having guests over for dinner.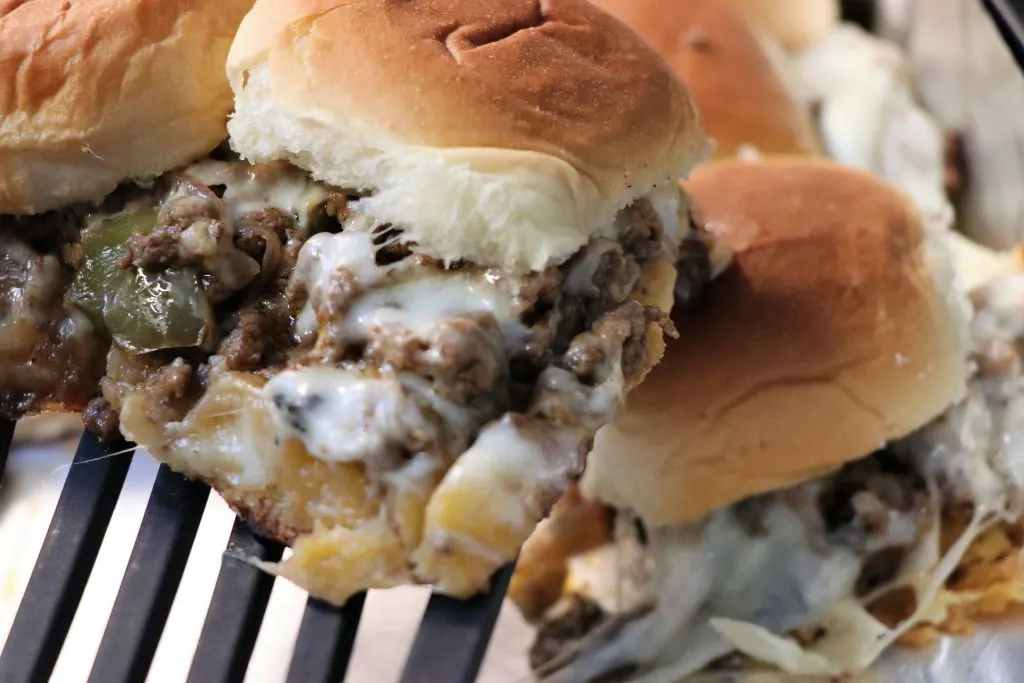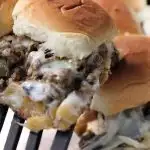 Turkey Philly Cheese Steak
Turkey Philly Cheese Steak

Ingredients
1

Lb

Ground Turkey or Beef

1

Onion

1

Green Pepper

Mushroom

Rolls

Sliced Cheese

1

tbsp

Worcestershire

1

tbsp

Ketchup
Instructions
Dice and saute your Onion, Peppers, and Mushrooms

Add the meat to the pan with the veggies once they are starting to soften. Cook completely through.

Add in Ketchup and Worcestershire to the veggie and meat mixture.

Place bottoms of your rolls in a pan and top with the meat mixture and cheese.

Bake for 5 minutes ( until cheese is melted) Add on the top buns and bake for 5 more minutes.