"May the Fourth" is almost here, and that means it is almost time for Star Wars mania! Although, Star Wars is pretty huge all year, there is nothing more exciting than this time of the year for Star Wars fans of all ages. Theme parks are having Star Wars days ( I will be going to the one atLegoland Florida), and stores have clothes and toys out in full force! My family totally gets into all the hype, and decided to share our fun and easy Star Wars party ideas! These would be perfect for a birthday or even just because!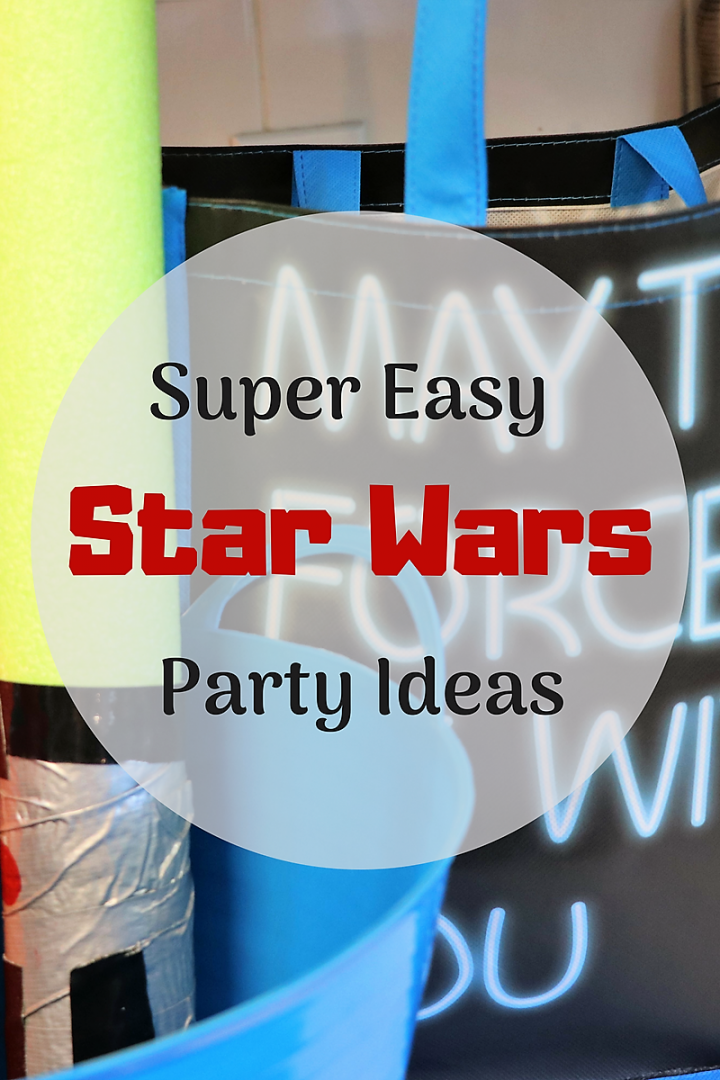 *This post contains affiliate links. Meaning, if you make a purchase, I will receive a small commission at no extra cost to you*
Easy Star Wars Party Ideas
Did I mention how excited it makes me that Star Wars is huge again? I remember loving the original movies as a kid. My mom was always a huge fan, and that love passed right along to me! Now that there are new movies and a renewed love for the series, I have been introducing it to my own children! It has been so much fun. So with "Star Wars Day" quickly approaching, what better way to celebrate than a little party! For starters, check put which Star Wars name belongs to you and then continue with the planning in accordance with that.
We planned out mini "May the Fourth" Star Wars party on a serious budget too! Almost everything I bought was from, you guessed it, the Dollar Tree. They have so many Star Wars themed items right now! Perfect for easy Star Wars party ideas! They had everything from bags, to stickers, puzzles, and so much more!
We even decided to make these super fun DIY pool noodle light sabers!


DIY Pool Noodle Light Sabers
As y'all already know, I am not a crafty mom, but these pool noodle light sabers are so stinking easy! The full tutorial is in the video above, and seriously could not be easier! These guys would be perfect to just make a bunch of and give out as party favors.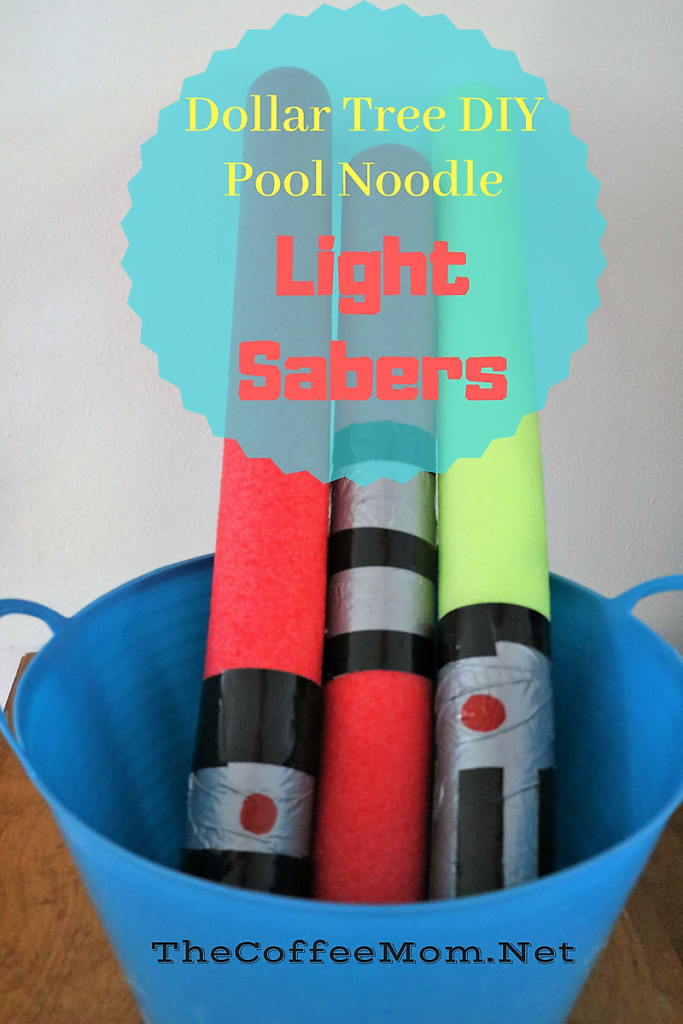 To make these, all I did was cut the noodle in half. Then wrap the "handle" in silver duct tape. I used a black duct tape to make the accents and a red sharpie to make the button!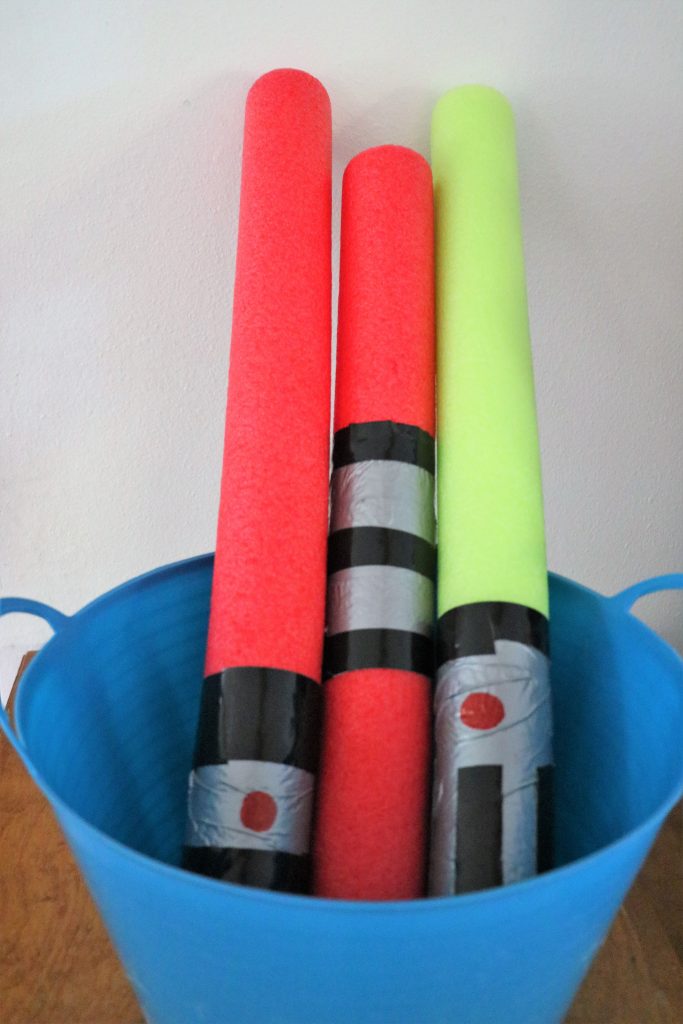 More Easy Star Wars Party Ideas
Itching to check out some more easy Star Wars Party Ideas? Not a problem, I have you covered! I paired up with a few awesome bloggers to bring you even more amazing Star Wars content… Because seriously, who doesn't dream of being a Jedi one day!?!
Journey of Parenthood
Seriously, this party that was thrown by Emily from Journey of Parenthood is just amazing! No detail was left out! I think I want her to plan my next birthday party!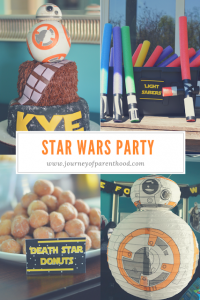 Maune Legacy
Here is another stunning Star Wars party set up by Jennifer from Maune Legacy. She has a seriously stunning tablescape and the cutest R2D2 cake!

2 Dorks In Love
I am seriously in love with these wine glasses made by Nessa from 2 Dorks in Love. This would be a perfect party favor for adults to take home from any Star Wars themed party! I love that she made them wedding glasses in her tutorial and if I wasn't married already, I would so have these at my wedding!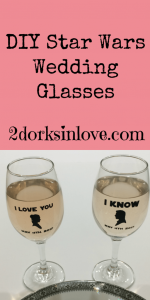 There are so many fun and easy Star Wars party ideas, that I think I may throw myself a Star Wars birthday this year! I mean, that's totally cool for a 29 year old to do right?