Since I have been on this healthy living journey, finding healthy and delicious recipes has been a huge goal of mine. I have always been a huge fan of seafood and I love that it is one of the healthier foods out there. So when I came across this bourbon salmon in my grocery store, I knew I had to get it. I cooked it in the oven with asparagus and it was a huge hit with the whole family! Seriously, it was so easy too!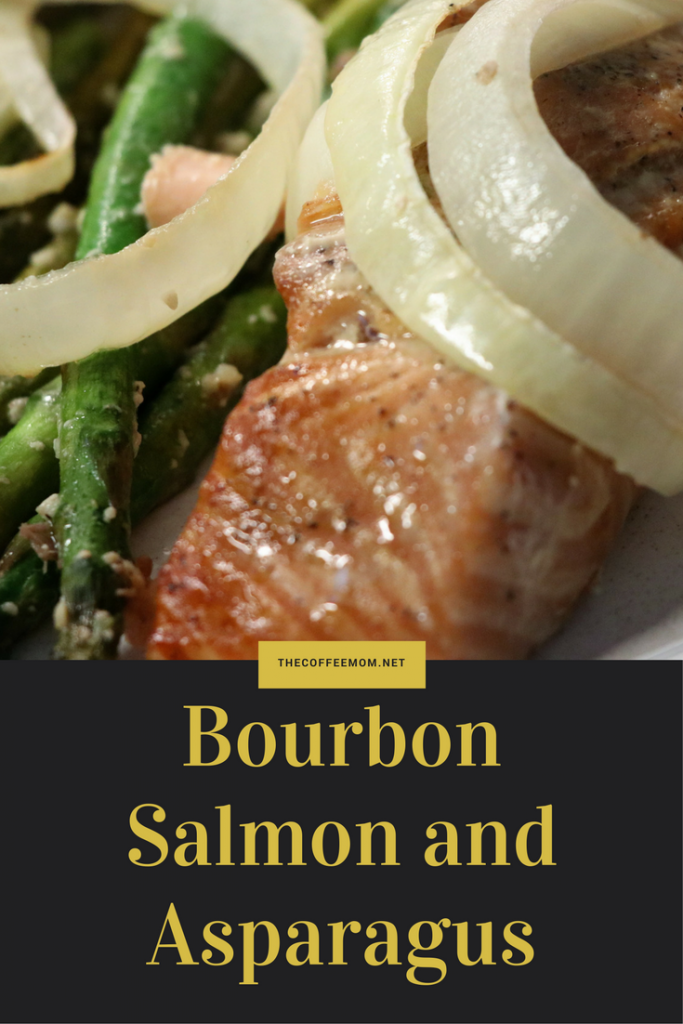 Bourbon Salmon and Asparagus
When I say that this recipe is easy, I mean it! I purchased my salmon pre-marinated in the fresh seafood section of my local Publix, but you can easily make your own marinade as well. Bourbon salon is a super easy dish to make for weeknight family dinner, but it is also perfect for those of you who meal prep as well.
Preparation of Your Burbon Salmon & Asparagus
As I mentioned, I purchased the salmon already marinated. Making your own marinade though wouldn't be difficult. In the past when I have made my own bourbon marinade, it had come out tasting pretty must exactly as this did!
Make Your Own Burbon Salmon Marinade
To make your own marinade you will need.
Bourbon
Brown Sugar
Salt & Pepper
Seriously, that is it! You will want to put your salmon in a freezer bag. Then pour in enough bourbon so it just covers the salmon. I typically don't measure it out so don't worry about exact measurements for this. Then add in your brown sugar, about a TBSP or two ( I usually do two). Salt and pepper to taste! I mix everything up in the bag until the salmon is coated well. Leave it in the refrigerator for a few hours ( overnight works best).
Asparagus
Once your salmon is marinated and ready, you want to prep the asparagus. I just washed it, cut off the bottoms a bit, and tossed them into a freezer bag. In the bag, I coasted them with olive oil. Not too much, but just enough to give them a good coating. I added in grated Parmesan cheese minced garlic, salt, pepper, and some lemon juice. Mix that up until it is well coated. Then you will add it to a foil-lined pan. You will also want to make sure you have your oven on pre-heat to 425.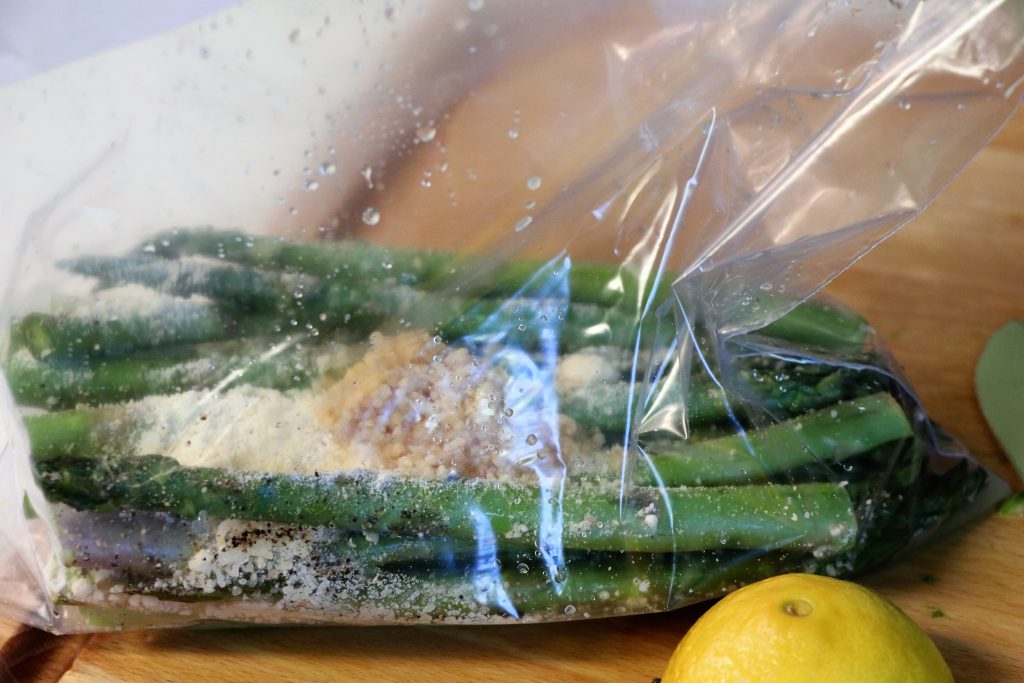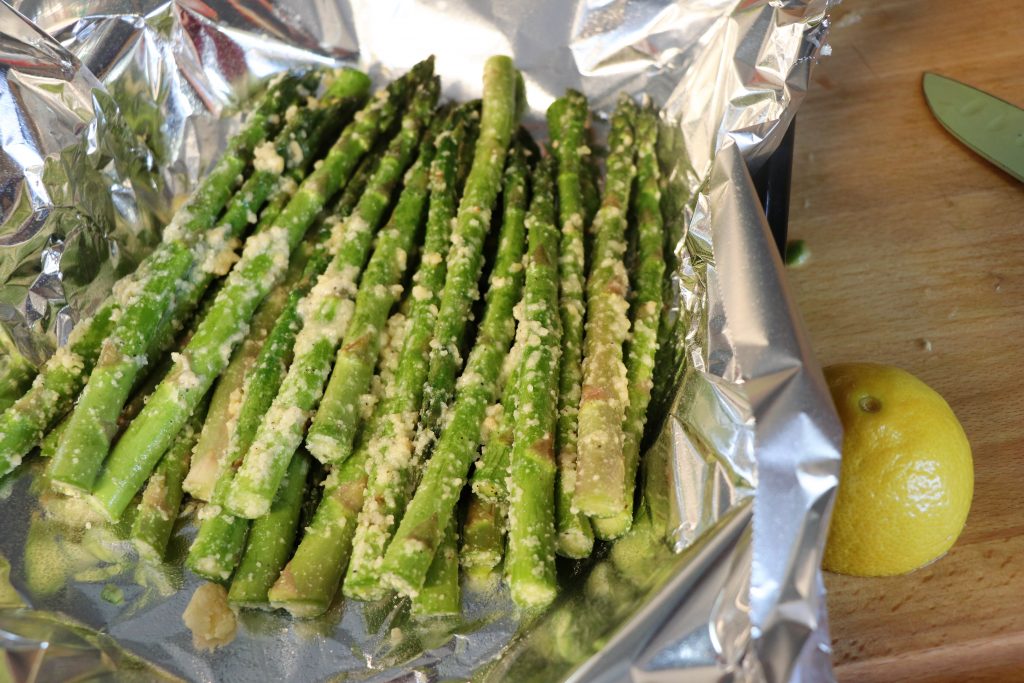 The Salmon
Now that your asparagus is all laid out, it is time to add the bourbon salmon. Place the marinated salmon directly on top of your asparagus. I like to cook them together for two reasons. One, it makes for fewer dishes to clean up later. Two, the flavors really blend together nicely!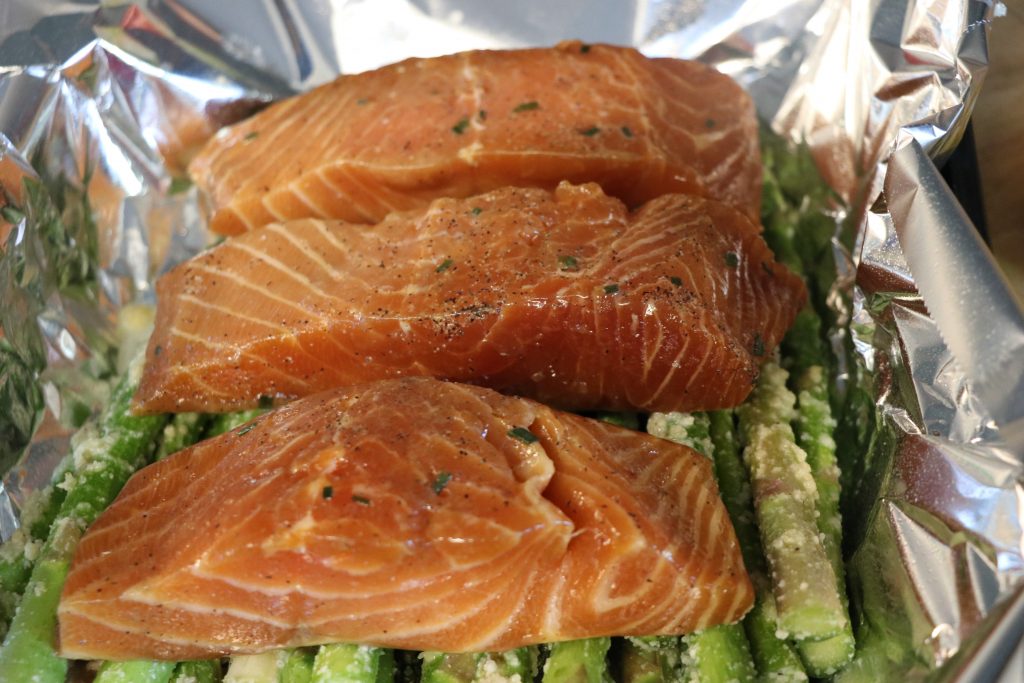 Then you will want to slice up about half of an onion. You can use white or sweet Vidalia for this. Top your salmon with the onions.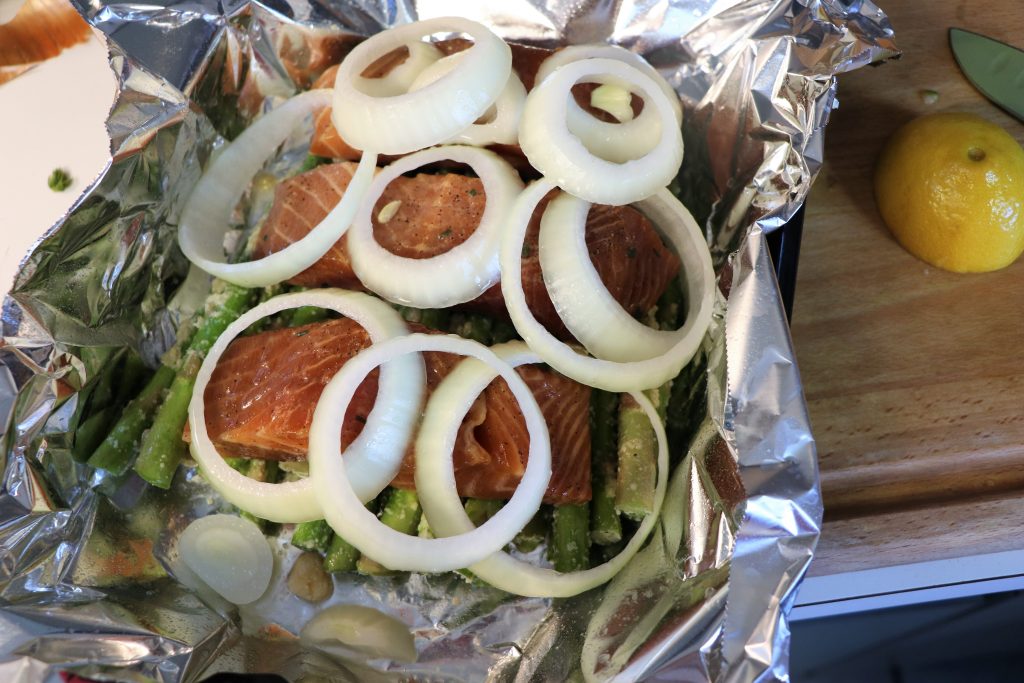 Last but not least, slice a lemon in half and squeeze the juice over top. I like to leave the lemon itself on top as well to really cook in the flavor. Once this is done, cover the entire pan with foil and put it in the oven for about 20 minutes.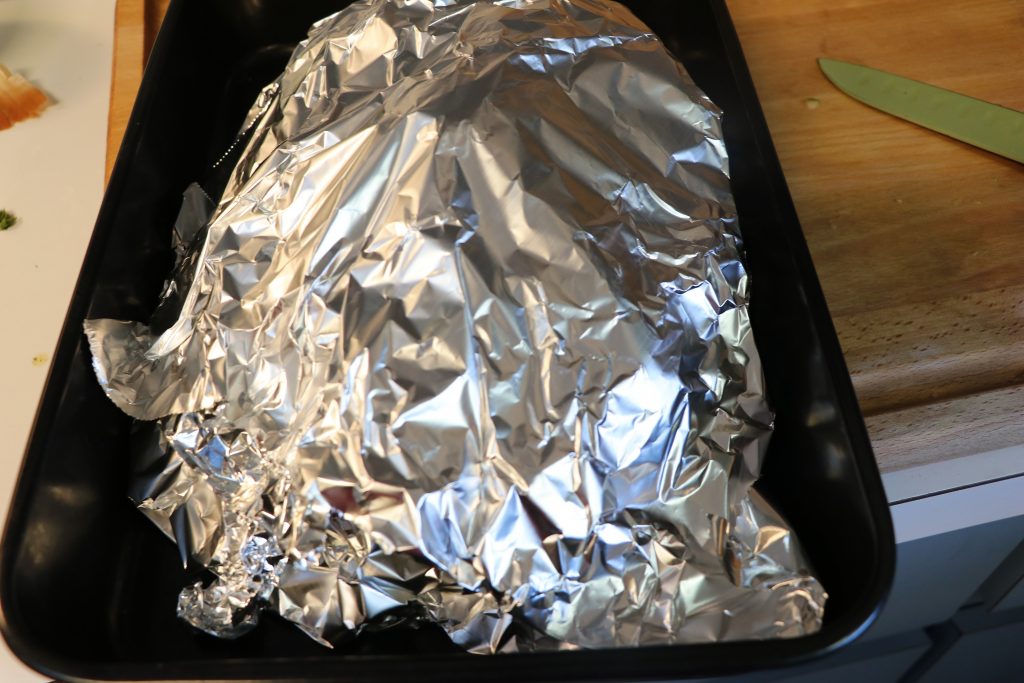 After 20 minutes, remove the bourbon salmon from the oven and take off the foil covering it. Then you are going to pop it back in the oven for another 10-15 minutes.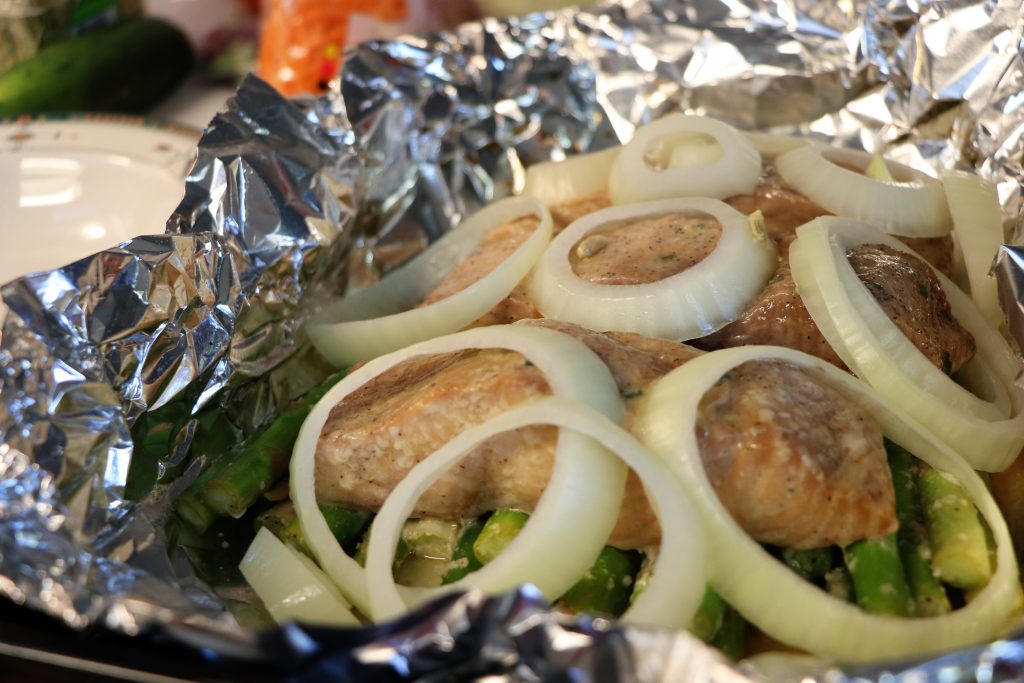 When that time is up, you are ready to eat this delicious meal! It is that easy! Healthy, fresh, and perfect for the family! My kids tore this up!
If you are meal prepping, you can make the salmon as directed, and then separate it out into individual containers. Put them in the refrigerator and have nice and healthy lunches for the whole week! I had made extras when I cooked mine for a few lunches. I just heated them up for about 10 minutes in my toaster oven and they tasted just as good as the night I made them.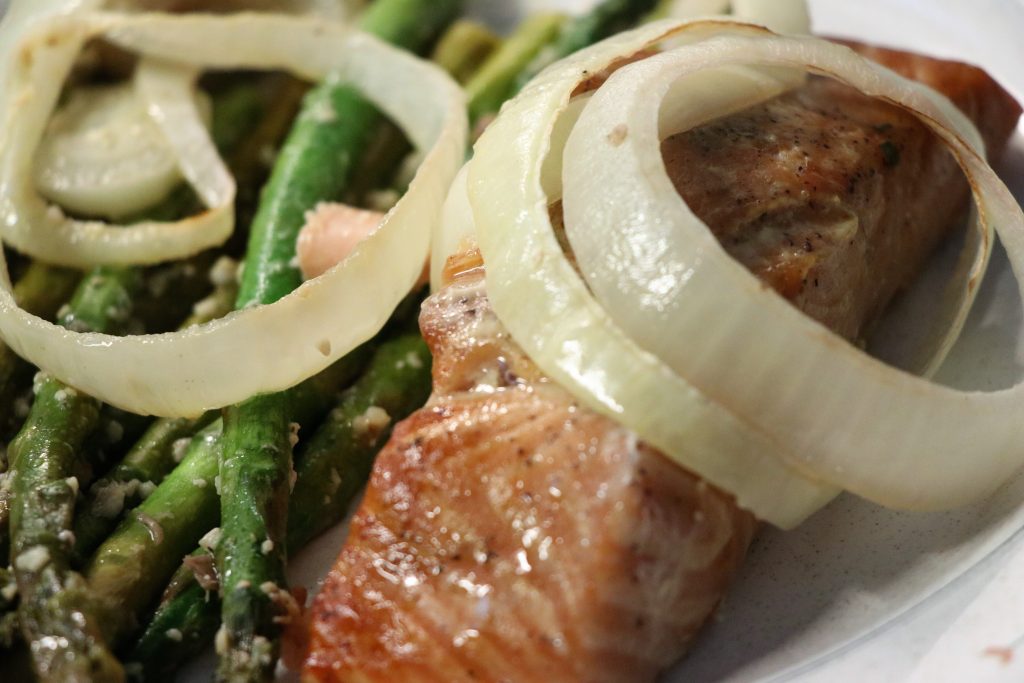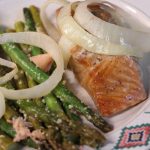 Bourbon Salmon and Asparagus
Healthy bourbon salmon and asparagus
Ingredients
Bourbon Marinated Salmon

Fresh Asparagus

2

Lemons

1/2

Onion

Grated Parmesan Cheese

1

tbsp

Minced Garlic

1

tbsp

Olive Oil

Salt and Pepper
Instructions
Place cleaned asparagus into a ziplock bag with olive oil, minced garlic, Parmesan cheese, juice from 1 lemon, salt, and pepper. Combine until well coated.

Place asparagus onto a foil lined pan

Top asparagus with the marinated bourbon salmon

Top your salmon with half an onion, and the juice of the remaining lemon. Feel free to leave the lemon itself on top during the cooking process.

Cover with foil and cook for 20 minutes.

Remove cover after 20 minutes and cook for 10-15 more minutes.

Remove from oven and enjoy!