Derby Day calls for the perfect snack. Something sophisticated and refined, but packed with flavor and easy to make. Vidalia Onion Peach Chutney checks all the boxes with its savory-sweet flavor profile and snacking versatility.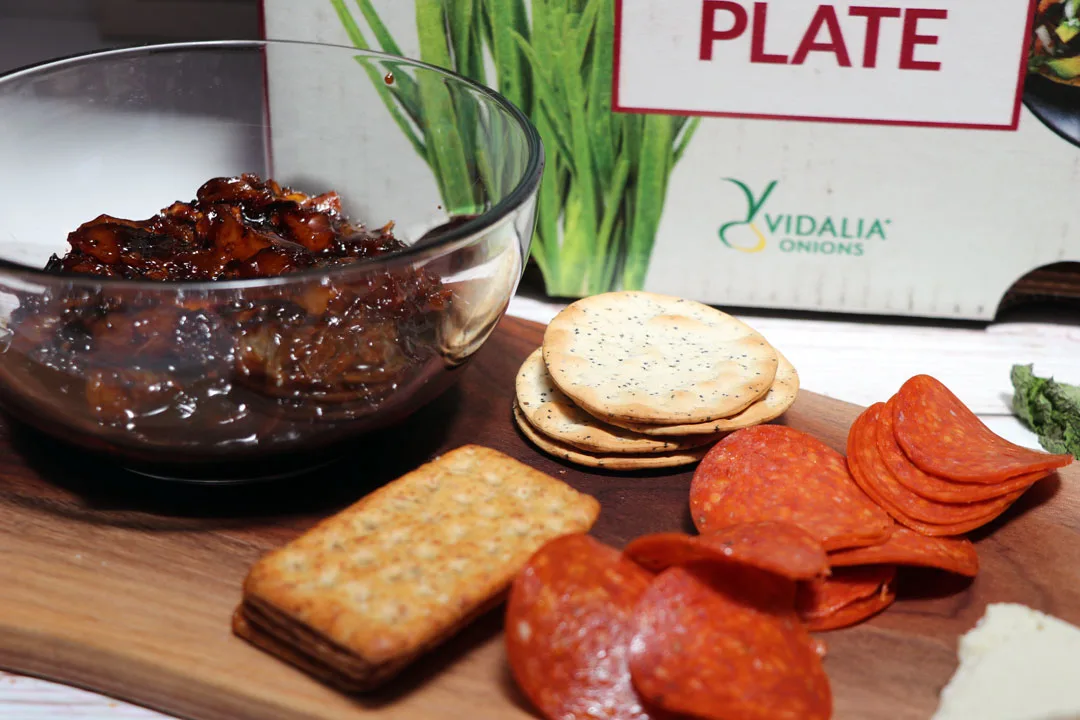 This blog post has been sponsored by the Vidalia Onion Committee. Links featured within, not inclusive of the official Vidalia Onion Committee website or previously sponsored content, are not sanctioned by the Vidalia Onion Committee.
Did you know that Central Florida, specifically Ocala, is the "Heart of Horse Country"? Probably not honestly. Most people think of our beautiful beaches and thrilling theme parks when they think of Florida, but the horse people know the real secret of Florida's wild beauty.
Ocala has been a horse haven for years. Our farms produce numerous Derby winners. Award-winning trainers and the best breeders tend to come from this lesser-known part of the Sunshine State.
The locals know though! Oh, we know and because of our close ties to the horse world, we tend to go a little overboard when celebrating Derby day. Even when we just spend race day at home with family, we still tend to dress in our best Derby hats, set out fantastically delicious snack spreads, and root for our favorite horse in the most thrilling 3 minutes in sports.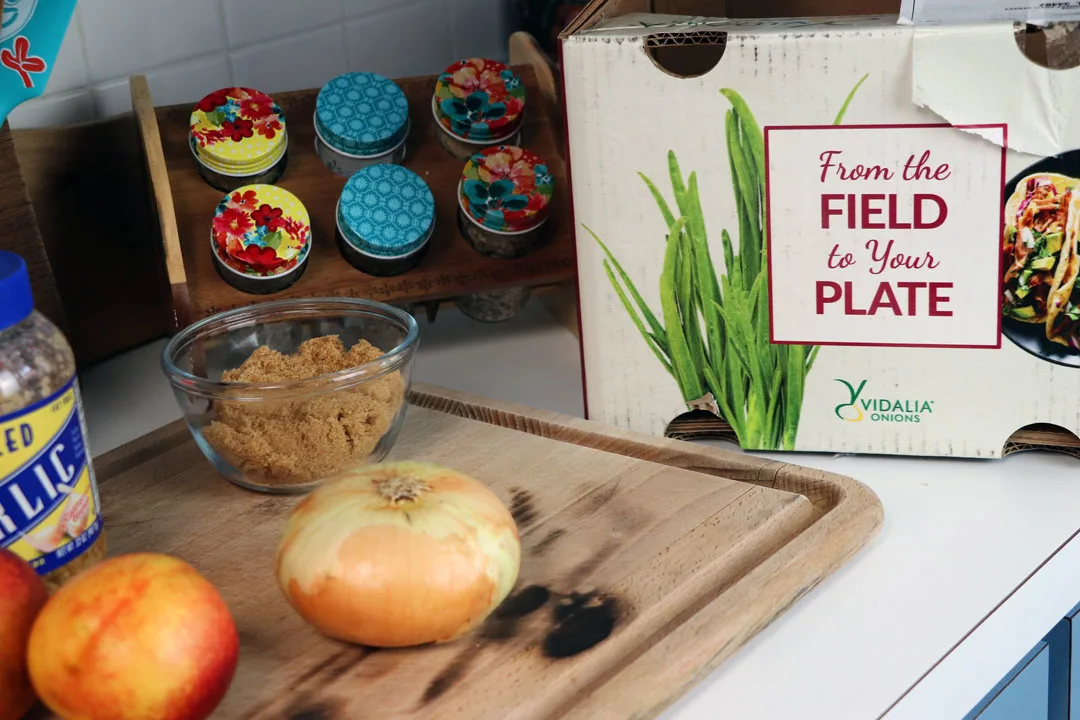 Derby Day Snacks: Onion & Peach Chutney
When it comes to Derby Day celebrations, good food is key. Not only do we want to enjoy the race, but we also want to stuff our faces.
Derby snacks need to be elevated. They must have a feeling of elevation that traditional sports snacks don't require. So when looking for some good ideas to make this year, I headed over to the Vidalia Onion Committee's website for a little inspiration from their official Kentucky Derby menu.
The Kentucky Derby is known for its mint-juleps and 5-star cuisine, and this year it will also feature Vidalia onion recipes across Churchill Downs on May 1.
Vidalia onions are synonymous with life's sweet moments. Whether that be through events like the Kentucky Derby, creating a delicious meal for your family, cooking up an extra portion for a neighbor or simply indulging for yourself.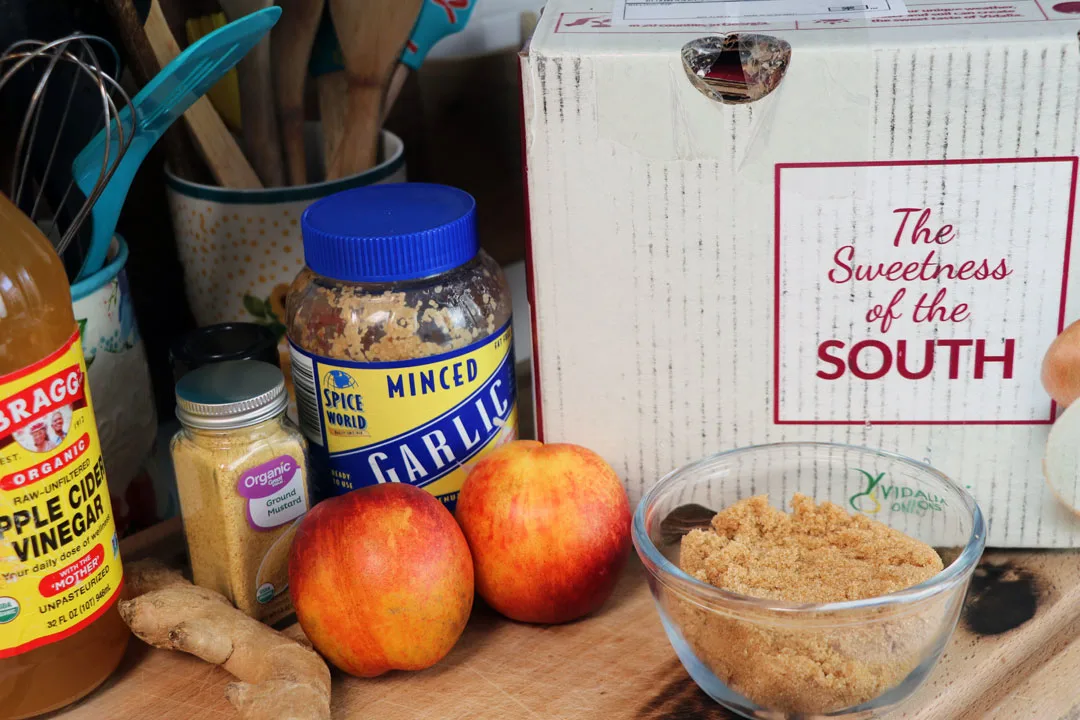 Starting a New Family Tradition
One of my favorite Derby Day traditions has always been cooking a delicious spread and dressing up in fancy hats with my family. If you don't have any Derby Day traditions, it isn't too late to start!
You can start a new tradition by celebrating the Kentucky Derby at home and cooking official Vidalia onion dishes together. I will be doing this myself. Cooking up my favorite dish from their website, the Vidalia Onion Peach Chutney.
Visit the Kentucky Derby's Party Central page to access official Vidalia onion recipes curated by Churchill Downs' Executive Head Chef to make at home.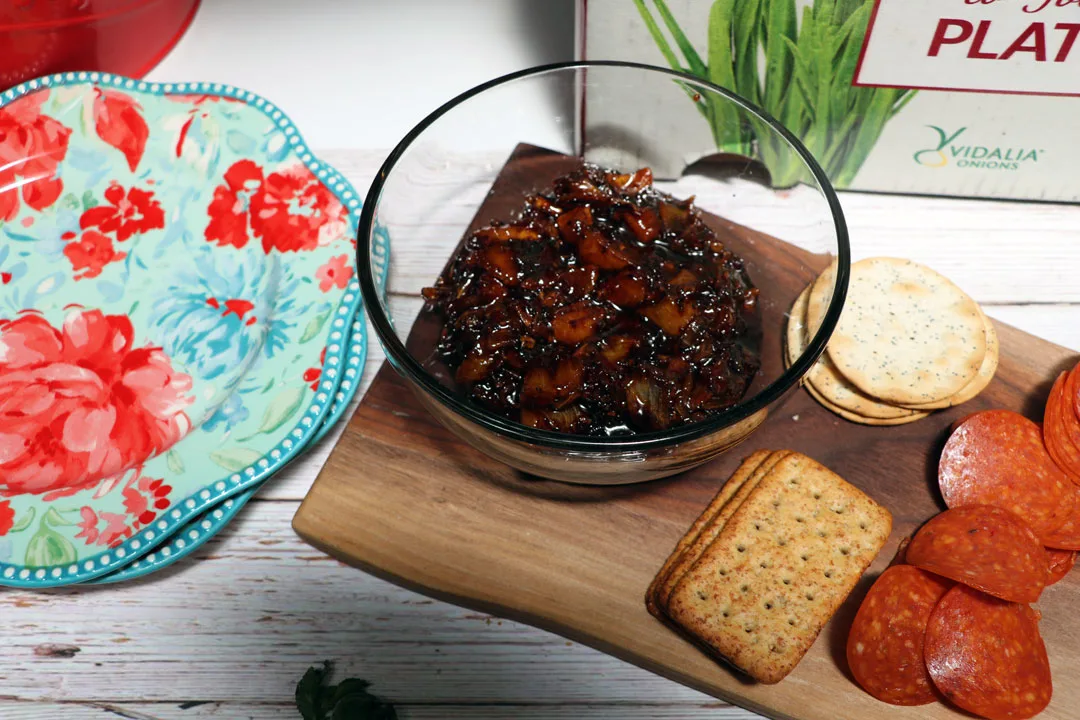 Vidalia Onion Peach Chutney Recipe
To make a peach chutney, you will need the following ingredients:
1 TBSP canola oil

A Vidalia onion, diced

1 clove garlic, minced

1tsp grated ginger

1 cup light brown sugar

½ cup apple cider vinegar

2 Pounds firm peaches, peeled, cored, and medium diced

½ tsp chili flakes

1 pinch dry mustard
For the ginger, you can use dried ginger, but I prefer fresh ginger because it gives it a much more fresh taste.
Coring the Peaches
Coring, dicing, and skinning the peaches was the part I personally found the most difficult. If you are struggling with this as well, try to locate the natural indent of the peach. Start at the stem and cut in half. Gently twist each side of the peach in opposite directions. It should then pull apart rather easily. Remove the pit. It should just pop out, but if not, you can carefully pry it out with a spoon.
What is Peach Chutney?
Simply put, chutney is a gluten-free, usually spicy and savory, condiment that originated in India. It is usually made with a variety of fruits, vegetables, and herbs paired with an acid such as vinegar to give it a bit of a bite.
Broadly, the word chutney is now applied to anything preserved in sugar and vinegar, regardless of its texture, ingredients, or consistency. So peach chutney is just a version of a traditional chutney made with sweet peaches paired with savory onions and spicy chili flakes.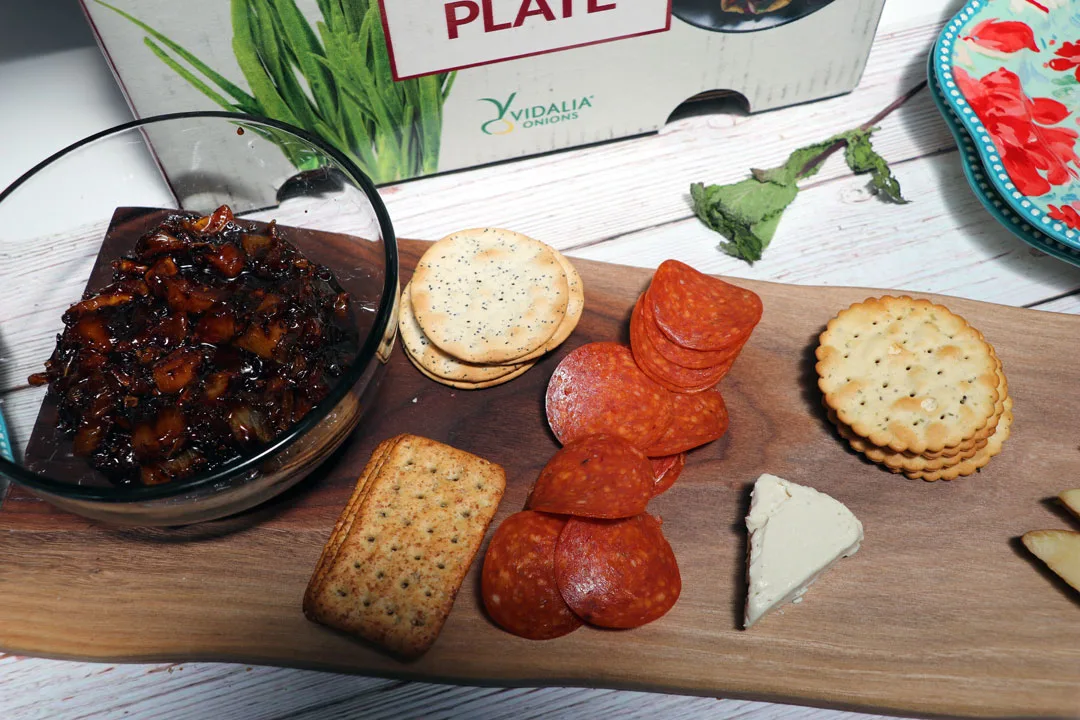 Vidalia Onion and Peach Chutney Printable Recipe
You can grab the printable Vidalia onion peach chutney recipe below. Then head over to the Kentucky Derby's Party Central page to get more delicious Derby Day recipes.
Remember, Vidalia onions are hand planted and harvested in only 20 counties in South Georgia and are only available from April to August each year. Get them while you can!
Vidalia Onion Peach Chutney
Sweet and savory, this peach chutney is a perfect appetizer or condiment for chicken, pork, or steak.
Ingredients
1

Tbsp

Oil

1

Vidalia Onion

diced

1

clove

Minced Garlic

1

Tsp

Ginger

Grated

1

Cup

Brown Sugar

1/2

Cup

Apple Cider Vinegar

2

Lbs

Firm Peaches

peeled, diced, cored

1/2

Tsp

Chili Flakes

1

Pinch

Dry Mustard
Instructions
Cook your diced Vidalia Onions and oil in a Dutch Oven over medium heat until they start to get soft and translucent.

Mix in Ginger and Garlic. Stir and cook about a minute.

Mix in brown sugar and Apple Cider Vinegar.

When everything is well combined and dissolved, mix in your peaches, chili flakes, and mustard.

Cover the Dutch Oven and allow to simmer on medium/low heat for about 35 minutes.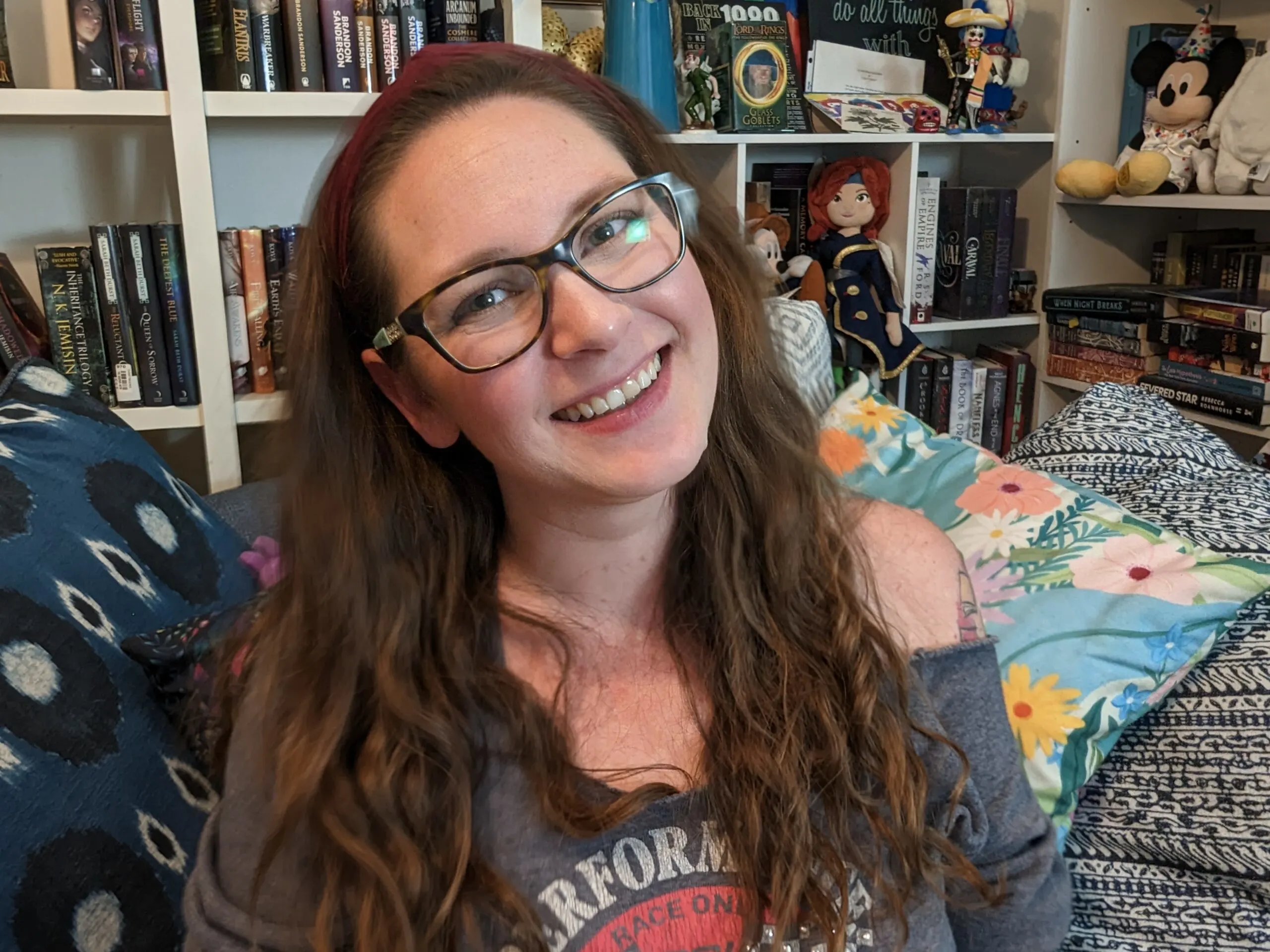 Jessi is the creative mind behind The Coffee Mom, a popular blog that combines parenting advice, travel tips, and a love for all things Disney. As a trusted Disney influencer and passionate storyteller, Jessi's authentic insights and relatable content resonate with readers worldwide.