Air fryer chicken parmesan is a quick and easy dish that the whole family will love!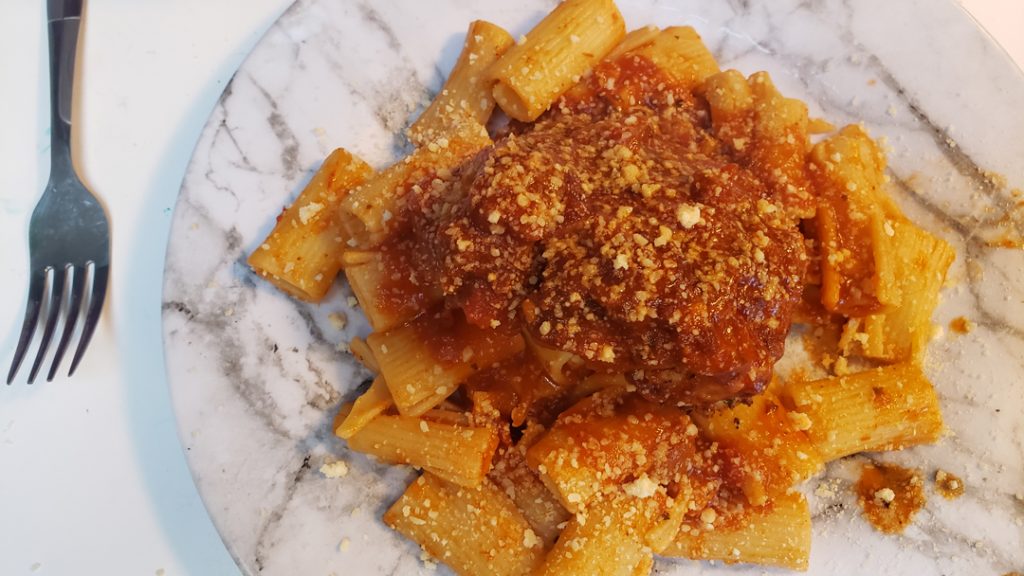 *This post may contain affiliate links. Purchasing from one of these links will lead to me receiving a small commission at no extra cost to you*
I have been using my Ninja Air Fryer for some time now, and I have to say it has quickly become my favorite small kitchen appliance. It is wonderful for veggie recipes like this air fryer asparagus, but I wanted to try out a protein this time. So I decided to try one of my go-to recipes and adjust it for the air fryer, thus my air fryer chicken parmesan was born.
Using some super minimal ingredients, this chicken parm can be ready to eat in 20 minutes!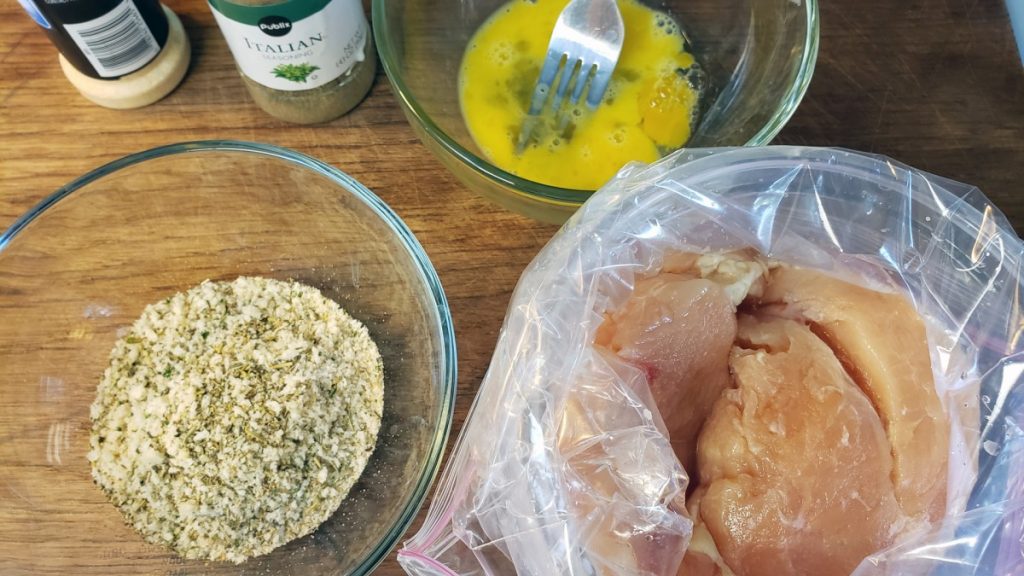 All you need to recreate this recipe is some chicken, an egg, panko bread crumbs, and some Italian seasoning. You will also want to have sliced provolone cheese, pasta sauce, and your choice of noodles. I love rigatoni noodles for this one!
Star out by breading your chicken. Dredge the chicken in the beaten egg, and then coat with the seasoned bread crumbs. When all of your chicken breasts are breaded, preheat your air fryer to 375° for three minutes.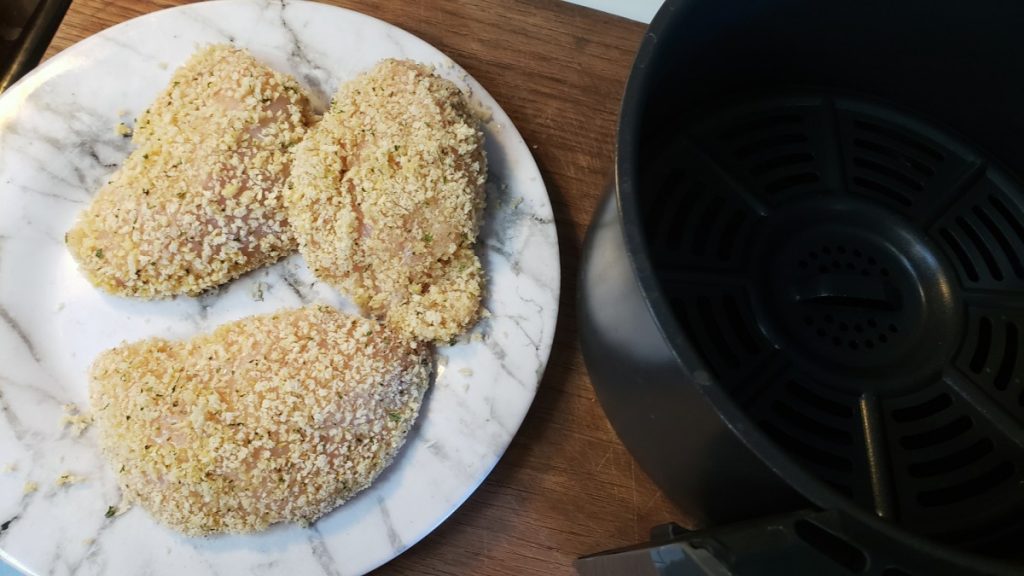 With your air fryer preheated, place the chicken breasts into the basket and cook for 7 minutes. After 7 minutes, flip and cook for 7 more minutes.
Cook time will vary based on the thickness of your chicken breasts. The ones I used are a medium thickness. Chicken should be cooked to an internal temperature od 165°F.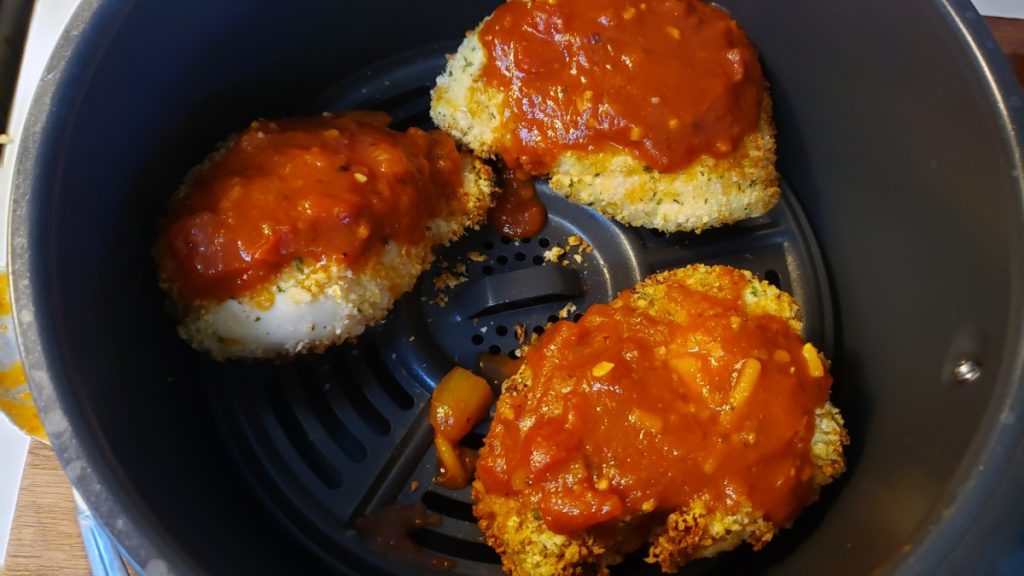 After the chicken breasts are cooked, top with some of your pasta sauce.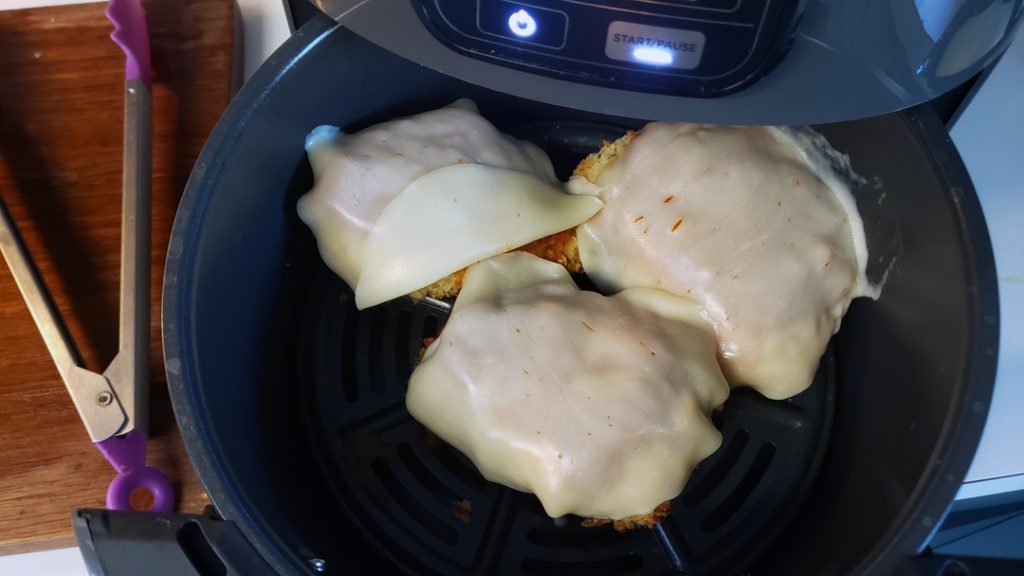 Cover with a generous helping of cheese, feel free to use mozzarella or provolone. I prefer mozzarella but did not have any on hand so I used provolone and it worked very well.
Cook for an additional 2-3 minutes until the cheese is melted. Notice, mine cooked a little long but I like a browned crispy cheese.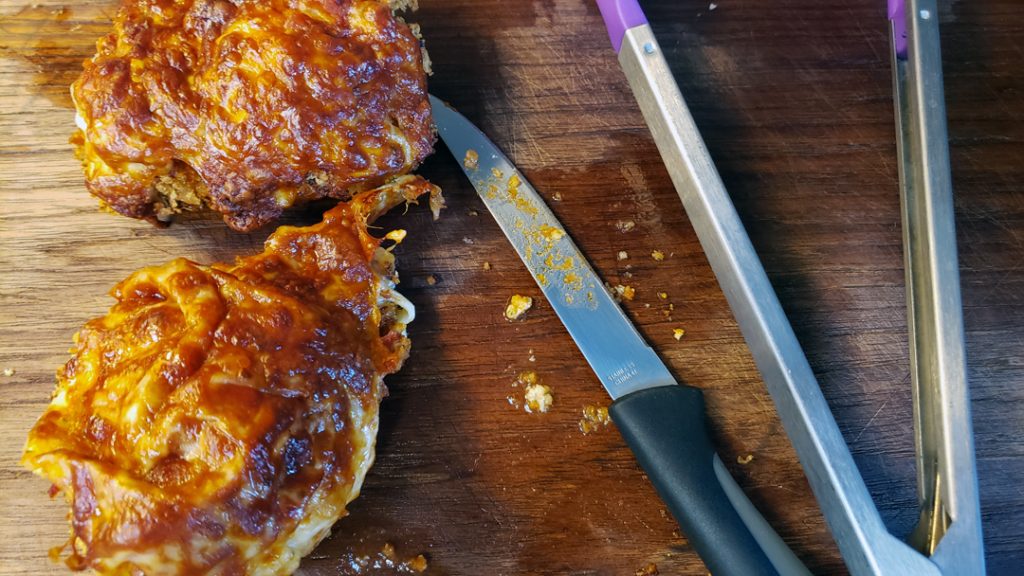 Now all you have left to do is serve your chicken over a bed of noodles and sauce and you are ready to go with a delicious family meal!
Air Fryer Chicken Parmesan Printable Recipe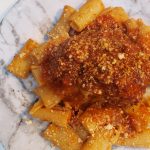 Air Fryer Chicken Parmesan
a simple chicken parm recipe cooked in the air fryer that is done in under 30 minutes.
Ingredients
1

lb

Chicken Breasts

1

cup

Panko Breadcrumbs

1

tbsp

Italian Seasoning

1

Egg

beaten

Sliced Provolone or Mozzarella

Pasta Sauce

Cooked Noodles
Instructions
Preheat your air fryer to 375° for 3 minutes

Dredge your chicken breasts in the beaten egg.

Coat your chicken in seasoned bread crumbs.

Cook for 6-7 minutes in the air fryer.

Flip and cook for 6-7 more minutes.

Top with pasta sauce and cheese, and cook for 2-3 more minutes to melt the cheese.

Serve over noodles and enjoy!
Pin Me For Later
Love this recipe? Go ahead and pin it for later!