Smash cakes aren't just for babies anymore! A 30th birthday smash cake photo shoot is a fun way to celebrate the coming of a new and fabulous decade!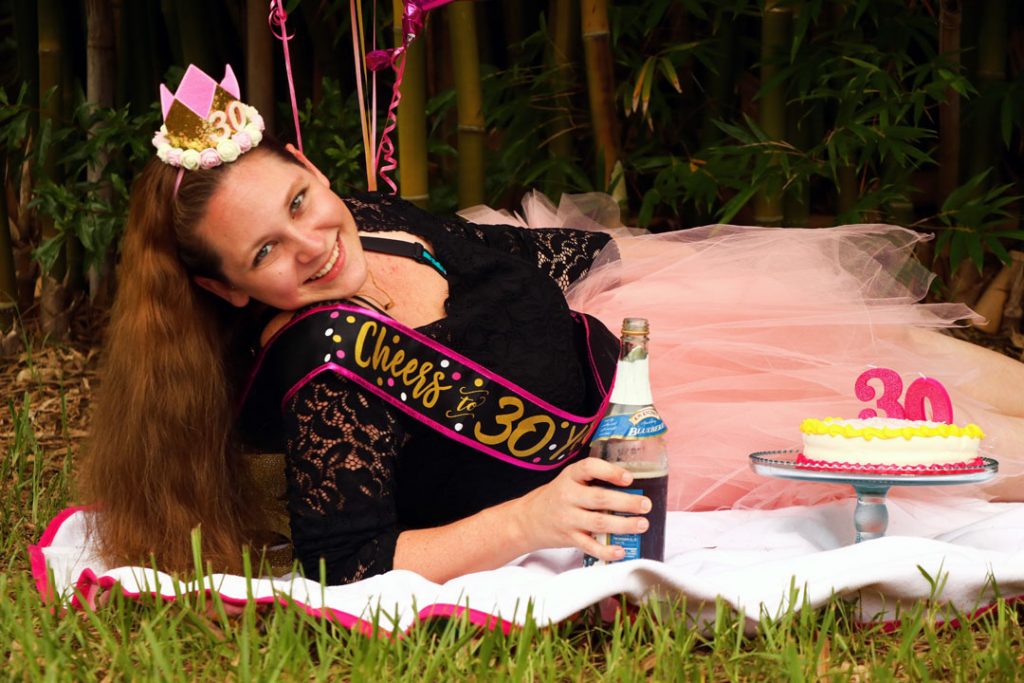 *This post contains affiliate links. Meaning if you make a purchase through one of these links, I may receive a small commission at no extra cost to you*
This July I celebrated my 30th birthday! I was blessed with a week filled withamazing birthday festivities… From dinner out with my family, a day on the boat, an epic surprise party and the best surprise gift I could have ever received (post coming on that soon).
One of the highlights though was my 30th birthday smash cake photo shoot! I know you have probably seen these all over Pinterest lately. Women in their 30's taking hysterical photos smashing cake like a toddler and drinking wine from a bottle… I knew I needed to do one of my own!
I seriously think everyone needs to do a smash cake photo shoot at least once! Not only was it so much fun, but the photos are memories that will last a lifetime!
Planning a 30th Birthday Smash Cake Photo Shoot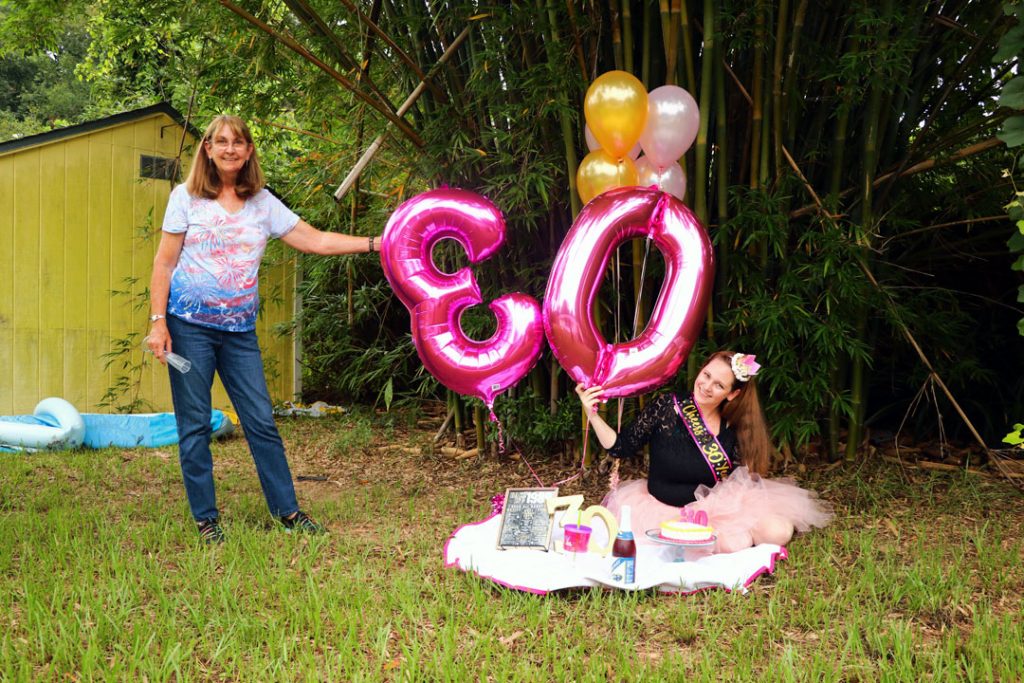 First thing's first… You can't do this alone! I recruited my amazing mother and husband to help me with my 30th birthday photos. Thankfully, my husband and mom are both amazing amateur photographers.
If you don't have someone in your life who is a photographer though, go ahead and hire one! Yes, splurge on yourself! We all splurge on family photos and photos of the kids… But really, sometimes us moms needs to just splurge on ourselves once in a while!
Honestly, it didn't take too much planning, but I am a planner and like to have everything listed out and ready to go. We decided on the location ( my backyard), ordered a cake, got the balloons, and started looking for an outfit and props about a week or two before the day of the shoot.
What Should I Wear for a 30th Birthday Smash Cake Photo Shoot?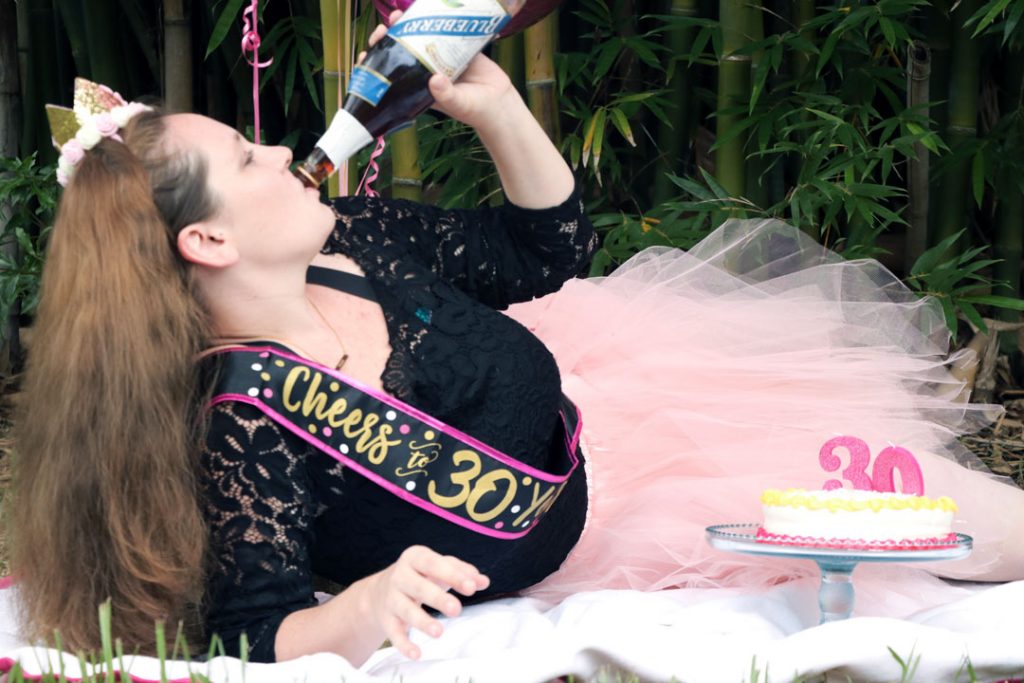 I really wanted something fun to wear for my photos… So of course I headed off to Amazon to see what I could order!
Poofy Tutus, lacy tops, and sparkly crowns were on my wish list and I was not let down by the Amazon selection.
The first thing I bought was this adorable tutu in blush pink! It fit really well too. I ordered the large/XL. The size was perfect and the quality was really great! I'm sure I will come up with some reason to wear it again as well. I mean, as a blogger I can always come up with a fun girly photo shoot right!?!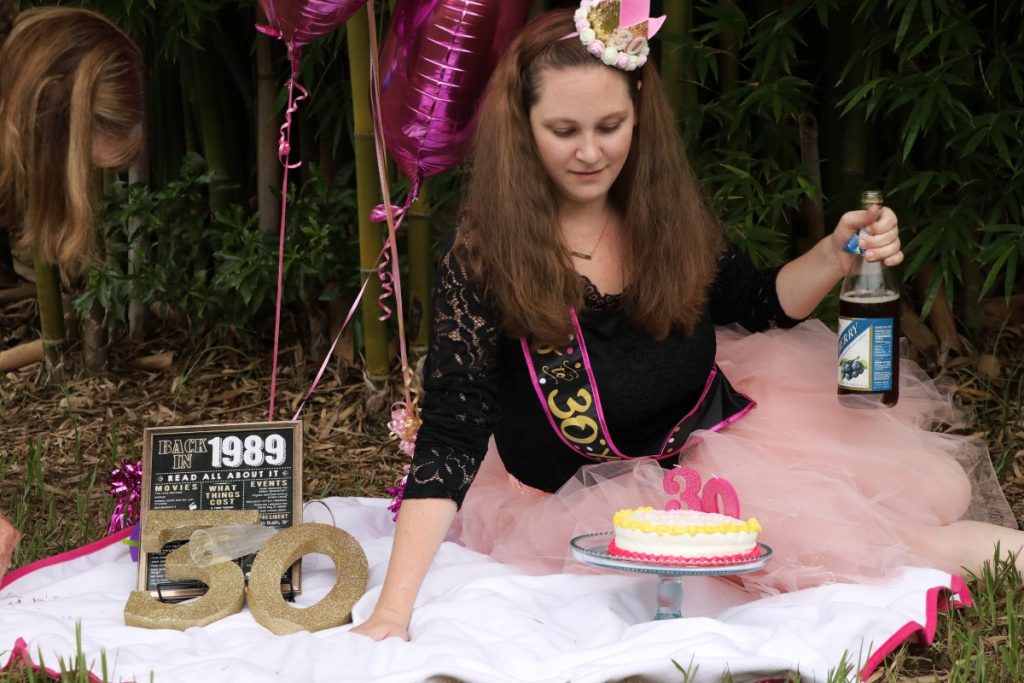 Next was the shirt… I wanted something lacy and understated to go with the skirt, and this black lacy top perfectly fir the bill. Normally I wear a Large in tops, but I ordered an XL in this one and I'm glad I did because It fit great! So totally order a size up if you go with this top. The pest part about this top is that it isn't too over the top. It can easily be paired with a cute skirt or pair of pants to create a going out outfit.
To top it all off, I purchased this stunning 30th birthday crown! It is gold and pink and glittery… What else can I say! I loved it and highly recommend picking one up for your birthday photos. I also noticed that they have 40th Birthday available as an option… So if you want to do a smash cake for your 40th birthday, go ahead and scoop this up!
30th Birthday Photo Props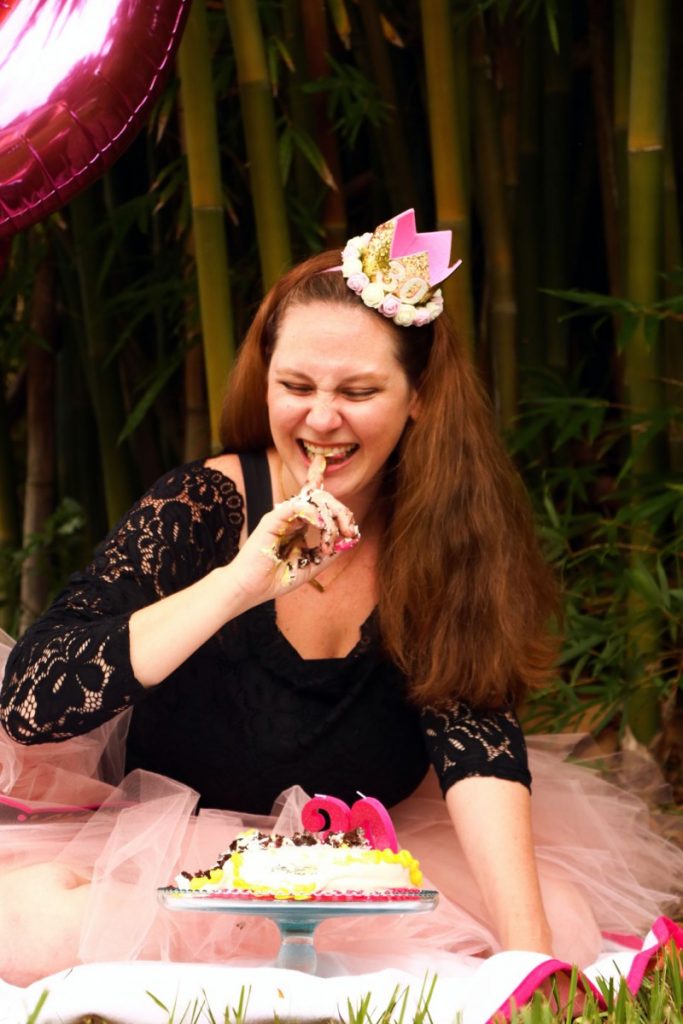 Almost as important as the outfit are the photo props. You don't need to break the bank for these though! I got most of my photo props from Amazon and the rest were things I already had at my house.
Honestly, you don't need much to make these photos pop! I picked up some 30 balloons, a "chalkboard" photo from the year of my birth, and some sparkly numbers to use as props. If you plan ahead of time, I highly recommend getting a custom chalkboard off of Etsy. A custom board will really stand out in your photos and make for a really fun keepsake.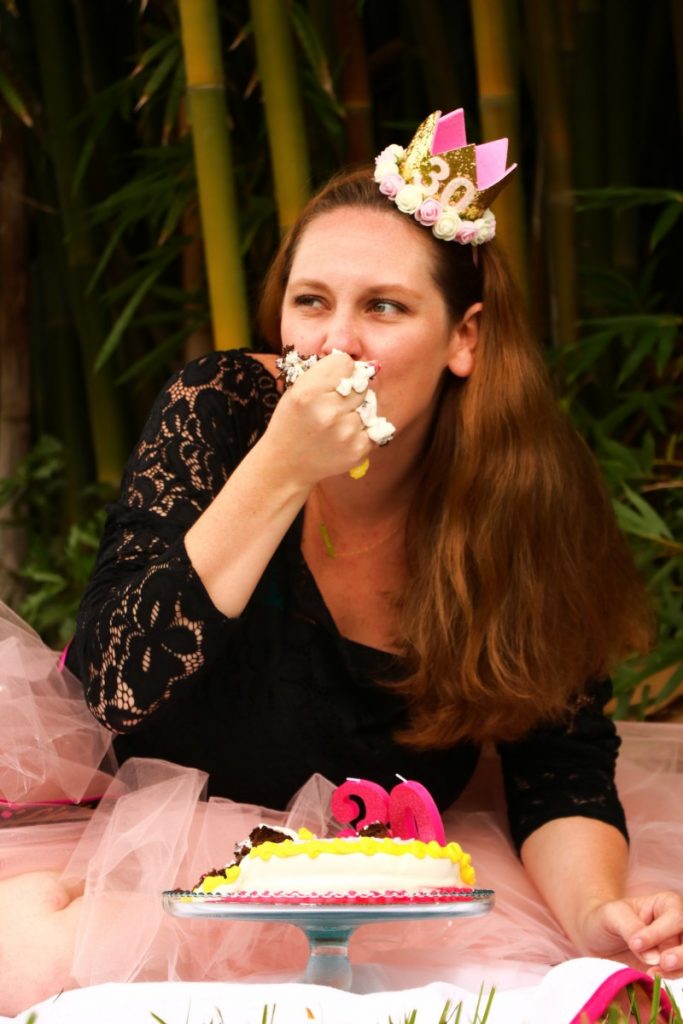 I already had a cake stand, but if you don't just grab one off Amazon for a few dollars. Trust me, you will want a cake stand, especially if you plan do do your photo shoot outside like I did.
The most important prop though? The cake! This was interesting… I guess my local grocery store bakery hasn't hopped on the 30th birthday smash cake trend and was seemingly confused by our request.
Apparently, they don't sell just a smash cake… We had to buy a regular cake in order to get the "free" smash cake… Not only that, they have to write "Happy 1st Birthday" on the cake in order to get it. It wasn't a deal breaker, and honestly it was more funny than anything! We just covered the "1st" with the candles and no one was any wiser.
Have Fun Turning 30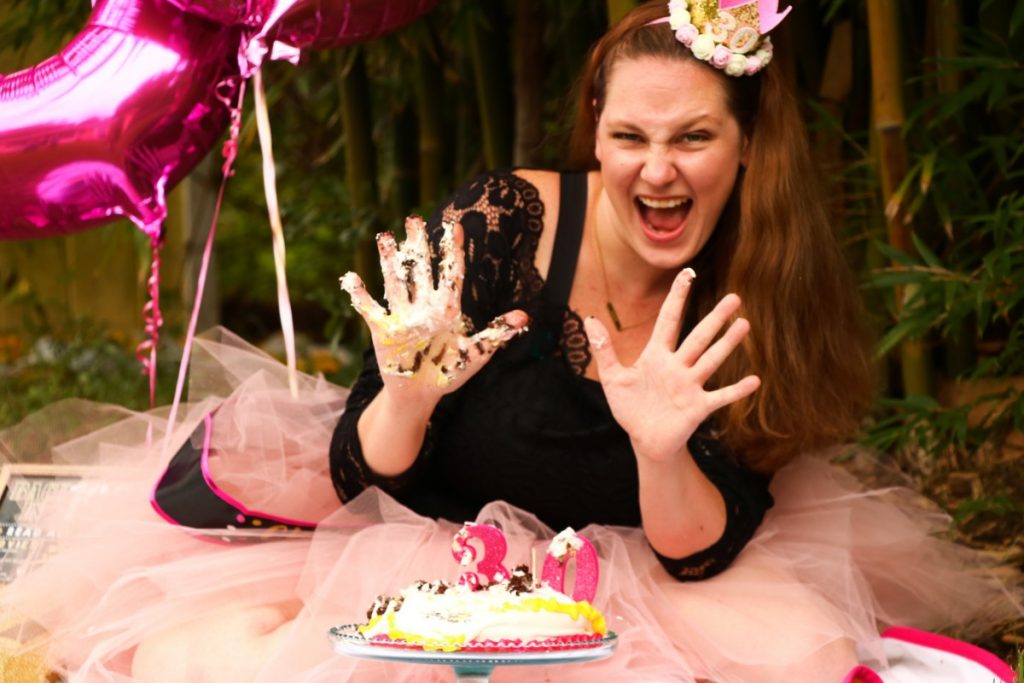 The most important piece of information I can give you… Is to not take yourself too seriously! Smash cake photos are meant to be fun! So get in there, get messy and have a blast!
Every birthday should be celebrated! Each year around the sun is an important one! Honestly, you don't have to wait until a "big birthday" like 30 or 40 to do a fun birthday photo shoot… Turning 32 this year? Go ahead and get yourself a smash cake and let loose!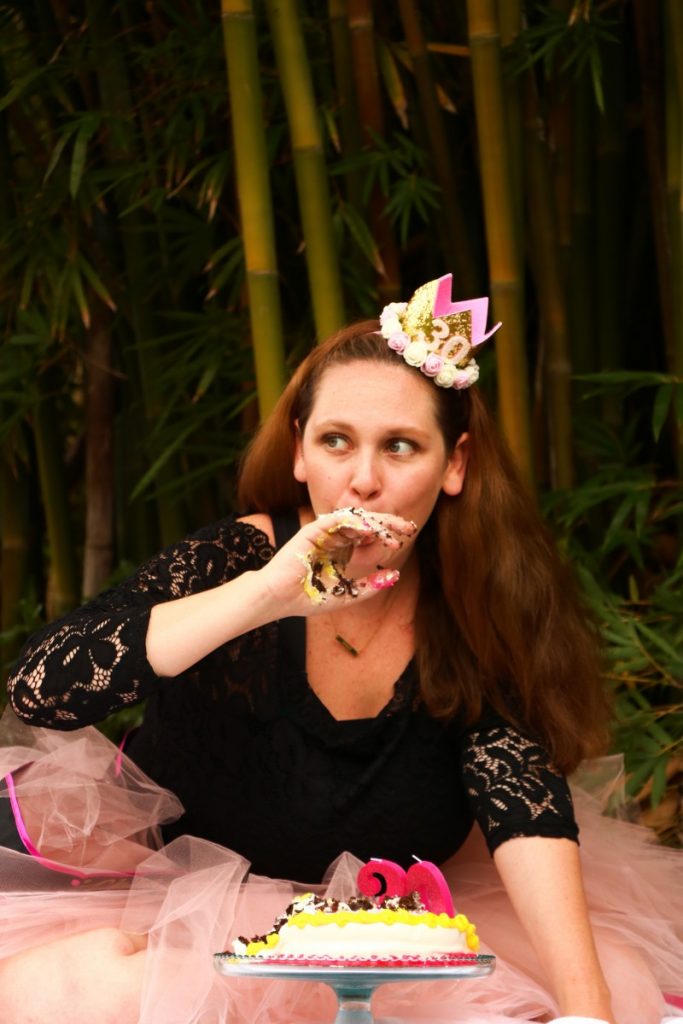 My kids thought I was a little crazy watching me destroy the cake, but we all laughed and now we have this lasting memory along with some really fun photos to go along with it!
So what are you waiting for? Get yourself a crown a cake and a camera and go have a good time!
Have you ever done a smash cake as an adult? I would love to see how your pictures turned out! Let me know in the comments and tag me on social media so I can like, comment and share for you!
Don't forget to follow The Coffee Mom on Facebook, Instagram and Twitter to stay up to date with all of our family travel, parenting tips, family friendly recipes and so much more!