If you are anything like me, you love to go out to eat! Red Lobster is one of my go-to places when we go out, but honestly, we have been trying to not spend the money lately. Going out can get expensive fast! Especially when you have kids. So I have been trying my hand at recreating some of my favorite restaurant meals. These Red Lobster-inspired baked coconut shrimp did not disappoint! They were super simple to make and turned out tasting delicious! Also, it was only a fraction of the cost of its restaurant equivalent!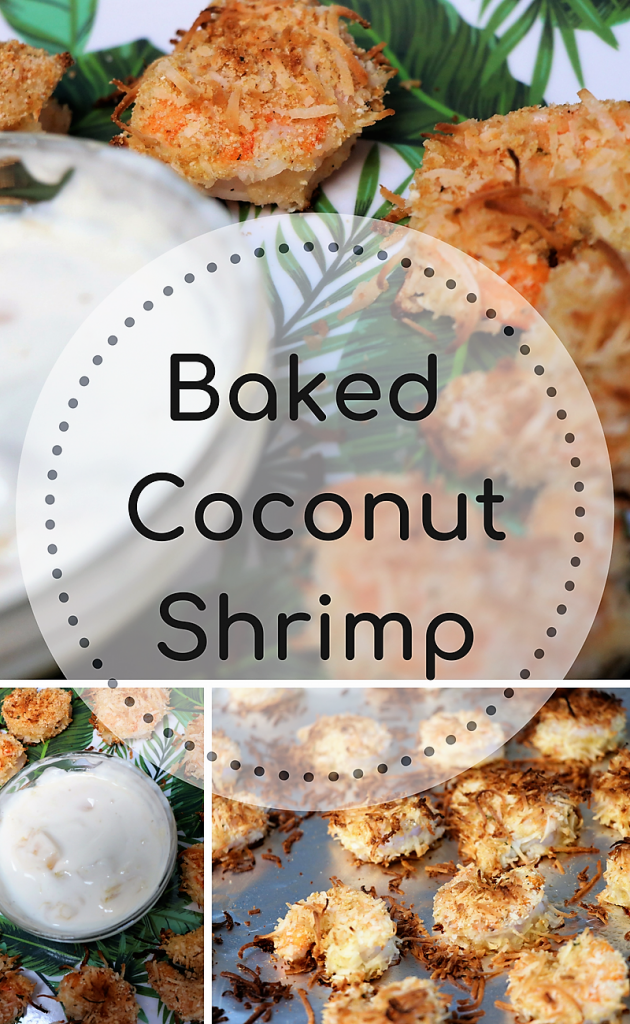 Baked Coconut Shrimp
In my opinion, you can never go wrong with seafood. I'm a Florida girl, and love to eat seafood at least one time a week! Everything fromSalmon to crab, but especially shrimp! There is just so much you can go with shrimp. So many different ways you can prepare it. This was my first time making baked coconut shrimp, but I was honestly pretty pleased with myself!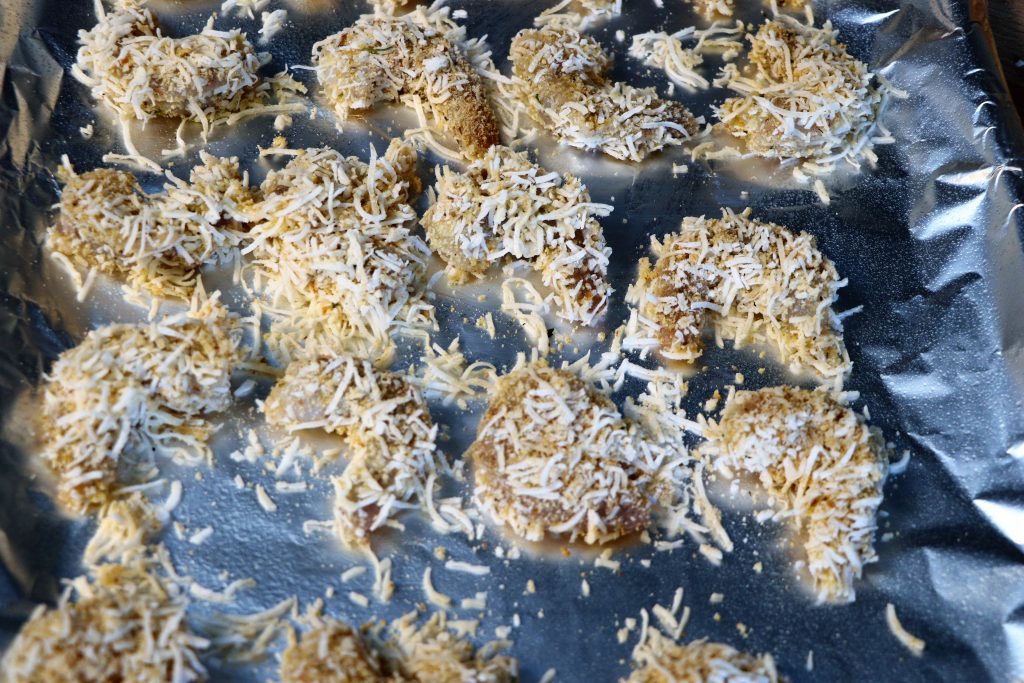 I believe that at Red Lobster and other restaurants, the coconut shrimp is fried. I decided to make it a little healthier though and bake mine instead. Honestly, it came out just as crunchy and delicious.
I made my breading by mixing shredded coconut together with panko bread crumbs. In order to make them stick, I made an egg wash and mixed in a bit of coconut milk for flavor.
Simply dredge the raw ( peeled, deveined, tail off) shrimp into your egg wash and then dunk it into your crumbs!
When they are covered well, place the shrimp on a greased pan ( I like to cover my pan in foil and spray it with Pam).
Then all you have to do is bake them in a 450° oven for 12 minutes.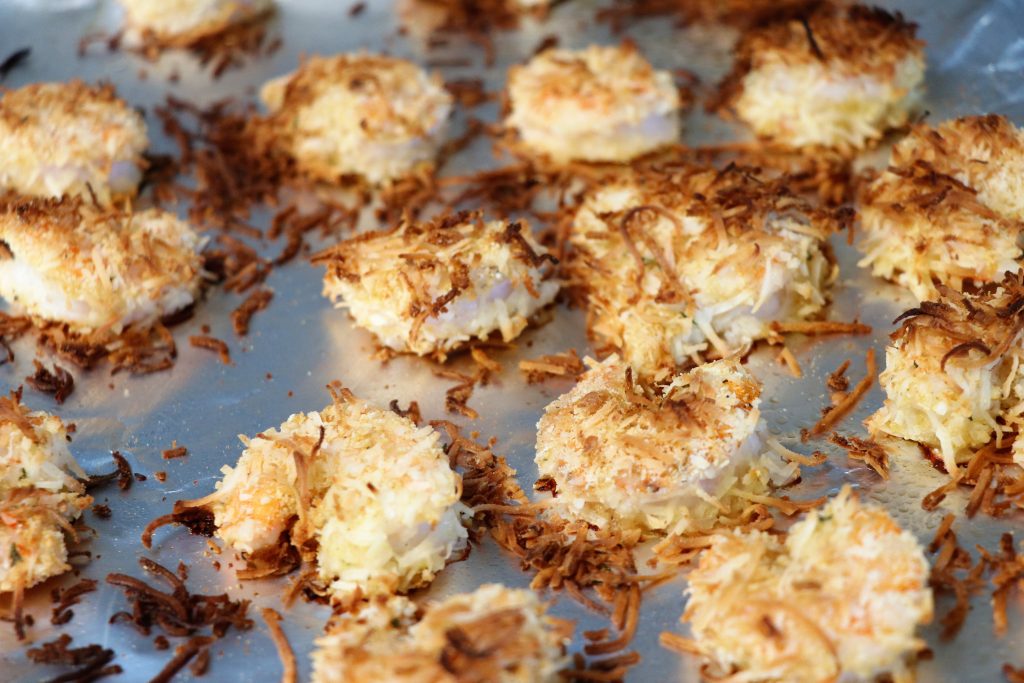 They will come out of the oven hot and ready to devour!
Let them cool and enjoy! I recommend serving them with a Red Lobster Inspired Piña Colada Sauce. Get that recipe for yourself and enjoy your Red Lobster inspired meal!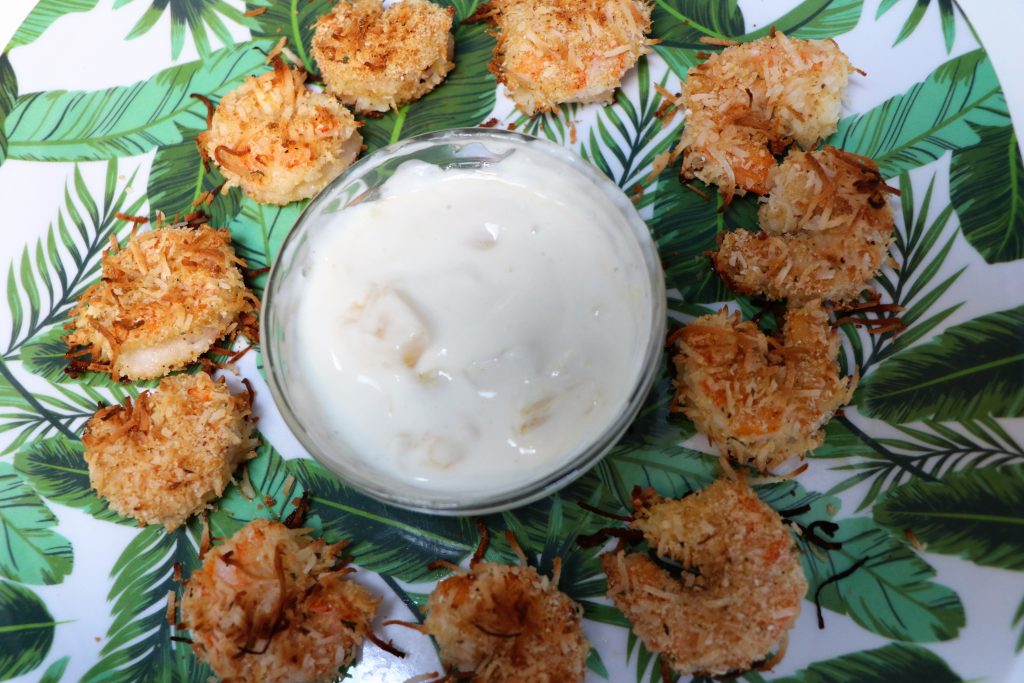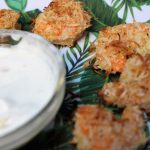 Red Lobster Inspired Baked Coconut Shrimp
Red Lobster Inspired Baked Coconut Shrimp. Easy, delicious and lacking the restaurant price tag.

Ingredients
1

LB

Peeled, Deveined, Shrimp

Shredded Coconut

Panko Bread Crumbs

1

Egg

Coconut Milk

just a splash
Instructions
Preheat your oven to 450°

Peel and devein your shrimp ( if they aren't already)

Make an egg wash with 1 egg and a splash of coconut milk.

Mix together your shredded coconut with panko ( equal parts). The amount will depend on how many shrimp you are making

Dredge your shrimp in the egg wash, then coat with your bread crumbs

Place on a greased cooking sheet and bake for 12 minutes.