Sapphires are some of the most precious naturally occurring gemstones. Alongside the deep blue color, the dazzling sparkle makes sapphire great for statement jewelry, oftentimes as an alternative to diamond. These September gems are used on many jewelry pieces, from rings to pendants, bracelets, necklaces, and earrings. Speaking of the latter, how well do sapphire earrings pair with various outfits?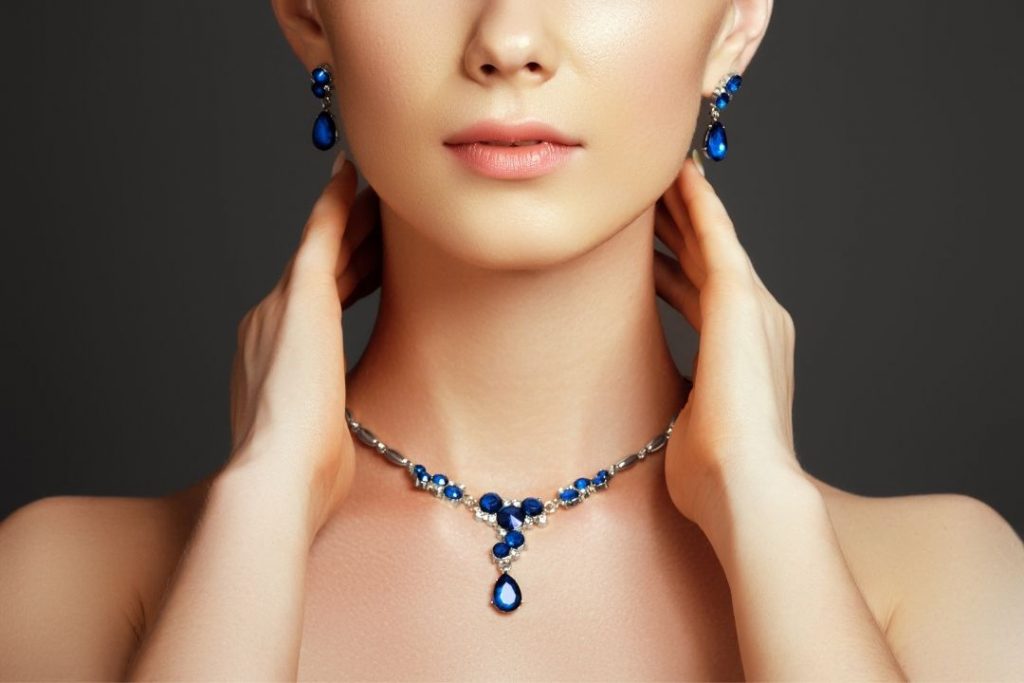 Sapphire's Versatility
The best part about jewelry pieces made using this stone is the versatility they provide. As most of us know, sapphires are blue — a deep, rich blue that soothes and inspires at the same time. "Fancy sapphires" are also available in a range of colors, including violet, yellow, pink, and orange. These shades sound like they'd be easy to coordinate with your outfit, right?
Blue Sapphire
Well, the "genuine" blue sapphire is a little more difficult to pair with some outfits. It's a hue that commands attention and, when worn well, can practically mesmerize you. So, how can you match your sapphire jewelry to your attire and impress everyone? Well, let's dwell a bit on moms and richly colorful, opulent earrings made using these gems.
Here are a few ways to look stunning in your outfit while rocking sapphire earrings.
1. Have a Little Black Dress
Wearing black is one of the best ways to make your sapphire earrings (and other sapphire jewelry) stand out. And there's no better way to keep stylish than using that little black dress in your closet. When rocking diamond and sapphire earrings, you could also opt for more laid-back outfits like a black top with jeans bottoms alongside a black jacket. Anything black on your outfit gives you plenty of room to experiment without the fear of looking unfashionable.
You may make your sapphire the only blue in your clothing, or you can add extra blue accents and make it the focal point.
2. Go Monochromatic
As earlier mentioned, sapphires are primarily blue in color. You could make your sapphire earrings the only blue in your outfit, or add some more blue details and make the sapphire your centerpiece. Did you know that you could also look great in an all-blue outfit with sapphire earrings? Yes, you can easily look sophisticated on a budget if you know how to make the right picks for your closet.
The trick is to vary the hues a little bit. You can also consider pairing your navy earrings with jewelry from other blue stones like tanzanite, zircon, aquamarine, or turquoise.
3. Consider Earring Style, Shape, and Design
When it comes to sapphire earrings, there is a diverse range of options to pick from. The style you go for will determine when, where, and how you can wear them. Some common options include:
Stud earrings – These are the most common types of sapphire earrings you will find. They are often easier to pair with most outfits. Often considered best for formal wear, they are also available in a wide range of cuts, including round, oval, princess, and emerald cuts.
Hoop earrings

– These are great for both formal and casual looks. Larger hoops are best for a casual look. The larger the gem, the more it becomes suitable for casual appearances.

Drop earrings

– These are basically simple earring designs with the sapphire gem hanging slightly below the earlobe. Similar to hoop earrings, larger sapphire drop earrings are more suitable for casual wear.
With this in mind, it makes sense to have several varieties of sapphire earrings in your closet for different occasions.
Sapphires are September's birthstone, and this lovely gem has long been one of the most popular precious stones on the planet. These gems make a variety of extremely stunning jewelry pieces. With the above few pointers in mind, you can easily rock a stunning look in sapphire earrings and your outfit.