Looking for a quick and easy low carb, Keto friendly meal? This chicken Philly bake is delicious, simple, and a family favorite weeknight meal!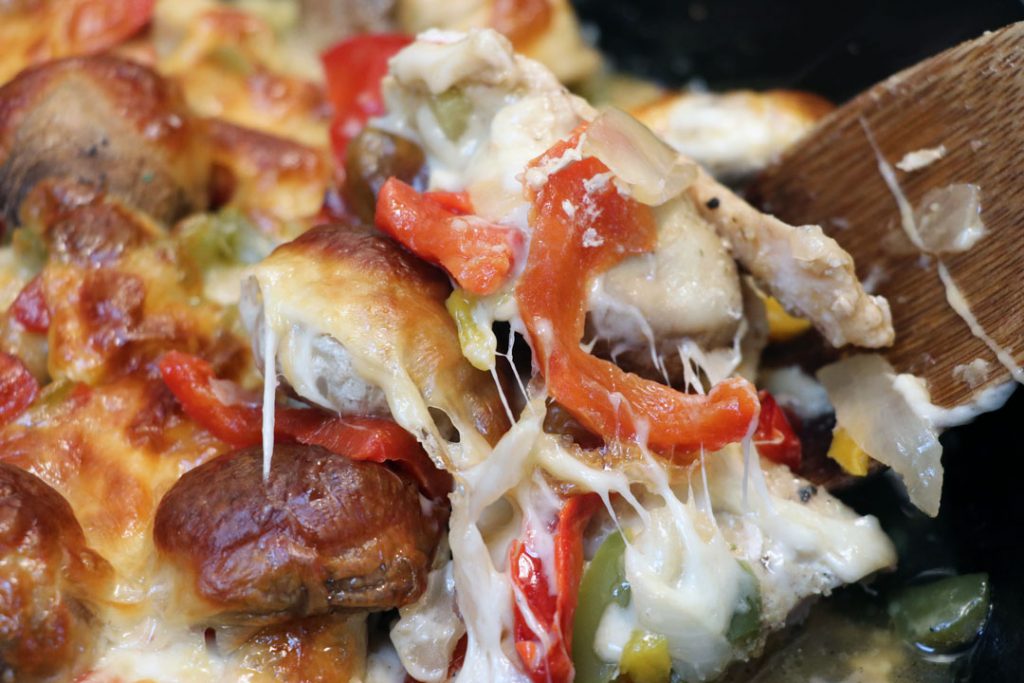 Finding low carb meals to please my whole family has been a struggle! We are a carb heavy family, but I am determined to cut down and really have all of us eat better the rest of this year. That being said, I've been on the struggle bus when it comes to finding and coming up with a meal plan. So I have been trying to take some of our tried and true favorite dishes and turn them into low carb alternatives.
One of my personal favorite meals is a chicken Philly cheese steak! Packed with cheese, mushrooms, onions, and peppers… You just can't go wrong! So of course, I had to try my hand at a low carb Philly alternative… And I was not disappointed! I came up with a super easy to make chicken Philly bake that was done in 30 minutes! So if you are looking for a Keto chicken Philly, I've got your back!
One Pan Baked Chicken Philly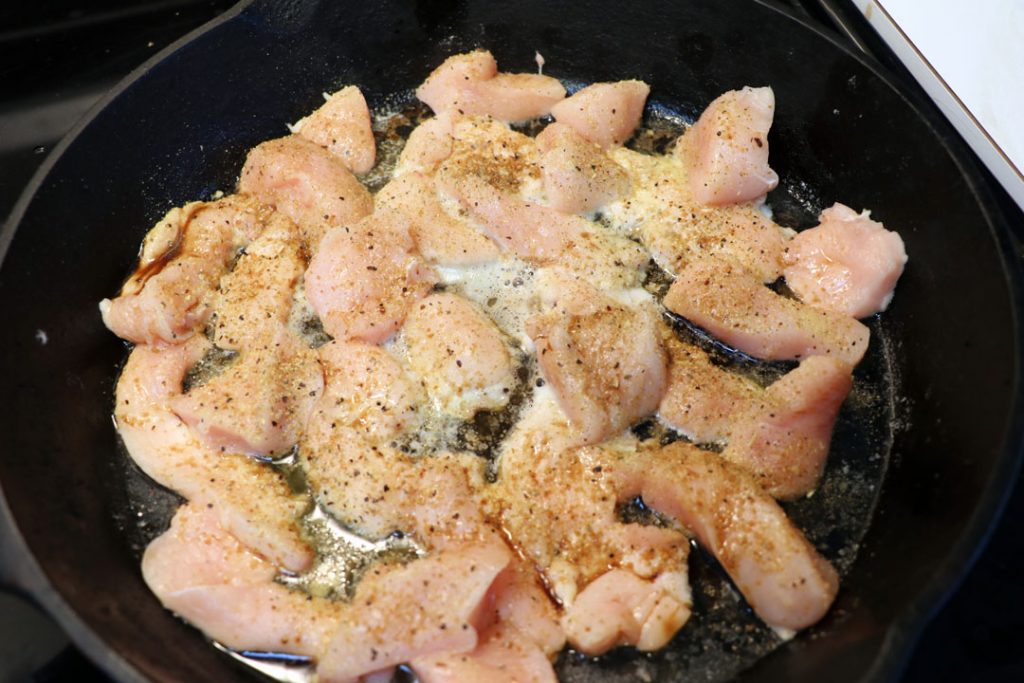 First thing's first, you need chicken! Cut it up onto strips, season with salt, pepper, garlic and a little Worcestershire. Put the seasoned chicken in your pan…I like to use a cast iron skillet, but feel free to use any oven safe pan that you already have.
If you want to make this even easier, feel free to buy chicken tenderloins instead of breasts. This will keep you from having to cut up your own chicken. I know quite a few people who prefer this method simply because they despise touching raw chicken. I personally don't have an issue with it… Just make sure you wash your hands really well after!
Cooking with Frozen Peppers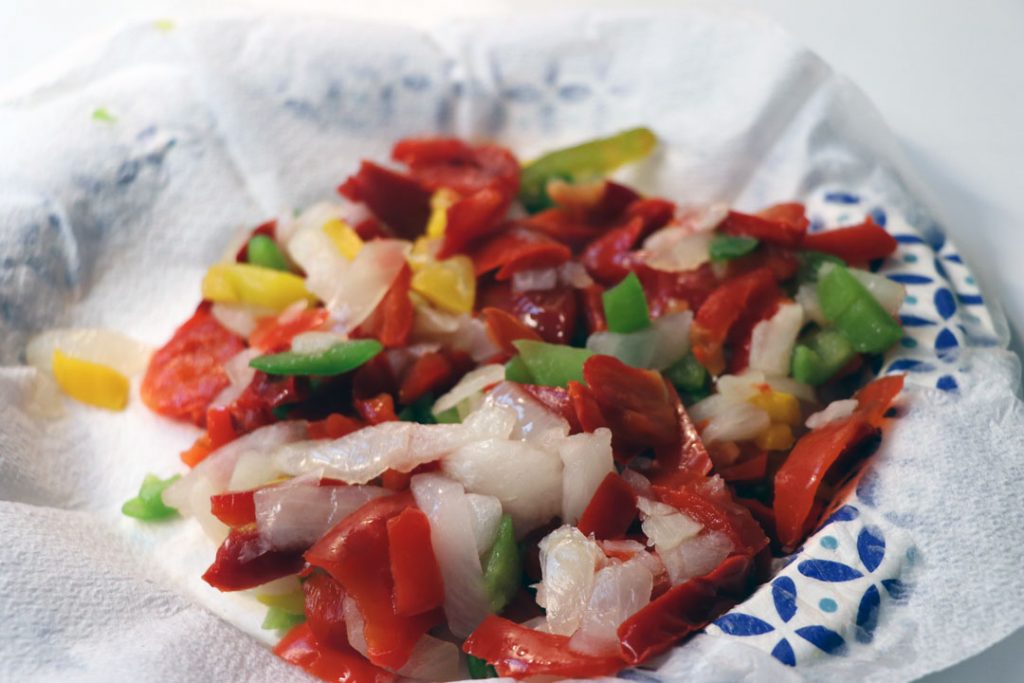 Typically, I like to use fresh peppers when I cook, but I happened to have some frozen ones that I wanted to use up. One thing I typically don't like cooking with frozen peppers is because they make recipes very wet. Because they are frozen, they contain more water and when you cook with them that water releases into your recipe.
In order to combat this, I like to hack my frozen veggies to make them much easier to work with. It is simple really, set them out ahead of time and let them thaw. This shouldn't take long, and you can speed it up by soaking your bag in hot water.
When the frozen peppers are thawed, dry them with paper towels. This will help remove the excess moisture and make sure your dish doesn't end up with extra water!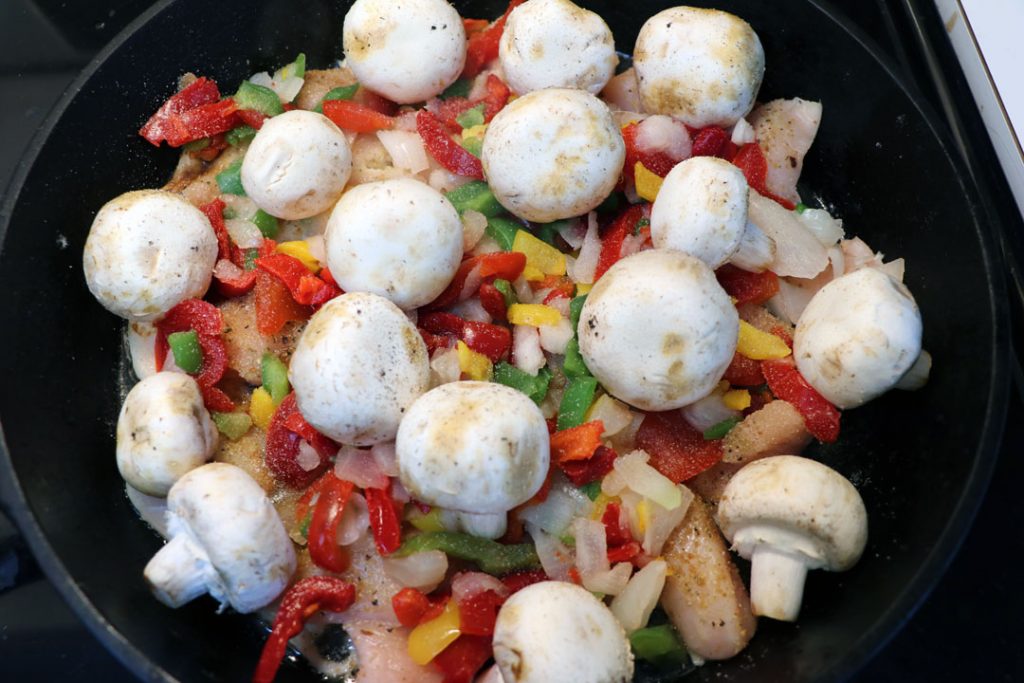 No matter if you decide to use fresh or frozen veggies, the next step is to top your chicken with peppers, onions, and mushrooms! Don't like mushrooms? Don't use them! The beauty of this recipe is that you can tweak it to your personal tastes!
Next, top the whole dish with cheese! I use slices of provolone, but you can use whatever you prefer!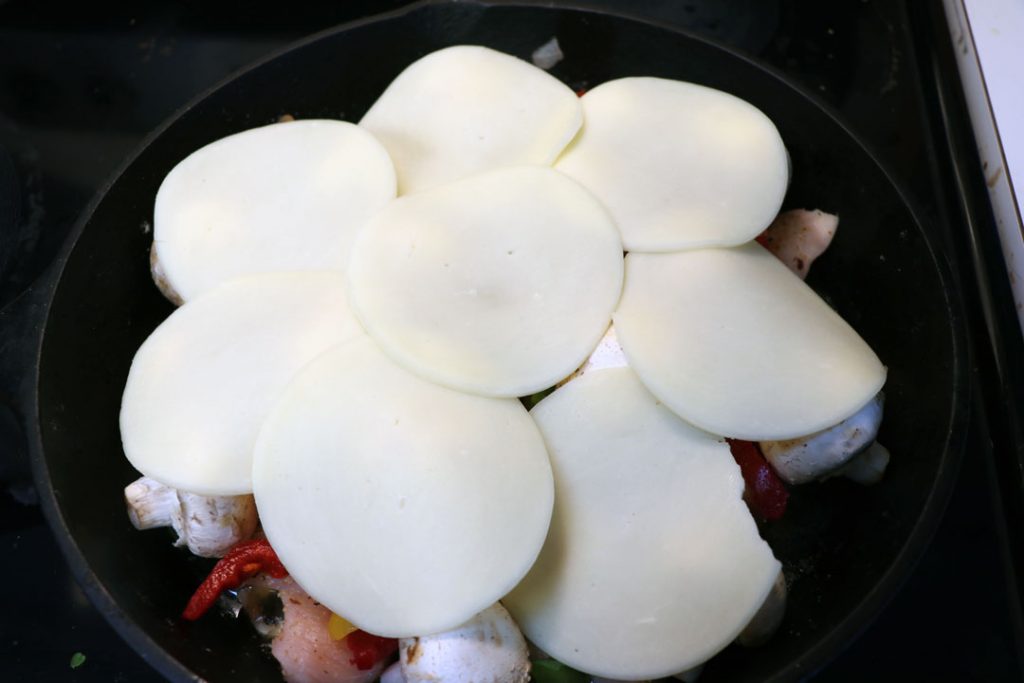 Now you are ready to place the whole thing in the oven. Put it in at 425° for about 20 -25 minutes. Quick, easy and a delicious low carb meal!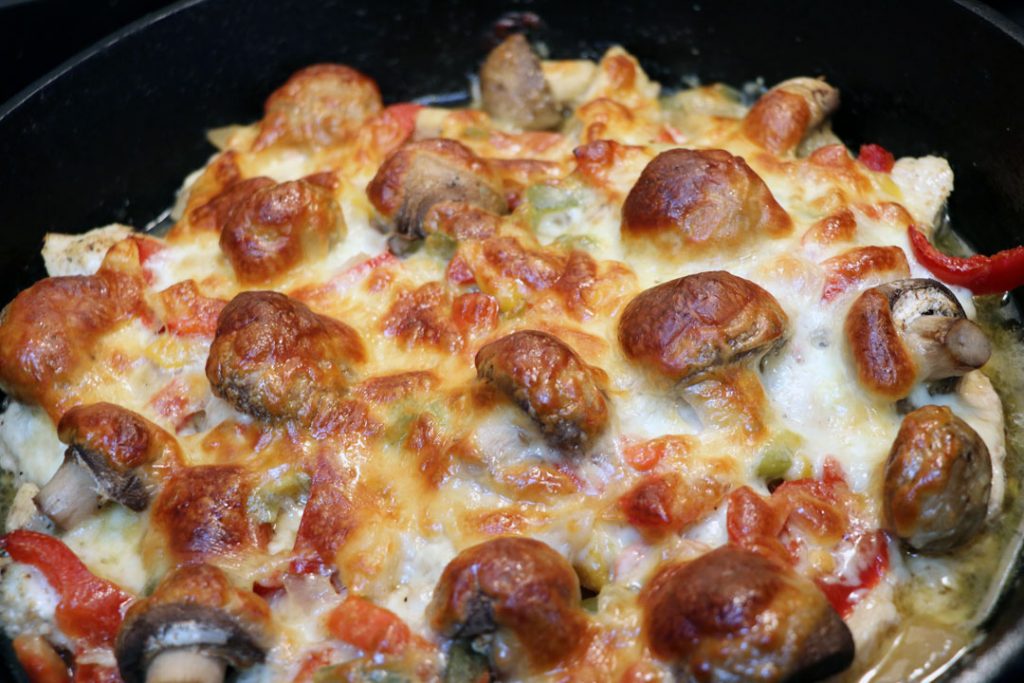 When your Chicken Philly Bake is done, take it out and let it cool for a few minutes before serving it. This is perfectly delicious served up on its own as a low carb full meal…. But if you aren't low carb? Tosat up a hoagie roll, spread some mayo on it and enjoy this as a delicious chicken Philly sandwich!
Still want some bread even though you're low carb? Check out these low carb wraps! I love them and use them to make my fried taco triangles!
Keto Chicken Philly Bake Printable Recipe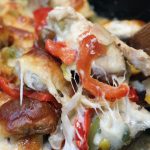 Keto Chicken Philly Bake
Looking for a quick and easy low carb, Keto friendly meal? This chicken Philly bake is delicious, simple, and a family favorite weeknight meal!


Ingredients
1

Lb

Chicken Breast

cut into strips

1

Onion

you can use fresh or frozen

1

Pepper

you can use fresh or frozen

Mushrooms

Provolone Slices

1

Tbsp

Minced Garlic

Salt & Pepper

to taste

1

Tbsp

Worcestershire
Instructions
Season the chicken with salt, pepper, garlic, and Worcestershire, and place it in an over safe pan.

Top with peppers, onions and mushrooms.

Top with cheese slices until fully covered.

Bake at 425° for 20 minutes.
Don't forget to follow The Coffee Mom on Facebook, Instagram and Twitter to stay up to date with all of our family travel, parenting tips, family friendly recipes and so much more!