These Italian stuffed peppers are seriously perfect for a family dinner. Everyone in my family loves them, and they are so easy to make ahead of time and just have ready to throw in the oven. By now, if you have been reading my food blogs for a while, you know I like simple meals. I also like to just use whatever I have on hand, and this recipe was perfect for this. I was able to shop my pantry and throw together a delicious family meal.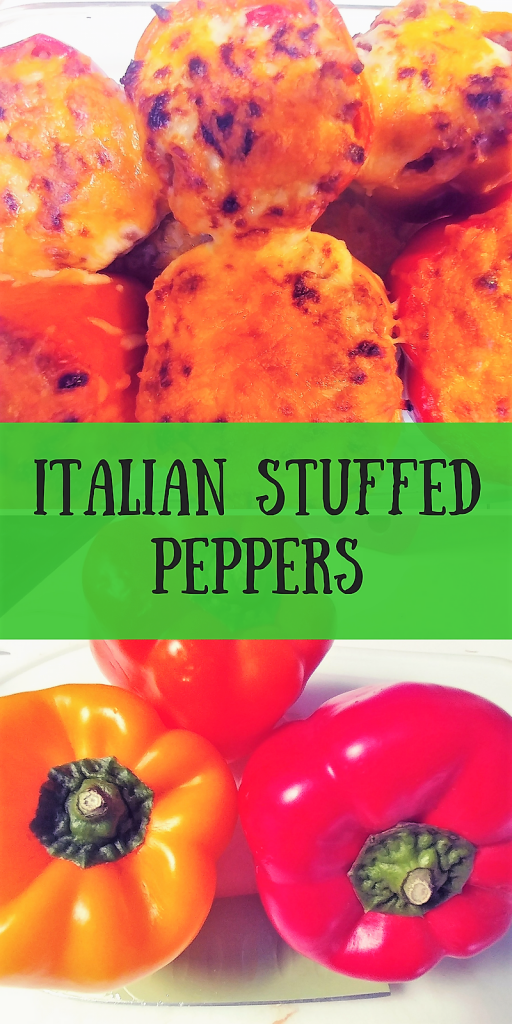 Italian Stuffed Peppers
Stuffed peppers are one of my husband's favorite meals. I try to make them a few times a month, and even my 4-year-old gets in on the action. While she doesn't really eat the pepper, she loves the stuffing, so hey I will take it! One of my favorite things about making Italian stuffed peppers is that I can easily prep everything in advance and just pop them in the oven when we are ready to eat them.
What You Need
The ingredients list is rather simple because y'all know that's how I like it!
6 Peppers
1 LB Ground Beef
1 Cup Cooked Rice
1 Can Diced Tomatoes
1 Tbsp Minced Garlic
1 Medium Onion
1 Can Tomato Sauce
Salt
Pepper
Italian Seasoning
Cheese
What To Do
First, you want to brown your beef. Cook your beef, garlic and diced up onion over medium heat until the beef is cooked through. While your beef is cooking, you will want to clean your peppers. All you need to do is cut off the top, and "gut" the inside so it can be later stuffed.
By now, your beef should be done cooking. Drain the excess fat and return to your pan. Then you will want to add in the rest of your ingredients (minus the cheese). So the diced tomatoes, tomato sauce, cooked rice, and seasoning.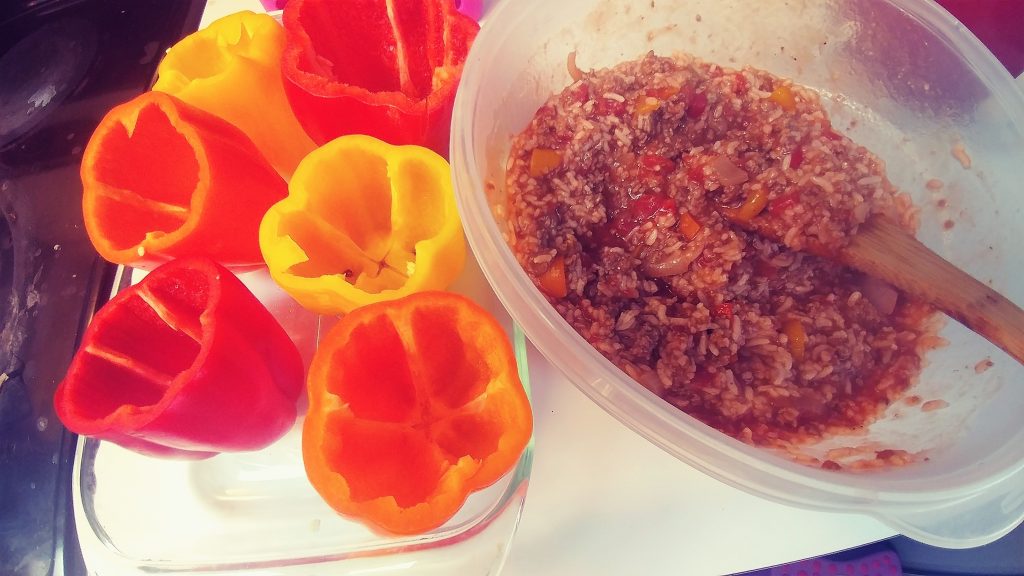 Now that you have all of your components, it is time to assemble!
Stuff your peppers to the top with your filling and place them in a baking pan. Once they are stuffed, you are going to want to top them with cheese.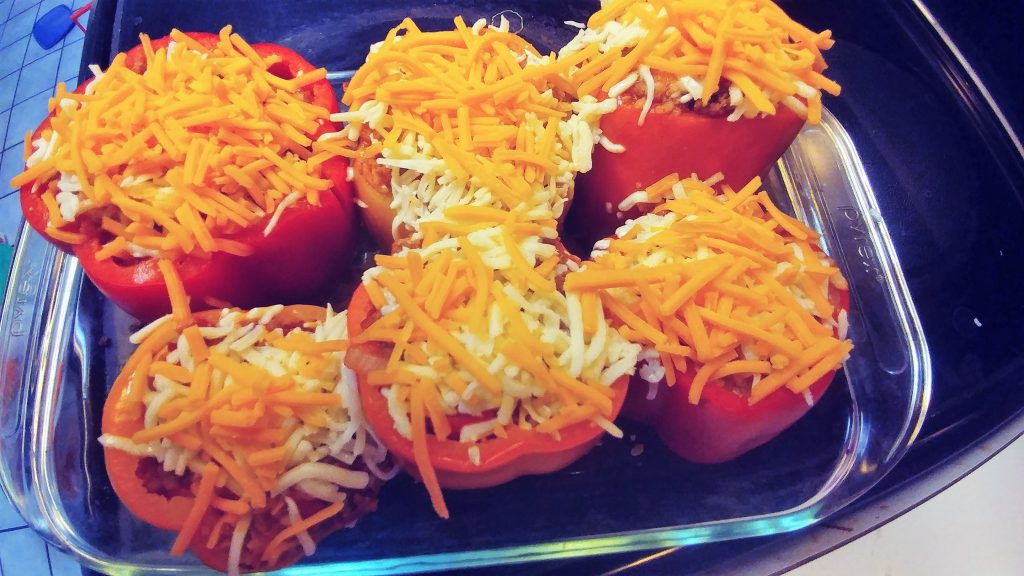 I used Cheddar and Mozzarella to top my Italian Stuffed Peppers, but you can feel free to use any cheese that your heart desires.
Now that you are stuffed and topped, you are going to want to add a small amount of water to the bottom of the pan. This serves to add a little moisture and help steam the peppers. You should only need one or two tablespoons, you don't want to drown them. Then cover the whole dish with foil and bake for 30 minutes at 350 degrees.
Once your 30 minutes are up, you will want to remove the foil and pop your pan back in the oven for about 10 -15 minutes to brown the cheesy top.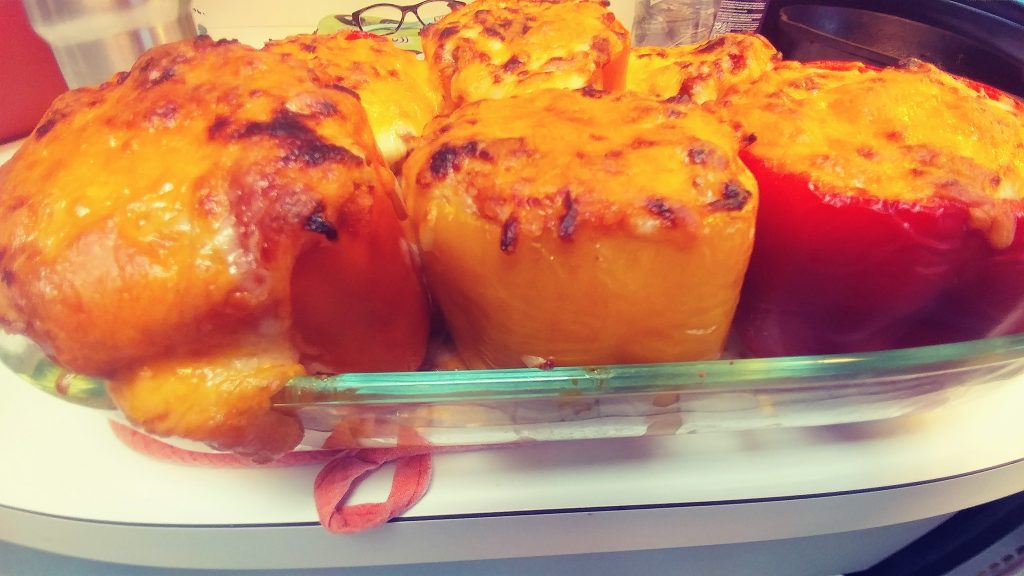 Then viola! You have delicious stuffed Italian peppers that the whole family will love!
Meal Prep
If you want to do these for meal prep, you would do everything except bake the peppers. Prepare them the same way you regularly would. Don't add the cheese to the top, and don't add the water. You can then freeze them for a while, or you can refrigerate them if you plan on using them within a few days.
When you are ready to use them, thaw the peppers if frozen, add cheese, and bake! This makes for a super easy weeknight meal.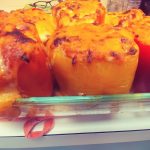 Italian Stuffed Peppers
Simple and delicious Italian Stuffed Peppers
Ingredients
6

Bell Peppers

1

LB

Ground Beef

1

Cup

Cooked Rice

1

Can

Diced Tomatoes

1

15 oz can

Tomato Sauce

1

Yellow Onion

1

Tbsp

Minced Garlic

Cheese

Salt

Pepper

Italian Seasoning
Instructions
Brown beef with minced garlic and diced onion.

Clean and remove insides of the peppers for stuffing.

Drain excess fat from the beef and return to the pan.

Mix in the tomatoes, tomato sauce, rice, salt, pepper and Italian seasoning.

Stuff your peppers with the beef mixture.

Add 1-2 TBSP to bottom of the pan, cover with foil, and bake at 350 degrees for 30 minutes.

After 30 minutes, remove foil and bake for 10-15 more minutes or until cheese is browned.