As many of you may know by now, I married into an Italian family. That means, eating a lot of Italian food. Now, I have always loved Italian food, but I never made much more than spaghetti myself for the longest time. Since I am married to an Italian man though, I did learn a few things about different dishes. These easy Italian stuffed shells are some of my favorites! It is a super simple recipe that anyone can recreate, even if you aren't Italian.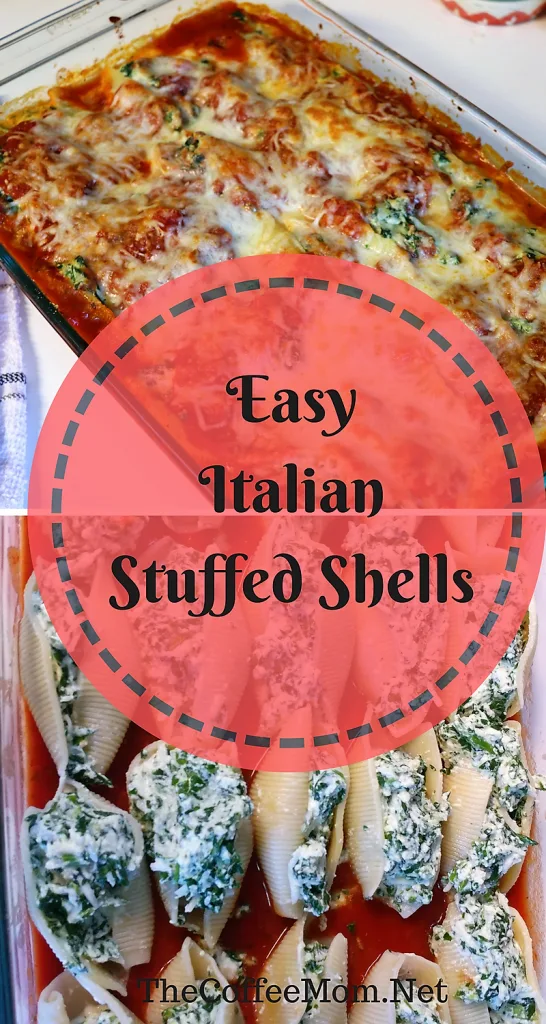 Easy Italian Stuffed Shells
Y'all, when I say these are easy…I mean it. Even though I am married to an Italian man who makes his own pasta sauce from scratch and lets it cook all day…… I am not up to that level yet. I promise, these easy Italian stuffed shells will live up to their name! Not only are they easy though, they are delicious as well! I ended up having enough for dinner for all 4 of us for 2 nights! So yea, it makes a ton but it tastes so good warmed up a few days later.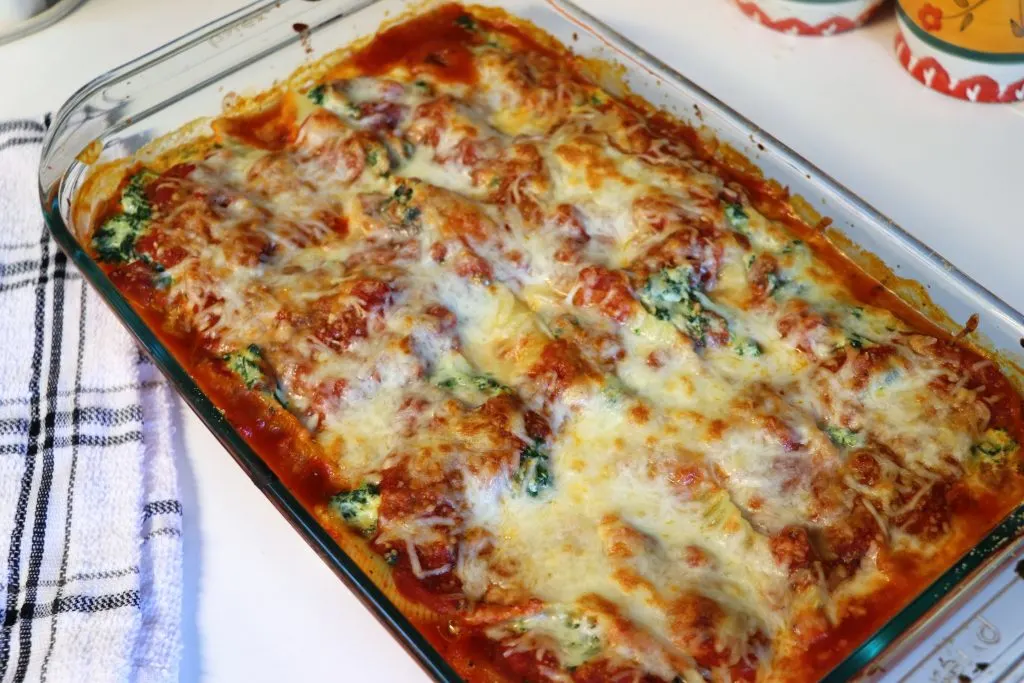 Sauce
While my husband may make sauce from scratch, I usually just use the stuff out of a can or jar. Yes, I know some Italian somewhere is cringing at the idea of using store bought sauce, but it is fast and works for me on a busy night! I used one jar of sauce for these shells, along with a can of diced tomatoes, and a pinch of sugar. I like adding in a pinch of sugar to the sauce because it cuts down on the acidic taste that tomatoes can have at times.
I did not even heat my sauce up! I just mixed the tomatoes, sauce and sugar together and added about half to the bottom of my glass Pyrex pan. The rest of the sauce gets saved to go on top of the shells before baking!
Shells
I also don't make my own pasta! Although, I have been debating on learning how to make fresh pasta. If/When I do decide to try my hand at fresh pasta, I promise to take y'all along with me because I am positive it will be a hysterical mess the first few times!
For these easy Italian stuffed shells though, I used store bought large shells. All you have to do is cook them according to the directions on the box. It would be best to only use about half of the box though. I cooked a whole box one time, and ended up with a TON of unstuffed shells that ended up going to waste.
So cook half of a box. Drain them. Let them cool off.
Stuffing
Now for my favorite part…the stuffing! You can really stuff these bad boys with anything you want, but I like to keep it super simple. A container of Ricotta cheese (15 oz), one large egg, some spinach, Mozzarella and Parmesan cheese. Personally, I like to use frozen spinach. I usually always have a bag of it on hand and it does really well in this recipe. You will want to thaw it out before using it though, but you don't have to cook it!
Mix all of your ingredients together and stuff it into the cooled shells! Once all the shells are stuffed, top them with the remaining sauce and some more cheese, and bake at 375 for 20-30 minutes! Seriously, that's it! So easy and so delicious!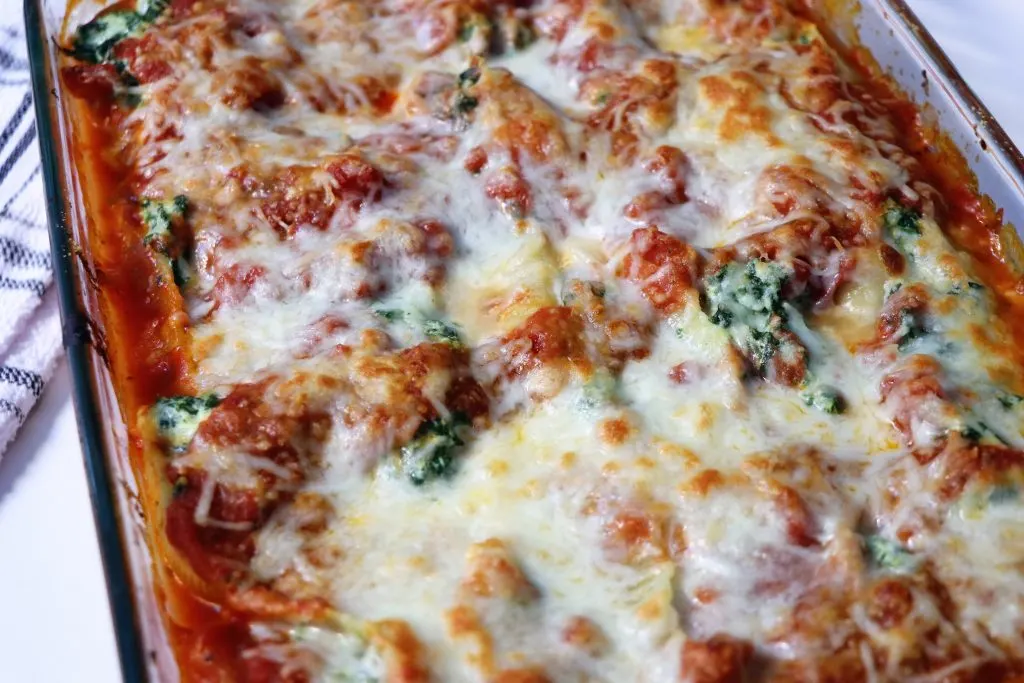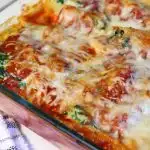 Easy Italian Stuffed Shells
Easy Italian Stuffed Shells
Ingredients
1/2

Box

Large Pasta Shells
Sauce
24 Oz

Jar

Pasta Sauce

15 Oz

can

Diced Tomatoes

1

Pinch

Sugar
Stuffing
15

oz

Ricotta Cheese

1

Bag

Frozen Spinach

1

Large

Egg

1/2

Cup

Shredded Mozzarella

1/2

Cup

Parmesan

Italian Seasoning to taste
Topping
Mozzarella and Parm To Taste
Instructions
Cook your shells according to the directions on the box.

Mix together your sauce, tomatoes, and pinch of sugar.

Pour about half of the sauce into the bottom of a large pan. I used a 9x13 Pyrex pan.

Prepare your stuffing! Mix all "stuffing" ingredients together until nicely combined.

Stuff your shells and place them in the pan.

Top with remaining sauce and more cheese if desired!

Bake, uncovered, for 20-30 minutes at 375.