This shop has been compensated by Collective Bias, Inc. and its advertiser. All opinions are mine alone. #NatureMadeProbiotics #CollectiveBias

School is back in, fall is coming and with that comes a strong desire to focus on my health. I know most people have this inclination with the New Year, but I love to focus on health all year, but especially in the fall. One thing I love to do to focus on my health is to incorporate gut friendly foods, along with a daily probiotic supplement. Lately, my go to fall meal is Chicken Veggie Soup. It is light, healthy and pairs perfectly with my daily Nature Made® Advanced Dual Action Probiotics.
Chicken Veggie Soup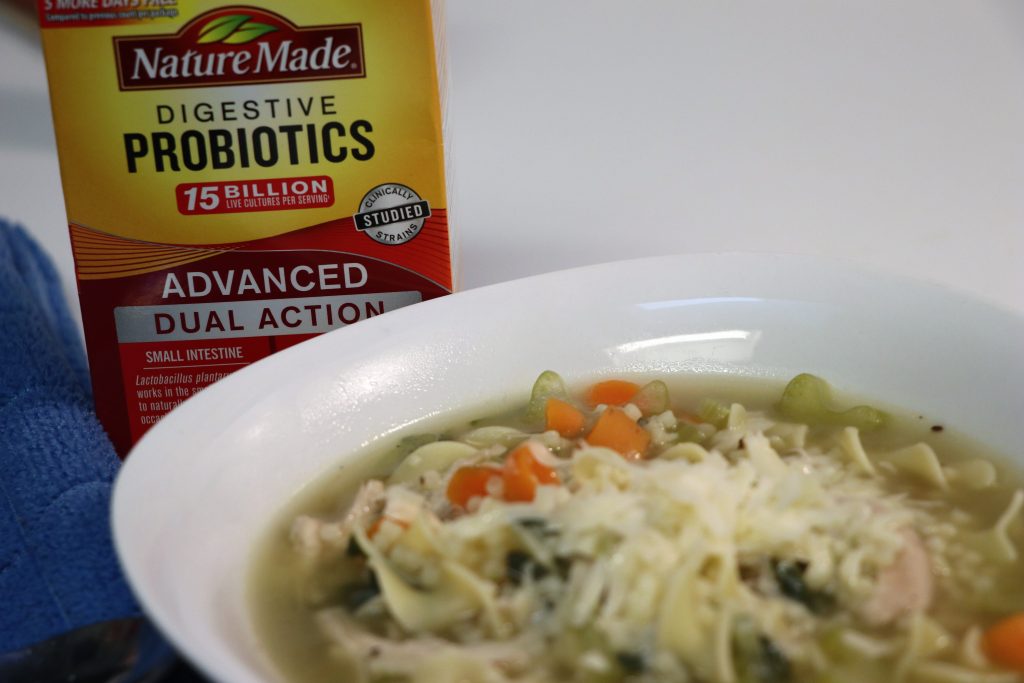 One of my favorite things about fall is is eating warm delicious soup! My absolute favorite is homemade Chicken Veggie Soup! Not only is it easy, it is delicious and good for you too! Throw in some gluten free noodles, maybe a little cheese and you have a soul warming meal perfect for the whole family.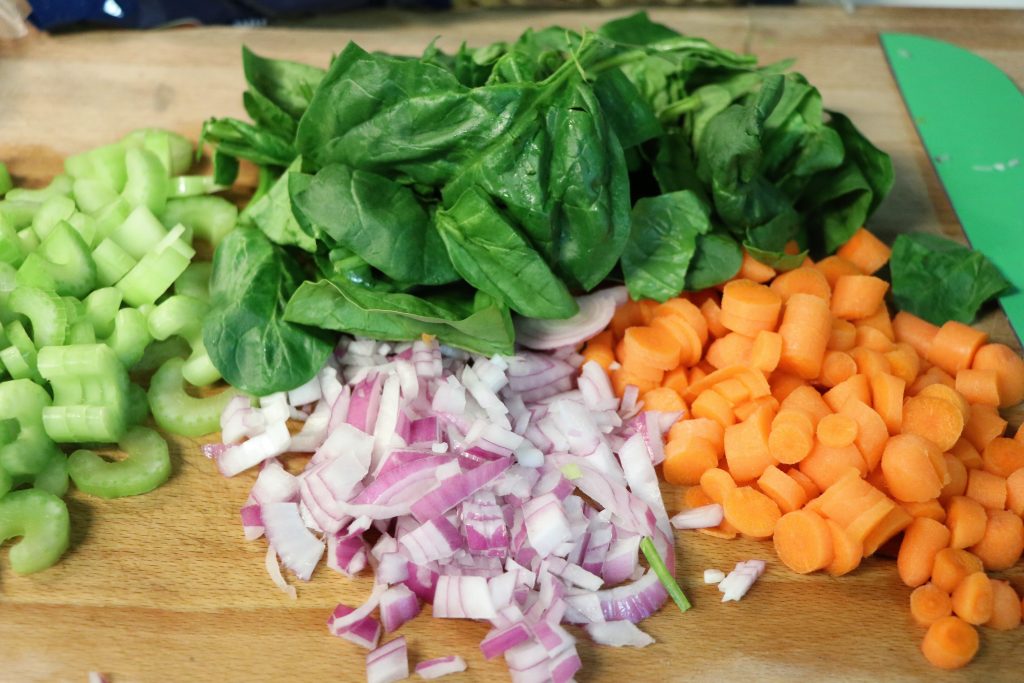 To make this soup, you want to start out by cooking your chicken. I like to boil mine, so that it shreds easily, but you can totally use a rotisserie chicken that is already cooked! Start by boiling your chicken in chicken broth. Depending on how much you want to make (I made a giant pot), use 1lb of chicken and about 8 cups of chicken stock or bone broth. I tend to add more as I see fit. While the chicken is cooking, it is the best time to chop up some veggies – use heaping handfuls of spinach, carrots and red onion.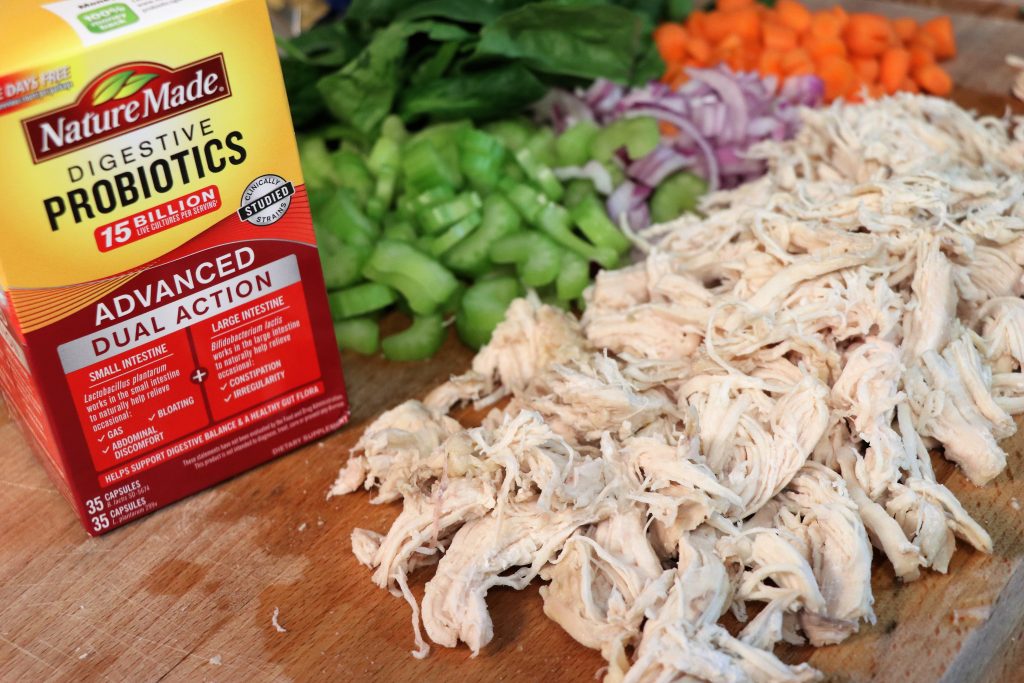 When your chicken is done, shred it up and add it back to your pot along with your veggies. Let them cook about 20-30 minutes at a boil. At this point, you can either be done or add in some gluten free noodles. I am a big fan of Egg Noodles for this chicken veggie soup myself. If you want to use noodles, add them in uncooked, directly to your soup and cook until done. Seriously, this soup could not be easier to make and it is better for you too!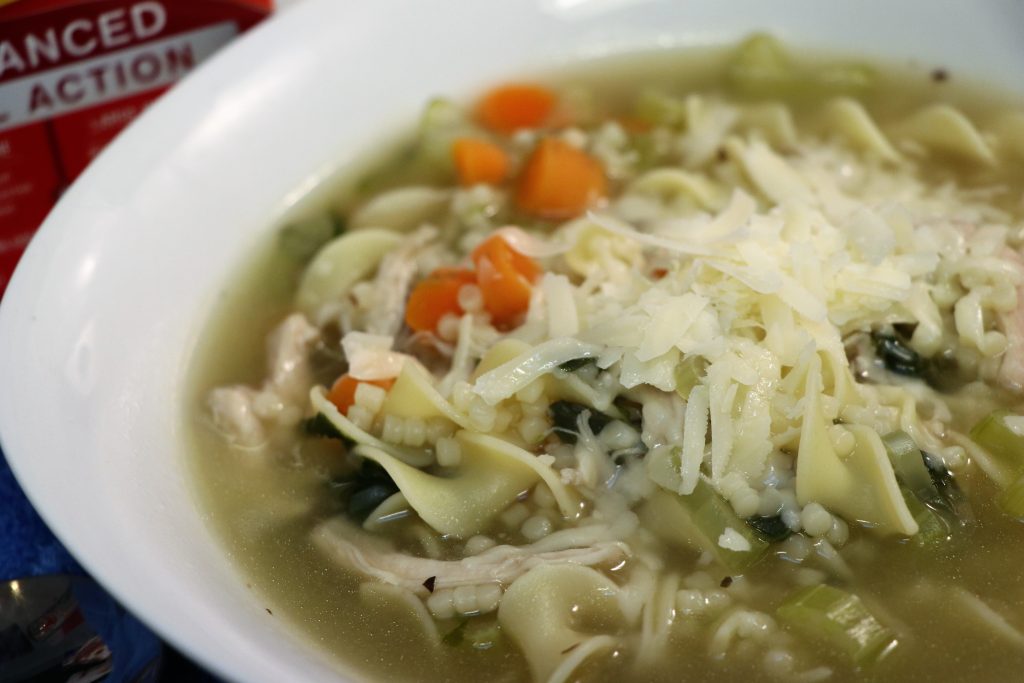 Nature Made® Digestive Probiotics Advanced Dual Action
​
In addition to eating gut friendly food like my chicken and veggie soup, I have started incorporating a daily
probiotic
into my routine. My probiotic of choice has been
Nature Made® Digestive Probiotics Advanced Dual Action
​
from Walmart. Probiotics provide numerous benefits! Since they are a "good" bacteria, which naturally exist in cultured or fermented foods (like yogurt and certain cheeses)
​
, they benefit the digestive system by crowding out unwanted organisms and allow for more of the "good" bacteria to be present in your gut.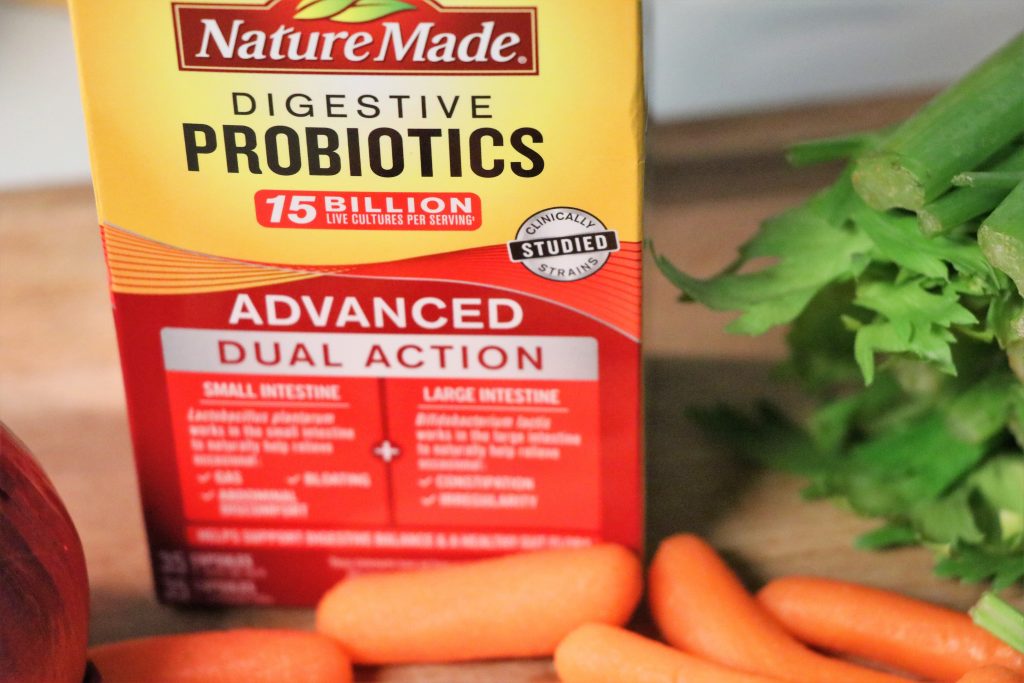 In order to help balance out my own gut flora and "good" bacteria, I have been using the
Nature Made® Advanced Dual Action Probiotics
alongside making better choices with my food. The Advanced Dual Action Probiotics are made up of two different probiotic strains. The strains each act in different regions of the intestinal tract, in order to provide occasional relief from differing digestive issues.†
​
The
Bifidobacterium lactis
SD-5674 acts in the large intestine and helps with occasional
​
constipation and irregularity.† While
Lactobacillus plantarum
299v acts in the small intestine to help with occasional
​
gas, bloating and abdominal discomfort.†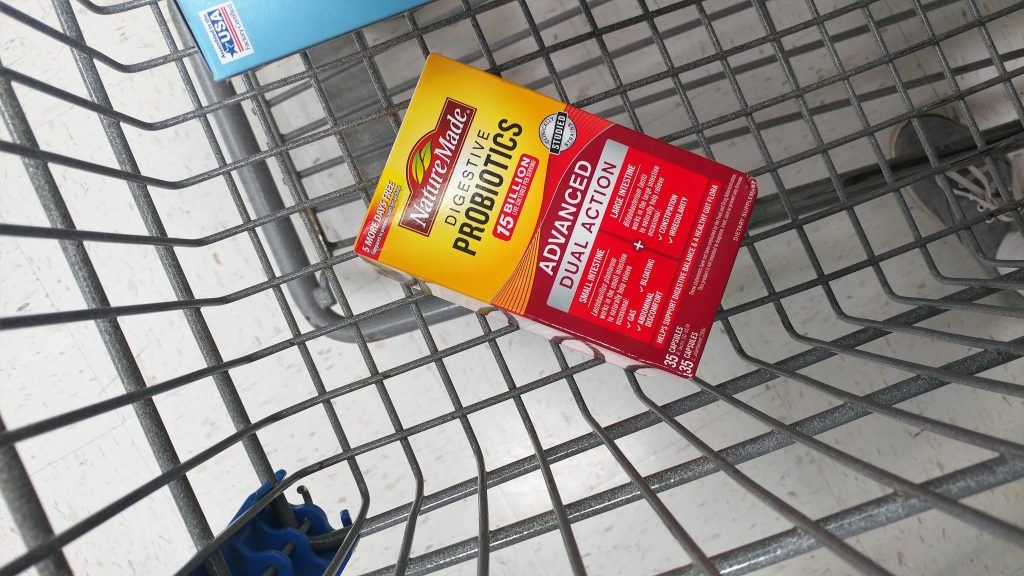 If you are thinking to yourself that these sound fancy and expensive, you would be totally wrong! They are available at Walmart for a trusted everyday low price! I was able to grab mine, along with all of the ingredients needed to make my chicken veggie soup all in the same store. Using probiotics, along with a healthy diet, is a wonderful way to increase your intake of good bacteria and help naturally support your digestive health.†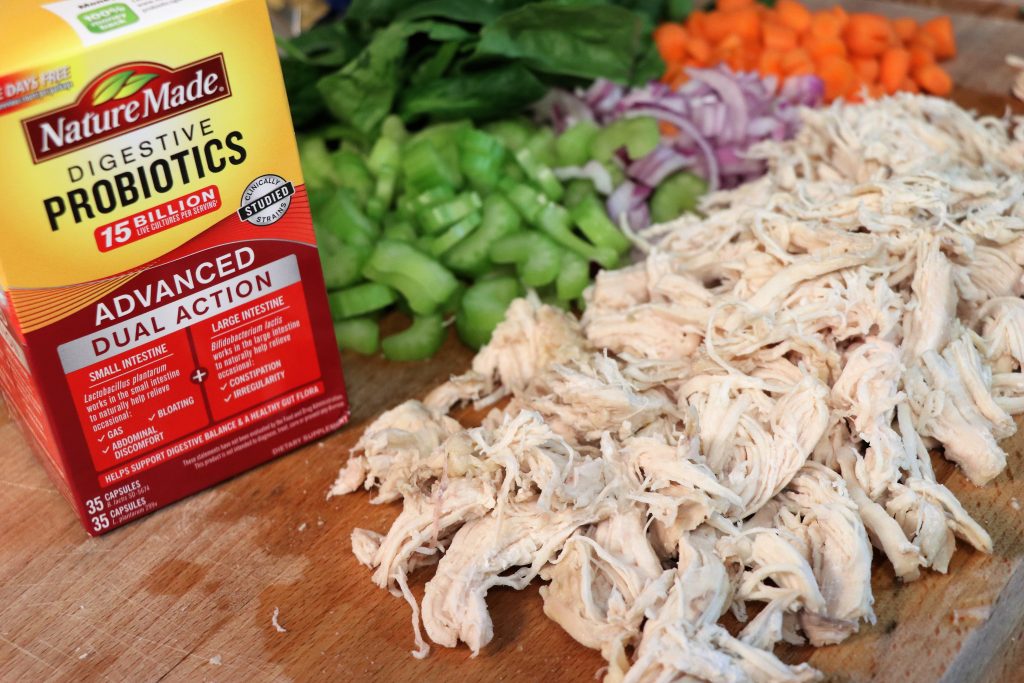 †These statements have not been evaluated by the Food and Drug Administration. This product is not intended to diagnose, treat, cure or prevent any disease.