See how to make jar pasta sauce better! Go from plain jarred pasta sauce to nearly homemade tasting sauce!
When I married into an Italian family, I learned quickly that jarred pasta sauce may not be the best idea for making family dinner. Hearing stories about how grandma spent a whole day making fresh sauce may have intimidated me a bit… But it also inspired me to do better. I grew up eating simple jarred sauce warmed up over meat and noodles… Those days are long gone though… While I may not be making day-long homemade pasta sauce, I have learned a thing or two about how to elevate and transform jarred pasta sauce to make a delicious, easy, and inexpensive weeknight family meal!

How to Cook Pasta Sauce from a Jar
Spaghetti and red sauce is a perfect budget-friendly weeknight meal. It is inexpensive, makes a ton, and typically even the pickiest eater loves spaghetti. I am a busy mom… Between working, freelancing, keeping up with the kids' activities, and trying to maintain a somewhat clean house… Cooking dinner just needs to be quick some nights. Just because I want dinner to be quick and inexpensive though, doesn't mean I don't want it to taste delicious. I refuse to sacrifice taste for convenience, and you should too! Good food doesn't have to be expensive and doesn't need to be complicated either.
How to Make Jar Pasta Sauce Better
Let's get into the meat of this post. Y'all want to know how I transform jarred pasta sauce into a delicious weeknight meal for my half-Italian family.
First and foremost, you need the meat! I love using Italian Sausage for pasta sauce. You can use mild, hot, or sweet Italian sausage depending on your personal tastes. Start out by cutting up your sausage and browning it in the bottom of your pan. It doesn't need to be cooked through at this point… Just browned. Mix in some fresh vegetables as well. Diced onion, peppers, tomatoes, and minced garlic. You will want your veggies to start to soften, but again they don't have to be cooked through.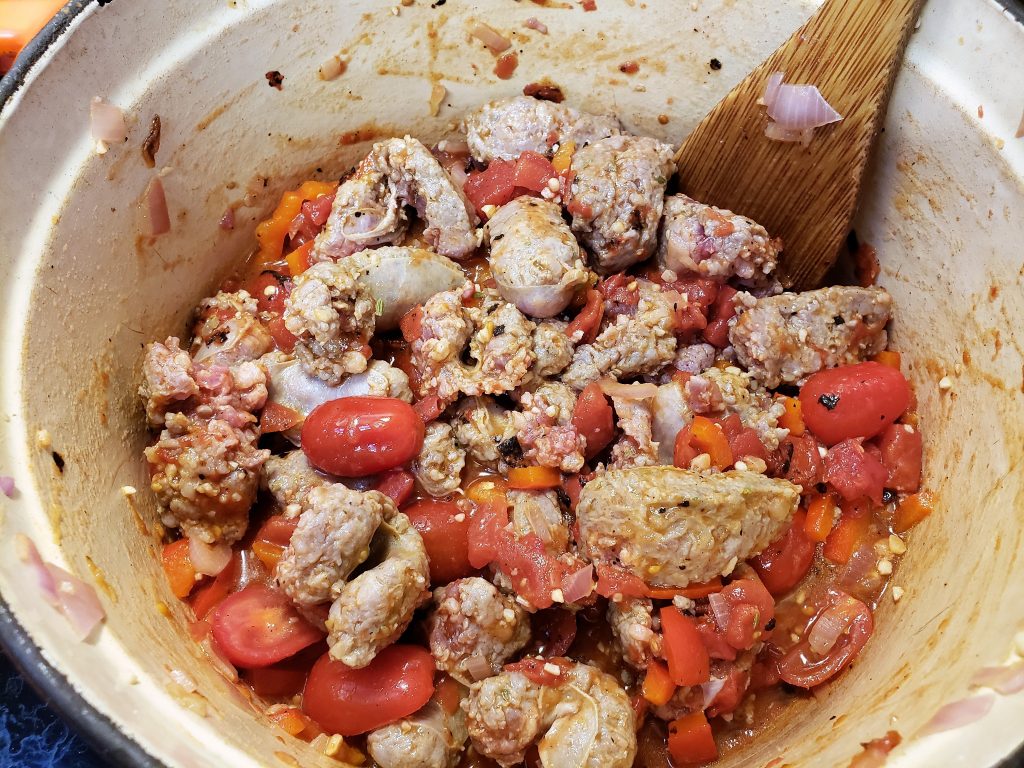 Next up, if you really want to step up your jarred pasta sauce, you will need to add in some red wine. In case you don't know ( some people really don't) the alcohol will cook out completely making it totally safe to serve your children. My kids eat this all the time! The type of wine is really up to you though. Red is what tends to go best with red pasta sauce, but there are so many different red wines to choose from.
You can do dry, you can go sweet… You can go with something in the middle. Recently, I have been going with a slightly sweeter red and using this red Sangria from Barefoot. You don't need to add in a ton either, just enough to cover the bottom of the pan. Not only does this add flavor to the sauce, but also lifts anything that is stuck on from the bottom of your pan!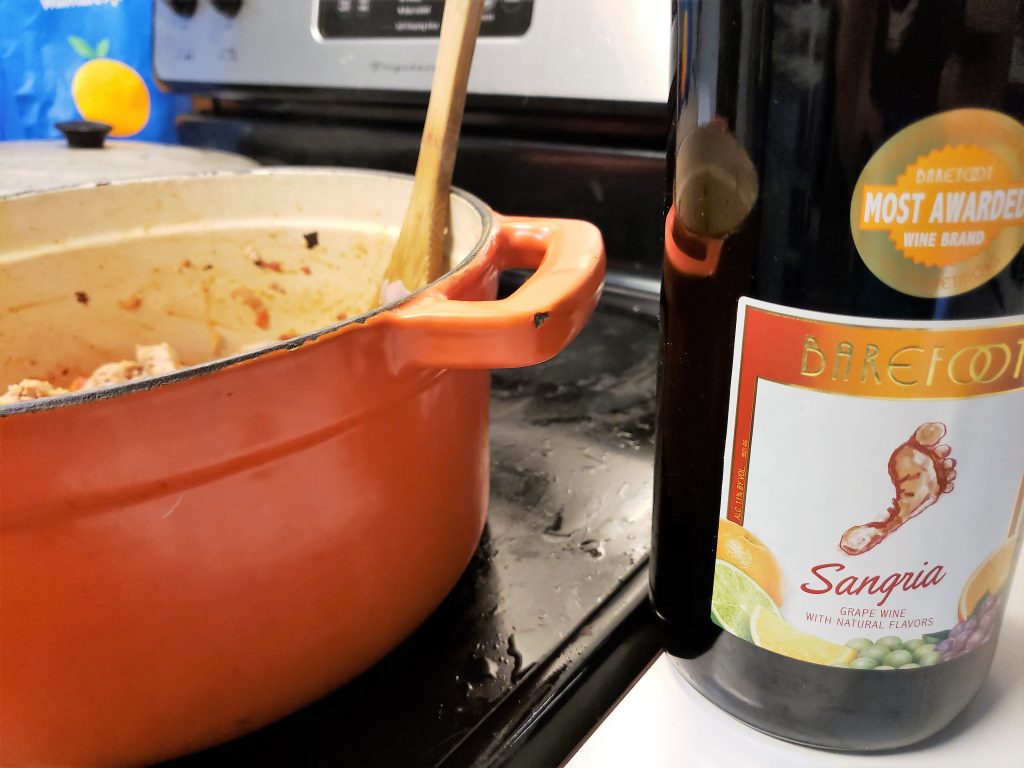 Surprising Pasta Sauce Additions
Now you can add in the actual jarred pasta sauce! Dump it in and we will keep spicing it up a bit.. One thing I always do, which may surprise you is add in about a pinch of sugar. Plain white sugar… It helps to cut down on the level of acidity you can taste in the sauce! It may sound strange, but trust me, it makes a delicious difference. Along with a pinch of sugar, you can add in some Italian seasoning, pepper, or fresh herbs to really step up the flavor profile of your sauce.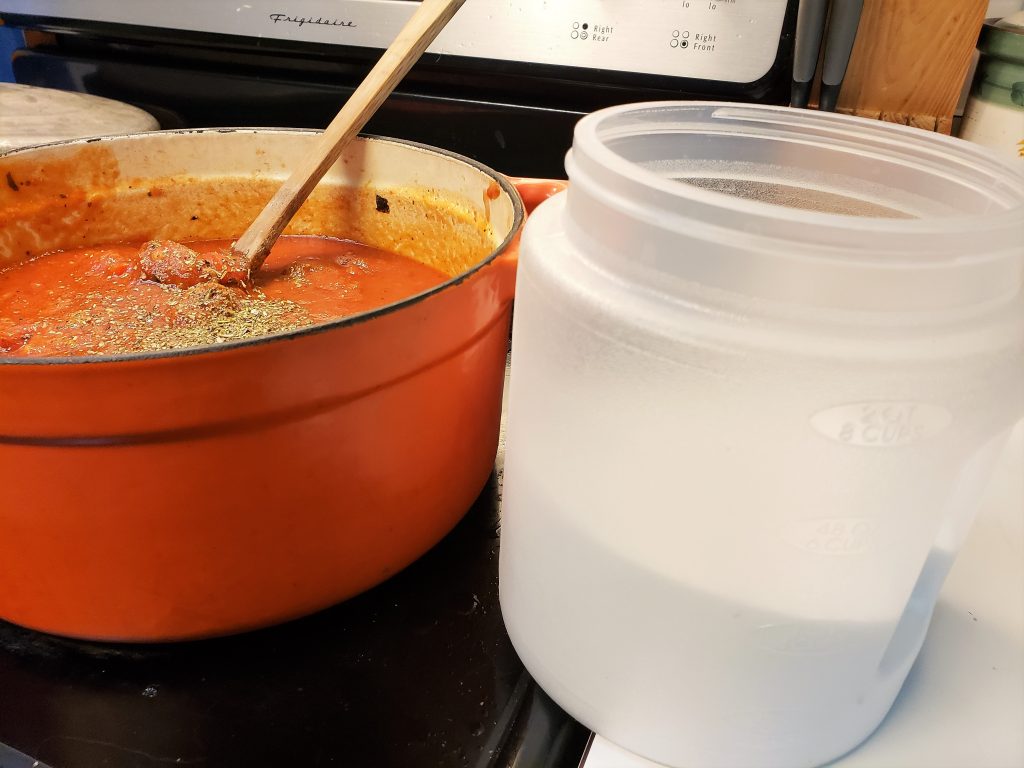 The final surprising addition to your jarred pasta sauce is going to be balsamic vinegar! Balsamic really elevates the flavor of your sauce, and you only need a super small amount, about 1 Tbsp or so. I tend to eyeball most of my pasta sauce ingredients, so the measurements are my best guesstimates.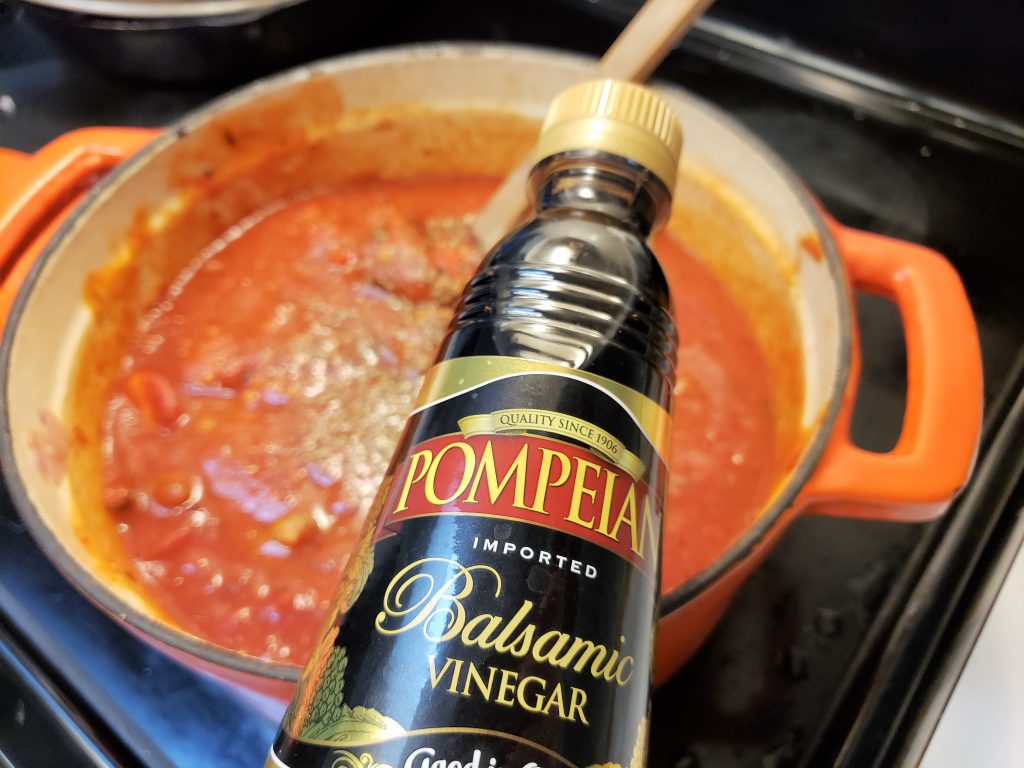 When I first started out with cooking, I precisely measured absolutely everything but now that I have been doing it for quite some time… I tend to just eyeball and use my best judgment. Except for baking… ALWAYS use exact measurements when baking!
Simmer Your Sauce
All of the extras are added to your sauce, and now it is time to let it simmer. Depending on how much time you have, the sauce should simmer anywhere from 30 minutes to 2 hours. As it simmers, give it a stir once in a while… Then all you have to do is serve it up over some noodles, top with cheese, and enjoy!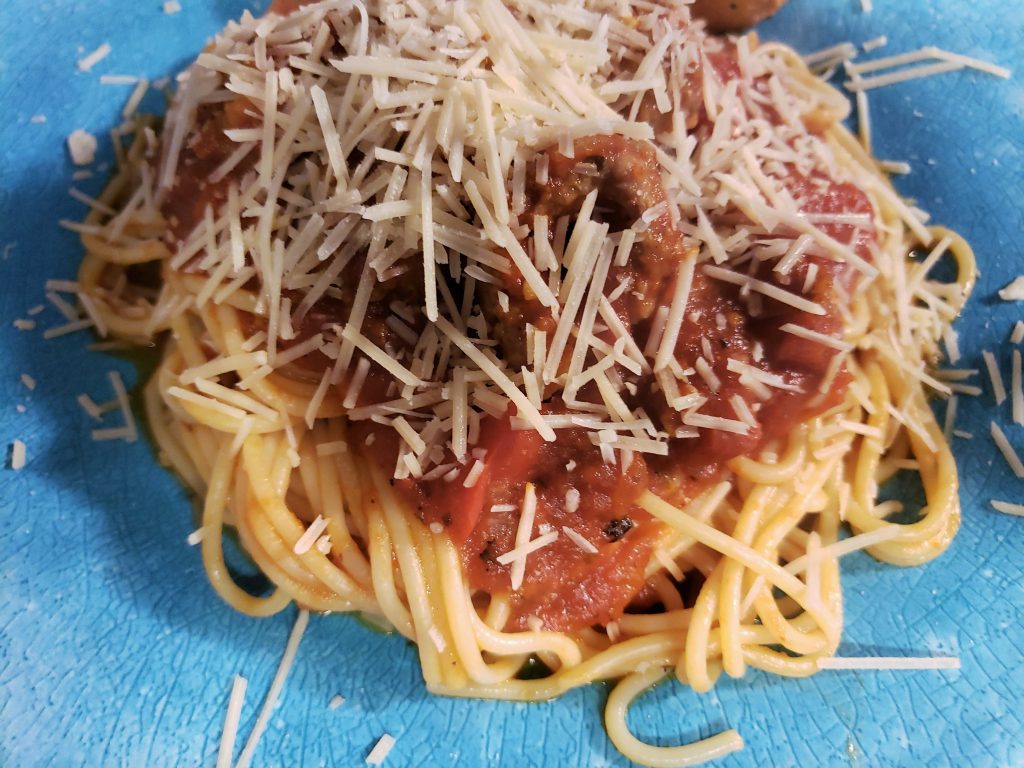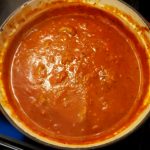 How to Make Jar Pasta Sauce Better
How to Make Jar Pasta Sauce Better!
Ingredients
1

Diced Onion

1

Diced Bell Pepper

1

Diced Tomato

1

Tbsp

Minced Garlic

1

lb

Italian Sausace

2

Jars

Pasta Sauce

1

pinch

Sugar

1

Tbsp

Balsamic Vinegar

1/4

Cup

Red Wine
Instructions
Brown your Italian sausage.

Add in your diced vegetables and minced garlic. Cook a few minutes until they start to soften.

Add in your Red Wine. Stir until mixed through.

Pour in your pasta sauce, and add in the sugar, balsamic and seasoning of your choice.

Let simmer for 30 minutes to 2 hours. Serve over pasta and enjoy!