These super easy ice cream cone cupcakes are the perfect way to make any birthday party truly special!
Looking to make your little one DIY cupcakes that they will never forget? Ice cream cone cupcakes are so easy to make! Not to mention they will have everyone talking about how fun and creative you are!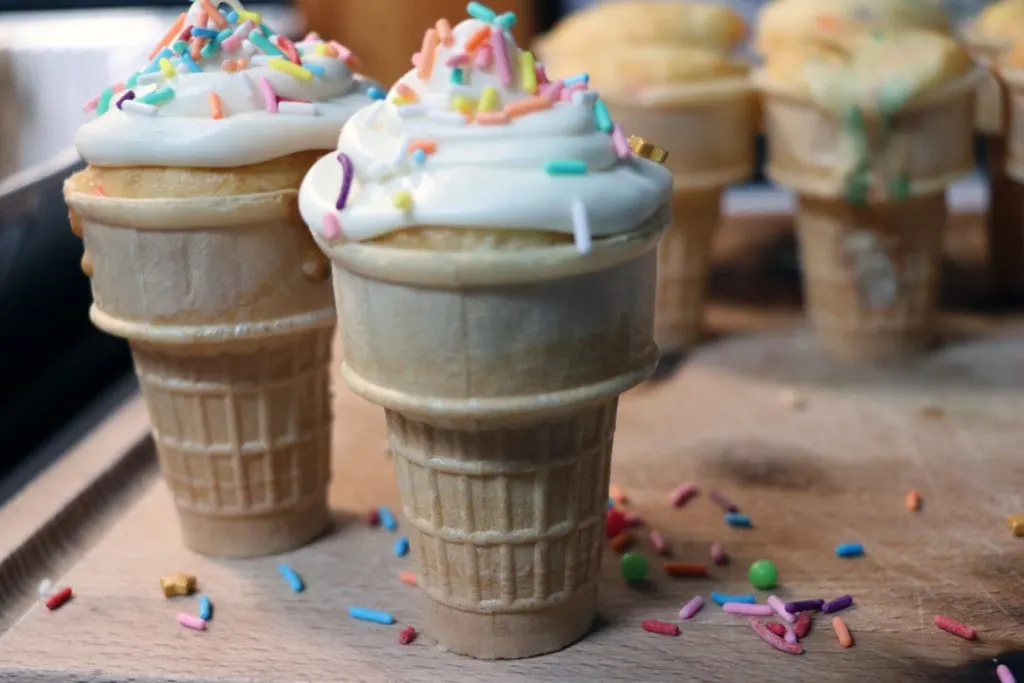 I am not by any means an expert baker. Honestly, while I love cooking and love simple desserts, I actually don't love baking. Baking tends to be too technical for me. I don't like to measure ingredients and with baking, that is pretty important. So when I needed cupcakes to send to school for my daughter's birthday, my first instinct was to buy them.
Buying store-bought cupcakes just isn't as fun though. I wanted to do something fun and special for my little birthday girl, so I decided to make her cupcakes myself. I have made simple at-home cupcakes before, specifically for her unicorn birthday party. One year I even made a donut drip cake. The one thing that all of these baked goods have in common though, boxed cake mix!
I love a good boxed cake mix. All of the guesswork is taken out! I don't have to worry if I have enough or too little flour or baking powder. Just add water, egg, and oil, and BOOM! You've got yourself a perfectly delicious ready-to-bake cake!
So for these ice cream cone cupcakes, I went with a funfetti cake mix. Willow is actually the one who decided on ide cream cones as the theme for this year's birthday, and how could I say no to an adorable almost 7-year old who wants to show off her fancy cupcakes to all of her school friends?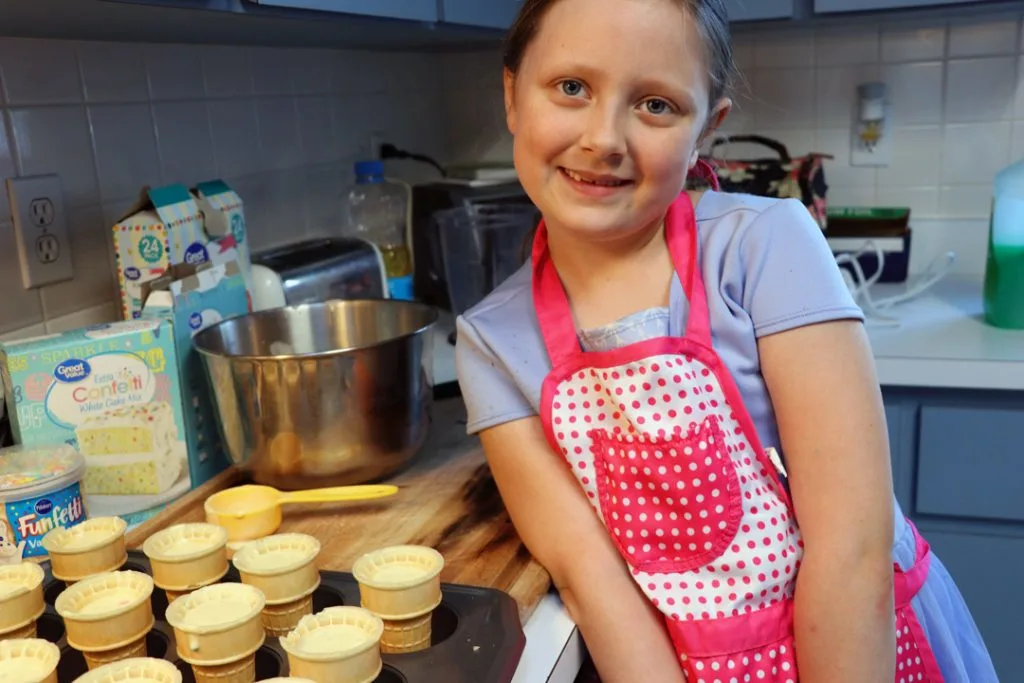 Ice Cream Cone Cupcakes Recipe
If you want to recreate these cupcakes, all you will need is a few simple ingredients.
Boxed Cake Mix

Vegetable Oil

Eggs

Frosting

Sprinkles

Ice Cream Cones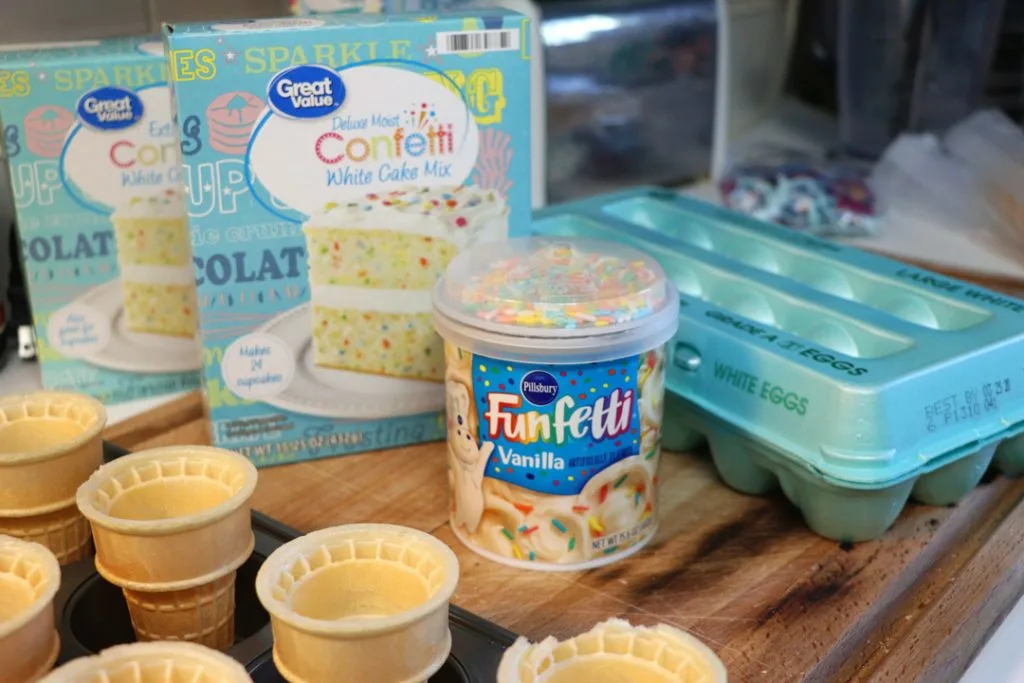 How to Make Ie Cream Cone Cupcakes
These adorable creations are much easier to make than you may expect. Seriously, If I can make them, I guarantee yours will look fife times better!
While they are super simple, I still like a good step-by-step recipe recreation with pictures… So that is just what you are going to get!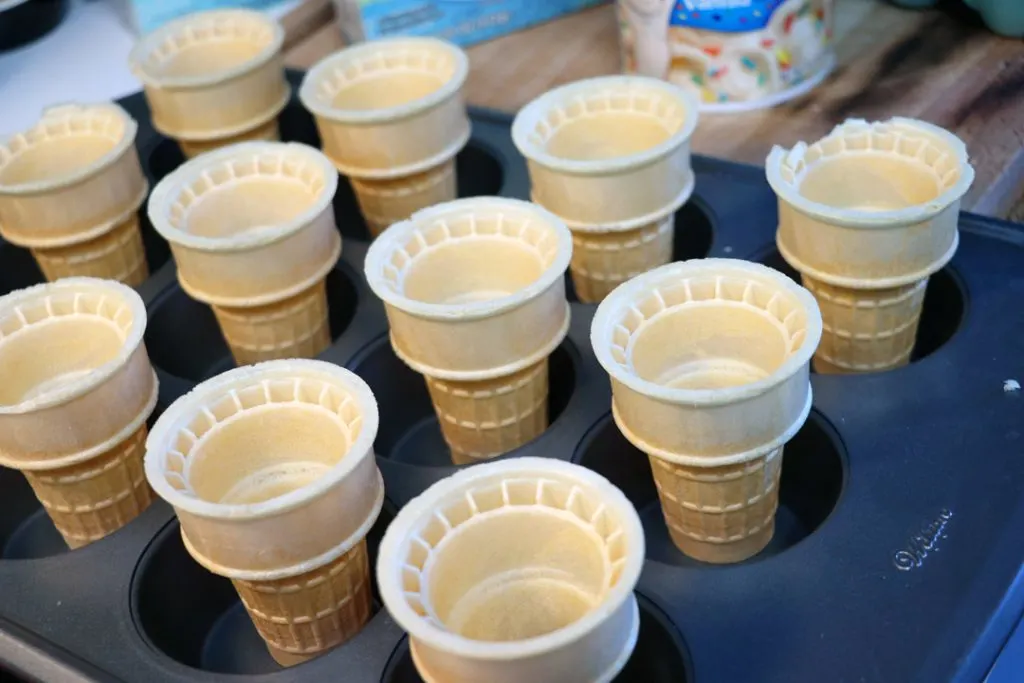 First, you want to make your box cake mix as per the instructions on the box. Usually, this is just adding in eggs, water, and oil.
Preheat your oven to 350°.
Place your empty ice cream cones into your cupcake pan. Pour the cake batter into the ice cream cones until they are about three-quarters of the way full.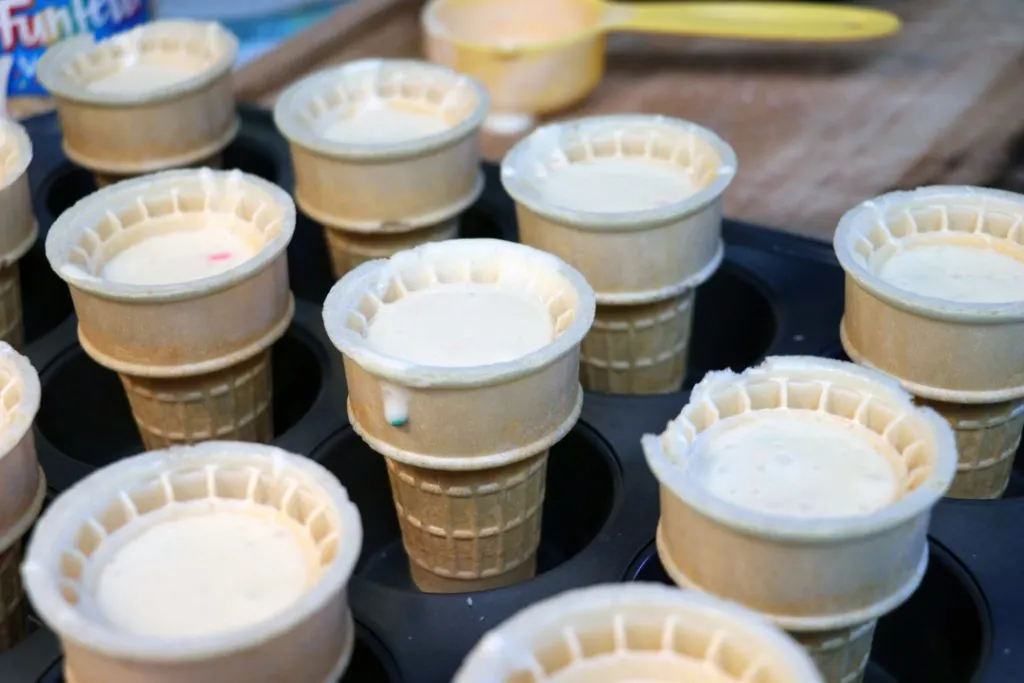 Bake the ice cream cone cupcakes for 20 minutes at 350°.
When your cupcakes are done, let them cool for about 10 minutes before icing.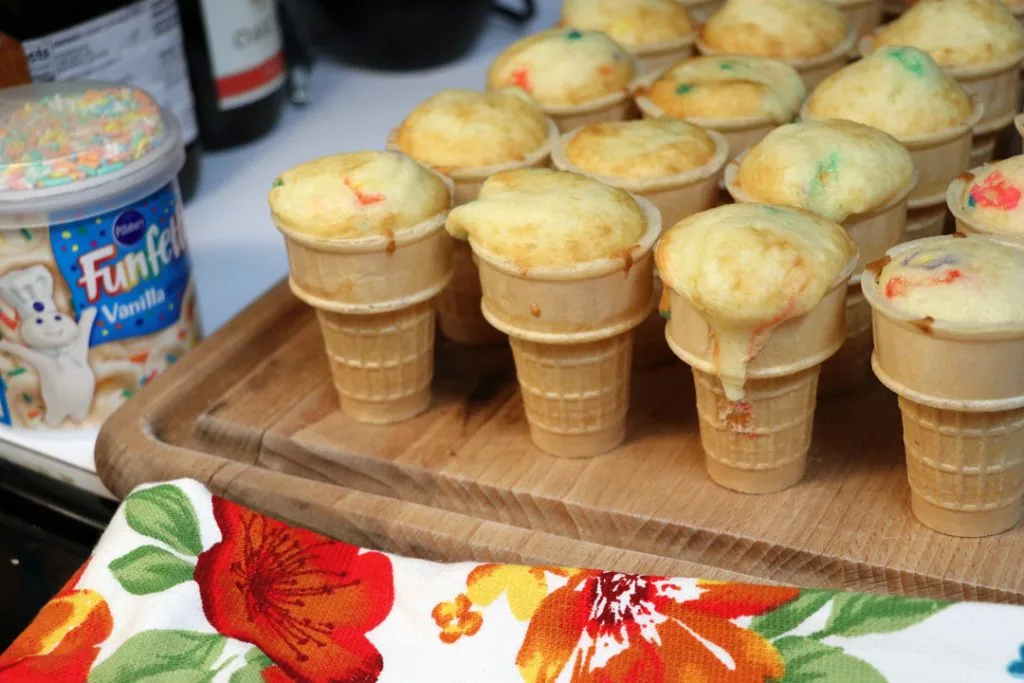 When cool, ice the cupcakes. I used a ziplock back with the corner cut off to apply my icing, but you can use an actual piping bag if you have one.
Pipe on the frosting to look like ice cream! Top with sprinkles and your cupcakes are party ready!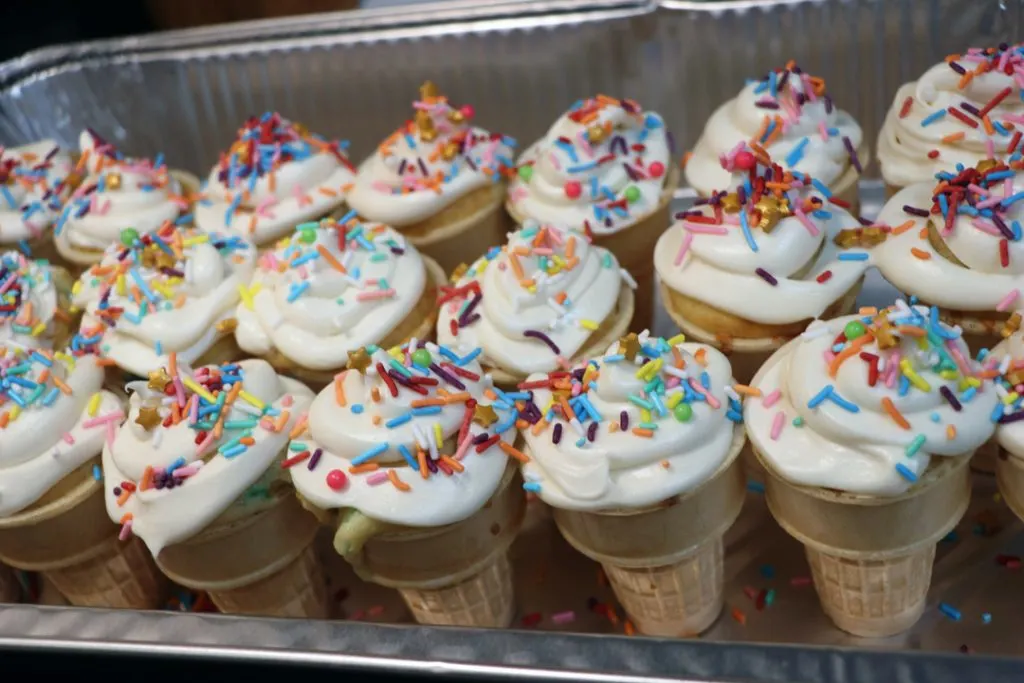 Grab the Printable Recipe Here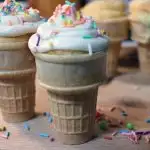 Ice Cream Cone Cupcakes
These Ice Cream Cone Cupcakes are easy to make and perfect for a birthday party!
Ingredients
1

box

Cake Mix

2

Eggs

depending on the cake mix

1/4

cup

Vegetable Oil

depending on the cake mix

1

pack

Ice Cream Cones

flat bottom cones!

1

container

Frosting

Sprinkles
Instructions
Preheat your oven to 350°

Make the cake mix according to the box instructions.

PLace your ice cream cones standing up in your cupcake pan.

Fill the cones up 3/4 of the way.

REmove from oven and let cool.

Fill your ziplock bag with icing and cut off the corner (or use a piping bag).

Pipe icing onto your cooled cupcakes and top with sprinkles!
I promise everyone will love these super simple cupcakes! I mean, can you argue with this happy face?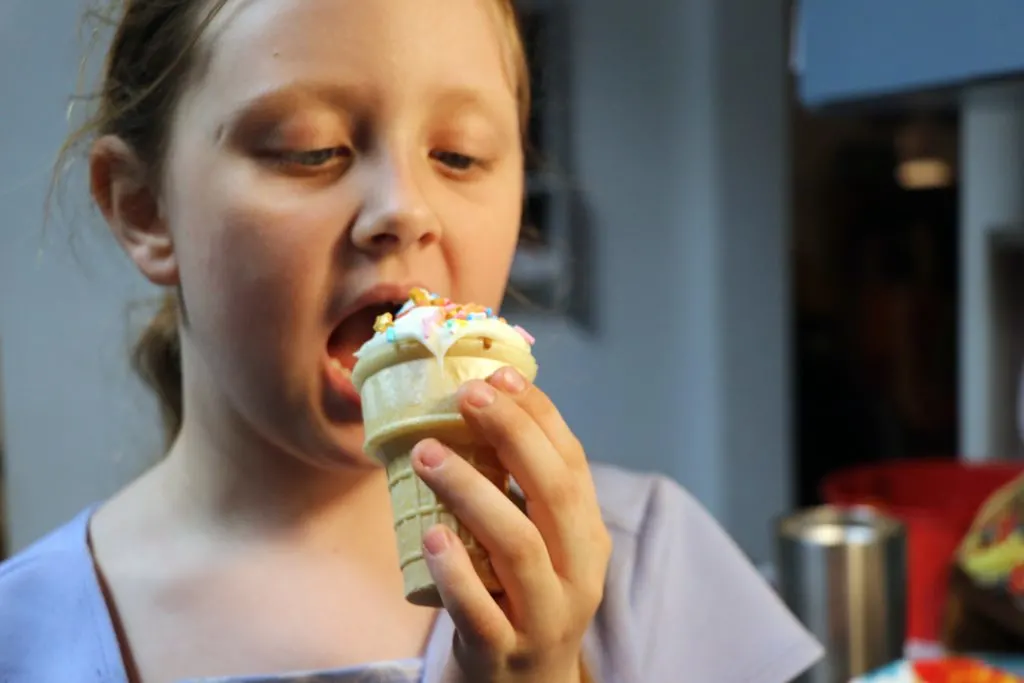 Pin It For Later
Love this recipe? Pin it for later! Save this pin and have the recipe ready for you to make any time you want!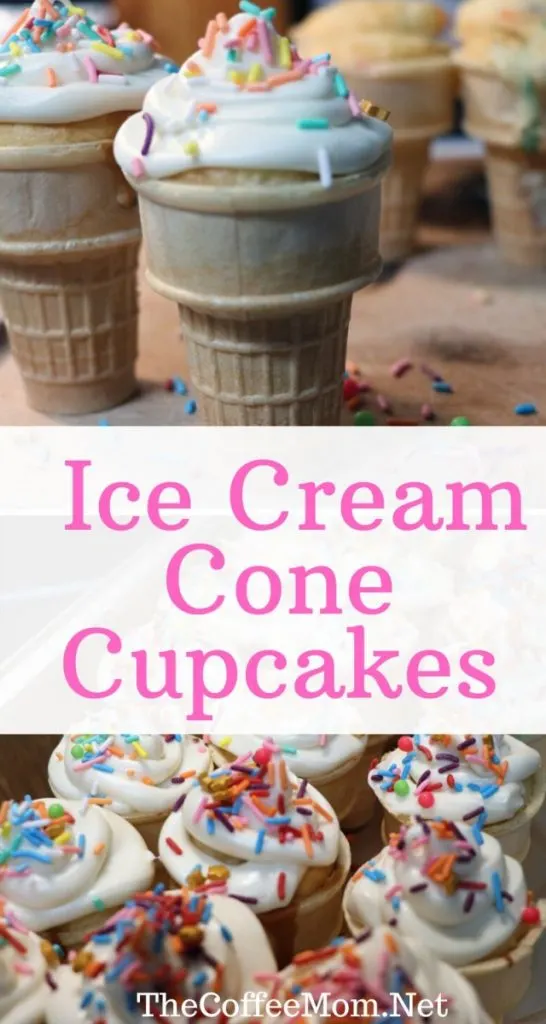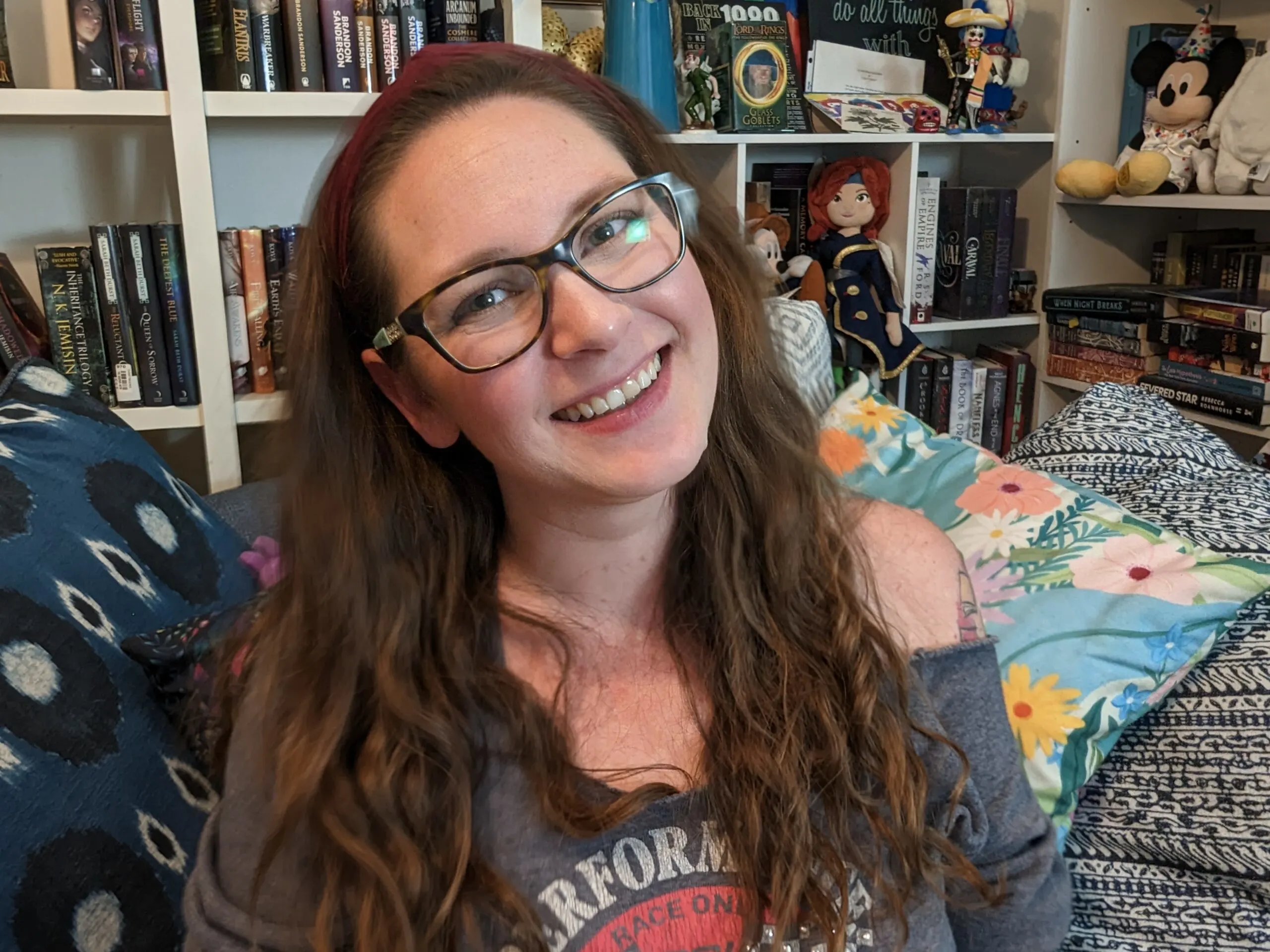 Jessi is the creative mind behind The Coffee Mom, a popular blog that combines parenting advice, travel tips, and a love for all things Disney. As a trusted Disney influencer and passionate storyteller, Jessi's authentic insights and relatable content resonate with readers worldwide.