Chicken Nachos are one of my favorite weeknight recipes. They are quick, easy and the kids love them! I mean, you can't really go wrong with chicken, cheese, chips, and veggies!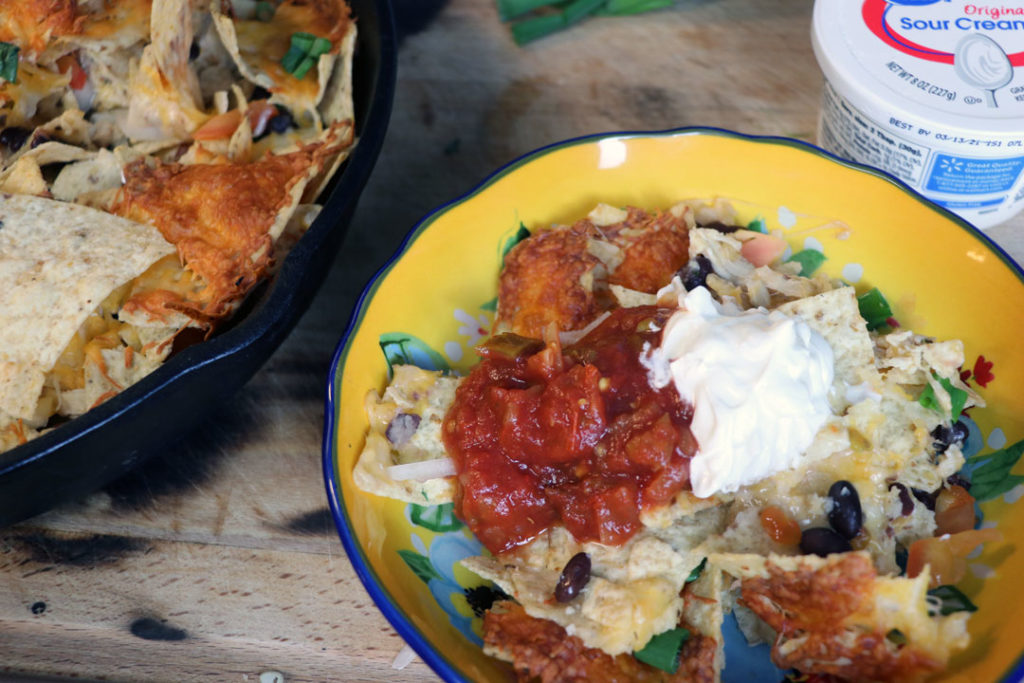 Cast Iron Chicken Nachos Recipe
When you are looking for a super simple weeknight dinner, you can't go wrong with chicken nachos. Honestly, this barely even constitutes cooking.
Not only are these chicken nachos great for easy weeknights, but they are also perfect as a camping meal. Just toss everything in the cast iron skillet, cover, and cook on the campfire!
I love camping with my family in the summers, so this is one I will be making by the fire this year for sure!
How to Make Chicken Nachos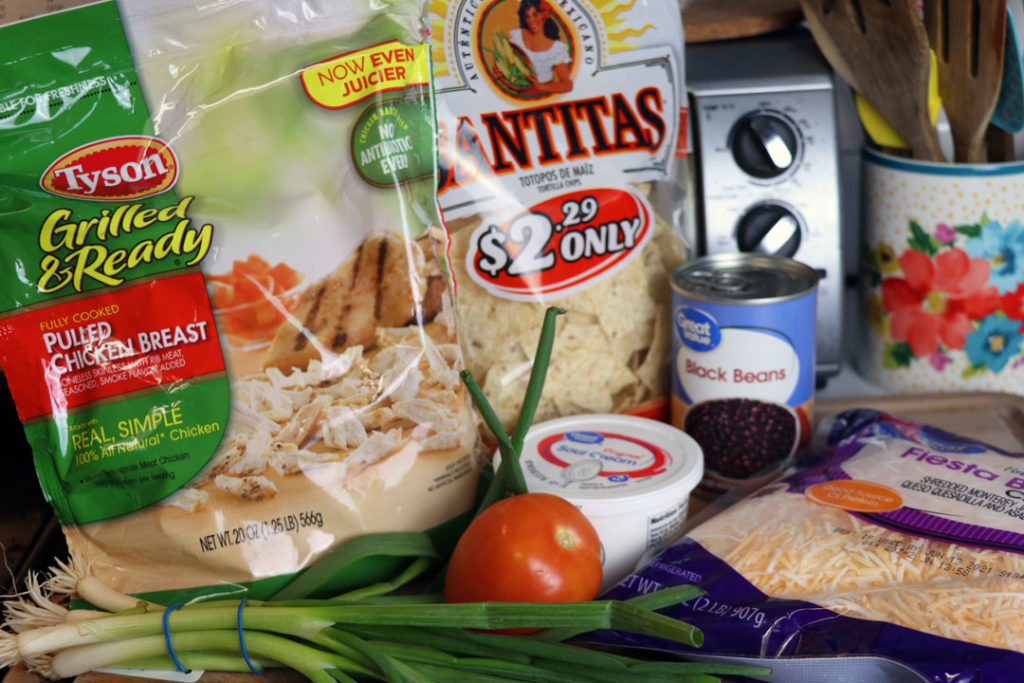 Again, I have to tell you, this may be the easiest recipe ever.
You barely have to even cook anything. Seriously, it is all just heating it up.
The only thing you may have to cook is the chicken. I personally used pre-cooked Tyson grilled & ready chicken though so I didn't have to actually cook anything.
Another beautiful thing about these cast iron nachos is that they are super easy to customize to your personal tastes!
Don't want meat? No Problem! Love spicy food? Spice it up! You can add, or subtract, anything you want to make your perfect nachos!
Ingredients
If you want to recreate my nachos exactly, all you will need is:
Tyson Grilled & Ready Chicken

Onion

Black Beans

Shredded Cheese

Tomato

Tortilla Chips

Green Onions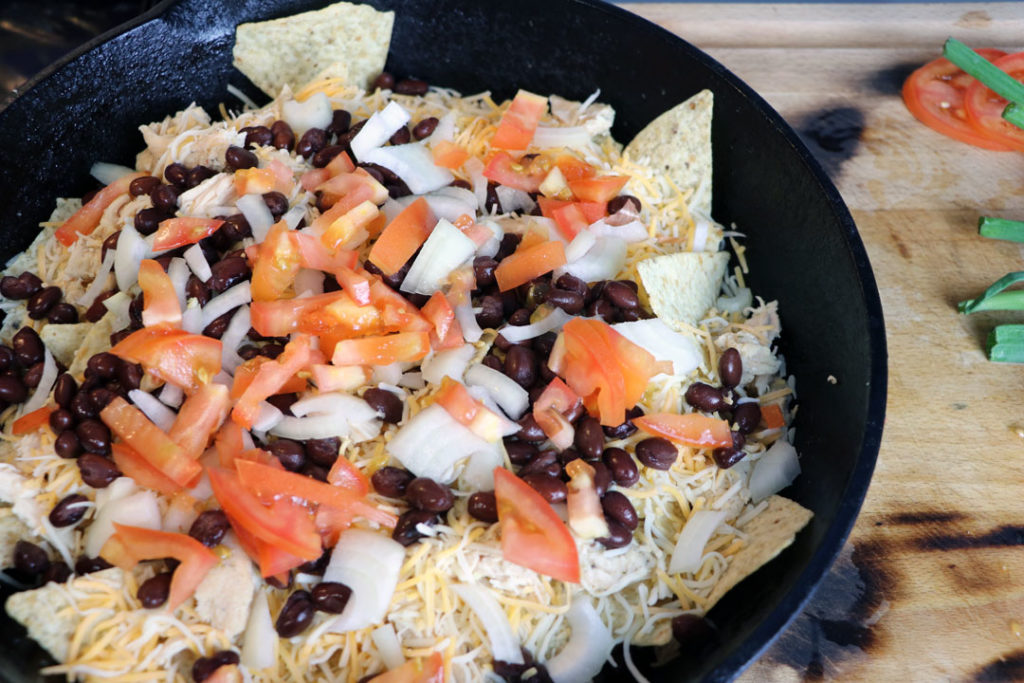 Start tossing your ingredients into your pan. Chips and chicken. Then top with cheese, diced onion, some black beans, and diced tomatoes.
Then layer with more chips, the rest of the onions, beans, tomatoes, chicken, tomatoes, and even more cheese.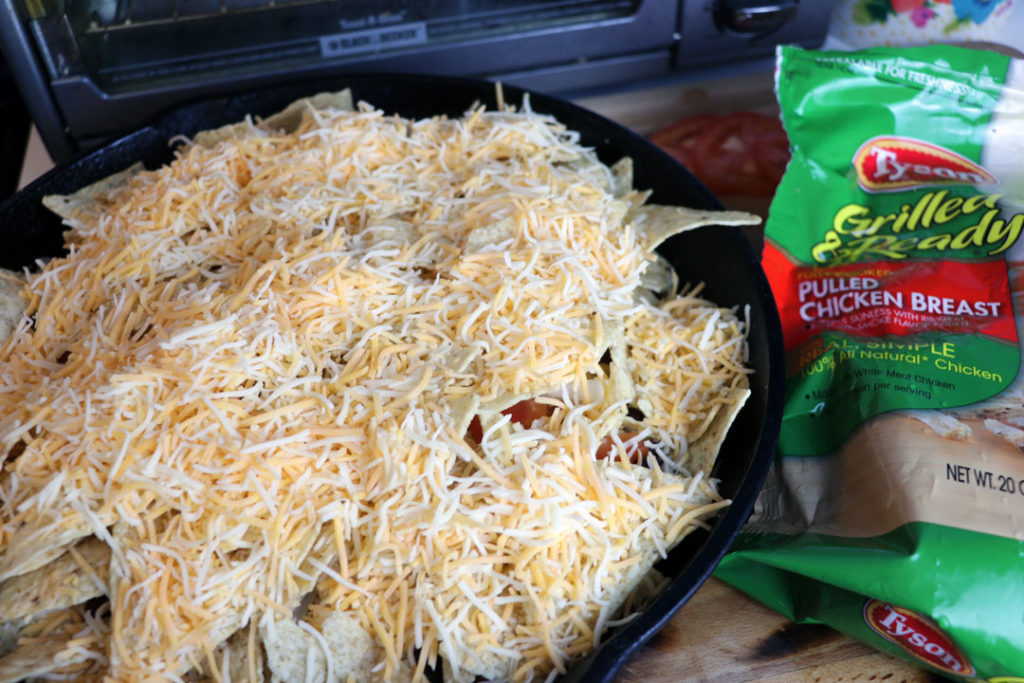 Now all you have to do is cover the pan with foil and bake at 425° for about 20 minutes.
If you are camp cooking, you can cook the chicken nachos covered over a fire for 30 minutes. You can even make these in a Dutch oven, bury them in some coals, and cook that way in the great outdoors!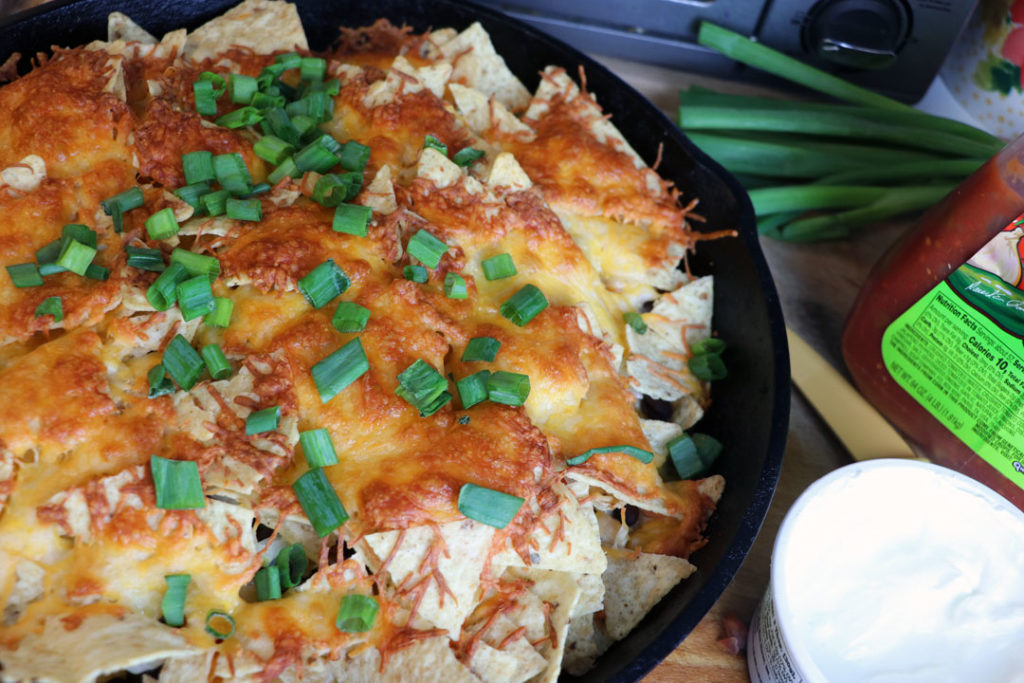 Once your nachos are ready, top with some green onions, serve with your favorite toppings like salsa and sour cream!
Make these for dinner one night, and you will totally be the cool mom for letting your kids eat chips for dinner!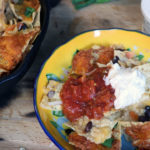 Chicken Nachos
Ingredients
Cooked Chicken

I used Tyson Grilled & Ready

Tortilla Chips

Diced Onion

Black Beans

Drained

Fresh Diced Tomato

Shredded Cheese
Instructions
Add half of your chips to your pan.

Top with half of your chicken, cheese, onions, black beans, and diced tomatoes.

Add the rest of chips to the top, then the rest of your other ingredients.

Cover the top with cheese.

Cover with foil and cook for about 20 minutes until warm and the cheese is melted.

You may need to add in about 5-10 more minutes uncovered to get a nice browened top.

Serve with your favorite toppings, sour cream, salsa, and green onions!
Make sure you pin this recipe for later!