Have you ever considered creating a brochure to get the word out about your business? Brochures are the perfect marketing tool for a wide variety of ventures, such as home baking businesses, tutoring services, photography businesses, sweets and treat bag companies, travel consultants, and many more. Whatever your business does, why not create a visually stunning brochure to advertise your services in the local community? Plus, brochure printing has never been easier!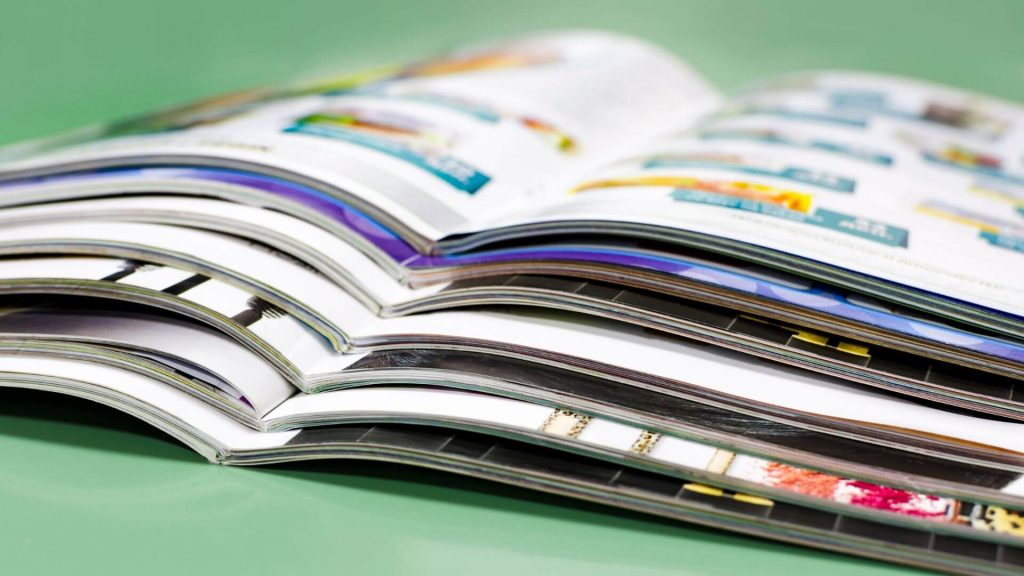 Why Should You Get Brochures Printed?
You might be thinking to yourself, why should I get brochures printed when I can advertise my products and services on my website and on social media? Well, there are several reasons:
Brochures are digestible
Did you know that most people find it much easier to digest information on paper than on a screen? When browsing online, people are bombarded with hundreds of ads. As a result, digesting information online can be a challenge—there's always something in the corner of your eye distracting you! On the other hand, a well-made, expertly printed brochure is easy for potential customers to read and understand.
Brochures create trust
People will only want to buy from you if they perceive you as trustworthy. A great way to gain their trust is to hand them a well-made brochure, as consumers generally trust printed marketing materials more than digital media.
Brochures are relatively cheap to produce
If you're currently engaging in social media or PPC advertising, you'll know that the costs keep on climbing. In the last few years, the cost of digital advertising has been rising, leading more businesses to invest in print marketing materials such as brochures, business cards, and leaflets. Plus, if you have plenty of copies printed, you'll benefit from a bulk order discount, meaning the cost of each copy is cheaper overall than it would be if you only ordered a small number of copies.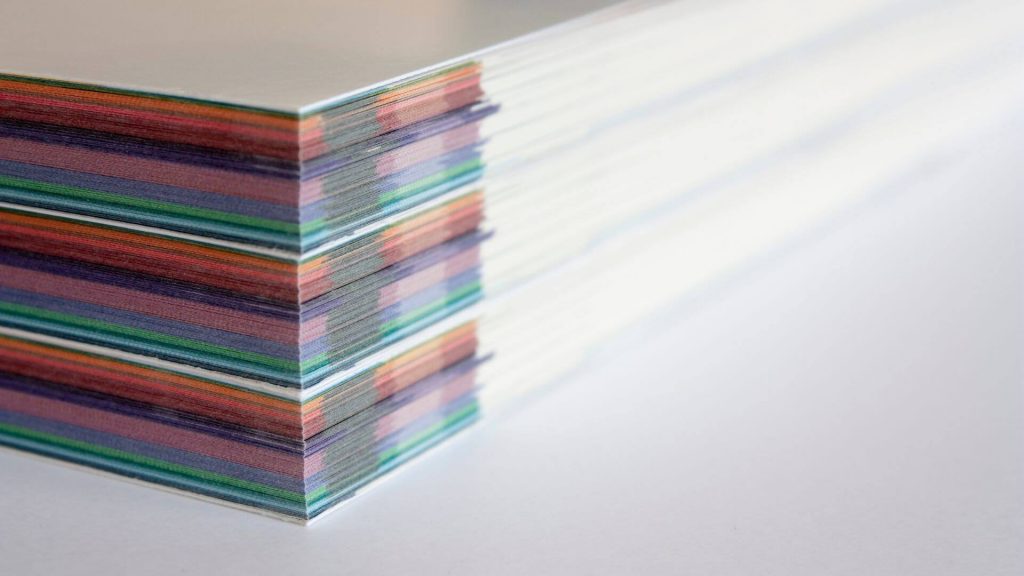 Brochure Design Best Practices
Before we jump into the creative brochure ideas, let's go through a few best practices for designing a good brochure:
If you haven't already, create branding guidelines for your business and stick to them. This should include fonts, colors, tone of voice, and logos.
Include plenty of empty space, so your design doesn't look overcrowded.
Include your business's logo somewhere highly visible.
Make it functional. An overcomplicated brochure may look good, but it might not be functional.
Include shapes to maximize impact.
Make sure the font is easy to read.
Include clear headlines.
Make sure the text in your brochure flows well and that there are no spelling and grammar mistakes.
Use high-quality imagery.
Include clear calls to action.
Include contact information, such as your phone number, email address, web address, or the address of your shop.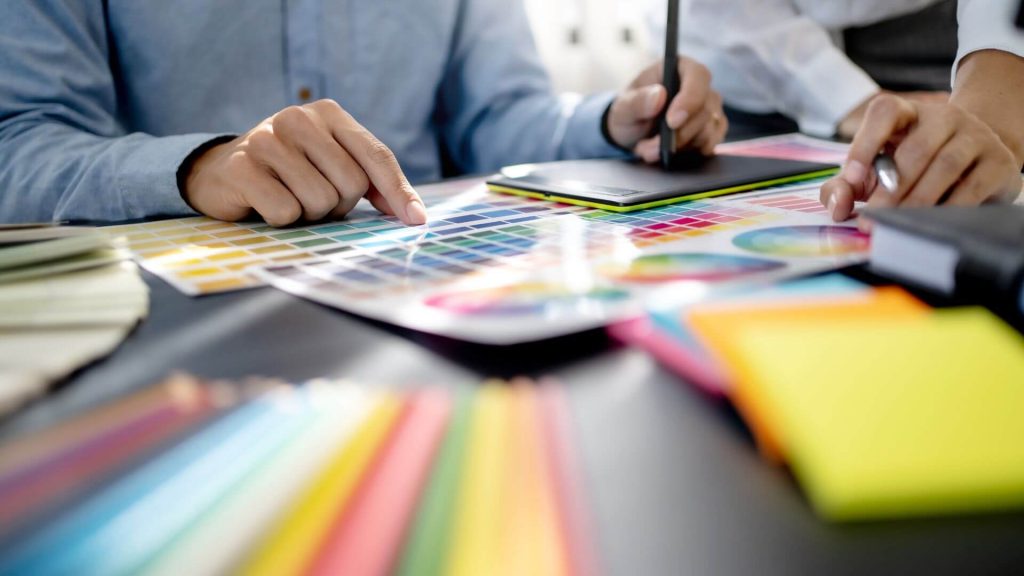 Six Creative Brochure Ideas
Use striking images
One of the best ways to capture the attention of your target audience is to include high-quality imagery in your brochure. Photos are an excellent communication tool—you convey your brand values with the photos you use in your brochure. For example, if you run a home baking business, why not create a brochure with a picture of yourself and one of your marvelous cakes on the cover?
Don't underestimate great graphics
If you don't have a large selection of high-quality imagery available for whatever reason, consider making graphics the focal point of your brochure. Great graphics have the power to reinforce your brand values and communicate clear messages to your audience.
Consider color-blocking
There are several ways to divide up information when designing your brochure. One good approach is color-blocking, where you use contrasting colors to divide space. But you don't have to leave them empty. In fact, color-blocking works really well when you overlay text or part-overlay images.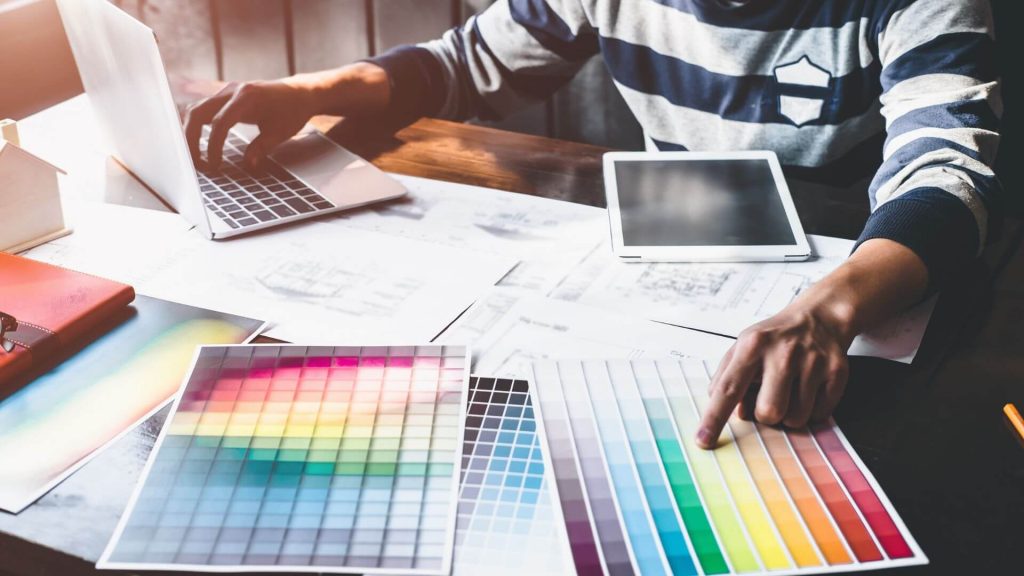 Be bold with fonts and colors
Another creative way to capture your audience's attention is to choose bold fonts and colors. Don't be afraid to make a statement with your brochure, especially if the nature of your business works well with bright colors and eclectic fonts, such as sweets and treats companies. Show off your fun side with a fun brochure!
Choose a slogan
Slogans will help you create a connection between you and your target audience. A good slogan is memorable and creates interest. If you do have a company slogan, make sure it features prominently on your brochure so that it is one of the first things a reader sees.
Experiment with layering
When you're designing your brochure, don't be afraid to experiment with layering. A good place to start is with a high-quality image. Then, try layering elements on top of it, such as opaque graphics and semi-transparent colors. But don't worry if things don't look right, to begin with, try a few different combinations and see which, if any, work.