It is Monday once again and time to get back on the healthy Food" grind. If you are a little like me, you may have taken a few extra liberties over the weekend… Eaten a little extra chocolate, or pasta.. but hey, everything in moderation….right?? During my weekly low(er) carb meals, I really do try to focus on good healthy foods for my family, even if we do indulge some on the weekends. This week, of of out favorite recipes on the meal plan were these Spaghetti Squash Taco Bowls! Y'all probably know we are a family of Mexican food junkies, so this recipe slid right into becoming one of our favorites.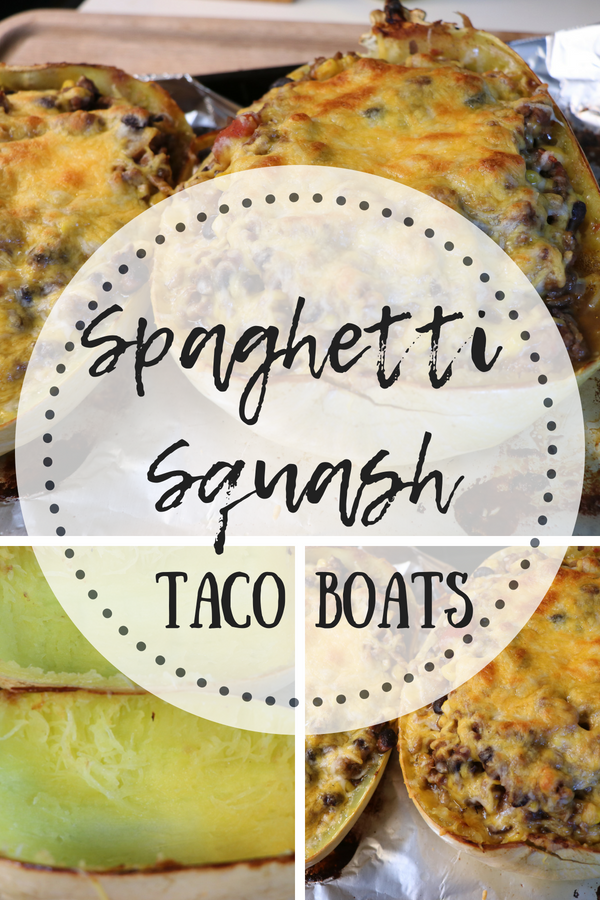 *This post may contain affiliate links. Meaning I will get a small commission for purchases made through these links at no extra cost to you*
Spaghetti Squash Taco Bowls
As I have mentioned before, I am working on eating a low(er) carb meal plan. Personally, I am not going Keto… We are still having pasta once in a while and eating a variety of vegetables that are no nos on the Keto diet…But we are taking steps to live a healthier lifestyle and maybe drop a few pounds in the process. One of the most fun parts of this process has been finding healthier alternatives to some of my family's favorite meals!
One of my recent discoveries, were these Spaghetti Squash Taco Bowls. My sister in law actually made these when I was over at her house the other day, and I was in love. My kids ate it and loved it, and that was when I knew I had to make this myself for Taco Tuesday! Taco Tuesday is a big thing in my house. We love Mexican food, and regularly make all the delicious, non healthy foods.. I mean these fried Taco Triangles are delicious, but so not the best for you probably.
Really, the worst part of tacos are mainly the shells, so this recipe swaps out shells for spaghetti squash. Not only removing some carbs, but also adding some amazing health benefits from this strange vegetable.
How To Cook Spaghetti Squash
Before making this recipe, I really had no clue how to make spaghetti squash. It is a big intimidating vegetable for a lot of home cooks, but it is surprisingly easier to cook than I thought. I will say though, it has a tough skin and can be hard to cut. So when cutting your squash in half, go slow and BE CAREFUL .. It would be very easy to slice yourself if you get frustrated and try to go too fast.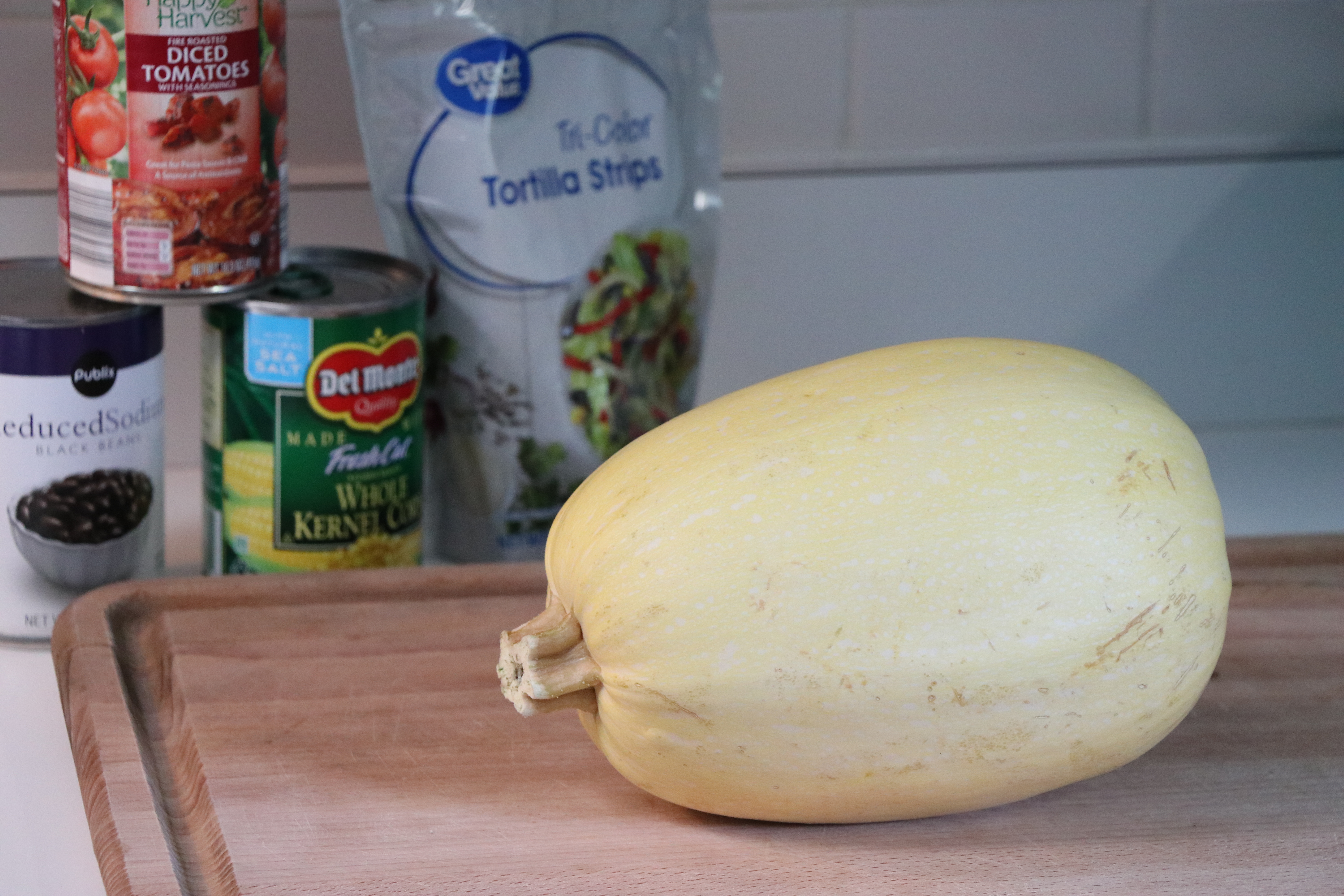 I grabbed my spaghetti squash when I did my Walmart Grocery pickup, and I was pleasantly surprised at how nice it was. The grocery pick up saves me a ton of time and money too.. you can try it for yourself and save $10 off your first order here.
Once you have your spaghetti squash home, you will want to preheat your oven to 450°. While it is heating up, cut your spaghetti squash in half long ways. This may take you a minute, so don't get frustrated! Use a very sharp, large knife! I found that it helps to poke holes around it and dig into the squash. It has a tough skin, so work slowly to avoid an accidents. I read that it can be helpful to pone holes around where you want to cut it and microwave it for about 2 minutes. Unfortunately, I do not own a microwave, so I just had to work my way around the skin.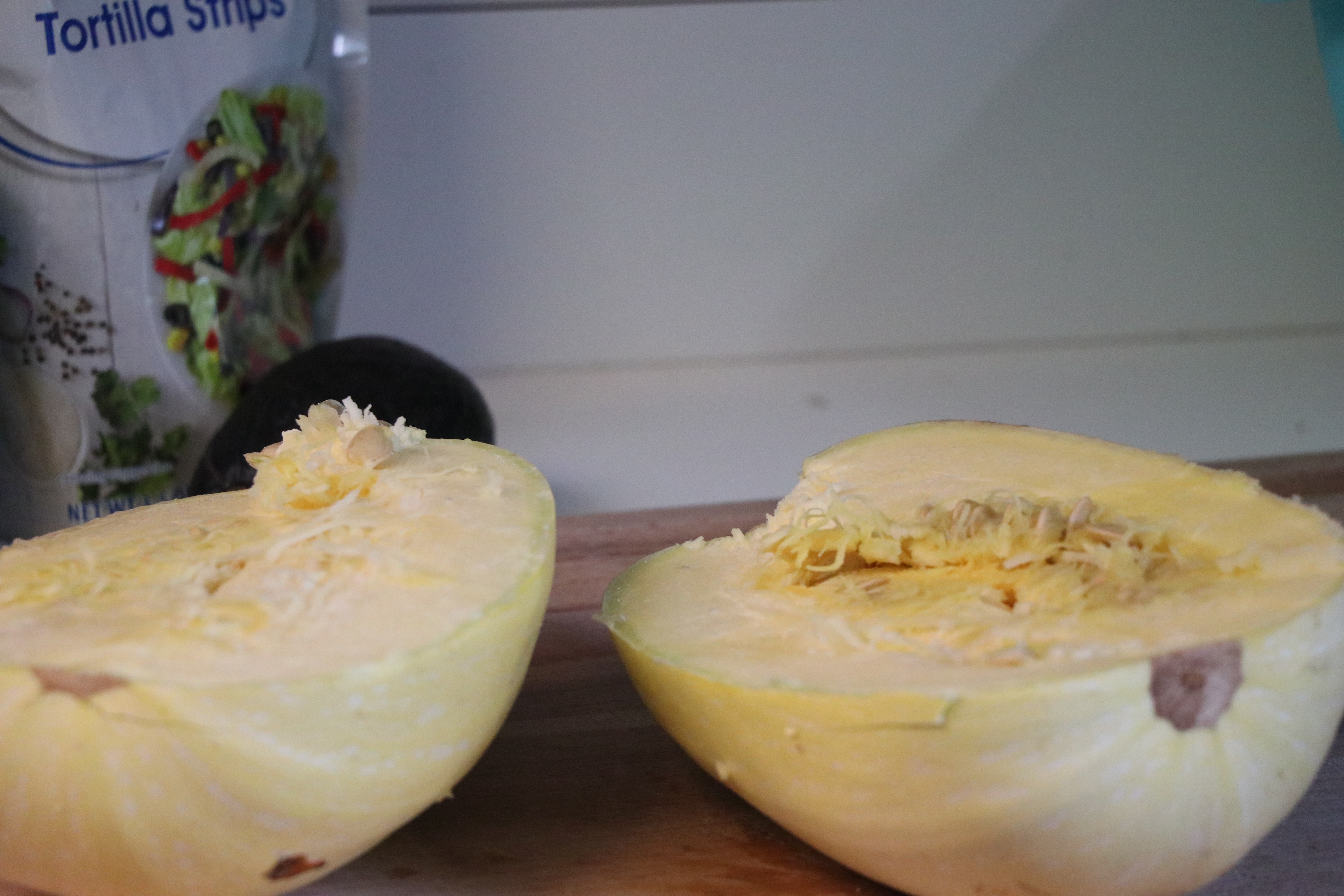 Once you have your squash cut in half, scoop out the seeds and drizzle with olive oil. Place it on a baking sheet ( I line mine with aluminum foil to keep the mess to a minimum), face down and bake it for about 40 minutes.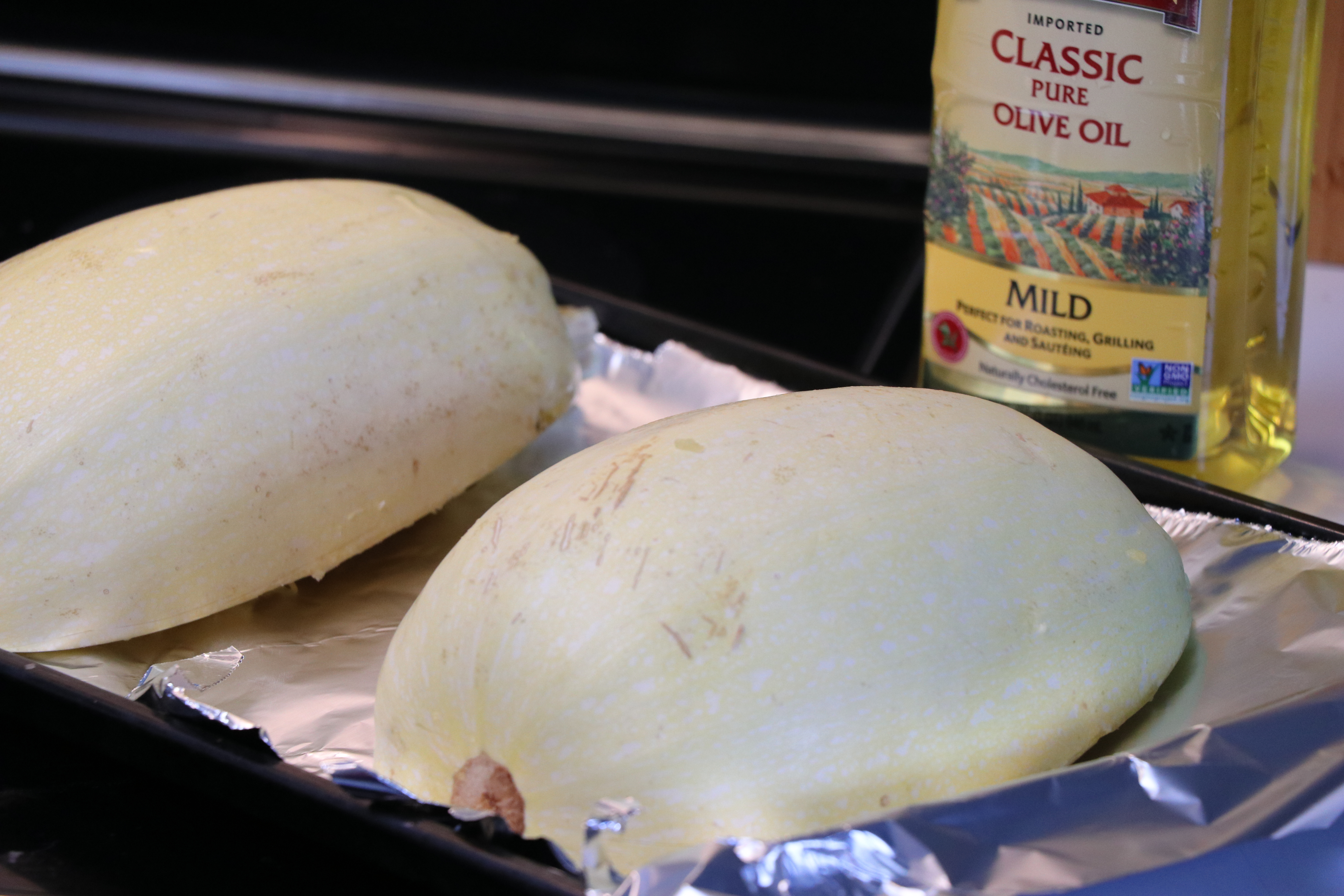 Making the Taco Filing
When your squash is in the oven, go ahead and start making your filling for the spaghetti squash taco bowls! This part is really up to you, because it is super easy to customize. Y'all know how much I like my customisable recipes. For example, I used ground beef for this recipe, but it would be super easy to swap out shredded chicken, or simple nix the meat all together and just use black beans to make this a vegetarian recipe!
To make this the way I did, start by dicing up one onion and cooking it in a hot pan. Add in your ground beef to brown. When the beef is fully cooked, drain excess fat and return to low heat.
Mix in one can of diced tomatoes, drained can or corn, drained can of black beans, and your seasoning. For seasoning, I used a pre-mixed fajita seasoning, a dash of cayenne, and one cube of Knorrs Cilantro seasoning.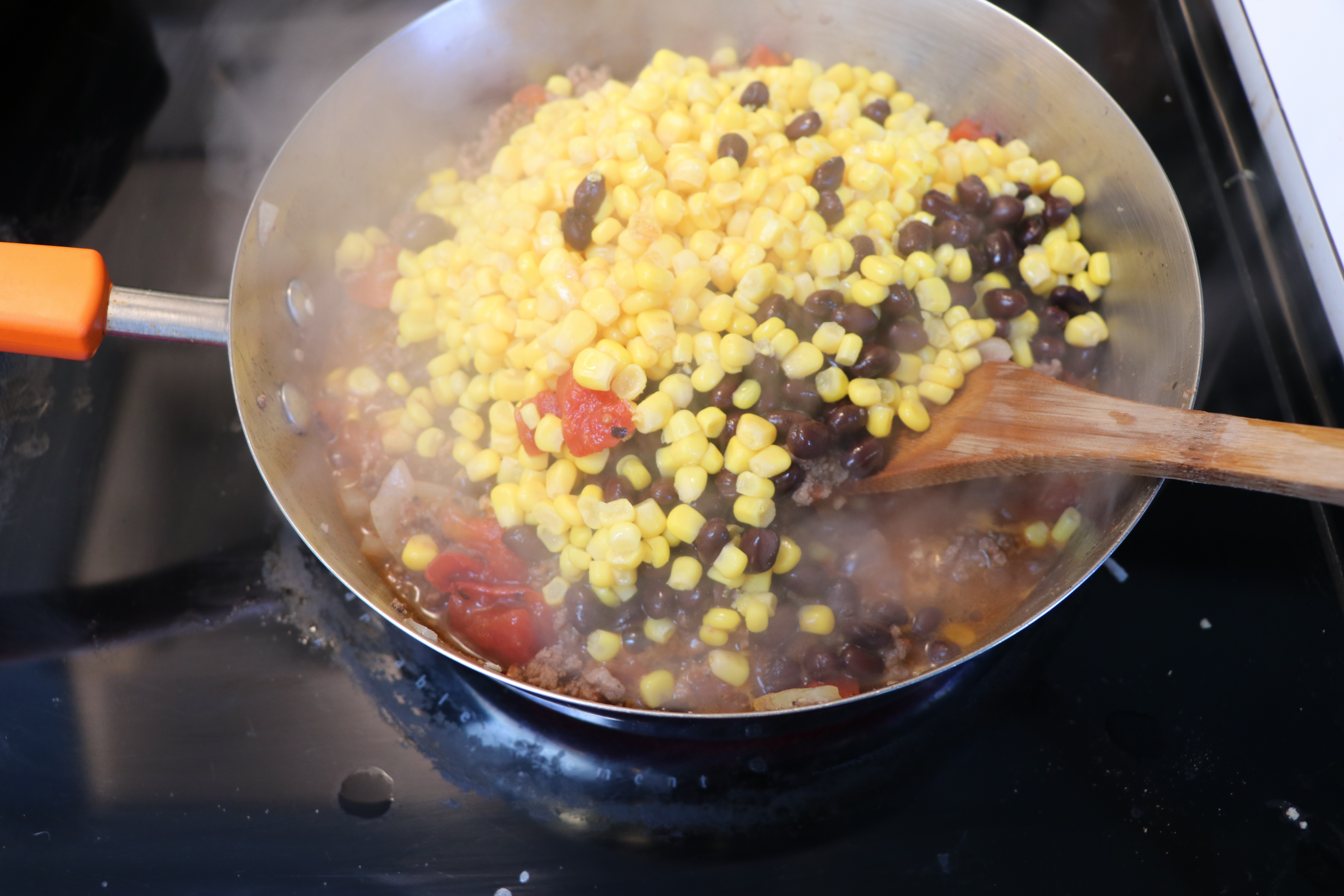 Stuff Your Squash
Now that the filling is made and simmering over low heat, your spaghetti squash should be just about ready to come out of the oven. Once it is done, you will want to let it cool down for a bit until you can comfortably touch it without getting burned.
When it is cooled down, scoop out the "spaghetti" insides of your squash halves. Mix the "spaghetti" into your stuffing. Honestly, I only needed to use half of the squash, so I put the other half into a Tupperware container to save for another recipe.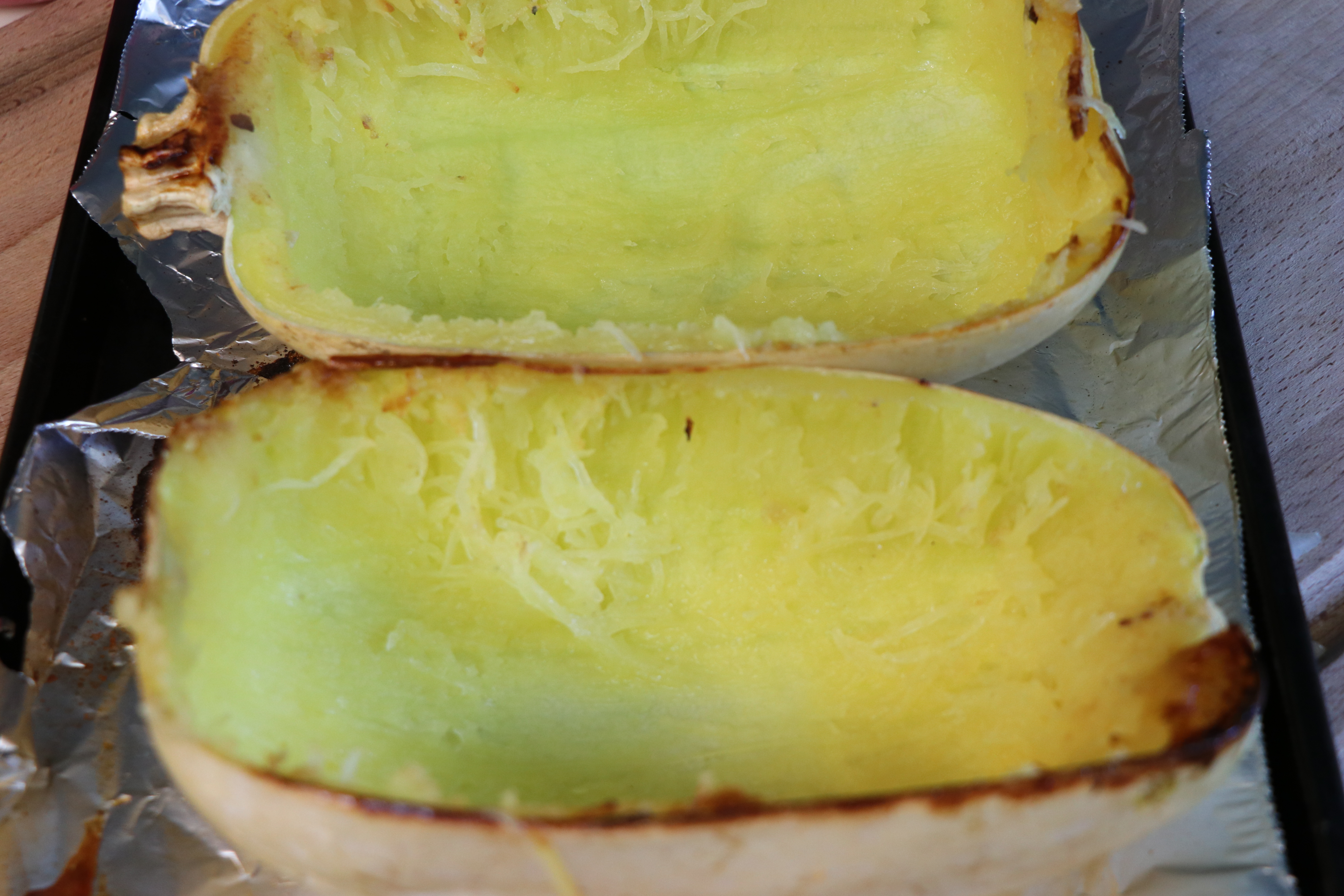 Now all you have to do is fill your "bowls". I was able to fit all of my stuffing into both sides of the squash, but you may have extra depending on the size of your squash. Once the spaghetti squash taco bowls are filled, top them with a generous helping of cheese, and bake for another 10 minutes or until your cheese is nice and melted! I like to broil mine for the last two minutes to get a nice golden brown cheesy topping!
Once they are nice and baked, you are ready to enjoy! Serve these bad boys up and top with your favorite taco toppings! Slice up some avocado, top with sour cream, salsa, maybe some tortilla strips ( if you don't mind a few added carbs)… And enjoy! Also, these are huge, but they are so delicious the next day for an easy lunch too!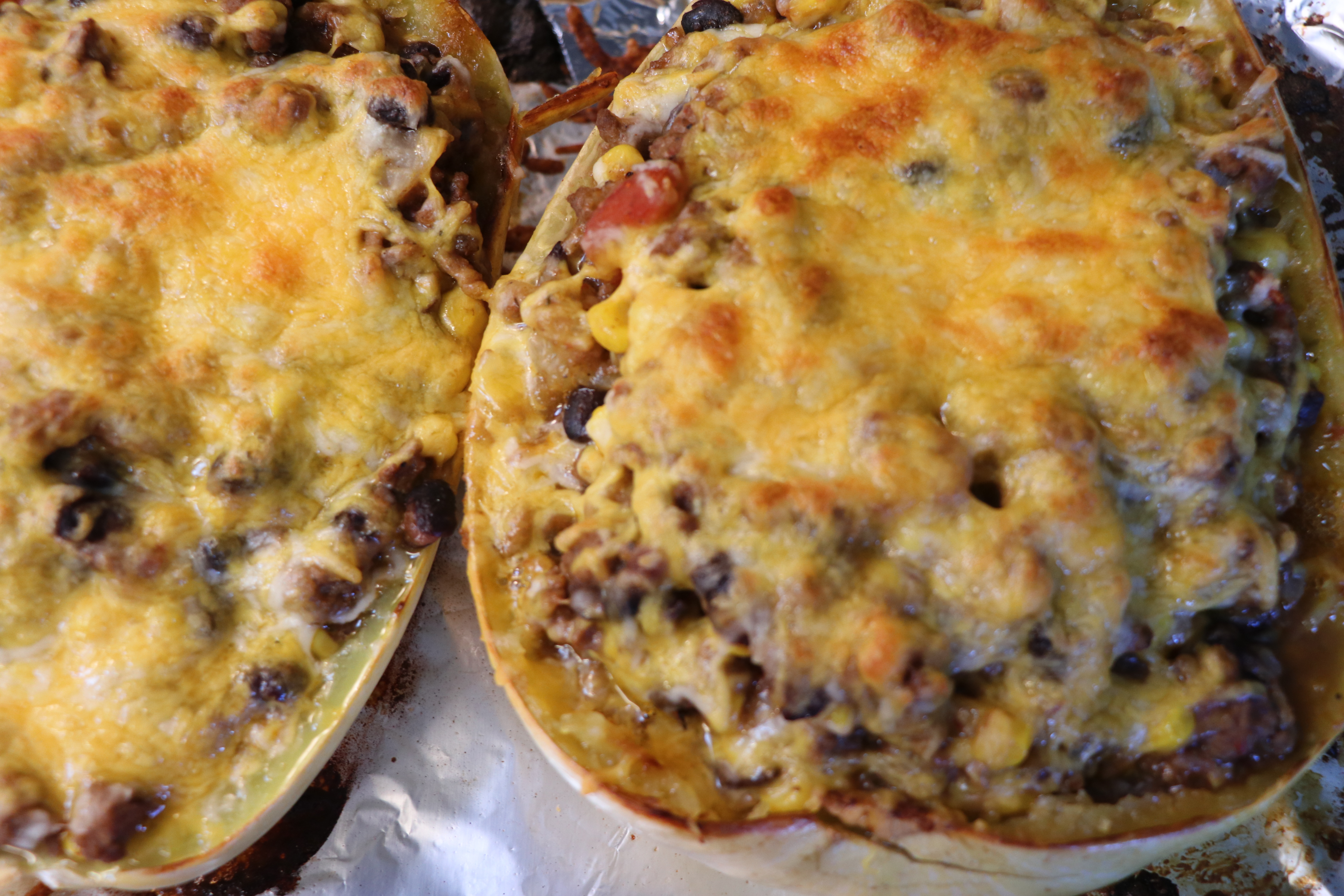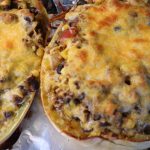 Spaghetti Squash Taco Bowls
Low carb Spaghetti Squash Taco Bowls. A perfect Taco Tuesday alternative!
Ingredients
1

Spaghetti Squash

1

Lb

Ground Beef

1

Can

Corn Kernels

Drained

1

Can

Black Beans

Drained

1

Can

Diced Tomatoes

1

Onion

1

TBSP

Olive Oil

1

Cup

Shredded Cheese

Fajita Seasoning

To Taste

Cayenne

Optional

Cilantro

Optional
Instructions
Preheat your oven to 450°.

Cut your Spaghetti Squash in half length wise ( carefully) and remove the seeds.

Drizzle with olive oil, and cook face down for 40 minutes.

Dice your onion, and cook with ground beef. Drain of excess fat when cooked.

Mix in diced tomatoes, corn, beans and seasoning.

Remove your Squash from the oven and let cool. Then remove the "spaghetti" insides and mix into your beef filling. ( I only used half of the squash and saved the other half)

Fill your squash boats, top with cheese, and bake for 10 more minutes.

Let cool, top with your favorite toppings, and enjoy!